Artist Interview: Joshua Scott Jones
an American singer, songwriter, multi-instrumentalist, and entertainer.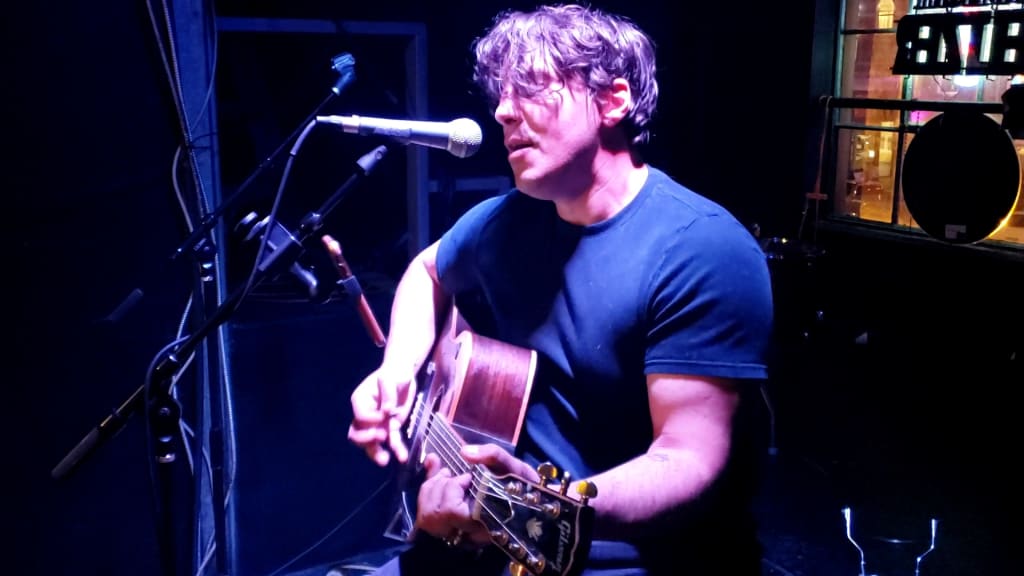 Joshua Scott Jones is a singer/songwriter and has produced 4 solo albums: The Healing (2014), The Rural Deal (2017), How The Story Goes (2019), and his newly released acoustic album, Outlier Circa 1980 (2020).

Josh was the founder and one half of American Country Music duo Steel Magnolia. They made their Grand Ole Opry debut in October, 2009. The duo received numerous nominations from the Academy of Country Music, Country Music Television, Country Music Association and Teen Choice Awards for Vocal Duo of the Year and Duo Video of the Year for their chart-topping hits "Keep On Loving You" and "Last Night Again."

Although Steel Magnolia dissolved in 2013, Joshua Scott Jones continues to provide us with fantastic music as a solo artist.
Tell us a little bit about yourself. Do you come from a musical family?
I grew up with an adoptive family, but think that music's in my genes. My biological father played guitar and gifted me an electric guitar for my 12th birthday. I visited him regularly, but didn't live with him.
When I was older, I found my biological family on my mother's side. I have an uncle who was a very accomplished saxophonist. His son is a bass player, who played for the band Skid Row.
What is it about music that makes you feel passionate?
Life makes me passionate in certain moments. That's when I'm passionate about capturing it in a song. Life supersedes the song itself. The best songs aren't forced. They are given to me by inspiring experiences or snapshots of real life moments that manifest into songs.
Do you have a preferred genre?
No preferred genre. I prefer to not pigeon hole art and music in the way of genre. In my opinion, the greatest songs have no limits and can be translated in any form or genre.
Tell us about your latest song, "Trail of Glory" featured on episode 2 of "Power Trip" on Hulu.
"Trail of Glory" is a song that was inspired by the objective approach to capturing the nuance of American politics through the lens of journalists covering the campaign trail in a non-partisan scope.
A sync agent for the show approached me about sending a couple of my other songs. I watched a trailer for the show and knew that I wanted to customize a song for the project. I wrote "Trail of Glory" and they loved it.
Do you have any other plans relating to this release? A video?
I don't have any plans for a video other than short form content.
Could you describe your creative process? Where do the ideas come from; how do you refine these beginnings into the finished work of art?
The creative process always starts with a melody that I personally associate with the matter at hand or the feeling I'm having. The melody is a representation of the topic.
The lyrics and ideas sometimes come quickly and are very apparent or they don't. If they don't, then it takes work to get them to come out of my mind. Sometimes I have to focus on trying to find the lyrics. I have to take some time and feel what I'm trying to convey. Then the phrases usually reveal themselves.
Are there any challenging aspects to writing and/or recording your music?
The biggest challenge isn't writing the music for me, these days, it's recording it. I'm not a tech savvy person and don't have sound engineering experience. I play instruments, arrange, and write the old fashioned way. That's my strong suit.
How has the reaction to your latest release been?
The reaction to my latest release has been good by family and friends. It's been inspiring to have a legitimate TV series pick it up and use it for a purpose that will be viewed by many people, potentially.
Do you create for yourself or for a fanbase?
I create for myself and that should be creating for a fan base. I feel like I've hit a wall with getting my songs to catch on. My plans going forward are to release music without any thought about how it connects to the last release. Each single may stand on its own stylistically or visually. If I die with a body of sonic work that is original and good, then I have won my own artistic battle. I will be proud to have a life's work that speaks for itself.
What song do fans seem to favor?
Fans seem to favor songs that I put money, production, and marketing behind. My most streamed album, "The Healing" was also the most expensive. Any song on it could have been a hit single.
Do you, or would you like to, perform live?
I love performing live! I play live when I can, these days. I'm available for acoustic or full band shows.
Which of your songs is, or do you think would be, fun to perform live?
Any of my songs that inspire people to sing along because the lyrics make their heart swell are the songs I love to perform live the most. The rest of the show is just filler for those moments.
Has your musical journey had a deliberate direction, or did it simply evolve in whatever direction it found?
I used to have a real vision for where I wanted my brand and image to go. I would tailor the material and songs and visuals to fit it in a way that was still very honest and organic to me, within the confines of being commercialized.
I had a big picture goal, but was unable to secure any commercial distribution for that vision. I've decided to move forward as an independent musician on my own terms, with as little commercialization as possible.
Playing live or recording in studio? Do you have a preference?
It's a tough call. I prefer recording in a studio because I love the creative process. But, I also love taking that roadmap that was created in the studio to a live setting with a band.
Share a funny moment or positive experience that has happened during your career.
I have had so many positive and fun, funny experiences playing music and living the life as a whimsical artist that it exceeds what I can convey in a paragraph, I would have to write a short novel in that regard.
I will say the sex, drugs, and rock n roll phase of my life was great. Meeting new people, travel, big stage performances, small gathering campfire guitar sing alongs, and inspiring people in their ups and in their downs through songs is something that has been a joy beyond measure in my life.
If one artist were to perform at your party, who would get the call?
If I could throw a party and have any artist perform, it would have to be Hall and Oates. What a collection of feel good groovy hits they have! Good for partying, grooving, and just feeling good.
Other than fame & fortune, is there something you hope to achieve through music?
Other than fame or fortune, I hope that I achieve immortality through my music. I would love for songs or melodies that I have written to live on long after I'm gone.
Even more than this, I hope that my newborn son is able to appreciate the body of work I have made and is proud of me when he is grown up and I'm gone. This is more important to me than fame, fortune or anything else that I can imagine.
What is your favorite/best outlet to connect with your followers Instagram, FB, Twitter? How would you want them to follow?
My favorite outlet to connect with fans is at a live performance or through streaming services that give them direct access to songs and music. I feel like this has the most potential to move them in the moments of their lives.
However, TikTok is an excellent way to sample some of my music. I have several introduction videos there that highlight lyrics or sounds with photos and some live show clips.
Instagram's a mix of music and my life as a new dad.
Are you currently working on any projects we should look out for?
I'm working on an audio poetry book called "Squabbles and Sentiments". I also plan to release several other singles. I have written more songs than I have the capacity to record in the foreseeable future.
Is there something you would like to say, that we didn't cover?
I would love to have all my fans and listeners know that I'm getting ready to release a bunch of music new and old that I have previously recorded years ago.
Also, I am going to release a audio poetry book soon. They can check out my poems on my website.
Thank you so much to everyone who listens to and shares my music!
Reader insights
Be the first to share your insights about this piece.
Add your insights