Arashi (嵐)
- the secret international pop star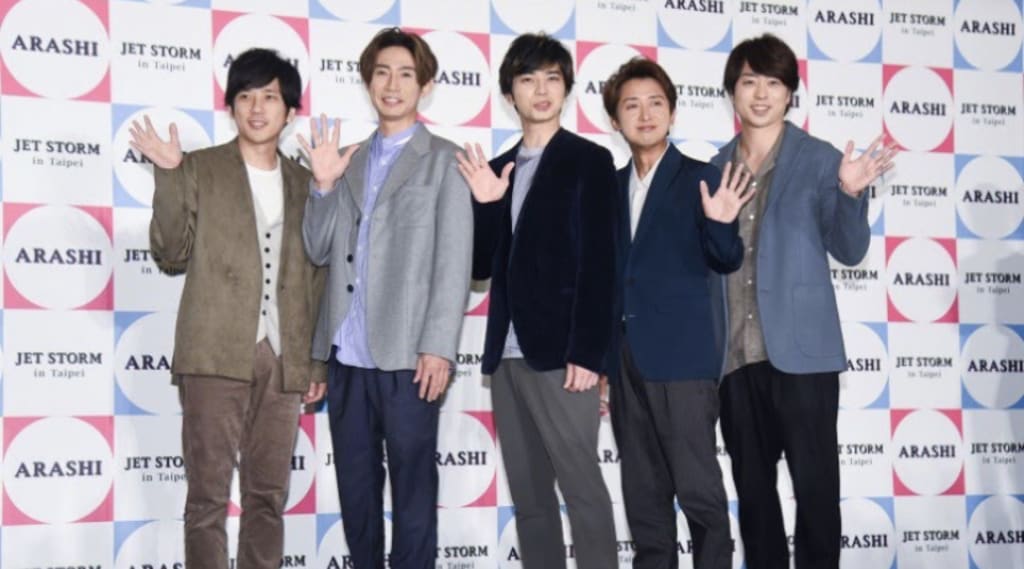 Arashi at the press conference for "Jet Storm" in Taipei, Taiwan
Arashi, literally meaning "Storm" in Japanese, is a Japanese boy band consisting of 5 members formed under Johnny's and Associates talent agency. They were officially formed on September 15th, 1999 in Honolulu, Hawaii, and later made their CD debut on November 3rd, 1999. On January 27, 2019, Arashi announced their hiatus and suspension of group activities as of December 31, 2020.
Johnny's and Associates is a leading male-entertainer talent agency, founded in 1962 by Johnny Kitagawa who sadly has passed away in October 2019. In September 2011, Kitagawa received 2 Guinness World Record awards for "The most number-one singles (232)" and "The most concerts (8,419 from 1974 to 2010) produced by an individual". His shows have been attended by approximately 48,200,000 people.
I am a fan of this group since 2012 continuing to today, making it 8 years already. It started from a glance at the TV screen of a leading national music programme called "Music Station" which they were performing their 36th single "Meikyu Love song". I didn't pay much attention to it at first, however their melody remained in my head for ages. It was a new 'type' of music that I had never heard of before. Not a new genre but a new 'type' - it could have been a new 'language' for me too. And since then, I began following their activities, listening to their singles and albums, watch their TV appearances. They are one of the most famous artists in Japan which make them recognised in other East Asian countries such as South Korea, China, Taiwan, Indonesia etc. However despite 20 years from their debut, they are still a small name in the Western entertainment world. I would like to introduce them here so more people may get the opportunity to know about Arashi, starting off with the members.
Satoshi Ohno - 大野智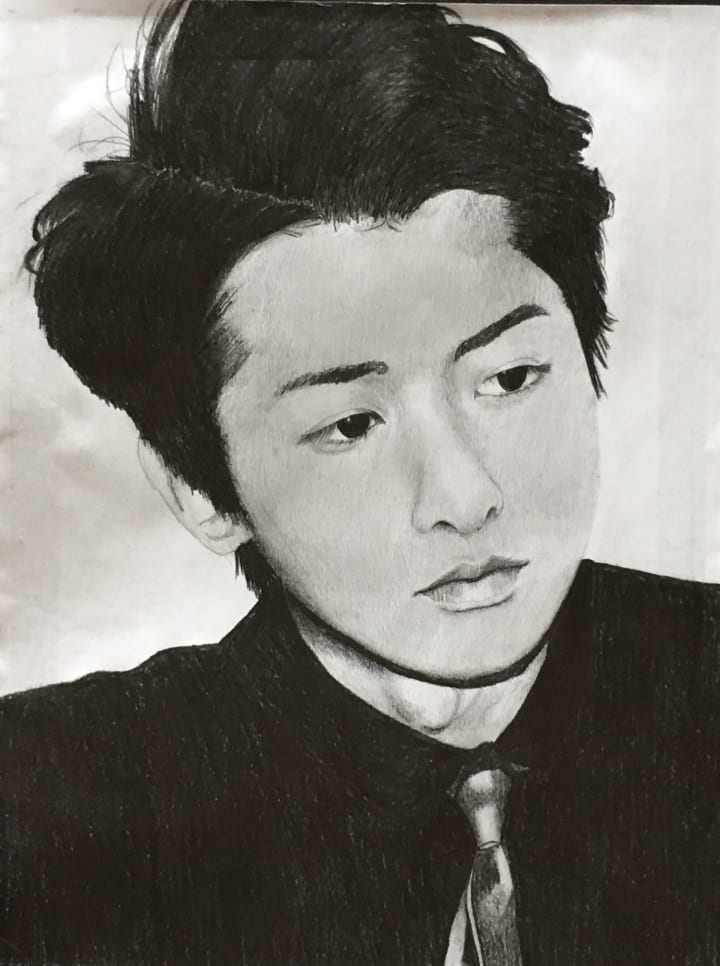 Born: November 26th, 1980, Tokyo
Nickname: Oh-chan, Leader
Joined agency: 1994 (aged 13)
Member Colour: Blue
Lead vocalist
Main dancer - choreographs many of Arashi's songs
Oldest member of the group
Sho Sakurai - 櫻井翔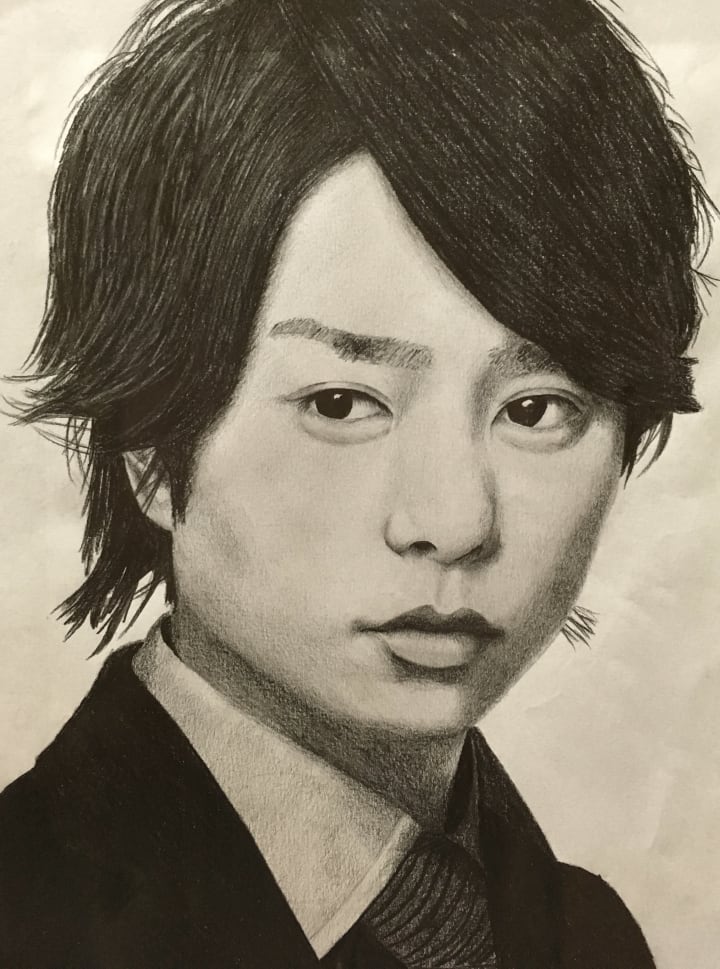 Born: January 25th, 1982, Tokyo
Nickname: Shō-chan
Joined agency: 1995 (aged 13)
Member Colour: Red
Main rapper - writes his own and other members rap lyrics
Only member who has graduated university (Keio University)
Kazunari Ninomiya - 二宮和也
Born: June 17th, 1983, Tokyo
Nickname: Nino
Joined agency: 1996 (aged 13)
Member Colour: Yellow
Writes and composes his solo songs
Masaki Aiba - 相葉雅紀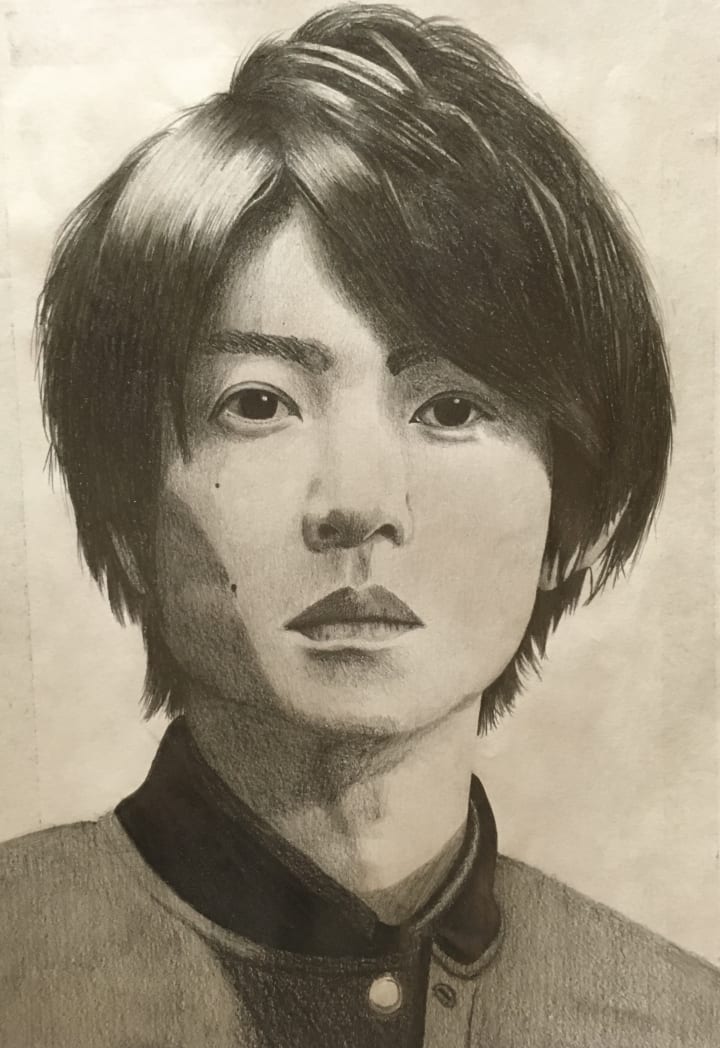 Born: December 24th, 1982, Chiba
Nickname: Aiba-chan
Joined agency: 1996 (aged 13)
Member Colour: Green
Spent the least years as a trainee
Jun Matsumoto - 松本潤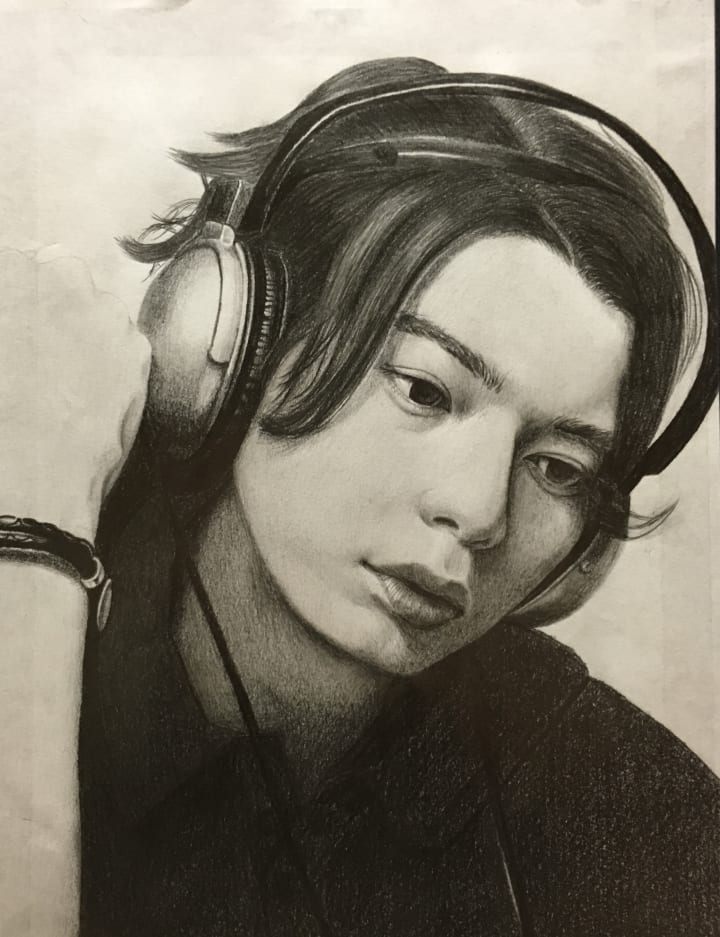 Born: August 30th, 1983, Tokyo
Nickname: MatsuJun, J
Joined agency: 1996 (aged 12)
Member Colour: Purple
Most involved in the of production of Arashi's concerts
Youngest member of the group
Singles:
1st: A・RA・SHI 1999.11.03
2nd: SUNRISE日本 / HORIZON 2000.04.05
3rd: 台風ジェネレーション 2000.07.12
4th: 感謝カンゲキ雨嵐 2000.11.08
5th: 君のために僕がいる2001.04.18
6th: 時代 2001.08.01
7th: a Day in Our Life 2002.02.06
8th: ナイスな心意気 2002.04.17
9th: PIKA☆NCHI 2002.10.17
10th: とまどいながら2003.02.13
11th: ハダシの未来/言葉より大切なもの 2003.09.03
12th: PIKA★★NCHI DOUBLE 2004.02.18
13th: 瞳の中のGalaxy / Hero 2004.08.18
14th: サクラ咲け 2005.03.23
15th: WISH 2005.11.16
16th: きっと大丈夫 2006.05.17
17th: アオゾラペダル 2006.08.02
18th: Love so sweet 2007.02.21
19th: We can make it! 2007.05.02
20th: Happiness 2007.09.05
21st: Step and Go 2008.02.20
22nd: One Love 2008.06.25
23rd: truth / 風の向こうへ 2008.08.20
24th: Beautiful days 2008.11.05
25th: Believe / 曇りのち、快晴 2009.03.04
26th: 明日の記憶/Crazy Moon〜キミ・ハ・ムテキ〜 2009.05.27
27th: Everything 2009.07.01
28th: マイガール 2009.11.11
29th: Troublemaker 2010.03.03
30th: Monster 2010.05.19
31st: To be free 2010.07.07
32nd: Love Rainbow 2010.09.08
33rd: Dear Snow 2010.10.06
34th: 果てない空 2010.11.10
35th: Lotus 2011.02.23
36th: 迷宮ラブソング 2011.11.02
37th: ワイルド アット ハート 2012.03.07
38th: Face Down 2012.05.09
39th: Your Eyes 2012.06.06
40th: Calling / Breathless 2013.03.13
41st: Endless Game 2013.05.29
42nd: Bittersweet 2014.02.12
43rd: GUTS! 2014.04.30
44th: 誰も知らない 2014.05.28
45th: Sakura 2015.02.25
46th: 青空の下、キミのとなり 2015.05.13
47th: 愛を叫べ 2015.09.02
48th: 復活LOVE 2016.02.24
49th: I seek / Daylight 2016.05.18
50th: Power of the Paradise 2016.09.14
51st: I'll be there 2017.04.19
52nd: つなぐ 2017.06.28
53rd: Doors~勇気の軌跡~ 2017.11.08
54th: Find The Answer 2018.02.21
55th: 夏疾風 2018.07.25
56th: 君のうた 2018.10.24
57th: BRAVE 2019.9.11
58th: Turning Up 2019.11.3
59th: In The Summer 2020.7.24
60th: カイト 2020.7.29
Albums (including best albums):
1st: ARASHI No.1嵐は嵐を呼ぶ 2001.01.24
2nd: 嵐 Single Collection 1999-2001 2002.05.16
3rd: HERE WE GO! 2002.07.17
4th: How's it going? 2003.07.09
5th: いざッ、Now 2004.07.21
6th: 5×5 THE BEST SELECTION OF 2002←2004 2004.11.10
7th: One 2005.08.03
8th: ARASHIC 2006.07.05
9th: Time 2007.07.11
10th: Dream "A" live 2008.04.23
11th: All the BEST! 1999-2009 2009.08.19
12th: 僕の見ている風景 2010.08.04
13th: Beautiful World 2011.07.06
14th: Popcorn 2012.10.31
15th: LOVE 2013.10.23
16th: THE DIGITALIAN 2014.10.22
17th: Japonism 2015.10.21
18th: Are You Happy? 2016.10.26
19th: 「untitled」 2017.10.18
20th: 5x20 All the Best!! 1999–2019 2019.6.26
Unfortunately, Johnny's and Associates do not release many of their artists' music on Spotify, iTunes or Google Music, and music videos are not uploaded on YouTube or other video streaming websites due to restrictions. In 2018, they have finally allowed images of their artists to be released on social media but only official images posted by official accounts or internet news.
In January 2019, Arashi shocked the nation announcing their hiatus from 31st December 2020. Many fans and non-fans were in sadness and desperation - I cried too.
However, additional dates were added to their 20th anniversary tour "5x20" (Five by Twenty) after their hiatus announcement totaling to 50 shows, expecting a total of 2.43 million people which is the largest tour in Japanese history.
However in October 2019, Arashi surprised their fans by opening up their official YouTube channel where they uploaded the music videos of 5 popular singles as well as full-sized MP3 of all singles. And finally in November 2019, Arashi opened up 5 social media accounts on Facebook, Twitter, Instagram, Spotify and Weibo - of course I follow them already. Since then, many other artists have uploaded concert tour videos through their record label YouTube channel or appeared on Johnny's Official YouTube channel
To be honest with you, if I end up writing all the amazing things Arashi has achieved here, I'll be writing forever, so I'll end with some fun facts about Arashi that might catch your interest.
Fun facts about Arashi
•Arashi debuted as the mascot for the Volleyball World Cup in 1999.
•Ohno became the leader of the group from winning Rock Paper Scissors between him and Sakurai.
•Sakurai was the first person to be chosen for Arashi.
•Ninomiya and Matsumoto were next. They were called to a rehearsal studio one day where other trainees were playing volleyball - because why not. Kitagawa told them to join in and the two started a rally. When they realised, it was only Ninomiya and Matsumoto left in studio who were able to continue the rally. Kitagawa saw that and said "You guys are so amazing!" and became the next members for Arashi.
•Kitagawa started planning recording their debut single. He targeted Ohno who was known for his beautiful voice. Kitagawa asked Ohno if he could 'help' recording on one day which he said yes to. When Ohno looked at the lyrics card, he found his own name. He was confused but was told to sing, so he did.
•Ohno was planning the leave the agency because he wanted to become and illustrator. However, after the recording, he felt that Kitagawa might be planning his debut, so he turned off his mobile phone and house phone for around 2 weeks.
•At the same time, Sakurai and Ninomiya didn't want to debut too. Sakurai wanted to go to university, and Ninomiya wanted to go to America to study acting. They went to Kitagawa's house planning to reject the offer, however he wasn't home at the time and his housekeeper opened the door. The two waited in Kitagawa's study and found 2 large papers on his desk with hundreds of group name ideas written on. At very the bottom, Arashi was highlighted. The two thought it was so lame and uncool at the time.
•Kitagawa told Ninomiya, "Why didn't you let Aiba into the group (Arashi)?! You two have been friends for so long and your always together. Why?!" Then, the rest is history.
•Aiba received a phone call from Kitagawa 3 days before press conference of their official formation starting with "Hey, do you have a passport?" There, Aiba was chosen and flew to Hawaii.
•An alternative group name for Arashi was "?" read as "Questions"
•Matsumoto, Aiba and Sakurai were the only ones in the group who decided to join the agency themselves (sent an application form themselves).
•For Ninomiya, his cousin sent the form without telling him.
•For Ohno, his sister and mother sent the form. When he was told about the audition, he went mad but his mother got mad at him saying "I sent it because you wouldn't get in anyway!!"
Aiba saw other artists from the agency playing basketball on TV, and sent the application form because he wanted to play basketball with them. But he didn't know there was an audition, nor it was a show business. So he took his ball with him on the day of the audition because he thought he can play. But when he realized, he went behind stage and hid his ball.
•Matsumoto is one of the few people in agency who got through without doing an audition. After sending his application, he directly received a phone call from Kitagawa saying "We're doing a dance lesson right now, you come join"
•Sakurai and Ninomiya were shocked when they first saw Ohno in the dance studio. Other trainees were practicing the dance, but Ohno sat at the back of the studio picking his nose and didn't dance at all. But when it was the day of the performance, he was the best dancer.
•A group of trainees, including Ninomiya, was getting scolded by the choreography teacher. The teacher said "The guy second from right (Ninomiya), put your hand up!" The teacher looked at him and said ".... who the heck are you?!" Ninomiya replied "I'm Ninomiya!" The teacher answered "WHO THE HECK ARE YOU?!?!"
•Again, Ninomiya was getting scolded by a scary dance teacher, and the teacher said "If your not trying, just go home!" And what did he do? He went home and played games.
•Ohno was part of a cast of a stage play in Kyōto. He would make his entrance on the stage with a high flying. He was on standby already hung up. Then he had come to his senses and thought to himself "What am I doing here?" and started crying.
•Ninomiya was the first in the agency to make a Hollywood debut, starring in "Letters from Iwo-Jima" directed by Clint Eastwood.
•Ohno was the first in the agency to hold a public art exhibition, presenting his artwork he had been making since 1999.
•Ninomiya is famous for being a game freak. He can play games all day. Once, he was playing an online game 15 minutes after a live broadcast on TV. And as his love for games got widely recognised, he appeared in the advert for Nintendo.
•Ohno loves fishing so much, that during the interval of drama filming - which Ohno starred as the lead role - he went fishing and got a sun tan, and got shouted at by the director. And because he was on a boat, when he returned to the filming, he couldn't walk in a straight line.
•As part of an animal programme, Aiba has read a book to a baby lion, chased a cheetah with a bicycle, hugged a tiger, dragged a crocodile by the tail.
•When Aiba joined the agency and still didn't have many friends, the company president Kitagawa once played Star Wars role-play with him.
•Around '02 '03, Arashi's career weren't going as well. The members went to a noodle restaurant and discussed their future. Sakurai and Matsumoto mentioned that it could be an idea to overthrow all of their current jobs and and start a 'revolution'. Other members mostly agreed, but Ohno said "No". Until then, he was seen as passive and and didn't give his opinion to anything, but at that moment it was the first time he strongly emphasised his opinion. He said "If you can't work hard for the jobs you have in front of us now, we can't accomplish anything else. If we carry on like this, we will eventually get somewhere" (based on Ninomiya's memory)
•Ohno began to consider leaving Arashi around 2006 because he wanted to take long breaks and travel abroad (especially India). But he said he got 'over-celebrated' on the group's 10th Anniversary which made him revise his thoughts and chose to stay.
•Matsumoto often talks to himself a lot. Because of that, even when he is talking to his members, they'll often think he's talking to himself and ignore him.
•Aiba was in the manager's car returning from work. He told the manager to pull over to go to the toilet in the convenience store. The manager waited for him long enough to call Aiba where he was, but Aiba left his phone in the car. The manager searched for him around the area for an hour, but he was nowhere to be found. The manager headed to Aiba's house just in case, and there was Aiba in his pyjamas.
•Matsumoto and staff had a meeting to discuss the setlist for their album tour "Untitled", Ninomiya said on TV that he heard from the staff that they started from 7pm, all through the night until 7am the next morning.