Against All Risk
Album 1: End of the Hall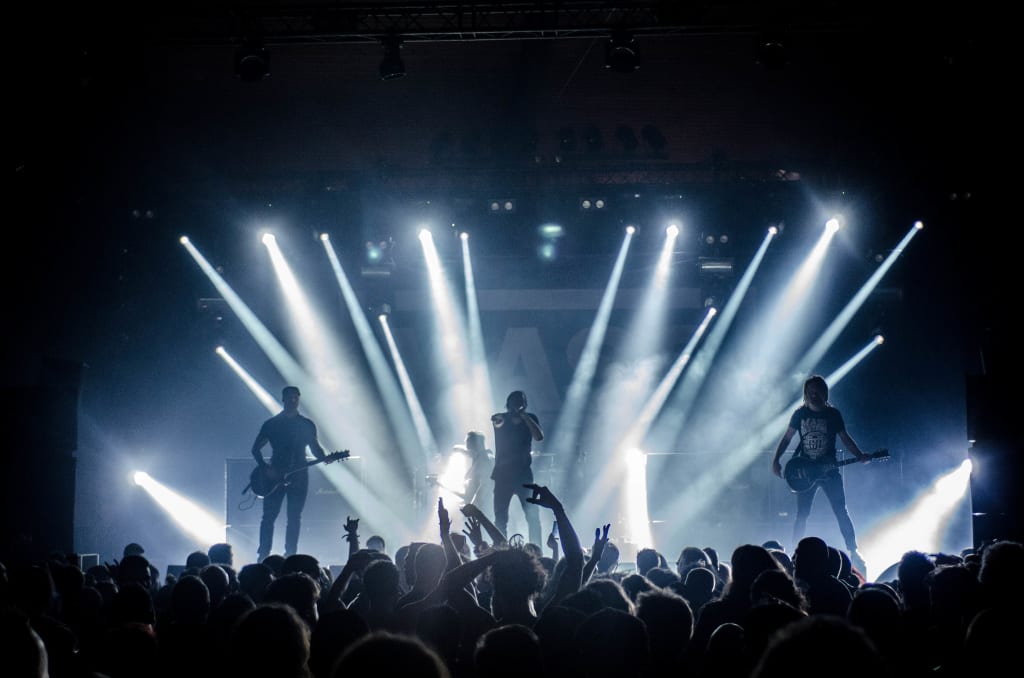 The following is a preview of the beginning of my book, End of the Hall.
Track 1: Forget Your Fear
A distant roar is heard through the tunnel. Various crew members are running along the passage as the steel tips of stilettos confidently stride. With each step, a pulse of indigo shows through the eyes of a young woman when she looks to her heels. She arrives at the platform to hear the roars grow louder. A roadie runs over for her to retrieve her signature guitar, nicknamed "The Hammer." She plucks each string with it unplugged to check the strength then joins her bandmates on the stage. "Jesus, Cyd, take long enough?" a woman asks as she shoulders a violet and silver striped bass.
"Sorry Stella, had to get my good luck kiss from the new spouse," Cydnie gleefully answers.
"Cydnie Hammersmythe, badass rocker wife," Stella says with a smirk before bumping fists with her. "Let's show the world how happy the married you is."
"Guys, let's go!" a manlier voice yells with some gruff.
"We're coming, Eric!" Cyd yells. The two hold their instruments and run to meet the man then all three run to the stage to meet their final member.
"Rio, how the fuck you doing!" the final member yells. "My name is Damien Stubbs and I'm here to fucking rock and roll!" As he is met with further applause, the three join him onstage and all four lock arms.
Cydnie takes the microphone from him and screams, "What's our fucking name, Rio!"
"AGAINST ALL RISK! AGAINST ALL RISK! AGAINST ALL RISK! AGAINST ALL RISK!"
Years ago…
[CYDNIE and STELLA]
"Cydnie Smythe, let's go!" Stella Daniels yells from a white SUV as the horn is honked.
"I'm going!" Cydnie yells back while she simultaneously hops to the door and ties her sneaker.
"Your first concert!" her mother squeals as she watches Cydnie hobble. She stops her daughter before she can open the door and puts her hands on her shoulders. "Not exactly excited about the blue streaks, but I know it's for the show. Have fun, child." With excited pursed lips, Cydnie quickly nods then hugs her mother and runs out the door to the car.
On the road, various colors stream through Cydnie's eyes as they sing along to songs of the bands they'll soon be experiencing live. She's turned it into a game matching the intensity of her blues with Stella's purples; each key change, pitch, speed, all create different shades and tints through her vision. As the song ends the girls each let out a huge breath. "I still can't thank you enough for bringing me along," Cydnie tells her friend.
"Hey, don't mention it," Stella waves her off. "I'm just excited to be with you at your first concert. It's gonna be crazy!" They continue their sing along all the way from their small hometown of Ponca City to Tulsa, Oklahoma to see the hard rock group, Manic Madness. Once they roll in, Stella's dad drops them off by the mass of fans. "Thanks, padre!" Stella yells as the girls run to join the crowd.
"I'll be back after the show!" he yells to them before driving off. The sun begins to set over the venue as the girls finally make their way in. All around, Cydnie sees fans buying beers and merchandise or getting to their seats.
"This place is nuts," Cydnie exclaims as her gaze wanders to the stage. There, some crew members are working on the stage equipment, lights, curtain, mic checks, she becomes mesmerized by the entire thing. As if in a trance, she begins walking toward the stage to better look while Stella reads their tickets.
"Hey, Cyd, our seats are this way," Stella tells her before looking up. "Cyd?" She looks around for a minute before seeing her zombie of a friend walking into the pit. "Woah, Cydnie, we didn't splurge that much!" Stella yells as she runs after her. Incapable of hearing anything except the sounds of background music and roadies, Cydnie manages a path all the way to the railing in front of the stage before a bouncer stops her.
"Woah there, kid," he says putting a hand on her wrist, gathering her attention. "You got your pass for the pit?"
Coming back to reality, Cydnie's eyes widen as she stammers out a response, "Uhh—I—They—"
"What she means to say is that she got lost on her way to her seat," Stella says as she runs up and locks elbows with her friend to leave.
"Nonsense!" A voice calls out from behind the girls as the sounds of chains against denim wander through Cydnie's ears. They turn around to see Adrien Scott, Manic Madness's singer and rhythm guitarist walking over to the edge of the stage with a devilish smirk.
"Holy shit, Adrien Scott!" Stella says as he hops down from the stage. He walks toward the girls and pulls two passes out of his jacket.
"You forgot these at the will call," he says as they dangle from his hand. The bouncer nods and walks away as Stella swipes one and hangs it from her neck.
With an inquisitive glare, Cydnie says, "You lied to him. Why?"
"Couple of kids just trying to get a good view of the show, nothing wrong with that," he says with a smirk before tossing Cydnie a pass. "Enjoy."