Abigail's Playlist
Me, me, me, me. It's all about me.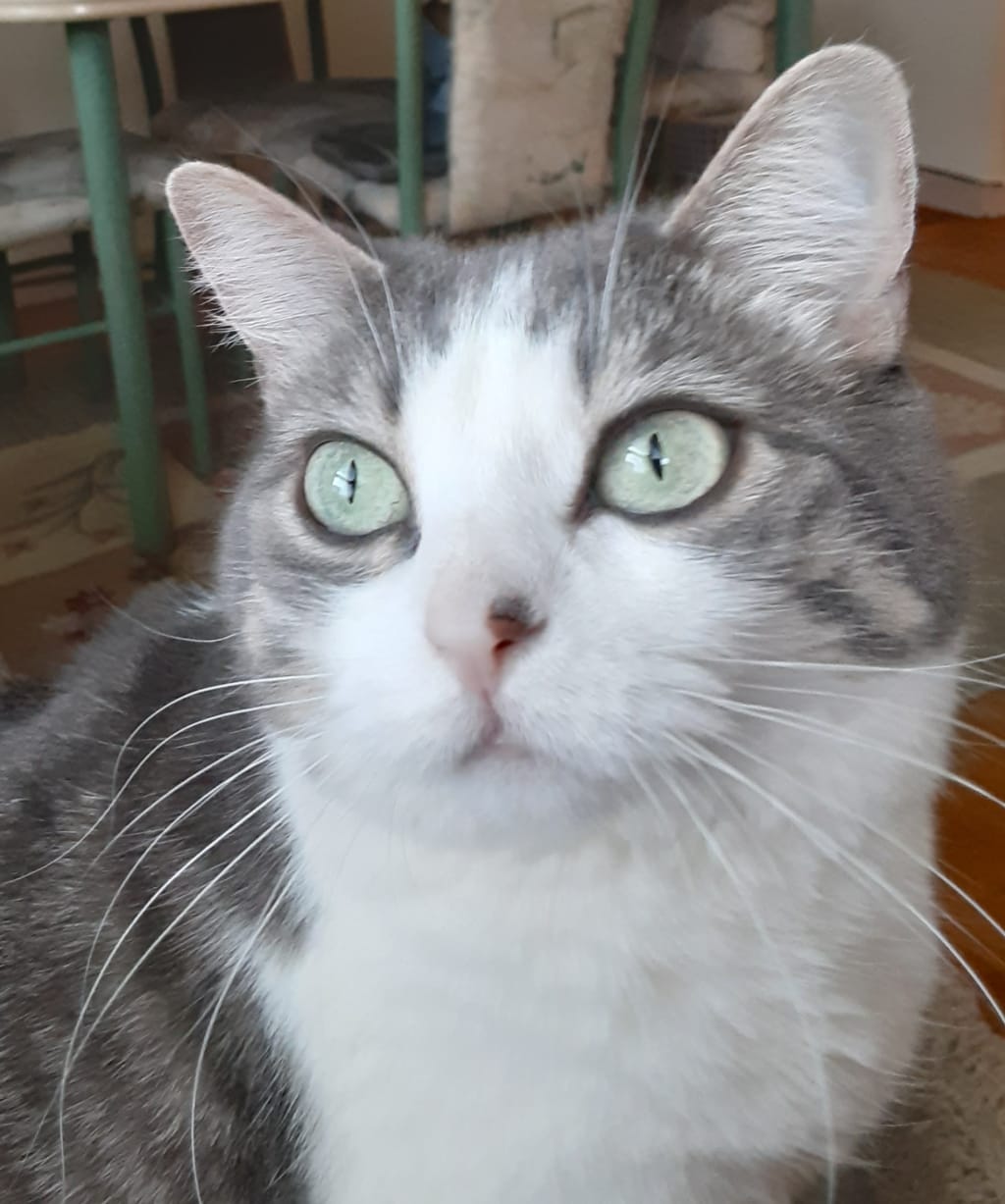 Hello friends,
My name is Abigail and I'm here to present my playlist for Vocal's Melodic Milestones Playlist challenge.
My human mom told me she wasn't planning to enter this challenge, so I kicked her off my keyboard and wrote my own story. She's typing it, of course, due to the me not having thumbs thing.
My mom didn't know much about my life before she rescued me from the shelter three years ago, and there was minimal documentation included that provided hints to my past. She also felt that, since my behaviour was so obnoxious when she first brought me home, I must have endured some trauma. (I don't know what obnoxious means, but I'm pretty sure it's close to adorable.)
But I digress. This one is not about Mom. It's about me. Me, me, me, me. So, here's my version of my life, along with my playlist.
When I first started out as a little kitty, I lived on the street with my kitty mom and my siblings. It was a wild and crazy place with slutty tomcats roaming the neighbourhood, trying to hump everything they could find.
I remember my mom beating the skanky orange tabby off her back while she was still nursing us babies. He was a determined bugger, though. He kept coming back for more, even though mom kicked the crap out of him every time.
I'm pretty sure he was my dad. This first song is for him.
Stray Cats, Stray Cat Strut
As I said, growing up on the streets can be wild and crazy. It's a rough existence, for sure. You don't always have a warm place to sleep, or sufficient food in your belly. And the fights. Oh dear, the fights. Since there wasn't a lot of food or safe sleeping places, we had to fight for every small tinge of comfort we could get. It was a literal battle of the fittest everyday just to survive.
Thankfully, I learned early how to take care of myself. I had no choice. Being the runt of the litter, I started out life having to fight for a place on mom's tit. My siblings soon learned not to mess with me.
This next song is about my time as a stray.
Survivor, Eye of the Tiger
I don't remember how old I was when I got kidnapped by the bad humans in the uniforms. All I know is that I was terrified. They trapped me in a small room with bars all around and no way out. Then they took that room and stuffed it into another room in a big place where there were a lot of other kitties trapped in small rooms as well.
Were we in jail? I have no idea; I just know I didn't like it. I was scared and lonely and wanted to get out of there. And worst of all, I was innocent!
Eric Carmen, All By Myself
I'm not sure how long I was in jail, but I can tell you that it was the most depressing time of my life. At one point, a nice lady took me home for a while. Well, at least I thought she was a nice lady but that proved to be wrong when she took me back to the shelter and left me there.
I met many more people during the time I was in jail, but nobody wanted to take me home. I thought I'd be there forever. But then, one day while I was sleeping in my cage, I felt someone pull me out of there and force me into a different cage. I tried to fight her off because I thought she was just another bad human who wanted to stick needles in me. But she wasn't.
Phil Collins, Take Me Home
When the woman who stole me finally let me out of the small cage, I didn't know where I was. It was a place that was unfamiliar and there were humans there I didn't know. If there's one thing I learned in my five years (at the time) on earth, it was to not trust humans. I ran around looking for a way to escape, and when I couldn't find one, I fought back.
What I didn't know at the time was that one of those people was my now human mom. It's now three years later and I can truly say she is the best human I've met. (Please don't' tell her I said that).
So yeah, I fought back. I scratched and bit, then I scratched and bit some more. I learned a new word then. I heard it every day. I still hear it from mom's mouth occasionally, even now. I'm not sure what it means, but she says it when she thinks I've done something wrong. That doesn't make a lot of sense though. Doesn't she know I never do anything wrong?
Meredith Brooks, Bitch
For example, I heard it just last night, and before that, just last week. Early one morning, mom was still sleeping in bed, but when I heard her stir, I got excited. I had spent a long, lonely night by myself, and I wanted some company. I ran into her room, jumped on the bed and rubbed my face on her chin. She ignored me and rolled over, so I punched her in the head.
That's when I heard that word. I don't know why she would say that. Doesn't she know that I'd been alone all night and I just wanted her to get up and scratch my ears. Okay, and feed me too.
Righteous Bros., Unchained Melody
I asked Mom for some treats this morning. She gave me some because she loves me. Then I asked her for some more treats later, hoping she'd forgotten that she already gave me some (she is getting old, you know.) Anyway, she said no and it broke my heart.
Puddle of Mudd, She Hates Me
Mom did something else that broke my heart this week. She got me stoned and cut my nails. I don't like it when she does that. I don't like the yucky medicine. The vet says I must take it because I'm too aggressive, whatever that means. Just because I bit him when he tried to cut my nails, doesn't mean I'm a bad girl. Right?
I don't like getting my nails cut. I have no defenses then and I can't tear up the furniture like I love to. Mom yells at me when I scratch the furniture, or when I scratch her, or when I punch her. I don't like it when she yells at me. I don't like it when she won't give me treats either. And she calls me a bitch…. sheesh. One day I'm gonna get fed up and show her who's boss.
Guns N' Roses, I used to Love Her
Nah, I'm just kidding. I would never hurt my mom. She's been very kind to me. I know I was the luckiest kitty in the shelter when she chose me and gave me my forever home. The last three years have been the best years of my life. I'm grateful for my mom. I just wish she'd listen to me occasionally and not insist things be always done her way.
For instance, I should be allowed to jump on the table. I mean, I do it anyway. She tells me to get down, but I don't listen, so she just gives up. I should be allowed to scratch the furniture too, and I definitely should be allowed to punch her in the head when she's ignoring me. I just wish she'd learn to see things my way.
The Beatles, We Can Work it Out
Well, my friends, it seems we are nearing the end of my playlist. I'd like to wrap it up by stating one more time that I truly appreciate my mom, even though she sometimes gets on my nerves when she cuts my nails or won't let me scratch the furniture, or refuses more treats, or tells me to get off…. I think you get the point.
I'll end with this beautiful song because I truly will always love her, and I'll be with her forever (She couldn't get rid of me if she tried.)
I will always love you as well, my wonderful Vocal friends. Now relax and listen to me sing my beautiful song for you. Uh, yes, it is me singing, I swear.
Princess Abigail Whitney
Whitney Houston, I Will Always Love You
About the Creator
Canadian family girl with a recently discovered love for writing. Other loves include animals and sports.
Reader insights
Outstanding
Excellent work. Looking forward to reading more!
Top insights
On-point and relevant

Writing reflected the title & theme

Easy to read and follow

Well-structured & engaging content

Heartfelt and relatable

The story invoked strong personal emotions
Compelling and original writing

Creative use of language & vocab

Expert insights and opinions

Arguments were carefully researched and presented

Eye opening

Niche topic & fresh perspectives

Excellent storytelling

Original narrative & well developed characters

Masterful proofreading

Zero grammar & spelling mistakes
Add your insights