Playlists
8EEZ Playlist: Def Leppard
Hard-living metal band that endured tragedy and lived to tell about it.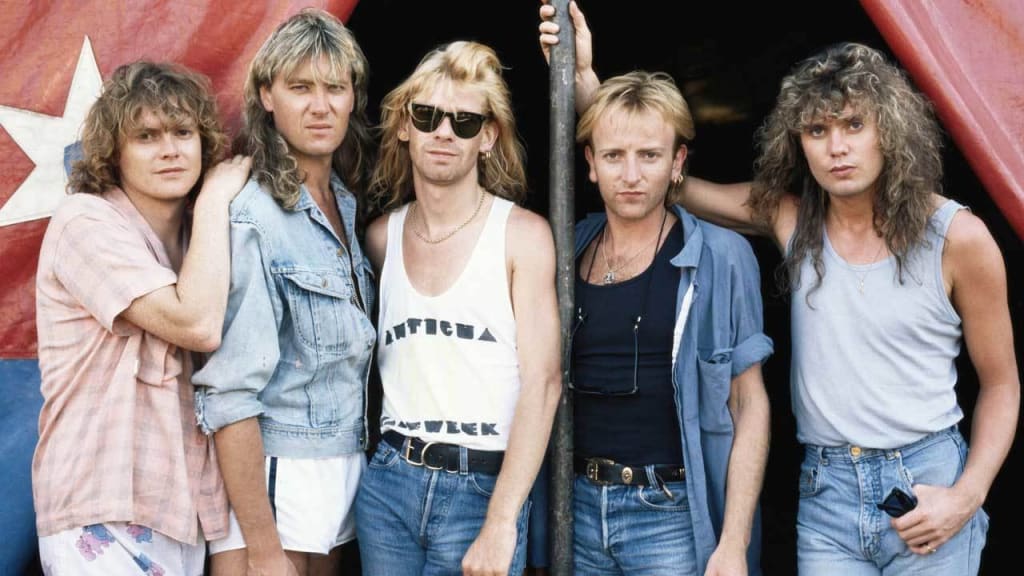 "I see your face every time I dream
On every page, every magazine
So wild and free so far from me
You're all I want, my fantasy"
Hello music fans! So, this latest entry is the first, but not last, spotlight on a Heavy Metal/ Hard Rock band. Metal had been around since the late-60's, but found its niche in the 1970's with bands like Led Zeppelin, Black Sabbath and Deep Purple were finding success on the album charts and even bigger success in rock arenas and stadiums. The argument surrounding Metal as a music genre is a stronger emphasis on electro-guitars and highly percussive beats - with the rare and occasional use of bass to spice things up. Arguably, the best example of this, was The Kinks' 1968 standard, "You Really Got Me", many debate is the first ever metal record to gain recognition.
In the 1980's, bands like Van Halen, Quiet Riot, Ratt and Twisted Sister (a few are already queued with future 'lists) all savored success on the charts and in concert. This band was from Sheffield, England. A hard-working, hard-living, working-class metal band that broke through barriers and ceilings and found early fame, only to endure the tragic death of a band member and the dismemberment of their drummer. They were a five-man band consisting of Joe Elliott on vocals and guitar. Rick Savage on bass. Rick Allen (with an incredible story which I'll get to in a moment) on drums. Phil Collen on guitar and their then-guitarist Steve Clark.
They formed in 1977, but were signed to their record label [Mercury] in 1979. "On Through The Night" was their album debut, though it failed to make a dent. Touring proved also difficult as many fans were displeased with their affiliation with American acts rather than their native homeland. Still, a meeting with mega-famous rock producer Robert John "Mutt" Lange who was responsible for Foreigner's and AC/DC's success, was the band's first initiation into the big time.
Released in 1981, "High & Dry" would bring the Leppard's first taste of real fame, as their song "Bringin' On The Heartbreak" became a big video hit on MTV. In two years, "Pyromania" was released and it was all uphill from there. Multi-platinum selling with three Top-40 hits: "Photograph", "Rock of Ages" and "Foolin'" and a loyal following on MTV. Fans were legion and their next album, "Hysteria" should've been a piece-of-cake studio album. Robert John "Mutt" Lange had a vision of creating a hard rock/metal album with the same formula as Michael Jackson's iconic album, "Thriller", that would put the band in the same stratosphere as the legendary entertainer, but for metal fans. What should've been a simple album turned into a nightmare for all involved. Even worse, a horrible car accident caused drummer Rick Allen to lose his right arm in 1984. It couldn't be re-attached and he would lose it permanently.
Throughout 1984 through 1986, "Hysteria" was being cut, recorded and mixed, with a special drum kit made especially for Allen. It was released in August of 1987 and began a meteoric rise to success in the UK. Their first hit, "Animal" bolted to Number 1 in their homeland, but only reached the top 20 here stateside. It was, however, their followup, the title track that gave them their first top-10 smash hit. "Pour Some Sugar on Me" would go even higher, up to Number 2. But, their morosely dark metal ballad, "Love Bites" would reach the zenith - Number 1 here in the US. "Armaggedon It" and "Rocket" in 1989 would end the hit streak for the album, a total of six smash hits off this one album. Then, a sad tragedy would cast a pall over the triumphs.
Guitarist Steve Clark battled addiction demons for most of his life, but lost his battle and his life in 1991. Their next album, "Adrenalize" released in 1992, which gave them the comeback single "Let's Get Rocked", was dedicated in his memory. He would eventually be replaced by Thin Lizzy guitarist Vivian Campbell, who himself is a cancer survivor. Tours and albums still continue for this strong thick-through-thin group.
My buddy Oates always has the first 'list:
CHERRY'S PICKS
We both picked the same song to start our list. An all-out rocker with a sweet side. Not to be confused with Ringo Starr's 1973 hit or for that matter, Nickelback's 2005 hit.
Love Bites was their first Number 1 here in the states. A rock ballad that had its origins as a country song (howsa 'bout that, Oates!). It wound up causing a controversial stir amongst some Christians that it had a tacked-on Satanic anti-Christian message" "Jesus of Nazareth, go to Hell". Uhh-really? It was actually producer Lange saying through a vocoder: "Yes it does, Bloody Hell". Smite that!
Easily their most recognizable rocker to date, which, let's be real, isn't about bathing in Domino sugar. Here's a hint: the 'birds' and the 'bees".
This poignant power ballad became their first ever top 10 smash hit. There was even criticism amongst band members about song sounding too much like...Chicago?
My buddy, Oates, knows a killer track when he hears one. Their official comeback hit had killer guitars, potent drumming/percussion and a pure undiluted dose of animal lust. And now...
MY PICKS
In my list as well, same numerical position. No further explanation needed. A great tune.
Ditto for this killer rock track. Should've gone top 10 in my opinion here. It was my sophomore year high school jam.
I love the harmonies on this slow, sexy power ballad; Allen's thumping drum work adds the song's potent pulse.
While it never charted, I loved this album cut off the "Hysteria" LP. It had all the right ingredients of a smooth, yet edgy power ballad. Almost an after thought to their hit song, "Animal". It's a 2014 live concert video uploaded. Just an FYI. Collen's shirtless through all of it. Hmmmm!
...and finally!
"Gunter glieben glauten globen", begins the track, which to the band's and Lange's admission, was just another goofy way of counting off the song. This one percolates pure sexiness in my opinion. Another fun little fact, not that it requires divulging, the song was being recorded just as lead singer Joe Elliott had found a church hymnal and saw the song's title (which many argue refers to Jesus Christ, himself). You could say it was "divinely-inspired". It's name also "inspired" a Broadway jukebox musical as well as 2012 movie starring [ahem]....Tom Cruise?!
I am spent! Until next time, rock stars! Next up: a new wave synth band that came from a place called....Bath?
80s music

Carlos Gonzalez
A passionate writer and graphic artist looking to break into the BIG TIME! Short stories, scripts and graphic art are my forte! Brooklyn N.Y. born and raised. Living in Manchester, Connecticut! Working on two novels now!
See all posts by Carlos Gonzalez →