Playlists
8EEZ Playlist
Daryl Hall & John Oates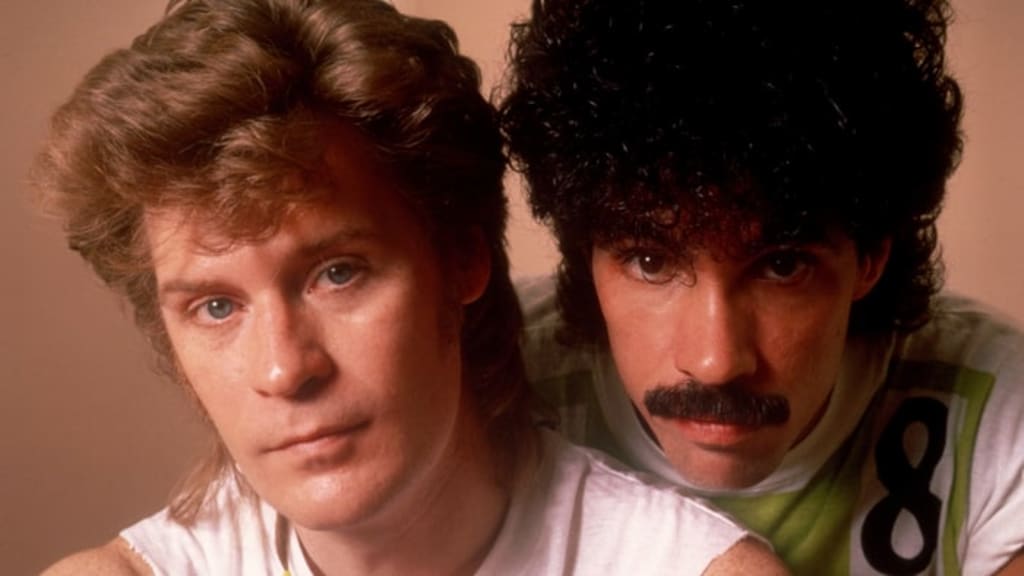 Hi. My name is Carlos G. Don't know me? Well, I didn't expect you to. But, if it helps any, here's a brief little bio. Brooklyn N.Y. born and bred. Went to the Fame" high school, but have yet to attain said...word. My passion is writing (scripts are my forte), but my other passion (obvious only to me): music!
So, I decided to meld both passions for this blog project. Everyone with an iPod, tablet, laptop, or even just a good old-fashioned Walkman, we all march to the beat of music. Genres, styles, preferences? Irrelevant! We need music, tone and a beat to march to the beat of everyday life!
All of this starts with a very simple concept called...a playlist!
A playlist is just your basic song list. Any artist will do. Any song, provided there's a sequence that's agreeable.
Here it is. The first in a series of blog entries inspired by a game that a close friend of mine named Calvin Cherry and I created to aleviate boredom. It all began in a church outside of North Atlanta when a dashing young buck with the voice of an angel came across the path of a burly, gruff, unrefined horse's....patoote like myself and discovered our one true passion: 80s music! Well, we both sang in the choir (his dulcet John Denver voice is what I remember most). I decided to give him a nickname. Oates, as in John; one half of the greatest rock/soul duo in all of rock 'n roll-dom. Somehow, despite his keen ability to yodel like the late pop/country singer, it seemed more appropo to liken our kinship to that of the most successful rock duo of the 80's, or any decade for that matter.
So, in honor of this first entry, the first playlist is a dueling of the best by the rock/blue-eyed soul act from Philadelphia, Pennsylvania who scored hit after hit in the Reagan/Rubik's Cube/MTV/'Me' decade. We'll start with Oates' list.
My Top 5 H&O List
5. She's Gone (1974)
Off their Abandoned Laundrette LP from 1973, "She's Gone" established the duo in their R&B roots and even though the first chart ride wasn't entirely a "smash" wave, two cover versions by Lou Rawls and Tavares both helped propel the song into hit-dom. Then, in 1976, after moving to RCA Records and their first album for them gave them their debut "smash" "Sara Smile", Atlantic Records re-released the song and it would go to number seven on the Billboard Hot 100 (while "Smile" went on to number five). What makes this song so great is the mournful chorus of "Oh, I's"; or "Oh, why?" depending on how you choose to hear it and it's moody, bitter ruminations about how the breakup went.
4. "Family Man" (1982)
A remake of a song by British musician Mike Oldfield from the same exact year, the song begins with the ominous keyboard with Hall singing lead describing an assumably beautiful woman (turns out she's a pro) in perfect detail soliciting some man in the song — until the chorus blurts out the unapologetic "block" about him being a married, family man. Killer guitar riff. Second verse, the pro drops her price and her 'pride' apparently; just how cute was this guy, anyway? Third verse, rejection received and she bolts, but not before he really seals the deal! Gee, most songs, the pro would get her way and the guy would cheat. NOT this one! Morality wins in rock n' roll!
3. "Out of Touch" (1984)
My recommendation has always been the album version with the "Dance On Your Knees" segue — as it gives us a nice hip-hop beat before pounding out its staccato percussion and bass line. A slight pause —then... euphoria!
2. "Private Eyes" (1981)
After finally hitting number one in the 1980s with "Kiss On My List", they had a hit-out-of-the-box with their title song from their follow-up with a jaunty ode to the private investagion field with the age-old musical standby: the Hand Clap!
1. "Kiss On My List" (1980)
After four single releases from their "Voices" and four years after hitting number one with "Rich Girl", this self-proclaimed "anti-love song" keeps you interested with it's main hook: simplicity. It does so much on so little; keyboards, percussion, guitar, and bass while Hall sings about one of but a few things that matter in life — the smooch!
Speaking of lists:
Cherry's Picks (Oates)
5. "Out of Touch" (1984)
My buddy, Cherry (Oates, as I affectionately call him) also appreciates this very popular H&O tune, which sadly, became their last number one record so far.
4. "Sara Smile" (1975)
Their first chart hit in the U.S. Top 40. A sweet, torch ballad dedicated to Hall's late girlfriend and frequent collaborator Sara Allen. This song is in my Top 10. This one could make anyone hold a smile awhile.
3. "Rich Girl" (1977)
Their first ever number 1 here in the U.S. Most notable for it's use of the word "bitch" in the lyrics. Probably their shortest song at two minutes, 23 seconds. The background story is that it's gender was switched due to rumors about whether the song was pro-gay. The song was actually about Hall's then-girlfriend's ex-boyfriend.
2. "Wait For Me" (1980)
Their first major hit in the 1980s. Sort of a "bidding adieu" to the 1970s and all the while bracing us for what lay ahead in the 1980s. Produced by mega-pop producer David Foster.
1. "Private Eyes" (1981)
Number two on my list; number one on his. What can I say? My bud knows a good hit when he hears it! Also, it's trench-coat/fedora cheapie MTV video still has it's silly infinite pleasures!
Until next time!
80s music
playlist

Carlos Gonzalez
A passionate writer and graphic artist looking to break into the BIG TIME! Short stories, scripts and graphic art are my forte! Brooklyn N.Y. born and raised. Living in Manchester, Connecticut! Working on two novels now!
See all posts by Carlos Gonzalez →