50 Words for Snow
The Album Review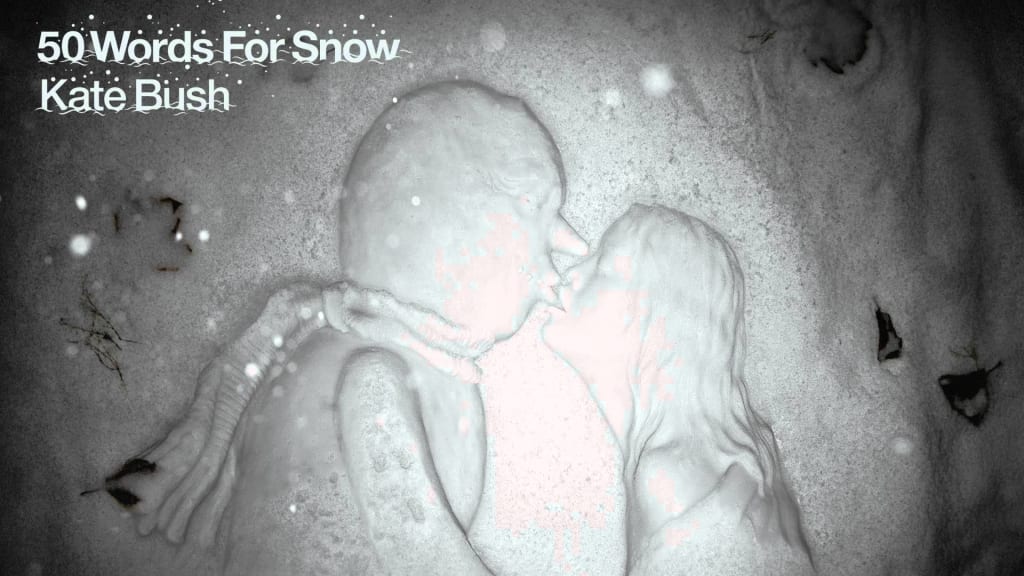 If you don't know who Kate Bush is, then it's about time you do. She's one of the most creative and humble artists in the music industry. 50 Words For Snow is Kate Bush's 10th album, which was released in 2011 by Fish People Records. I got this album for Christmas a few years back so this review is kinda late. Then again considering the current weather in the UK, it's got a winter atmosphere and it's meant to be spring. I guess you could say that this album is suitable for the weather.
I've been listening to the record on and off between the months. As soon as I heard that Kate Bush would be releasing a new studio album after The Director's Cut, I knew it would have universal acclaim and would do very well. One thing that I didn't expect would be guest vocals from her son, Stephen Fry and Elton John. I didn't see that coming, but when I heard about Stephen Fry and Elton John were going to be in it, I thought that it would be an interesting and special record as I wanted to know how it would work out.
I purchased the Double LP edition on Amazon for £18.99 at the time, which is the highest amount I ever spent on an album, but I do think that it was worth it at the end. To this date, it's still the most expensive album I've ever bought, but with how much vinyls can be sold for nowadays, maybe it was a bargain at the end.
If I recall correctly, I think it's the first time I've ever reviewed an album in its vinyl format for Ciao, and with the closure of the site, I wanted get in the swing of reviewing again. I think usually I just review the songs or the CD packaging, so I guess this review is a little bit special.
So I guess I'll start with mentioning the layout and overall design of the album. I think the layout and design is really adorable. Especially the front cover where there's a lady kissing a snowman. The booklet for the album is also just as great. I love how images seem to be layered and printed on top of the snow. It also has lyrics that are easy to read and a snow image that represents the song. The overall design is great and everything falls together.
As you can tell by the title, there's going to be a lot of mentions of snow and winter. I was expecting this so I didn't find it annoying, although I think because the word snow stands out a lot in this album it may give the listener a feeling that Kate keeps mentioning it ever five seconds and may sound annoying. But I didn't let that bother me, I thought that this was a really great album and think it's one of the best albums that 2011 had to offer.
I noticed that on this album Kate Bush's vocals sound little deeper to how they sounded in previous albums, such as The Kick Inside. I'm sure many people will remember her lush high pitched vocals from her first single, "Withering Heights."
However, the only downer I could say about this album was that I wasn't completely satisfied. Not because of the music: I thought the music was fantastic all round, but the album left me a hunger in my eyes as I felt that one play-through of the album wasn't enough. I wanted to listen to the album again and develop a deeper understanding of the songs. I think one of the reasons for this is because there are only seven tracks on this album and on a double vinyl it felt very short. I really liked the dreamy atmosphere in the album and the ending left me to want more Kate Bush music.
Personally, I'd rate all of the songs five out of five. I think it's a wonderful album that suitable for all ages and welcomes a variety of people with different tastes of music. One of the highlights in this album for me is the piano. The piano is played slowly, but really beautiful and captures the innocence of the songs as well as blends with Kate Bush's lush vocals.
"Snowflake" is so soft and beautiful. I love how it's sort of in the eyes of a snowflake. It creates a great atmosphere to the album and it's really got a caressing vibe. It's one of the best winter songs I've ever listened to. I think Kate Bush has created a modern masterpiece here. I also think it's sweet how Kate Bush's husband, Dan McIntosh is playing the guitars whilst their son, Albert sings on this song too. Stefan Roberts does guest vocals in Lake Tahoe. Beautiful vocals that add to the lovely atmosphere of the song and doesn't spoil Kate Bush's charm. Stefan's soprano styles are a really nice eerie touch to what is a peaceful song.
"Misty" takes up the whole of side 2 on the first LP. The piano introduction to "Misty" reminds me of a theme tune I've heard before, but I can't quite remember where it was. "Misty" is one of most interesting songs on the album.
When I'm listening to it, it makes me imagine that someone is building a snowman. It reminds me of a book I read called The Snow Child. The same book, I reviewed not so long ago. I love the way the lyrics describe everything. It's so innocent, but poetic at the same time. This is one of the longest songs of the album and it's about 13 minutes, but it tells a really nice story.
Onto LP 2. Side Three has "Wild Man" and "Snowed in at Wheeler Street" while Side Four has the title track and the final track, "Among Angels." "Wild Man" is a lot more upbeat and jazzy compared to the rest of the album, so you could say that this track is the oddball of the album. At the same time, I think the chorus has that quirky classic Kate Bush vibe. I think Kate Bush sounds pretty seductive and awesome in the verses. Love the imagery on this song.
"Snowed in t Wheeler Street" is a duet between Kate Bush and Elton John. Both legends in their own right and it was interesting how their vocals worked together. The introduction is quite dark and edgy and then it gets romantic with the hard-hitting lyrics and shares some really nostalgic vibes.
The title track reminds me of a children's song. Not in a bad way, I mean it's lyrics are simple and the way it's composed it could be a nursery rhyme. It's still pretty wicked in my opinion, love the music to it. It's so upbeat and got a trippy base.
Stephen Fry plays the voice of Prof. Joseph Yupik. Yupik lists his words for snow and Kate's vocals consist of her begging for the rest of the words and reminds us how many words are left. The last word could have been a bit more inventive though, but other than that brilliant.
"Among Angels" is similar to "Snowflake" in my opinion. It feels like the second part of the song. It's really lovely and heartwarming for me. I really love some of the lyrics on this song, especially the part about angels where they shimmer like angels in summer and that they're a sign of someone who's loved you for a long time and you don't know about it yet. The song brings out a warm and beautiful message. I feel like sharing this song with friends who are feeling depressed because of that.
I've listened to the album in MP3 format and vinyl format and for me, I think the vinyl format sounded the better for me because I thought that it was more homely. Kate Bush herself even admitted that she still used demo tapes because she loves the homely feel of it. So overall I think this is an atmospheric album from a wonderful artist and I think the album is worth a spin.
album reviews