5 Things I've Learnt from My First Three Months of Touring
Mistakes I've made that you should avoid!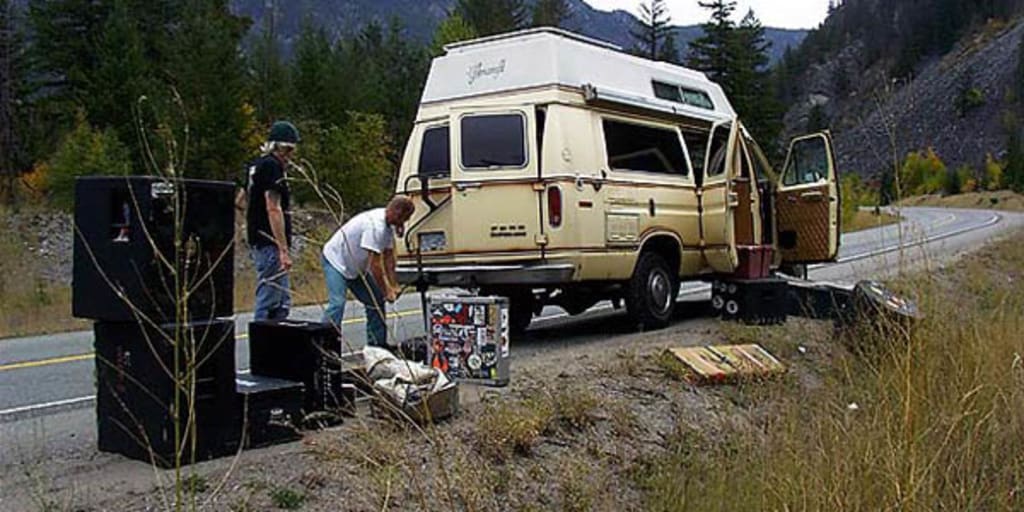 Since the beginning of March, I've been on a UK tour with a Northern Soul Band called "The Signatures." It has been one of the best experiences of my career, but it has also had its challenges and various valuable lessons.
1) Don't Eat Fast Food (Too Much)
This tour is the first time I've been away from home properly without my parents around, so of course I took this as an opportunity to eat whatever I wanted. BAD IDEA, after the first two dates, I quickly learnt that getting by on the energy of McDonalds. is not going to see you through a show and it is not going to make your insides feel very good either. Obviously, everyone eats junk food on the road, but as long as you balance it out with the odd fruit pot and flavored water, you'll be fine.
2) Sleep as much as possible on the bus and at home.
On this tour, we are only on the road during weekends and during the week, we go back to our normal mundane lives, we also drive back home on the same night for some of the gigs. This involves various days of getting in at 5:30/6:00AM, this renders me and various other members of the band shattered the next day. This is why its important to get as much sleep as you possibly can when you're on the way back from a show or the next day once you're at home, if you don't make time to sleep, you'll end up becoming unwell pretty quickly.
3) Try your best to get to know the sound guy of every venue by name.
This can be quite hard sometimes, but it is also quite important to make sure at least one of the band members know the sound guys name, especially if you want your show to go well. For me, its integral to know the sound guy because he is the one in charge of my monitor mix and because I'm running in ear monitors for this tour, having a good or bad mix really does affect the way I perform and play on stage. If the sound team and I are on first name terms, I feel more comfortable asking for certain things, such as the adjustment of my monitor mix. Another thing I try my best to do, is to shake the hand(s) of the sound guy(s) and general venue team and say thank you, it may take that little bit of extra time, but it makes them feel appreciated and they won't forget it very quickly.
Further to this point, you will get the odd sound guy that can be rude and sometimes let the power of being in control of your sound go to their head. If you meet a guy/girl like this just nod and smile, as tempting as it is to tell them wear to stick their advice/demands.
4. Spares, Spares, SPARES!
This lesson was a very hard one for me to learn and it certainly isn't one I will forget in a hurry, I really learnt it the worst way possible too. We were on our last show of the first month of the tour, and it was a hometown show for me, literally in Billericay, the town in which I live and grew up in. We get on stage and begin setting up, I plug everything in, go to switch on my keyboard... NOTHING, literally not lights, sound, nothing! To say I was bricking it was an understatement! I unplug my power supply and check it to be greeted with the heart breaking sight of bare wiring, which basically means the power supply isn't going to work... I was stressing, the band were stressing and I wanted the ground to swallow me up.. thankfully, a fellow keyboard player lent me his keyboard and I had to learn how to use it on the fly. It's safe to say that I will not be making that mistake EVER again!
5. Enjoy it!

I've been very fortunate to have my first touring experience at the age of 19. It has been stressful, crazy, sweaty, tiring, absolutely hilarious and genuinely the best experience of my career. The tour hasn't ended yet either, which is good because I don't want it to for a while! The musicians in The Signatures are outstanding and have a wealth of knowledge that I have learnt so much from dipping in to, asking questions and by simply watching how they do things in the studio and on stage.
Thanks for reading, I hope the advice has helped you avoid some of the mistakes I've made!
how to
A session musician, composer for media and music educator based in the UK looking to share his knowledge with the world!
Receive stories by Gary Cunningham in

your feed