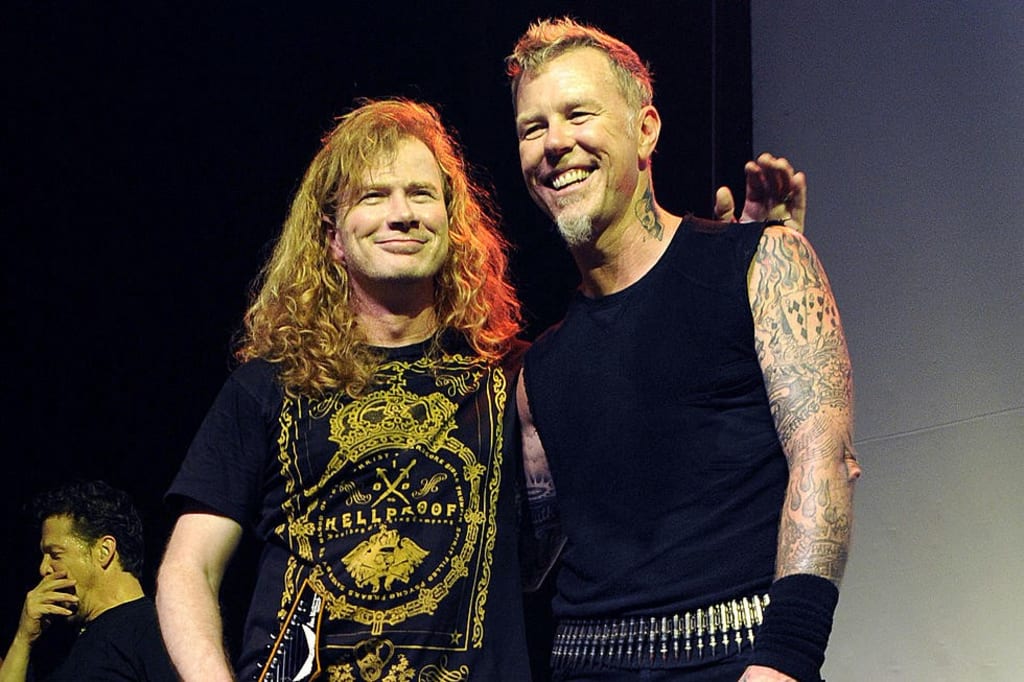 Although best known as members of two separate but equally iconic Metal groups, Dave Mustaine and James Hetfield once worked together in Metallica. Image: Loudwire
As I said before, while some groups live on forever, some of their members may fall by the wayside. After all, every successful band tends to undergo several line-up changes before eventually finding that formation that catapults them into immortality.
Oftentimes, a particular member slips past most people's radars for either a very short stint in a band, leaving a band before it becomes famous or because they are more well-known as solo artists or in other groups.
Regardless of the reason, each of these people deserves to be recognised for whatever contributions they made in their respective bands.
Without further ado, let's begin!
#5. Jimmie Nicol: The Beatles
I closed off the previous list with The Beatles' original bassist Stuart Sutcliffe. So perhaps it would be fitting to open this one with The Fab Four's forgotten drummer, Jimmie Nicol. Once again, I did consider including Pete Best on the list but chose Jimmie Nicol instead due to his shorter stint and a less familiar name.
Unlike Best or Sutcliffe, original members who left before the band's heyday, Jimmie Nicol joined The Beatles at the very height of their popularity.
In June 1964, The Beatles were set to embark on a tour of Australasia. However, shortly before embarking on the trip, Ringo Starr became ill with tonsillitis and needed to be hospitalised. Unwilling to cancel part of the tour, the group's management chose to find a drummer to stand in for Starr until he was well enough to rejoin the tour.
The band's producer, George Martin, suggested Jimmie Nicol, a sessions drummer he had worked with. Martin was aware that Nicol was also a member of a Beatles cover band and already knew many of their songs by heart, thus making him the ideal stand-in.
After convincing the group to accept the temporary replacement, Nicol was hastily contacted, flown in, dressed up, and on stage as part of the Fab Four within just over 24 hours. Dressed in Ringo Starr's suits and donning the group's traditional hairstyle, the unknown drummer was thrust into the very center of Beatlemania.
Although the band was initially hesitant to replace Ringo, even temporarily, they grew to enjoy Nicol's company, and a genuine friendship was formed between them. However, after just eight weeks with the group, Nicol left The Beatles following Ringo Starr's recovery. While he had hoped that his association with the band would help his own career, Nicol fell back into obscurity, and nine months later, he filed for bankruptcy.
Paul McCartney had heard of his friend's plight and gave him a gig with Peter and Gordon, a duo with close ties to The Beatles' bassist. After getting back on his feet, Nicol would leave the music and earn a steady living running a home renovation business. While disillusioned with how his career went, Nicol refused to sell his story for money out of respect for the band that had treated him well.
Nicol's biggest contribution to The Beatles came after his departure from the group. The song Getting Better from the band's Sgt Pepper's album was inspired by Nicol's conversations with the band. During Nicol's stint with the group, the other members would often ask how he was coping and he would always reply, "It's Getting Better."
#4. Bob Welch: Fleetwood Mac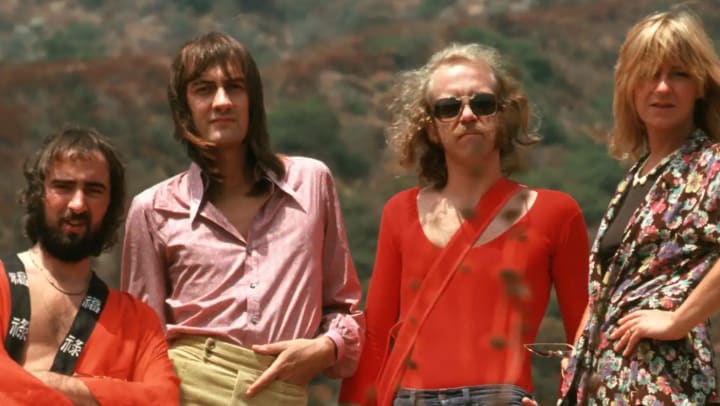 When most people think about Fleetwood Mac, they often remember the iconic Rumours line-up of the group consisting of Mick Fleetwood, John McVie, Christine McVie, Lindsey Buckingham, and Stevie Nicks. A few more dedicated fans may also point towards their Blues-inspired beginnings under Peter Green in the late 60s.
However, the period between these two distinct eras of Fleetwood Mac has often gone understated. A fixture of this so-called "transitory" period was Bob Welch. Initially joining the group in 1971, Welch served as Fleetwood Mac's new rhythm guitarist, replacing original member Jeremey Spencer.
Initially working well with the band's lead guitarist Danny Kirwan, tensions began to brew between the two due to creative differences and Kirwan's alcoholism. When Kirwan left the group, Welch took over as Fleetwood Mac's lead guitarist and later became one of the group's key songwriters with Christine McVie.
Welch left Fleetwood Mac in 1974 and was replaced by the duo of Lindsey Buckingham and Stevie Nicks. Despite his departure, he remained close with the group, with Mick Fleetwood continuing to manage him. Welch would also find more memorable success as a solo artist with his album French Kiss which featured the hit songs Ebony Eyes and Sentimental Lady. Welch would occasionally open for the band during the Rumours era at the height of both his and Fleetwood Mac's careers.
In the 90s, however, Welch's relationship with the band began to deteriorate following a royalties lawsuit that he filed against Fleetwood and the McVies. When Fleetwood Mac was inducted into the Rock n Roll Hall of Fame in 1998, members from both its Rumours era and earlier line-ups were honoured. However, Welch was noticeably left out of the induction and cited his lawsuit as the reason for the exclusion.
In later years, Welch and Mick Fleetwood would reconcile after a backstage visit at a Fleetwood Mac show in 2003. Bob Welch passed away in 2012 from a self-inflicted gunshot wound. Having recently undergone spinal surgery, Welch was told that he would not recover fully and would require extra care. Refusing to be a burden on his wife, Welch would take his own life. A tragic end to a man who anchored Fleetwood Mac through one of its more difficult periods.
#3. Bernie Leadon: Eagles
Before the Eagles made it big with a harder Rock and Pop-inspired sound, their earlier hits were noticeably more Country influenced. A big player in the Country Rock genre, the Eagles' earlier sound was heavily influenced by one of its lesser-known members, Bernie Leadon.
Leadon, who was an accomplished multi-instrumentalist, was a former member of The Flying Burrito Brothers and the last original member to join the Eagles. With his heavily Country inspired style as the group's lead guitarist, the Eagles' debut album shot the band up to instant success. Leadon also played the banjo and mandolin, among other instruments, and also clicked well with the group's second lead guitarist, Don Felder.
Despite the group's considerable success, Glenn Frey and Don Henley sought to push the Eagles away from the Country Rock genre to a more conventional Rock sound.
While this change soon proved very successful, creative tensions began to arise between Leadon, Frey, and Henley. Leadon, who was becoming increasingly frustrated with the band's creative direction and burnt out by the group's lifestyle, left The Eagles on acrimonious terms after pouring a beer on Frey's head.
Leadon's departure would come just before the Eagles' Hotel California heyday, and he was replaced by Joe Walsh. In the years to follow, Leadon avoided the spotlight but was able to carry on a successful career as a highly in-demand sessions musician. He would also reconcile with the Eagles and was inducted into the Rock n Roll hall of fame alongside them in 1998.
Leadon has continued as a session musician and has stuck quite firmly to his Country and Bluegrass roots, often being recognised as being instrumental in bringing the genre into the mainstream.
Having reconnected with the Eagles, Leadon has occasionally joined them for extended reunions or one-off performances and even toured with them for a two-year stint as part of the History of the Eagles tour from 2013–2015.
#2. Dave Mustaine: Metallica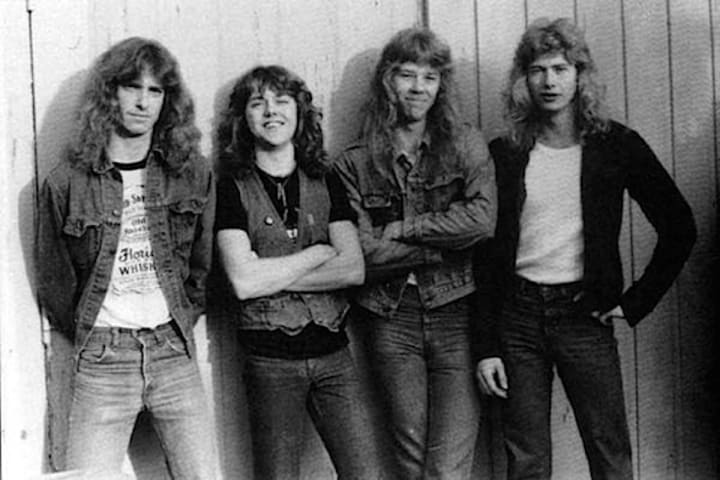 Metallica and Megadeth are considered pillars of the Thrash Metal genre. When Dave Mustaine's name is brought up, he is more often than not associated with the latter rather than the former, considering the fact he founded Megadeth and is its lead singer. However, Mustaine was part of Metallica before Megadeth even came into existence.
In 1981, the band that would soon become known as Metallica was searching for members to round off the group. Lars Ulrich had put an ad in the paper to recruit a lead guitarist for this group. Mustaine, who had recently disbanded his earlier band, answered the ad and met up with Ulrich and James Hetfield.
Initially thinking he would need to audition for the part, Mustaine was pleasantly surprised that he was automatically let into the group. While Metallica was beginning to work on their first album, Kill 'Em All, Mustaine's erratic behaviour would soon put him at odds with the rest of the band. While most of the group had their share of vices at the time, Mustaine's alcohol and drug use made him impossible to work with.
Fed up with Mustaine's antics, he would be removed from Metallica in unceremonious fashion. Having already hired Kirk Hammett as their new guitarist, the rest of the band woke up a hungover Mustaine, announced that he was no longer part of the group, and put him on a four-day bus ride from New York to Los Angeles.
On that bus ride, Mustaine came up with material he would later release with Megadeth.
While it may have seemed to be a crushing blow to have been ejected from one of the greatest Metal bands of all time, Dave Mustaine was able to bounce back and form a group that has grown to stand on equal footing with Metallica. So, while he may be a forgotten member of Metallica, this is only due to his short stint with the group and subsequent success in Megadeth. However, he has been credited for several earlier Metallica songs.
#1. Tracii Guns: Guns N' Roses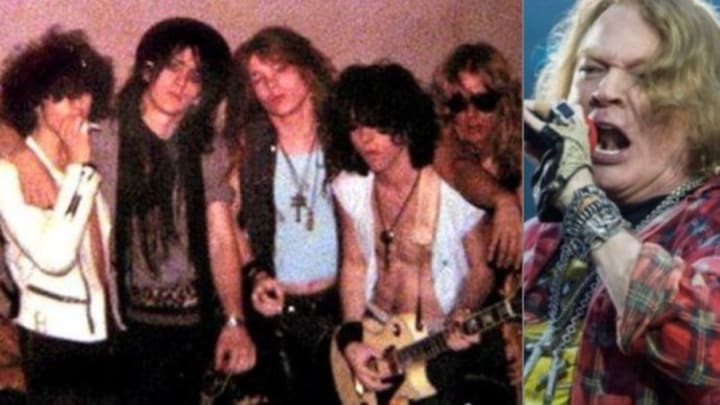 While we all know the Roses in Guns N' Roses to be Axl Rose, fewer people seem to know where the Guns in the band's name comes from. While his name remains with the group over three decades since its formation, Tracii Guns' stint with Guns N' Roses spans only the first two months of their run.
In 1983, Guns had recently formed the Glam Metal group L.A. Guns. When the group's singer Mike Jasgoz was arrested after a bar fight, Guns recruited Axl Rose to fill in for him temporarily. When Jagoz returned, Rose left L.A. Guns and formed his own group, Hollywood Rose.
Two years later, Guns and Rose would cross paths once more and, this time decided to merge their two bands. Borrowing from their bands' names which in turn were based on their own surnames, L.A. Guns and Hollywood Rose would merge into Guns N' Roses. The merger seemed to help the members on both sides reach a new level of success.
However, over the next few months, tensions would flare between Guns and Rose. The L.A Guns faction of GNR would gradually find themselves out of the group, with Guns himself leaving following an argument with Rose. Slash would soon replace Guns, while other L.A. Guns members Ole Beich and Rob Gardner would see Duff McKagan and Steven Adler, respectively, taking over their roles.
While GNR no longer had any members from L.A. Guns among their ranks, the name stuck, and they soon found immortal success with the lineup of Axl Rose, Slash, Izzy Stradlin, Duff McKagan, and Steven Adler. While his name remained with the group, Tracii Guns left GNR before they reached success and his association with the group soon disappeared into the annals of history.
Today, Guns remains the leader of L.A. Guns and has worked in a number of other groups over the years as well. In recent years, Guns has made it clear that he does not resent GNR for finding success without him and even considers it an honour that his name remains with the band to this day. After all, it is quite rare for a band to be partly named after a musician who had long departed from the group.
That does it for this list! If you made it this far, let me thank you for taking the time to read this! It goes to show that even the greatest groups contain one or two unsung heroes who are more than deserving of a little recognition.
If you know of other similar stories, let me know in the comments. I love hearing back!
Who knows, perhaps there are more unsung heroes who warrant yet another follow-up. Until then, take care!
Reader insights
Be the first to share your insights about this piece.
Add your insights