11 year old Prince Rodger Nelson
A newly released archive news footage of 11 year old Prince Rodger Nelson before his time before he became the artist formerly known as "Prince"
A news station found an archive news footage of eleven year old Prince Rodger Nelson interviewed with the local reporter during the 1970s Minneapolis Teachers strike before he became a global Superstar.
April 1970, Minneapolis, Minnesota (52 years ago)
More than 4,000 Minneapolis educators were outside on strike demanding good pay, class size reduction, and better benefits. Other than Minneapolis teachers protest, there were young kids that were showing their support for the teachers. One of the kids: a young boy dressed in a blue jacket and warm ear muffs was seen on the news, he never gave a name but the boy did respond to the reporter Quent Neufeld when he asked if the kids are in favor of the teachers protesting and said:
"Yup....I think they should get a better education too, because, um … I think they should get some more money 'cause they work, they be working extra hours for us and all that stuff"
And who was that young boy in the blue jacket? Does he look familiar to you??? Well...
52 Years later after the interview........
Matt Liddy, a WCCO staff found an archive footage of the Minnepolis 1970s teachers strike. He saw the young boys face and he knew he has a familiar face.
He told the network:
"I grew up in Minneapolis, so all I cared about was looking at cool old buildings from the place I grew up. Did I recognize my old school? Did I recognize any landmarks?"

"I immediately just went out to the newsroom and started showing people and saying, 'I'm not gonna tell you who I think this is, but who do you think this is?'
So they immediately looked:
"Prince"
Yes, the Global iconic 1999, Doves Cry Grammy Winning and Oscar Winning Prince.
Unfortunately, the iconic royal badness passed away in 2016 and WCCO can't confirm that it is Prince since he never said his name with the reporter.

WCCO start to investigate...They tried to find another boy Ronnie Kitchen was interviewed by the reporter but found nothing. They meet with local music historian and Prince superfan Kristen Zschomler. She saw the footage and believes that it is Prince and also saw the footage of the background of the interview what looked like Lincoln Junior High School, the school he would have been attending in April 1970, according to WCCO. She also showed Wagner a picture of Prince in sixth grade the same year the strike occurred and the hairstyle looked the same but it wasn't enough and they had keep digging this time to find someone who knew and grew up with Prince in Minneapolis. So they found two of childhood friends.
Two of Prince's childhood friends: his former neighbor Terrance Jackson who was in a band with Prince when they were teenagers called Grand Central and always calls him "Skipper" when they were kids and Rhoda Jackson Terrance's wife who also knew Prince.
He tells :
"We go far back as kindergarten at John Hay Elementary in north Minneapolis."
The Two watched the 1970s footage and confirmed that is indeed the royal badness Prince.
"That is Prince! Standing right there with the hat on, right? That's Skipper! Oh my God!"

He said with excitement.

"I am like blown away. I'm totally blown away."
They were amazed to see the Global Icon before his time as a local 11 year old Minneapolis school boy. By the end of the video, Jackson was wiping tears from his eyes and laughing again.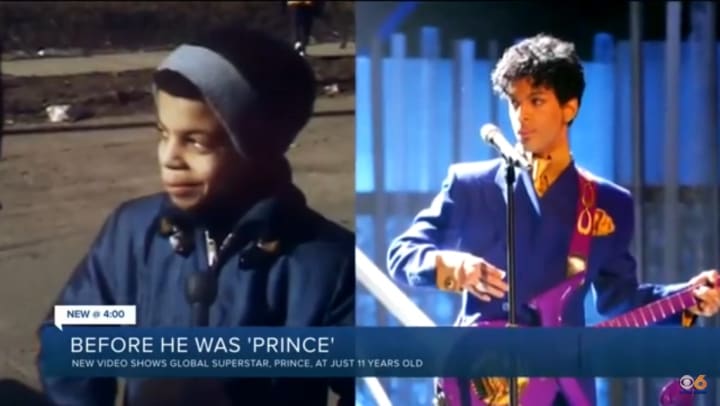 The interview lasts less than 20 seconds but the footage has elicited glee from musicians like Questlove and Sheila E, a frequent Prince collaborator, and has captivated Minnesotans and Prince fans and scholars.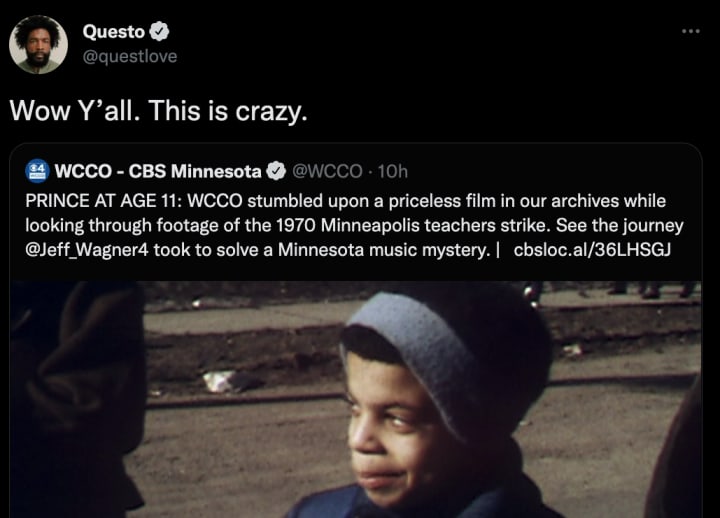 Source
YouTube
About the Creator
Hello, My name is Gladys W. Muturi. I am an Actress, Writer, Filmmaker, Producer, and Mother of 1.
Instagram: @gladys_muturi95
Twitter: @gladys_muturi
Facebook: facebook.com/gladystheactress
YouTube
Reader insights
Be the first to share your insights about this piece.
Add your insights