10 Rock Songs to add to your Zen Playlist if you get more peace from Lyrics than a Melody
"Take me to the place I love, take me all the way"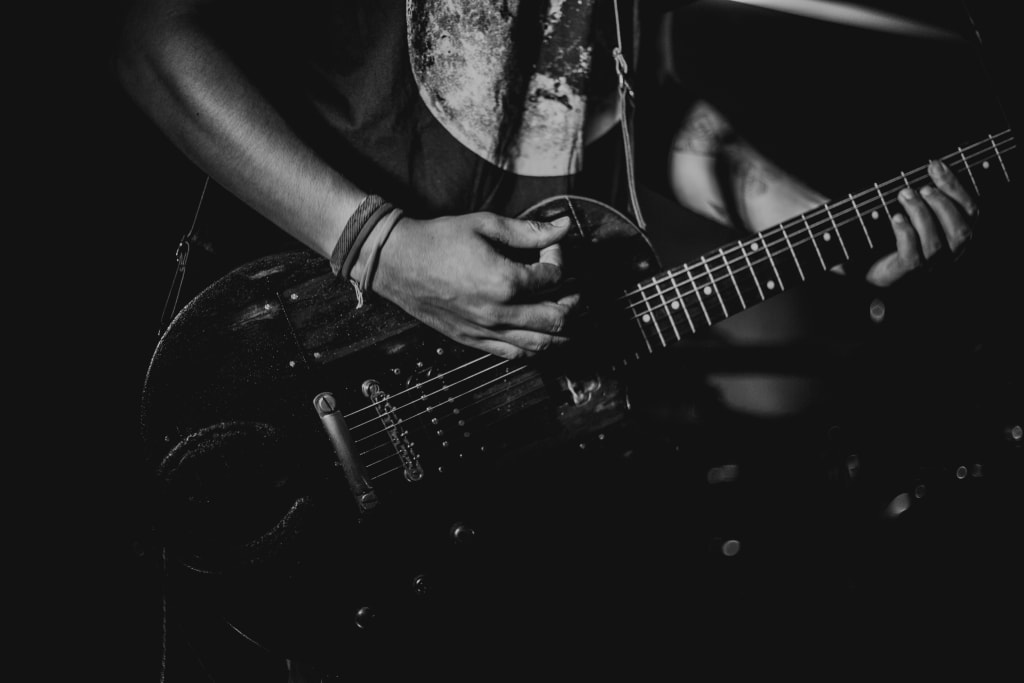 This challenge is one of the most alluring for me since joining Vocal. I can't say I meditate in a traditional sense, but have always used music as an escape. The opportunity to share my version of what brings me Zen was both exciting and overwhelming. Knowing I could go on for pages, I struggled with how to narrow it down.
It may come as no surprise, given I love to write, that I'm far more captivated by a stellar set of lyrics than a catchy melody.
I suffer from Anxiety so when I need to wind down, escape, distract myself or just stop, I often turn to music.
I run a hot bath, I pour myself a glass of wine (or whisky) and let the lyrics to my favourite songs transport me somewhere new.
I have a super eclectic playlist as a rule, but I still find myself surprised that some of the most romantic lyrics come from the heaviest of genres. There are some epic storytellers in the rock world, as well as some straight up poets.
I've decided, for the sake of a challenge, to narrow my playlist down to my top 10 rock songs for when I need some amazing words to bring me inner peace.
In no particular order...
1. Under the Bridge - Red Hot Chilli Peppers
"Take me to the place I love, take me all the way" - This song is a must on your playlist if you are seeking an escape. Obviously this was written at a very specific point in Kiedis' life, but most of us can relate to a time where we felt like we had no one and had to cling to something tangible (like the city we live in and love) to help us through the slump. Also serves as a reminder that if it's bad, it will get better. Zen rating: 8/10
2. Handwritten - Gaslight Anthem
"There's nothing like another soul that's been cut up the same" - I could fill this whole playlist with Gaslight Anthem. Instead I've chosen only two songs by this super underrated band. I use writing as a similar outlet to music. The lyrics to this song capture that feeling for me. Zen rating: 9/10
3. Saving Grace - Tom Petty
"And there's a corner of the floor, they're telling you is yours. You're confident but not really sure" - When my mind is spiralling, these lyrics feel like i'm being spoken to directly. A grounding song. Figure it out, baby. Zen rating: 9/10
4. Pardon Me - Incubus
"Exploding seems like an imminent possibility to me. So pardon me while I burst into flames." - Anxiety captured in two lines. I'll be right back, after I've combusted. Gets me out of my head, and makes the feelings tangible. Zen rating: 9/10
5. Through Glass - Stone Sour
"But no one ever tells you that forever feels like home, sitting all alone inside your head" - Theme emerging? Absolutely. Too much time in your own head can start to feel like a chaos that's far too comfortable. Time to come back to reality. Zen rating: 9/10
6. Everlong - Foo Fighters
"The only thing I'll ever ask of you, you've got to promise not to stop when I say when" - The most epic way to say, "please don't give up on me". This song is just an all round banger. It will pull you from the pit and make you feel alive again. Zen rating: 10/10
7. I Am Mine - Pearl Jam
"I know I was born and I know that I'll die. The in-between is mine. I am mine." - Anxiety, it's been real. But I'll be taking the reins back right about now, okay? The lyrics to this song are pure poetry. Zen rating: 10/10
8. House on Fire - Rise Against
"Am I your sail or your anchor? Am I the calm or the hurricane?" - This song is a must if you need a reminder that, even if you feel like a ticking time bomb, someone will hold space for you. Zen rating: 8/10
9. Blue Jeans & White T-Shirts - Gaslight Anthem
"We're never going home until the sun says we're finished. I'll love you forever if I ever love at all, wild hearts, blue jeans, & white t-shirts" - Second appearance from Gaslight Anthem on this list. This song reminds me of young love at sunset on a summer afternoon. Contentment, anticipation and bliss. Zen rating: 10/10
10. Until it Sleeps - Metallica
"So tear me open, but beware, there's things inside without a care" - Another nod to the anxiety lurking within. Taking something intangible and making it real. To fight it off and find inner peace. Zen Rating: 8/10.
Playlist overall Zen rating: 10/10
I've shared snippets of my favourite lyrics from these songs. The lines that hit me right in the feels. They are so much more than one line, and if your favourite way to use language is to tap into your inner zen, then check out this playlist.
You can find my Zen playlist below - "Poetry & Peace".
playlist
I have too many thoughts. I write to clear some headspace.
Instagram: @thelittlepoet_jw
"To die, would be an awfully big adventure"—Peter Pan
Receive stories by Jessie Waddell in

your feed