10 Best Fiona Apple Songs
Music that hovers over your life and keeps you reaching...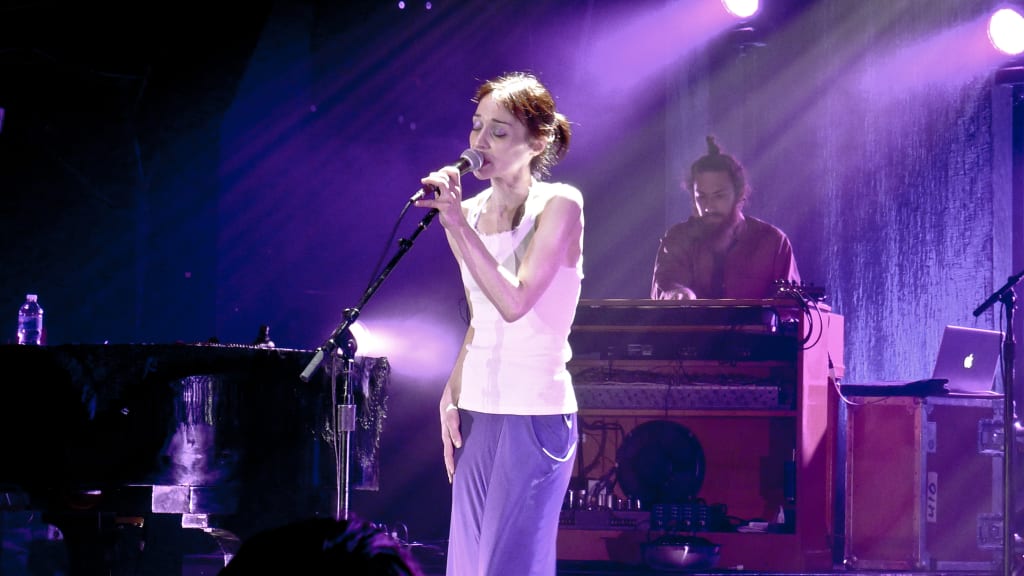 Though she has a relatively small catalog, Fiona Apple is one of the most influential singer-songwriters of the 1990s. Her powerful voice, confessional lyrics, and heavy playing style have made an indelible mark in music, and these are 10 of what I think are her finest tracks. For this list, I considered popularity, songwriting quality, and emotional intensity. It was difficult to choose, so here are a few honorable mentions:
"The Way Things Are" - "Pale September" - "Red Red Red" - "Regret" - "O' Sailor"
1) "Sullen Girl" - Tidal
One of the most memorable songs on the breakthrough album Tidal, "Sullen Girl" is full of evocative atmosphere and flowing vocals. Apple's lyrics are poignant and poetic, painting an image of a little lost girl underwater, walking on the seabed, gladly distancing herself from the surface world, an intriguing reversal of the idealistic and unrealistic Little Mermaid tale.
2) "Not About Love" - Extraordinary Machine
This song may be more famous for its memorable music video, but "Not About Love" is an excellent climax to 2005's Extraordinary Machine. It serves as the moment of self-realization for the subject, as she comes to terms with her mistakes and her self-destructive patterns, and admits them in order to move on. The tempo change at the break is amazing piano work, and some of Apple's best.
3) "Limp" - When the Pawn...
One of Apple's more aggressive songs, this dark and assertive track plays the quiet-loud-quiet dynamic to full effect. The lyrics are full of striking imagery, perhaps the best example being the second verse: "You feed the beast I have within me / You wave the red flag / Baby you make it run run run / Standing on the sidelines waving and grinning / You fondle my trigger then you blame my gun." It is uncompromising and powerful.
4) "Werewolf" - The Idler Wheel...
A song that balances a caustic tongue and a romantic soul, "Werewolf" is one of the best tracks on the excellent 2012 album The Idler Wheel... The music balances a light, prancing melody with a somber tone. The clever, almost meta lyrics, however, are the definite highlight of this song, with their confessional and confrontational but never spiteful attitude.
5) "Slow Like Honey" - Tidal
I can't overemphasize how well this song is titled. The sensual music and Apple's sultry voice bring to mind sweet, slowly dripping honey. Its rhythm lulls and transports you to a warm, loving place. The lyrics are some of Apple's simpler, opting for stark honesty rather than her usual heavily-woven, poetic metaphors. The effect is compelling and hypnotic, as if we are falling under the singer's spell as we listen.
6) "Waltz (Better Than Fine)" - Extraordinary Machine
A personal favorite, this song is a breath of optimism after some of the darker tones of the album. It is almost a continuation of "Not About Love," which accepts the grim reality of the situation, while "Better Than Fine" moves past it, towards greener pastures. Its whimsical string arrangement wouldn't sound out of place in a musical, and it's hard for me not to picture Fiona dancing across the stage, away from the darker days and into the breaking dawn of a new day.
7) "Get Gone" - When the Pawn...
Apple's 1999 album When the Pawn... is so littered with amazing tracks, it's nearly impossible to pick favorites. However, "Get Gone" is undeniably a standout. It takes all the heartbreak, sorrow, and anger from the rest of the album and focuses it into an ultimate confrontation of both her own demons, and those of her partner. Cathartic music at its best, "Get Gone" is one of my favorite Fiona Apple songs of all time.
8) "Criminal" - Tidal
It would be, ahem, criminal to leave this one off the list. No matter how old it gets, and how many times you hear it, it retains its appeal. With a hip-shaking rhythm and Apple's signature self-aware lyrics, it's an excellent summation of her sound and dominant themes throughout her career. Like any good Fiona Apple song, "Criminal" accepts a grim situation and looks on to what could come after.
9) "Anything We Want" - The Idler Wheel...
Apple's uncanny ability to sonically evoke complicated emotions is on full display here. Every chord tells a story, and pulls on the heart strings. One of the highlights of the raw and uncompromising Idler Wheel album, "Anything We Want" provides a nice conclusion to the tale told throughout the album, acknowledging the past, looking forward to the future, and coming around to remain in the present, and take advantage of it. Both heartfelt and sexy, this is one of Apple's finest compositions.
10) "A Mistake" - When the Pawn...
Another solid track from what may be Apple's strongest album, "A Mistake" is dripping with self-loathing at the same time that it revels in its own destructiveness. There's something cathartic about the way the subject throws all reservations to the wind and jumps into the emotional quagmire. The funky rhythm keeps you hooked throughout.