Playlists
10 Best Tori Amos Songs
For All the Raisin Girls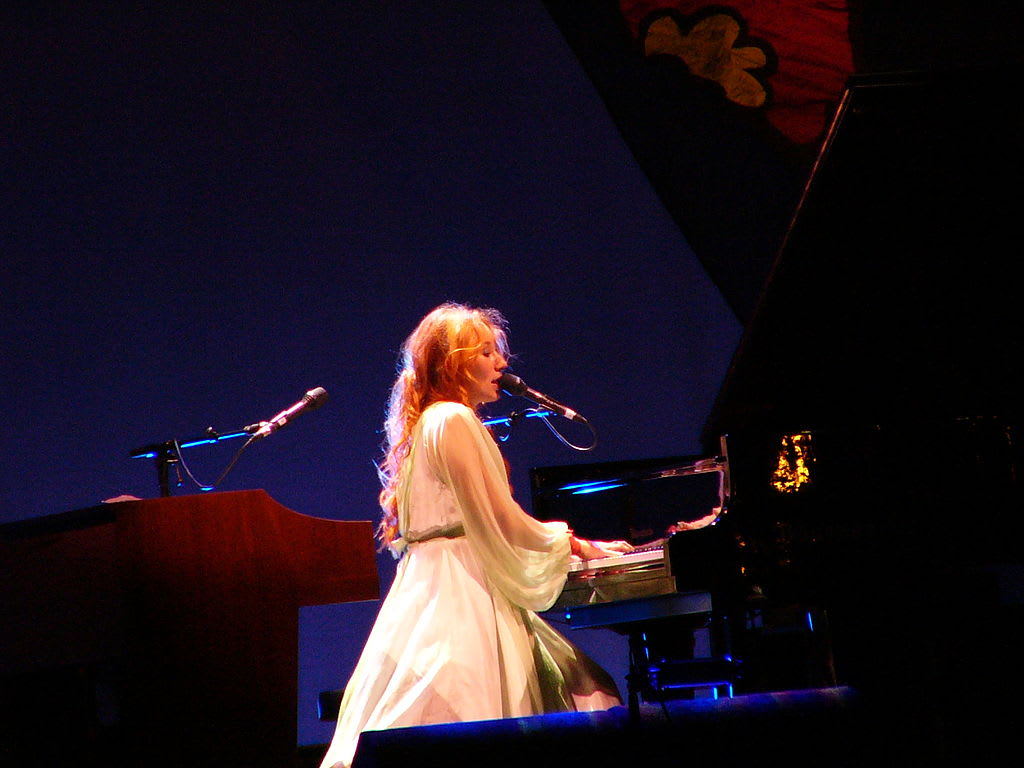 Tori Amos has a vast catalog of A-sides, B-sides, demos, remixes, soundtrack contributions, live variants, and covers. Just 10 songs will never be able to cover all of her moods, sounds, and experimentations, but in this article, I'll do my best to give an overview of what I think are her best tracks. In the interest of fairness to the expansiveness of Amos's discography, only one song per album was chosen. I chose these songs based on popularity, composition, lyrics, and emotional content. As I said, it's impossible to cover everything in 10 tracks, so I'd like to throw out a few honorable mentions:
"Winter" - "Silent All These Years" - "Yes, Anastasia" - "Carbon" - "Purple People" - "Hey Jupiter" - "Siren" - "Icicle" - "Liquid Diamonds" - "Caught a Lite Sneeze"
1) "Curtain Call" (Abnormally Attracted to Sin, 2009)
While Amos's 2009 album has mixed reviews among critics and Toriphiles alike, this sweeping, clearly autobiographical track provides the much-needed mid-album pathos to Abnormally Attracted to Sin. The guitar chords of the chorus provide a triumphant accompaniment to the trilling notes of Amos's signature Bosendorfer piano.
2) "Father's Son" (American Doll Posse, 2007)
This song is a brilliant, if painful, commentary on the state of the world in 2007, which takes us into the darker themes of American Doll Posse, which was half fun-loving rock 'n' roll romp, and half social and political dissection. The reverberations of Amos's piano are both beautiful and sinister as we travel across the sonic landscape of a bloody, war-torn desert. The dirge-like Bosendorfer melody is joined by the wurlitzer, which gives the track an even more haunting sound.
3) "Shattering Sea" (Night of Hunters, 2011)
This beautiful track opens the symphonic 2011 album Night of Hunters. While the album is often maligned by fans, there's no ignoring the amazing composition of this sonic trip down the rabbit hole. The mixing on this album is some of Marcel van Limbeek and Mark Hawley's finest work, keeping Amos's voice at the forefront of the beautifully interweaving instruments.
4) "Spark" (From the Choirgirl Hotel, 1998)
According to Amos on the Fade to Red commentary, this track was inspired by cult TV show Twin Peaks, and these influences tie into Choirgirl's theme of separated mothers and children. After the watery and dark intonations of the verse and choruses, the Bosendorfer-led bridge bursts in like an explosion, giving me chills every time. There aren't a lot of perfect songs in the world, but this has got to be one of them.
5) "Precious Things" (Little Earthquakes, 1991)
Possibly the most beloved Tori Amos song of all time, "Precious Things" is one of the more rock-oriented tracks on the acclaimed Little Earthquakes with is Pixies-esque quiet-loud-quiet-loud dynamic. The frantic piano notes create a mood of anxiety and resentment before leading into the more wistful tone of the chorus. The piano work here is unarguably some of Amos's best, and some elements, such as the vocalizing and guitar accompaniment, seem to foreshadow some of her later work.
6) "The Beekeeper" (The Beekeeper, 2005)
While the rest of 2005's The Beekeeper tends more towards a Caribbean-inspired sound, the title track is more along the vein of Choirgirl and Venus's dark electronic style. Inspired by the hospitalization of Amos's mother and the tragic, unexpected death of her brother, this song is suitably grim and otherworldly as it confronts Death not as a malignant force, but a necessary force of nature.
7) "Suede" (To Venus and Back, 1999)
To Venus and Back is an odd duck, moving away from piano-oriented songwriting in favor of experimentation with synthesizers and guitars. Suede may go overlooked in the scheme of things, but it's one of the most well-composed tracks, starting with the dark but lovely synthesizer chords, until giving way in the coda for an emotional piano melody, before returning to the synthesizer for the concluding notes.
8) "Pancake" (Scarlet's Walk, 2002)
A favorite of a good number of Toriphiles, Scarlet's Walk is permeated with a country vibe that at times goes rather dark. This track goes decidedly to the dark side, showcasing Amos's powerful vocal range and ability to project emotion. While not as popular as tracks like "A Sorta Fairytale" (which was even covered by Taylor Swift) or fan favorite "Taxi Ride," I think this track marginally beats the others for its powerful and confrontational stance, and ability to be both empathetic and aggressive as needed. In the hands of a lesser artist, this track would have been a mess of disparate and conflicting emotions, but Amos manages and delivers them perfectly.
9) "Past the Mission" (Under the Pink, 1994)
While it's pretty much impossible to pick a single track from the phenomenal Under the Pink album, this song is so superb on all levels that it's hard to pass it up. Mary Magdalene has long been a muse of Amos's, and this is the first track that really pulls her front and center. Trent Reznor's background vocals are unusually sonorous for him, giving Amos some much-appreciated support from the boys' side. The bridge, highlight by a sinister Hammond organ, is one of my favorites of all time.
10) "Horses" (Boys for Pele, 1996)
Undoubtedly one of the most beautiful songs of Amos's catalog, "Horses" is the first proper track of the sensational Boys for Pele album, which is arguably her finest work to date. It is artfully gloomy without going into melodrama, but also subtle when it needs to be. It takes the dark emotions that permeate the album and handles them, bears them, and explains them to the listener, preparing them for the dive into heart-wrenching intensity that comprises the rest of the album.