The Persistence Of Memory
A Walk Through Melted Moments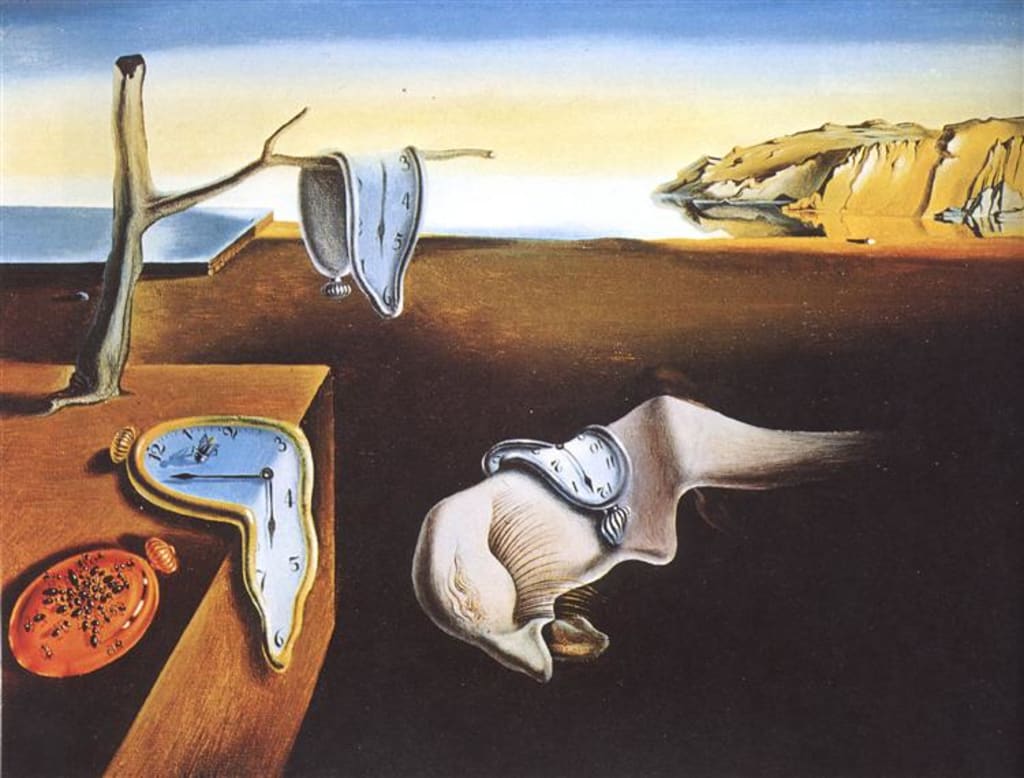 ( Credit: The Persistence of Memory, Salvador Dali 1931)
Imagine waking up in a world that's as elusive as a dream, yet vividly tangible - a world where the landscapes whisper tales of surrealism, and time, rather than ruling, becomes an abstract concept. This is a world uncannily reminiscent of Salvador Dalí's "The Persistence of Memory," where time does not merely pass—it bends, warps, and finally, melts away.
As you step into this world, the first thing you notice is an overwhelming sense of tranquility. No hustle and bustle, no ticking deadlines, just an eerie stillness that hangs in the air. The landscape around you is barren, not desolate, painted in shades of warmth that the setting sun generously offers.
You see a series of clocks scattered haphazardly across the landscape. But these aren't the rigid, mechanical keepers of time you're used to. Instead, they're soft, like Camembert cheese melting under a summer sun, drooping over branches, ledges, and draped across an odd, sleeping figure.
This creature, appearing to be an amalgamation of a face and a creature's body, is partially submerged in the ground. It's an embodiment of surrealism, an echo of dreams and the unconscious mind. With its long eyelashes resting on the earth and a languid clock drooping over its closed eye, it appears to be in an eternally deep sleep, oblivious to the melting time that surrounds it.
Nearby, an abstract, skeletal structure juts out from the ground, its form alien and uncanny. It sharply contrasts the soft, melting clock that drapes over its edge, adding to the surreal beauty of the scene.
As you walk further, you see the usual logic of time and space warp and twist. The landscape, seemingly bending to the rules of another dimension, holds within its grip a strange allure that is both unsettling and fascinating.
Above, the sky, draped in a twilight hue, is an ever-watchful spectator to the scene unfolding beneath. The atmosphere it casts over the landscape is ethereal, causing the lines between reality and dream to blur further.
Despite the unusual circumstances, there's a certain harmony to it all. The absurdity doesn't seem so absurd anymore. Time melting away, the odd blend of familiar and unfamiliar objects—it all just seems...right. As if this dreamy disarray is a hidden truth of the universe, only visible to those daring enough to question the rigidity of reality.
Yet, among this strange world, there's an object that stands in stark contrast—a single clock enclosed in a glass box, its form unyieldingly rigid, its time accurate. It appears to resist the melting phenomenon around it, persisting in its traditional role as a keeper of time. This clock serves as a reminder of the world you've left behind, a world where time's grip is firm and inescapable.
This world, inspired by Dalí's surrealistic masterpiece, is not just an imaginary realm. It's a manifestation of the mind's flexible boundaries, an exploration of the unconscious, a place where the mind dares to challenge the traditional constructs and delve into the limitless potential of human imagination.
The Persistence of Memory, then, is not just a painting—it's a journey. It's a journey into a realm where time isn't linear, where the dream world and the conscious world coexist and intertwine. It's a testament to the power of memory and its incredible ability to warp and reshape our perceptions of reality.
So, as you walk through this strange, dreamlike world, remember—time here doesn't just tick. It flows, it curves, it softens, and most beautifully, it melts. After all, in the vast landscapes of the human mind, why should time be any different?
About the Creator
Hello! I'm Midas, the storytelling enthusiast. From mythical tales to high-stakes adventures, I bring life's magic to paper. When not weaving words, I delve into books or on a global escapade. Join me, as every tale is a golden adventure!
Reader insights
Outstanding
Excellent work. Looking forward to reading more!
Top insights
Expert insights and opinions

Arguments were carefully researched and presented

Heartfelt and relatable

The story invoked strong personal emotions

Excellent storytelling

Original narrative & well developed characters
Eye opening

Niche topic & fresh perspectives

Masterful proofreading

Zero grammar & spelling mistakes

Compelling and original writing

Creative use of language & vocab

On-point and relevant

Writing reflected the title & theme

Easy to read and follow

Well-structured & engaging content
Add your insights