Jaco
Robots are the future.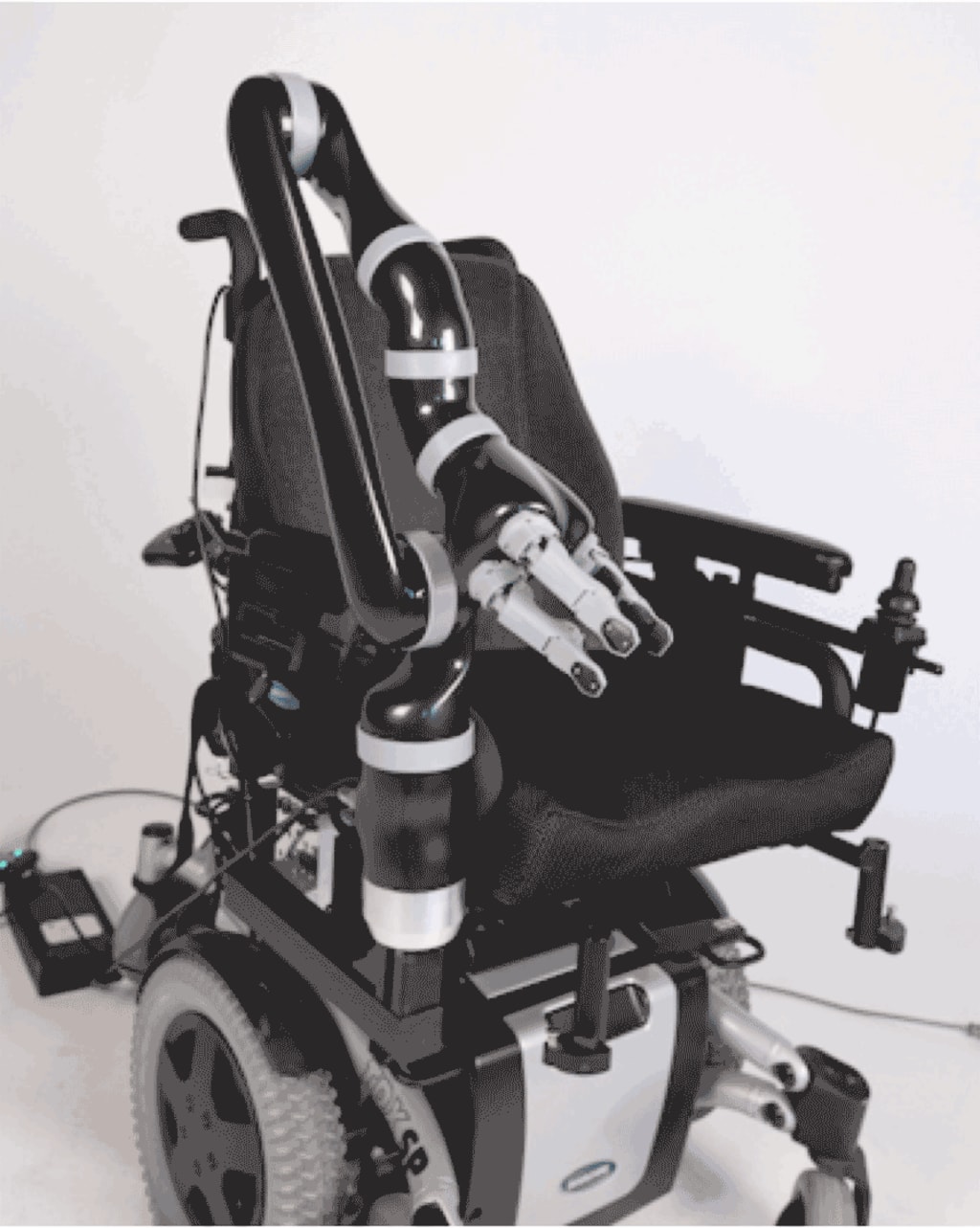 Jaco is a revolutionary concept for quadriplegic independence. Jaco is made by Kinova which is a leader in industrial robotics. Jaco is a robotic arm that is attached to the wheelchair and is controlled by your wheelchair's joystick. Jaco can help with everyday tasks such as feeding, drinking, and grabbing things. Could you imagine not running out of food or drink before the next personal assistant arrives?… well, that's what Jaco is there for. Jaco is made of weather resistant carbon fiber that is a lightweight material; carbon fiber is also incredibly durable. Jaco is capable of 16 different movements. Jaco comes in two versions, two fingers or three. The three finger one has a thumb and is fully functional to assist in activities such as eating and drinking. Jaco easily replaces those very expensive aids that are just there to feed you. Jaco also has rubber grips on his fingers, too, make gripping objects easier. This is a new concept that is an important advancement part of physically restricted quadriplegics in reaching their full potential. The heartbreaking thing about this technology is the price tag makes it practically impossible for the average person to be able to afford. My hope is that something with this technology will be available and accessible to all types of people with disabilities. People with disabilities will probably always have some form of physical help from another human being, but technology like this can reduce the strain during caregiver's absence. Truthfully it is my dream to have a fully automatic robotic personal care assistant. I often find caregivers intrusive. Given the flaws of the private sector, I feel that robotic care maybe a viable direction for some of us. I hope to find some sort of funding for this vital piece of equipment.
I think that equipment can greatly reduce abuse and welfare fraud in the private sector if we could reduce the cost of production or get other funding sources. I think that in-home care is far better alternative to nursing home care, but it has its flaws. I think eventually this could be a more cost-effective alternative to the way things are now. I believe this because you won't have the bill for a block of time or so many hours a week. The consumer will have more control and independence of their life. As it stands right now consumers are held hostage by providers that tried to dictate hours and who you work with; there is always a high chance of dealing personality conflicts. I know when you are dealing with a small company like the one I deal with, you must deal with whoever the scheduler is related to. Robots or work, or they don't care about personality, they were just there to do a job. I hate the fact that I've got to deal with people all day. I got a deal with so many personalities in this people are so much younger than I am. I just want to have a life.
They already have a machine that just feeds people. Jaco can feed people and open doors. It can also assist people in getting stuff off the shelf. But individual pieces of equipment that could do all that would be more than $50,000. This equipment is well worth the investment, if only there was a way to pay for it. The irony of it all is that most things that they develop to give people with disabilities more independent are placed out of the reach. Most people with disabilities are on a fixed income; I have limited financial resources, so unless you can find a grant or some other kind of funding source there is no feasible way to pay for equipment that can truly make you independent.