How to Gain Followers on Instagram
Are you struggling with followers?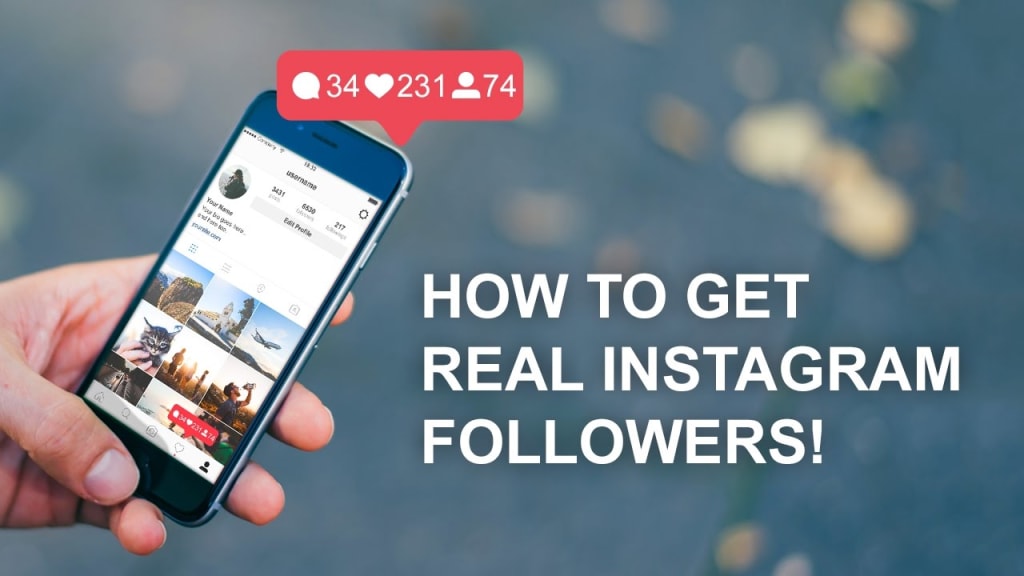 Some people dream of success, while others get up every morning and make it happen. -Wayne Huizenga
Overview
There are people trying to "make it" online to earn an income. A lot of people dream of this, including myself. There are a couple strategies you can do to set yourself up for success. One thing to keep in mind is that it does take time. I know many successful people say this, but honestly it's true. If you really want to persevere in the online world, you have to understand that you have to be consistent and patient. I have learned quite a bit trying to work hard on my own social media sites and build a good reputation for myself. Today, I'm going to be sharing my strategies, to hopefully help those of you reading this.
Followers via Instagram
If you all know, people follow your profile and unfollow. That's just how it works. We have to engage with our followers as much as possible so we keep them on our platform. This can be hard at times, but most definitely achievable with time and dedication.
What does this mean?
First, you want to figure out what it is that you're passionate about. For me, beauty and makeup was a no brainer. If you're just starting out, you have to think about something you're passionate about because you want to have fun and not have it be a "chore" to do. Once you figure out what you want to do, take pictures doing what you love, add some content to your page first for your future viewers to look at. The goal is to teach and inspire others about what you love. For example: how to achieve this, how to get better, hacks, etc. You want to help your viewers get better at what it is you decide to choose as a "main focus" because if they're following you, they more than likely have the same interest and want to know more about the subject.
Gaining Followers
Once you're done making some content for your page, you're going to want to find people that have the same interest as you. Most people rush into it and add as many people as they can (including myself). While this could be successful if you're lucky, it's not the best strategy in the long run. I made this mistake going into my social media platform, but I have since found out easier and more strategies to help me gain followers faster.
First, you'll want to search on Instagram the subject that you chose. Pick a profile that comes up and look through it, to see if they in fact do have the same subject that you chose. If they do, you'll then want to look at their followers and add everyone on the list. This may seem crazy to some of you, but it works! The reason it works so well is because that person has the same interest as you and their followers. This is the best ultimate solution to gaining followers quickly. You want to continue doing this repeatedly to other profiles with the same interest as you. I tend to do at least a couple people a day, to really gain followers.
Hashtags
When I was young, I remember being so annoyed by the new "hashtag" trend, but it turns out that with social media it truly works, especially with Instagram. Since Instagram has updated throughout the years, it's been better than ever with the "hashtag" trend. People can now follow hashtags, which is great for you and I as online influencers.
How To Hashtag
Hashtags can be a little difficult, but Instagram has an amazing feature. When you type in for example: #beauty, Instagram will pull up other related topics as you type in the word out. Not only that, but they also show on the right hand side of the word, how many people have posted to that "hashtag." That means with more posts going to the "hashtag" the more people are going to see your Instagram post.
You're going to want to add as many hashtags related to your subject and post as possible, so that you have as many people seeing it as possible. You will gain more likes and followers as well, and if this is something you're striving for it's going to be better for you in the long run!
What We Learned
I've gone over simple, yet very effective ways to gain followers not only on Instagram, but for all social media platforms including: Finding your topic of interest, looking up the subject on Instagram, following those with the same interest by going to other accounts, adding content to your profile, being consistent, and adding hashtags to your pictures to maximize your following and likes.
Keep in Mind
This will take a lot of time and effort on your part to keep your followers. I know that's not what everyone wants to hear, but it's absolutely true. I personally am not a fan of time, I tend to want things to just happen overnight, but it's just not realistic. With that mindset, you won't achieve what it is that you want. Not only with social media, but with anything you choose to do with your life. Things do take time, but don't get discouraged if you aren't seeing amazing results overnight.
If you feel you're getting unmotivated to continue with what your goals are, make a dream board. I know this may seem a little strange and dumb to some people. Making a board of all the things you want to accomplish for this year and placing it where you can see it, you will be reminded every day of what you want to achieve and you're more likely to accomplish what it is you want to accomplish. A lot of people refer to this as "law of attraction," meaning if you look at this everyday, your mind will think more about the goals placed on the board, which means you'll be more likely to achieve them because you're thinking about it and making a difference in your life to go after those goals. When you're making the board, print out pictures and quotes that inspire you of your goals, be specific on what it is you're trying to achieve so that you don't get thrown off track.
I really hope this helped those of you struggling out there and feeling "stagnant." Just know that with anything you set your mind to, you can achieve through hard work and dedication. Until next time, I wish you all nothing but success in anything you're trying to achieve in your life!
social media

Kayla Triplett
I spent a majority of my life in Virginia. I've always wanted to make a difference and I feel I can through my art and writing. I make up stories with emotions I've once felt or dreamed of. Life is a journey and isn't always expected.
See all posts by Kayla Triplett →