Great Tech Gifts Under $50
Love gadgets? Love gadgets that don't cost an arm and a leg? Check out these awesome tech gifts under $50, and treat yo' self!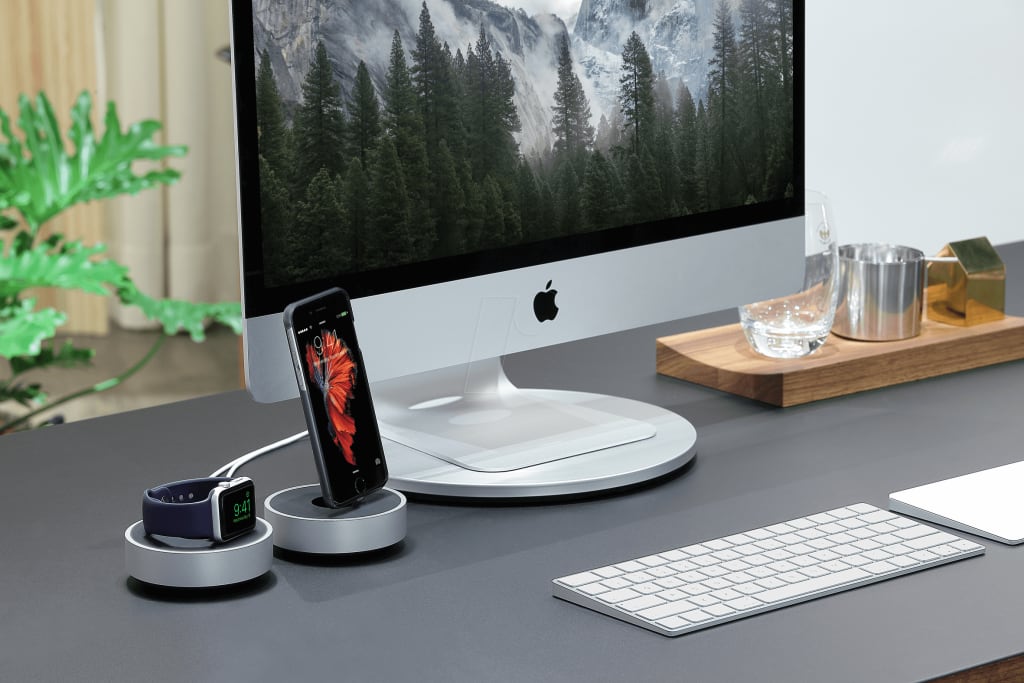 Tech lovers, unite!
The best part about living in the modern world is that we get to reap the rewards of having absolutely awesome technology. It's never been easier to do everything and anything you've ever wanted to do, thanks to the help certain gadgets can offer.
With birthdays, anniversaries, and the holiday season around the corner, we decided to root around and find the greatest tech gifts under $50. This budget-friendly list will make sure you get some awesome gifts, plus it might save you enough cash to give yourself a present, too.
The Amazon Echo Dot is one of the best smart home devices money can buy, and yes, it's also one of the coolest tech gifts under $50. This wi-fi-compatible gadget turns any home into a voice-activated smart home, and even gives you access to Alexa.
Functions are added to the Amazon Echo Dot every day, so this item will never stop being one of the most useful smart home systems money can buy.
One of the best tech gifts under $50 is the gift of streaming, all thanks to Roku. This simple gift allows users to access over 2,000 different channels of content, all through an easy to use remote.
The Roku Streaming Stick+ works on any receiver with an HDMI input, including the family TV. So, if you're sick of dealing with aggravating cable problems, this stick will be a godsend.
Love tech, but hate cables? It's a struggle, but Cloop can help clip away at the clutter with these awesomely easy-to-use magnetic cable keepers. They're stylish and the cords clump together effortlessly, plus they're totally reusable.
Better still, they actually are Kickstarter items you can buy on Amazon — so you know they're great!
Yes, it's true. You can be the most awesome gift-giver ever by giving the gift of an Amazon Fire Tablet, complete with Alexa voice-activated control, to your friend. This impressive piece of equipment just squeaks under the $50 range, but will have your friends assuming that you spent hundreds.
Tablets are useful as can be, and with Alexa equipped, they will also be a wonderful device that can improve your smart home's environment for cheap.
There never seem to be enough USB ports, ever. Right? Well, one of the coolest tech gifts under $50 might just have the fix you need. This 8Bitdo Dpad USB hub gives you three more slots to use for your gadget charging needs — all while adding a nice retro spin on modern technology.
If you or your friends are working on creating a smart home, then you probably already have Alexa-powered everything. So, you might as well enjoy one of the cheapest ways to improve your home's efficiency with this easy-to-install smart plug by WeMo.
This voice-activated plug turns off the electricity to all of your devices, and also allows you to program your home lights with a schedule, so they turn on as you're about to come home. The days of coming home to a dark apartment are all gone, thanks to WeMo!
If you love the idea of wireless headphones, why not choose a subtler (and warmer) way to listen to your favorite tunes? Tenergy created one of the best tech gifts under $50 by making a beanie that connects via Bluetooth that lets you listen to music or have a phone call via beanie.
Stylish enough to pass for a standard beanie and functional enough to be incredibly useful throughout the day, Tenergy's beanie is one of the best things to hit the headphone world in a long while.
Back before Dr.Dre came out with the shamefully overpriced Beats by Dre, Skullcandy was the audiophile's headphone of choice. Smokin' Buds 2 remains one of the best tech gifts under $50 for the friend who loves music and understands the benefits of quality headphones.
These earbuds deliver awesome beats, at awesome fidelity — all with a subtle yet noticeable punch of style thrown in for good measure. What can beat that? Its under-$30 price tag, that's what!
Perhaps one of the coolest tech gifts under $50 is this wireless keyboard and mouse set from Wood Life. Made of eco-friendly and totally healthy bamboo, this durable and stylish computer accessory set will definitely turn heads — and get your artist friend smiling big!
Love music? Need it everywhere you go? Need to keep hydrated due to the possibility of dancing too much, exercising too heavily, or possibly popping a suspect pill? (Hey, I won't judge!)
For the raver in your life, one of the smartest tech gifts under $50 is a water bottle that doubles as a wireless speaker. So, go ahead. Hold your own dance party, and stay hydrated, too. It's all possible with Re-Fuel's 2-in-1 bottle speaker.
If you have photographers as friends, or if you just have someone who always ends up using a lot of memory, then one of the best tech gifts under $50 you can give them is this massive 64GB mircoSD card. It's durable, can give 4K playback in a pinch, and also will store all their photos with ease.
Everyone has that one friend who always manages to lose their keys — and that's why this is one of the best tech gifts under $50. This stylish and subtle tracker gives them a way to keep an eye on the location of their keys, all thanks to the power of Bluetooth and a specialized app.
Whoever said that charging your phone had to involve clumsy wires or bulky products? Just-Mobile's HoverDock makes it possible to charge your iPhone rapidly, with a stylish, minimalist look. It also comes with a nice little nook for your lighting cable and other accessories. Neat? Absolutely, and believe it or not, it too is under $50.
If you already have a tablet that you love to use, why not grab one of the most stylish tech gifts under $50 so that you can watch your favorite Netflix shows in style? This Earth-friendly cardboard iPad stand is stylish enough to make most people smile, and is super-easy to set up.
People who are looking for a handmade gift for their favorite artist, hipster, or eco-friendly folks need to check out this slick but affordable "TV stand."
About the Creator
Ossiana Tepfenhart is a writer based out of New Jersey. This is her work account. She loves gifts and tips, so if you like something, tip her!
Reader insights
Be the first to share your insights about this piece.
Add your insights