Best Lap Desks on Amazon You Can Buy
Keep your lap cool and your workflow hot with these awesome lap desks on Amazon.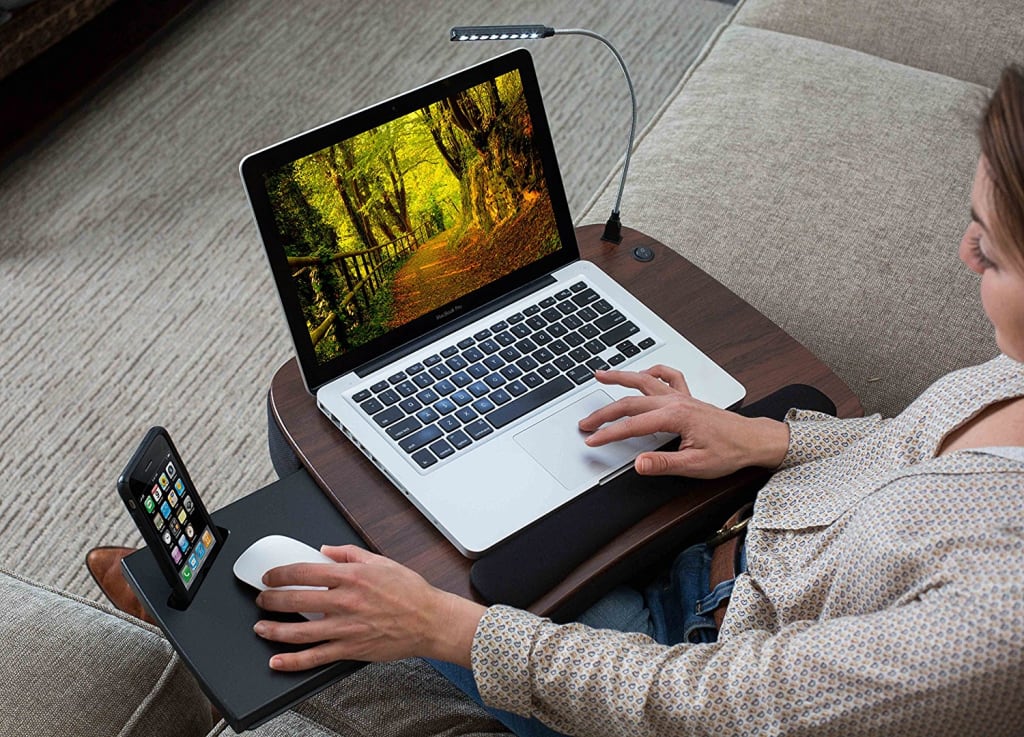 Laptops are now becoming the more popular options as opposed to desktops, and it's easy to see why. They offer just as much power, ease of use, and connectivity as a desktop in most cases. The thing is, they're cheaper and remain more mobile than desktops, too.
Office supplies are getting more tailor-made than ever before. There are now standing desks for health-conscious people. Intricate lap desks for home workers that like something a bit different. Even fun office accessories for remote workers have been easy to spot.
With the rise of laptops being a given, it's easy to see why people are preferring to just do their work while resting their laptops on their laps. Unfortunately, this can cause overheating or just discomfort.
Laptop lovers will be happy to know that these lap desks on Amazon will help you maximize your workday in a way that doesn't hurt you or your computer.
Perusing desks for your lap on Amazon will typically yield a lot of results that look like bits of plastic with pillows attached to them. BirdRock Home made a point to avoid this gaffe and add a little extra functionality to their design.
This lap desk has a hidden laptop storage compartment tucked under the desktop, and also has a nice, firm padding that will keep you comfortable while you type all day.
Sofia + Sam made the most elegant lap desk on Amazon's marketplace—not to mention one of the most functional. This lap desk has everything that you would need to turn your lap into the ultimate workstation.
A USB-powered light, tablet dock, wrist rest, and extendable side table with a phone dock are all included in this desk. This desk comes with a rich wooden finish and a lot of executive flair, making it one of the finest choices for the home worker with a sense of style.
Massive laptop? No problem. LapGear created a deluxe lap desk that fits laptops up to 17.3 inches in size. Along with a spacious desk area, this nifty little number has a cool mousepad and phone dock built into the desk.
Futuristic as it can get, it's easy to see why LapGear is a great choice for people who love aesthetic office gear.
It's very hard to find a lap desk that has an old school look to it. That's what makes LapGear's Schoolhouse Wood Lap Desk one of the coolest lap desks on Amazon right now.
This lap desk is reminiscent of the old wooden desks that schools have, and as you can imagine, it's elegant enough to fit with any gear that you could expect to see in an Ivy League school like Princeton.
This near little gadget is designed to be a dual-use item. Though it's definitely a lap desk, the ample storage inside its cushioning also make it a great makeshift briefcase.
Functionality is key here, and the guys at iCozy know this. Three different compartments allow you to store your tablet, book, or phone in a way that makes you feel comfortable.
Love breakfast in bed? Surprise, this awesome lap desk is not just for your laptops. Its easy-to-clean wooden surface is perfect for serving up breakfast in bed.
When you're not eating goodies, you can use this as a regular laptop desk. If you need extra storage, just slide away the desks top to reveal a bunch of easy-to-use storage compartments that are perfect for your knickknacks.
Sometimes, you don't really need to get one of the most expensive lap desks to get what you need. At times, what's better would be to just get a simple lap desk with a lot of space for your laptop and mouse. When this is the case, it's best to go for something simple but sturdy.
LapGear's XL Laptop Desk fits that bill perfectly and offers enough room for a 17.3 inch laptop. At just under $30, this is a desk that's a serious steal.
A lap tray is a lap desk that can be used for way more than just a laptop. This tray looks perfect for serving breakfast, leaving a book up on your desk, or just serving up a hot plate of waffles to the person you love while they rest in bed.
BirdRock's offering is elegant, simple, and exceptionally versatile. It works just as well in a country home as it does in a busy office. We can't help but love it.
Sometimes, you just need to get a lap desk that says something impressive about you. The XL Executive Lap Desk from LapGear is one such lap desk. This massive 22-inch lap desk suits even the largest of laptops, all while keeping your workspace presentable.
If you're looking for a mahogany wood surface that says you mean business, this is the best desk for you.
Ergonomic designs are in—and it's easy to see why. They are made to help improve comfort and energy while you work. Uncaged Ergonomics managed to do the impossible by creating one of the only lap desks on Amazon that also acts as a standing desk.
Fold it to the height you want, use it to cool down your laptop, and tote it wherever you go. It's even made out of anodized aluminum to ensure that it'll stay in shape as long as you need it to.
A common trend we've started to see is the use of bed tables as a laptop desk... and we're loving it. These sturdy tables are perfect for people who can't stand the "pillow on the lap" design that smothers laps so frequently.
This bed table offers over 26 inches of space—enough for massive laptops, a mousepad, and coffee. It's also made of sustainable bamboo, so you don't have to worry about hurting the environment.
Simple in design as it may be, the Halter Lap Desk has one neat little tweak that makes it awesome in its own unique way. This desk is pretty simplistic in design, but has a nice angle option that allows you to adjust your laptop to an angle that suits your needs perfectly.
If you're looking for a no-frills desk that has just a pinch of added comfort, this will work out in your favor.
Upscale lap desk maker Sofia + Sam scored another great one with their Oversized Memory Foam Lap Desk. This massive lap desk avoids the cheap feeling of beads by opting for a memory foam base instead.
It comes with an arm rest, a tablet slot, and of course, cooling material to ensure you don't end up with a sweaty lap.
Minimalists unite! This lap desk is all about keeping things to a minimum. Beads are minimal, but enough to support your lap. (The pad is actually removable.) Weight is minimal, because who has the time to lug around a several-pound lap desk?
It's functional and designed to be easy as can be to carry around.
On the other side of the gamut are the people who need to have a lot of cushioning for everything. This super squishy laptop pillow doubles as a lap desk and a bed accessory for people who love to watch Netflix at home.
LeCube's pillow is as comfy as can be and is perfect for the person who's just looking for a lap desk for their home viewing activities. Don't you just want to snuggle up to it?
Finally, if you're looking for something that has a highly functional with an aesthetic that matches your laptop, you might want to check out what AboveTEK has made.
This is one of the most ergonomically designed lap desks on Amazon to feature a heat-proof material, non-slip material, and a retractable mouse pad tray. Easy to carry and easy to look at, AboveTEK's gear definitely is a great option for everyone involved.
About the Creator
Cato Conroy is a Manhattan-based writer who yearns for a better world. He loves to write about politics, news reports, and interesting innovations that will impact the way we live.
Reader insights
Be the first to share your insights about this piece.
Add your insights