Best Apps Every Drone Owner Should Use
From cool camera apps to interesting community apps, these are the apps every drone owner should use once.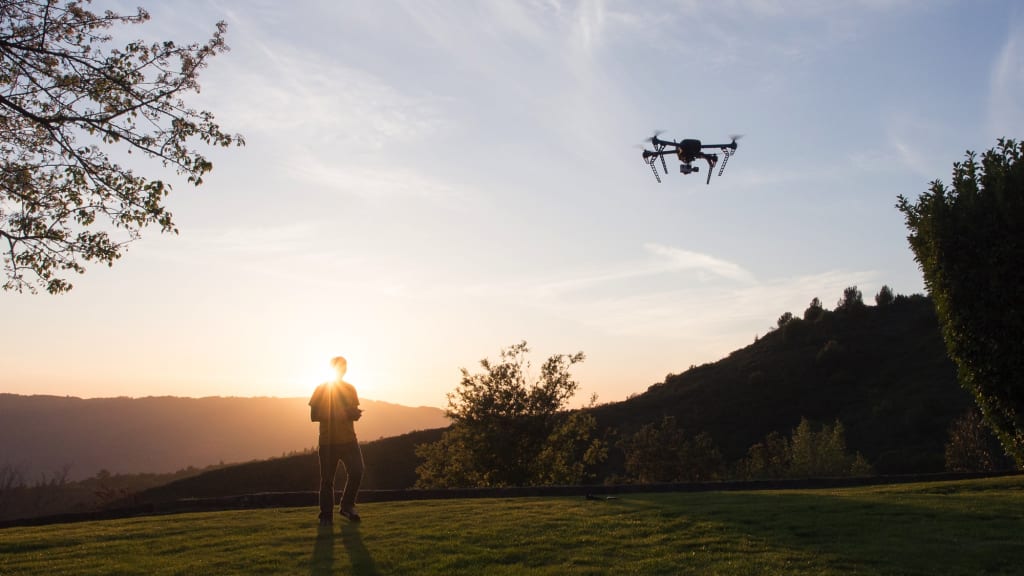 Drones are really popular, and they are showing zero sign of slowing down in that sense. Everyone is talking about DJI Spark flying, looking at the best drones for beginners, and even talking about which drone accessories are the best. Though the gear alone is great, what really makes droning fun is the community—and the cool apps.
If you have yet to include your phone or iPad into the drone time you get, you're missing out. To get the most out of your drone flight time, you should check out these awesome apps every drone owner should use at least once.
One of the best-selling apps every drone owner should use—or at least experience—at least once in their life is Litchi. Litchi is a third-party app that lets you plan out your flight trip even before you take off. You can save and upload "Missions," orbit around GPS points, and even track objects using this powerful app.
This flight plan maker is a brute. Just about all recent DJI drones with a camera can use this app, including the DJI Phantom 4 Quadcopter, the Phantom 3 Advanced, and the Phantom 3 Professional. It's pricey, but it's worth every penny for an avid drone user.
Perhaps one of the only drone apps to compete with Litchi is Vertical Studio, and it's one of the best apps every drown owner should use if they want to have impressively good (but hard to get) shots.
This gives you a "tracking" style that lets you get amazing shots during your flight, and also works well with "virtual walls" that let your drone stop as soon as they approach the wall.
Like Litchi, this works with most DJI drones on the market.
Drone owners who love mapping things out will adore Altizure. This is one of the apps every drone owner should use for more advanced flight plans. It's free, does amazing automated mapping, and also helps deliver the easiest route for your drone to get amazing shots while staying in areas that are safe to fly.
Smart data capture, detailed flight logs, and epic reality shots make this a must-have for any DJI owner. Altizure works well with most DJI drones and has a massive perk that others on this list don't have: it's free.
In a lot of ways, DroneDeploy is like Altizure. It has automated mapping, helps you plan out interesting flights where you can get amazing shots, and also has tons of neat little features that allow you to get more from your drone than before.
The sheer amount of aerial data it offers is incredible—and improves DJI owners' experience massively. Fans who want to be able to calculate altitude will find Drone Deploy to be one of the apps every drone owner should use at least once.
Regardless of what kind of drone you have, you have to protect your drone in order to keep it in flyable condition. This is doubly true if you have a small drone, or a drone worth $1,400.
Wind is one of the worst risks to drones out there, because it can be deceptively still on the ground and very turbulent in the air. One bad gust of wind is enough to knock a drone into a tree and break it. This is why you need to look at weather apps with drones in mind.
Windfinder is one of the most protective apps every drone owner should use before they take off. It lets you find out what flight conditions are really like, and if it's really safe to fly.
Love the shots you took? Want to make them look even better? Then you'll understand why Photoshop is one of the apps every drown owner should use. A little click here, a little filter there, and the shots your drone takes will be crisper than ever.
Adobe Photoshop Fix lets you do it all on your phone, just so that you can get those drone shots Instagram-ready.
Believe it or not, droning isn't always so easy. There are now no-fly zones throughout major metropolitan areas and weather can be shaky. Hover is all about making sure that drone owners have fun and keep their drones in great condition too.
Flight logs, no-fly maps, weather updates, and a news feed specifically for drone owners make this a very valuable app. In fact, this is one of the most popular apps every drone owner should use—even if you don't own a DJI.
Airnest is one of the most detailed apps for DJI drones on the market—and that's saying something. Simple controls, high-definition maps, easy planning guides, and very intuitive guiding make this a great flight log for people who want to have a flight go as seamlessly as possible.
Most drone owners will tell you that Airnest and Hover are often tied when it comes to plan quality. Metrics like battery performance and GPS are added, and incredibly handy. However, Airnest tends to be a more intuitive app, making it perfect for beginners.
DJI GO is the grandaddy of all droning apps, and it's basically a massive hub of tools that are designed for DJI drone owners. It's one of the most intricate, most well-designed apps every drone owner should use if they're considering getting a DJI.
Live HD video, superb video editing, SkyPixel connectivity, and excellent flight details are what make this a major tool for new DJI owners. You literally will feel like you're floating in the air looking at some of the takes with this thing.
Weather data that can affect your flight isn't just limited to wind and rain, you know. If you want to get amazing shots, you need to make sure that the sun's glare doesn't ruin that shot. Sun Surveyor is one of the more unique apps every drone owner should use when they want to get great drone shots at sunsets.
This app, as the name suggests, makes sure that your shots aren't interrupted by errant sunlight. It's easy to use and also can help you avoid camera damage in certain situations. Not too shabby.
Finally, let's talk about one of the most technologically-advanced apps every drone owner should use at least once. DroneVR is one of the only app to involve virtual reality into your drone flying experience—and as such, it's the closest you'll ever get to taking flight.
If you have one of the best drone VR headsets on the market and want to see what your drone's camera sees, you need to try DroneVR. It's an experience that will blow you away.