Best Drones for Beginners
Want to fly a drone, but don't want to make a wreck happen? These are the best drones for beginners who are just learning the ropes.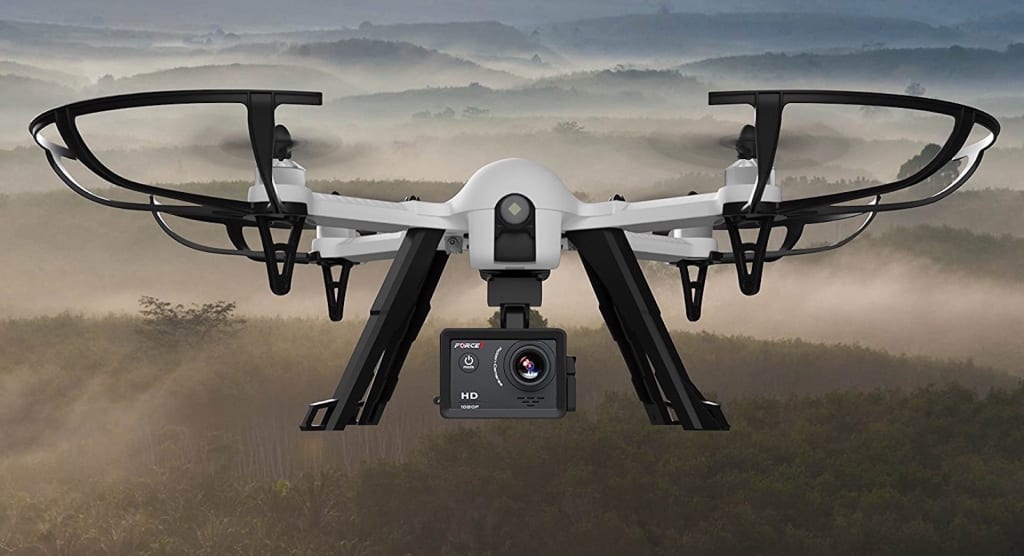 Learning how to fly a drone isn't easy. There are a lot of knobs, twists, and turns, and if you have delicate equipment in your drone, a single crash can mean that you lose hundreds of dollars in an instant. Many drones are just not meant for beginner flyers — especially beginners on a budget.
A broken drone is no joke. Many drones can cost as much as $1,000 or more to buy, and certain parts can cost hundreds to replace. So, to a point, drone flying can be a major money drain for beginners who aren't fully ready to trust their skills.
If you're just learning to fly a drone, or aren't 100 percent sure whether or not the hobby is really for you, it's a smart idea to buy a modestly priced, easy to fly drone first, such as these below.
Parrot is one of the best drone companies out on the market right now, and they've gained a lot of notoriety for making quality drones at a fraction of the price of other companies. Their Bebop line is one of the most impressive yet, and thankfully, its sturdy-but-affordable build makes it one of the best drones for beginners to the hobby.
A refurbished Bebop will run like new, works well as a "learner drone," and also will be budget-friendly when compared to some of the higher-priced drones on the market. Even though it's affordable, this quadcopter drone has a great camera, excellent handling, and offers lots of fun for everyone.
Without a doubt, this is one of the best drones for beginners — primarily because it was designed to be a trainer drone. Its controls are made to be easy to handle, and also has protective bumpers and wind resistors that help reduce the chance of a crash or breakage.
Since it's specifically designed to help teach people how to use drone controllers, the Holy Stone Predator is a smart choice for anyone who's not 100 percent sure that they can fly a drone well. And, at around $40 or less, it's also one of the most affordable drones out there.
If you're on a real tight budget and are very nervous about flying a drone, then you might want to start off with a small, easy-to-maneuver drone that's sturdy enough to withstand a couple of bumps and bangs. Eachine's petite UFO Quadcopter is a great choice in this respect.
It has a built-in homing device, can roll over 360 degrees, and is an excellent tool for teaching yourself cool drone flight tricks without having to worry about crashing an expensive drone.
Drone maintenance for this thing is incredibly easy, too, which makes it one of the best drones for beginners, tech-averse folks, and casual users.
If you were to ask many drone aficionados, this isn't just one of the best drones for beginners; it's also one of the top choices for people who don't fly drones too frequently. Rabing's sturdy, compact build and easy-to-tinker with design makes it a hit among people who know they'll want to get deeper into droning.
Also, unlike many of the other offerings on this list, the Mini Foldable RC Drone also has a high-definition 720 pixel camera that allows you to get a bird's eye view of everything your drone "sees." So, it's really a full-function drone at a fraction of the cost.
The Hubsan X4 Quadcopter is one of the best drones for beginners who want to have the experience of flying a DJI drone without having to shell out several hundred dollars to do so.
This drone has an awesome camera, a very easy-to-learn controller, and also has seriously good handling. While it may not have the bumper guards of other drones on here, the X4's strong build and easy maneuvering make it a great learner drone — regardless of wind conditions.
Force1 has been slowly getting a reputation for making many of the best drones for beginners who want a drone that grows with them — and it's easy to see why. This particular model has easy-to-learn controls and handles the way a beginner drone should.
The F100's durable build also means that you can expect less need for repairs, and with its four bumper shields, you also get added safety. Though it has beginner safety features, the F100 also has a GoPro add-on compatibility that makes it extra fun for experienced drone users as well.
If you're looking for a drone that stays cool as you grow within the hobby, this is it.
About the Creator
Cato Conroy is a Manhattan-based writer who yearns for a better world. He loves to write about politics, news reports, and interesting innovations that will impact the way we live.
Reader insights
Be the first to share your insights about this piece.
Add your insights