Best 4K TVs You Can Buy in 2018
You don't want to fall behind the times—which is why you should keep your eye on the best 4K TVs you can buy today.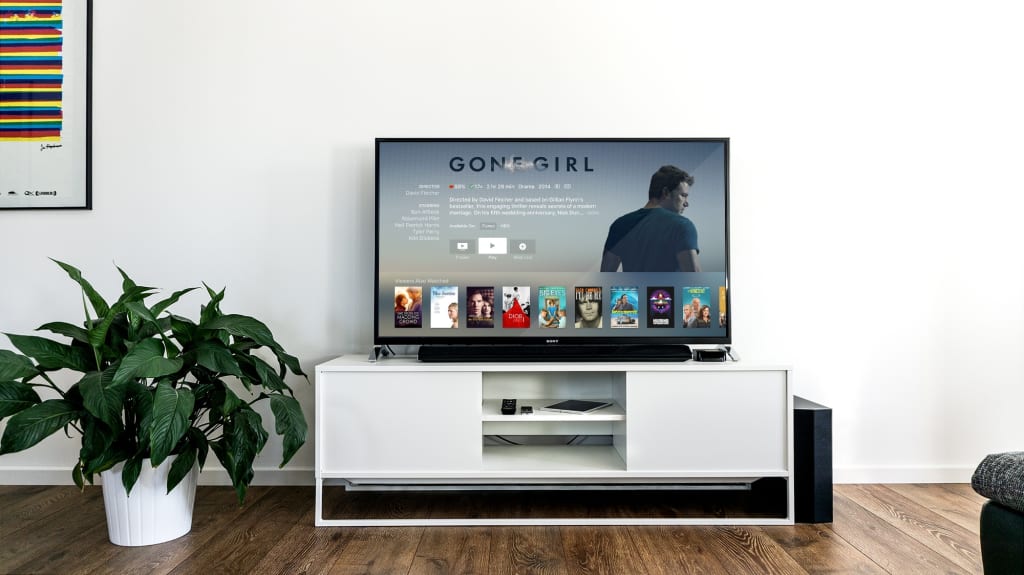 Photo by Jens Kreuter on Unsplash
You know that feeling you get when you visit your parents' (or grandparents') house, and see that little grey-ish box, usually sitting on some kind of dresser or stand, too far away from any furniture to possibly actually watch anything on it? Well, it you don't, it's a weird feeling—a mix of nostalgia for the programs you used to watch on the monstrosity, and a sense of disbelief that you used to think of that as the absolutely coolest technology in the world.
Point is, as fantastic as the old models were, TV technology has come a long way, making watching and gaming much more intensive and enjoyable activities. And these amazing developments only continue.
The latest, state-of-the-art technology in the TV world is the advent of 4K TVs. While they've been around for a while now, their popularity is only recently working its way into the general population. But working its way in is just what it's doing—and for good reason. So, if you don't want to fall behind the times, here are the best 4K TVs you can buy right now.
As one of the most affordable but quality 4k TVs you can buy, the TCL 4 series brings a lot of bang for your buck. Even though it's one of the cheapest high-quality 4k TVs you can opt for, it's also one of the best in terms of both picture and functionality. You can have your pick of 43, 49, 55, or 65 inch versions, all of which offer the same, high-quality 4k picture and smart TV features. While the 2018 model is certainly the newest, most advanced model yet, you might also opt for an older version to stretch your budget even further. Whatever your preference, you can't go wrong with this top pick from thousands of Amazon users.
Just like the TCL 4 series, the even snazzier 6 series has a ton to offer, at a very reasonable price. Still an extremely budget-friendly option as far as 4k TVs go, these models offer LED backlighting and incredible picture clarity. But it's not just good for a clear, high-quality visual experience: this series is also features tons of Smart TV options, so you can watch your favorite HDR content through the best streaming services, all supported by Roku TV. This option doesn't go quite as small as the TCL 4s, with only two sizes of 55" and 65", but if you've got the space for the big screen, TCL has the quality to match.
Though pricey, there is no doubt that the Samsung Q6F series is worth its price. This Ultra HD TV pairs its 3,840 x 2,160 resolution with quantum dot technology for a maximal viewing experience in full, sharp color and contrast. This model comes in sizes ranging from 49" to a whopping 88", making it one of the best options for a large, home-theater kind of setup. But of course, the smaller models offer the same high resolution and motion blur reduction for viewing all your HDR content.
The Samsung Q6F series also offers the whole range of Smart TV features. So all you have to do is connect to your Wi-Fi, and gain instant access to its many integrated apps for streaming movies, TV shows, music, and more. Stick it on the best TV wall mounts you can buy for an even more enhanced experience.
Another top-of-the-line product worth every cent is the Samsung NU8000 series. The NU8000s also come in a wide range of sizes, all the way from a little 40" option, perfect for cozy bedroom viewing, up to 82" for a an incredible home theater experience.
This series is designed to optimize high dynamic range (HDR) content as well as upgrading your HD content to an even sharper, clearer Ultra HD picture. With a single remote and voice control options, this Smart TV makes it easy as pie to stream all your favorite content, or play it through a Blu-Ray player in the high-quality resolution it was meant to be seen in.
LG's C series of OLED TVs are certainly one of the most incredible advancements in 4k TV technology in recent years. Through their AI ThinQ feature, you can control any smart devices by universal, voice-enabled remote. You can even connect the system to Amazon Alexa, integrating your home devices for a next-level entertainment system. This incredible, state-of-the-art technology also serves to provide a uniquely enhanced viewing experience through the sharpest resolution and contrast, deepest intensity of color, and fully immersive sound quality.
The 2018 model, the C8, has made some improvements in quality on its 2017 predecessor, but both options bring you the Ultra HD clarity and color intensity you want in a television.
Although the slightly cheaper Sony X900E was certainly a popular and high-quality television, the X900F has taken 4k TVs to a whole new level. The new model has improved processing capabilities, with extra motion blur reduction, color contrast and intensity, and Ultra HD capability, to display your favorite streaming shows and movies and Blu-Ray discs as they were intended, and to enhance all your HD content to the highest clarity and color intensity. Sony tackled some complaints about the previous model and improved the Android TV processing system to be faster and more reliable than ever before, making this TV one of the top picks for the best 4k TVs in 2018.
The Sony Bravia A1E has quickly risen to the top of OLED TVs. As one of the higher-end TVs out there at the moment, it can be a little spendy—but the incredible picture and color quality, as well as the sleek, thin design make it worth the money, if you have it. This premium 4k TV uses Motionflow XR and a high refresh rate for maximum motion blur reduction, giving you a clear picture at any speed.
The Bravia A1E also uses innovative audio technology for a fully immersive sound, and connects easily to Amazon Alexa for an integrated smart home system.
One of the greatest things about recent technological advancements in TVs is the Chromecast option, which allows you to wirelessly cast your shows, movies, videos or other content onto your television from your computer or phone browser. The Vizio M-Series takes full advantage of this innovative technology, allowing you to broadcast your HDR content in full, enhanced sharpness and color. It uses local dimming backlight technology to automatically adjust the backlight to the needs of the on-screen picture, and give you the deepest blacks and most intense color contrasts.
In addition to Chromecast, the Vizio SmartCast TV has a full range of Smart TV offerings, so you can easily pull up your content directly from the integrated streaming apps, giving you enough options to be sure you can watch whatever you want, whenever you want, in the clearest of 4k resolution.
Another budget-friendly option that will get the most for your dollar is the Sceptre C558CV-U. This curved 4k TV offerings integrated entertainment apps, as well as four USB ports, allowing you to connect, browse, and stream your content however you like.
Sceptre offers a number of great 4k TVs with excellent picture and sound quality, and their first curved television option does not disappoint. The curved shape serves to enhance the quality and immersive viewing experience even further, taking advantage of our full field of vision and creating a surround-sound, surround-vision experience.
Komodo by Sceptre is a great entry level option for those new to the best 4k TVs. Costing well under $300, this 43" Ultra HD TV will fit any space and any budget. It really is one of the best 4K TVs under $1,000 that you can buy. But that doesn't mean it's not still the high quality you want in your TV. It not only boasts standard 4k resolution of 3,840 x 2,160 pixels, but also enhanced motion blur technology, so you can watch your favorite action-packed movies and shows with incredible clarity and definition, no matter how fast the motion. This also makes this a great TV for watching fast-paced sports, or playing video games—you won't be losing any lives because of trouble following the visuals. Although this is not a smart TV, it does have a Mobile High-Definition Link (MHL) to connect a smartphone or tablet, and uses Wi-Fi to indirectly stream your favorite shows through the enhanced 4k picture.