Buyer's Guide
10 Best iPad Pro Apps for Artists
Want to bring your drawing creations into the digital world? These are the greatest iPad Pro apps for artists to create their masterpieces on!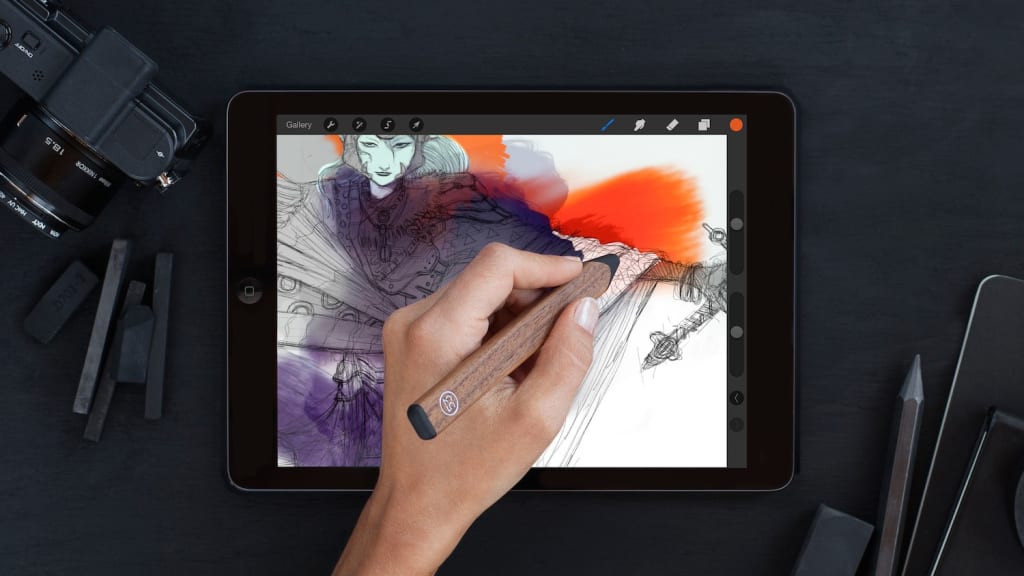 As artists, we're trying to find the best possible ways to express our creativity. From art canvases to sketch pads and even pottery, many of us have passions and strengths in certain aspects in the art world. Whether you can master the art of oil paint or sculpting, artists continue to hunt and enjoy other ways to perfect our art skills. However, would you ever consider digital art? If you've been working on pottery or canvases throughout your entire time as an artist, digital art is probably something foreign to you. In fact, digital sketching and art is a much cleaner and easier process of creating art! Since everything is on a tablet like an iPad, you don't have to buy equipment to create your artwork like paint and brushes. Also, you can make so many mistakes and it won't affect your art, because you can swiftly delete whatever move you did. And, it's way cleaner this way, too! If you hate the mess of paint and clay all over you and your surroundings, digital art is something you should seriously look into.
App designers are already two steps ahead and created amazing iPad apps to help artists express their talent and work on. From sketching to painting, there's a large amount of artistic ways you can express your creativity. And the iPad is the ideal device to get you started! If you want to check out the all-time best iPad Pro apps for artist, any of these apps won't disappoint you.
This award-winning drawing app is definitely one of the best iPad Pro apps you need to download now. Constructed for creative professionals, aspiring artists, and literally anyone who wants to put down their ideas into digital form, this is a much cleaner and more useful method to sketch anything you want. SketchBook has everything you need in order to create stunning digital art.
Through 170 default brushes you can also customize, you'll constantly have the exact brush you need for specific strokes and drawings. The ink feels fluid and smooth, and the synthetic brushes ideally blend colors in the most natural way. Plus, texture brushes mimic natural media, and your drawings will also look realistic, even in digital form!
Graphic is an amazing app that includes full-featured graphic design and illustration applications ideal for the iPad. This is also great for desktop-class editing and illustration tools that are perfect for on-the-go. You can use this app when you're commuting to and from work, and even on the airplane when traveling! So not only are you being creative wherever you go, but it's a good source of entertainment when you're bored out of your mind.
This app features dimension labels with precision settings, multi-color linear, radical, and angel gradients, shape libraries, a pen tool for multi-point selection and picture editing, and so much more. You can now put your ideas straight onto your iPad and sketch everything out with one of the coolest iPad Pro apps! Plus, it autosaves, so forgetting to save won't be a problem, either.
Most of us know how fantastic Adobe is in literally everything. But did you know the software company created one of the useful iPad Pro apps you can install on your iPad right now? While it's the winner of the Tabby Award for Creation, Design, and Photo Editing, Adobe Illustrator Draw is also a favorite among many artists who want to put their creativity in digital form. You can make vector artwork with image and drawing layers which you can send to Adobe Illustrator CC, or as flat images to Photoshop CC.
The app includes great features like sketching with five different pen tips with adjustable opacity, size, and color, working with multiple image and drawing layers, inserting basic shape stencils or even new vector shapes from Capture CC, and more. You can basically draw significantly detailed illustrations with this app and it offers you so much freedom to express yourself in your most artistic way.
Not only does this app allow you to draw and paint, but SketchClub can easily share your creations right in the app to a community of encouraging mobile artists. You can join really talented and creative people from across the globe, share your work with them, and practice your art while you're bringing your imagination to life. From the littlest of details to the stunning colors you can customize on your own, there are endless possibilities SketchClub can offer you.
There are tons of core features that this app gives you. With super fast brush and composting engines, layer transform with skew, shear, and tiling, background autosave and persistent undo history, and so much more, you wouldn't know where to start once you download this great app. The community consists of a new competition every week as well as new challenges every day. There's also a huge library of share brushes, templates, and textures you can play around with!
While Brushes Redux is a painting app that's exclusively for iOS, it's also one of the coolest iPad Pro apps you can get your hands on right now. This app is basically universal, so the same version can be used on both your iPhone and iPad! Therefore, you can move paintings between the two devices and continue to work on your art wherever you go. With the accelerated OpenGL-based painting engine, this makes your painting look super smooth and responsive.
Brushes also records every step from your painting, not to mention you get to show off your creative process by replaying your paintings straight from your device. From general features like unlimited undo and redo, simple interface, full support for all Retina devices, and others, you can certainly create all of your best drawings in digital form and share them wherever you want.
This is known to be the number one app for transforming your iPad into a drawing tablet. Since Astropad is among the coolest iPad Pro apps now, you can use your iPad to draw literally anything and bring it directly into Photos or any other platforms like Lightroom, Illustrator, Manga Studio, and so much more. This app also gives you high-end experience of a Wacom pen display at a fraction of the price. Ideal for on the go or lounging around your home, you can express your creativity and design masterpieces anytime and anywhere.
The app gives natural drawing experience, provides unprecedented image quality with no compression artifacts, pressure sensitivity, customizable shortcuts, and a lot more you can play around with. If you're into illustration, painting, sketching, photo, or animation, this is the right app for you to get started on.
This is the iPad version of MediBang Paint and it's certainly among the handiest iPad Pro apps out there. This app is insanely easy to use as a painting software that features a ton of brushes, backgrounds, textures, and even comic book fronts if you want your drawings to come to life. It also allows you to register at the online art community where all users have possession of cloud storage and also share their art and create groups with other artists in the community.
With 100 free brushes you can pick to use in your drawings and paintings, there's a unique lineup of vibrant brushes from Pen to Airbrush, Smudge, Watercolor, Edge Pen, Sumi, Flat Brush, and so much more; you wouldn't know which ones to pick. The Force Fade In and Out features cause your lines to be sharp even when you're simply drawing with your fingers! Not to mention, you can create your own original brushes through extracting an image.
Among the most advanced stimulation of real paint on iOS right now and one of the best iPad Pro apps you can install now is ArtRage! This app gives you the opportunity to be creative on a digital canvas through blending oils, smearing paint, delicate watercoloring, and a lot more. While painting in real life can be very, very messy and even expensive depending on the equipment you buy, this app simply costs $4.99 and you're getting everything that you need in digital form!
This app isn't just about color, but it understands how much paint you have used in order to smear and spread it across your canvas! Not many painting apps gives you this privilege. In addition to that, the app also knows just how wet your paint is so you can literally blend it with other paints on your work. From the roughness of your paper, to the fact that you can use your pencils for any soft shading you want to do on your work, ArtRage is like painting in real life, but digitally!
Just how many apps allow you to create icons, stickers, scenes, and other graphics? Among the best iPad Pro apps you can download into your iPad now, Assembly is a fun way to bring your ideas into digital form! It's seen as a revolutionary new vector design tool that allows you to imagine and create top-quality work in little time.
Ideal for those who are really into illustrations and even cartoon designing, this app comes with a simple package that anyone can use. Rather than drawing regular shapes from scratch, you can save a lot of time by using Assembly's massive library of ideal and diverse shapes, symbols, and stickers that can be layered, stacked, and even positioned in the way that you need them. From cutting out to combining, you can also develop your own library of building blocks. Plus, you can add text straight to your designs!
Last of the amazing iPad Pro apps you can install now is Animation Desk! This app is the ideal tool for creating animations, storyboarding, and sketching, too. Enjoyed and loved by professional and amateur artists, this app gives you the opportunity to draw your own frame-to-frame animation from scratch or even produce animations through videos, images, and PSD layers.
You can also share your animations on your social media or export them to your own storyboard for any further use! Not only did this app win many awards, but it also comes with a ton of features. From over 46 brushes, colored onion skinning, layering, importing videos and photos to your animations, and so much more, there are endless possibilities you can do on Animation Desk.