I Made a Website
And you should too!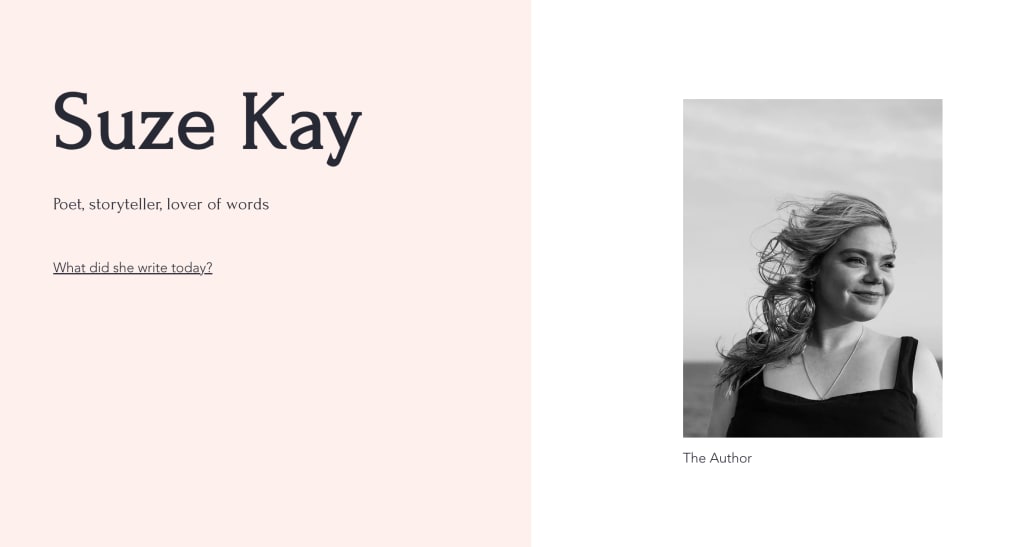 My new landing page at www.suzekay.com :')
When this piece is posted, it will be my fiftieth story on Vocal. It's been such a glorious ride. Over the past two years (but really, six months in earnest), Vocal has helped me rediscover and hone my creative edge.
I've always wanted to be a writer. I've always been a writer. But I buried pieces of myself in the aftermath of trauma and embarrassment, and it was a hard path back to the written word. If you want to read more about what that journey looked like, check out my story "The Artist's Way."
Many brilliant contributors on this platform (hem hem, Cendrine Marraouat, Stephen Kramer Avitabile, and Naomi Gold) have been consistently reminding everyone that no website is forever, and as living writers, it is our duty to steward our own works. They all have posted various encouragements on their own profiles and in their comments.
Finally, I heard them. I think we can acknowledge it's been a weird few weeks on Vocal. There's an influx of plagiarists and spammers. ChatGPT schlock keeps being given Top Story. Drama coupled with confusing moderation tactics has led to at least one super-talented writer departing from our community. It made me question what I would do in the same situation, or in a worse one, where the site goes down completely. Would I abandon my work here? Would I have to hastily save what I could?
By the way, check out Matthew Fromm's awesome poem hitting out at plagiarists:
To be clear, none of this makes me want to give up on Vocal. I think this is just part of the site's growing pains. Medium just changed its algorithm to prevent the type of behavior many of us are speaking out against, which seems to be pushing the spammers and AI filth in our direction. It will be a bumpy ride, but I trust that The Powers That Be at Vocal will right the ship given time and patience.
Still, in the aftermath of all this, I had a moment this week where I thought about my profile. As a writer, not just a Vocal contributor. Let me walk you through the positive things that pushed me to making my own website.
I use a pen name. It's not because I want to hide my identity. I still use my real pictures, and I contribute to the Vocal + Assist Facebook group using my given name. But it's a little clunky, and I'm getting married in a few weeks, after which it will change. I want to keep things simple. I want to keep my publishing name stable.
If you want to join the cool V+ crew over on Facebook, please do. It's a wonderfully supportive group with a lot to offer people looking to boost their profile on Vocal!
I submit my work to places that aren't Vocal. Some gets published, a lot doesn't. What doesn't get picked up by others I park here, so people can still read it and (hopefully) enjoy it. But that means I should have a searchable profile to prove to potential publishers that I exist and have a body of work. If that's all just floating through the internet under a relatively short, sweet, and non-unique pen name, then there's a good chance I'll get lost in the shuffle.
The things that get published, by the way, are good. Really good. But they're also under a publisher's lock and key, and I want to give people who know my words from one avenue of my life a map so they can find the buried treasure.
I want to build my brand. I believe in my talent. I've been recognized for my talent before. I have a unique voice and a lot to offer the world through my words. Just because I'm a work in progress doesn't mean I need to wait until the process is done before I launch myself. Honestly, if I were taking that slow path, I'd probably be dead before I was ready!
Vocal has been awesome because it's allowed me to connect with other writers just like me. I hope that happens on my website, too. Vocal has so many talented people with cool stuff to say, who read my work and connect with me over it, who let me read theirs and connect with them too. I'm really excited to see what happens in the comment section of my own personal blog.
I want to customize my work's appearance. I'm using Wix, which allows me to add some more personality and functionality to my profile and my writing. It has a wide variety of typefaces, sizing options, and other tools to help me do so. I get to tinker and craft on the visuals of my craft. And also, it's pretty easy!
And finally, I want to protect my work. Everything on my page is clearly copyrighted. Doesn't mean it's safe from the scavengers, but it gives me more leverage to dispatch them.
So, I did it! Yesterday, I made my website. You can find it here:
I hope I'll see some of you over there. There's some cool stuff there that you haven't seen on Vocal yet, and you can find it under my Publications tab :)
But even more, I hope I'll see many of you starting your own writer's websites, too. You have so much to offer the world through your words.
I showed you mine. Show me yours in the comments!
About the Creator
Pastry chef by day, insomniac writer by night.
Catch me here for spooky stories, crushable poems, and overall weird thoughts.
Or, let me catch you on my website!
Reader insights
Outstanding
Excellent work. Looking forward to reading more!
Top insight
On-point and relevant

Writing reflected the title & theme
Add your insights