Cuneiform Script
This is For The Vocal Writers Challenge About The First Things I Ever Wrote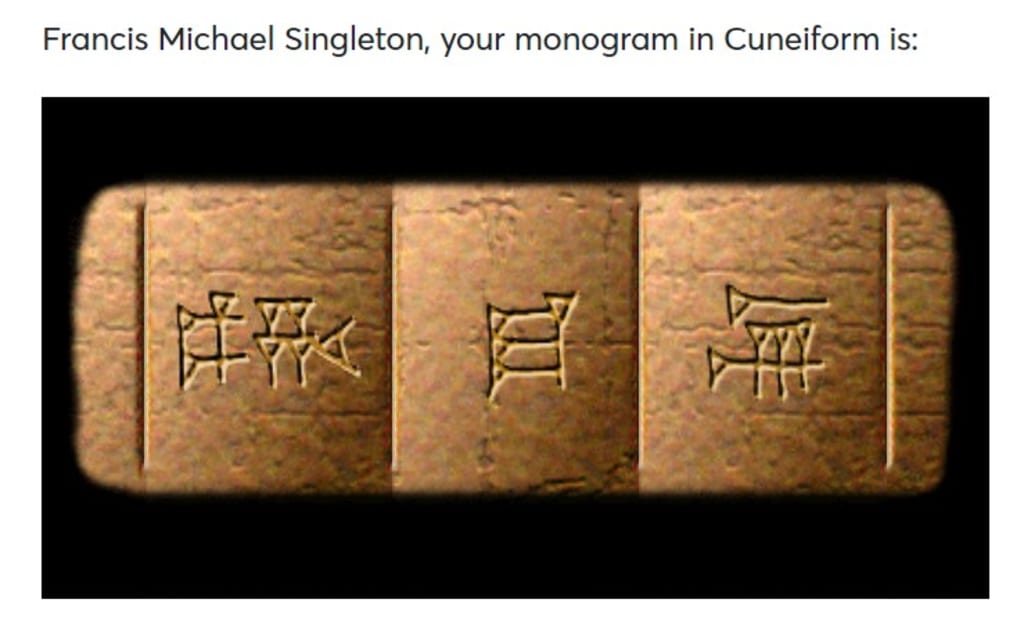 My Name In Cuneiform Script
Introduction
This is my second entry into this challenge. My first one dealt with my first attempts to write in my adult life, especially my writing on Vocal, my blog, and the books I never wrote. You can read about that here.
The Prompt
Write about the first piece you ever wrote. How has your style or perspective changed since then?
Cuneiform Script
I'm not sure if this was the first form of writing and there are probably those who think that my first writing was in Cuneiform Script. If you don't know what it is, check this out here:
I remember creating letters using Cuneiform Script at school, possibly Primary, and using a wedged stick to write messages in soft clay that was then baked to create a permanent record.
I found this Cuneiform Script name generator, so you can do your own. Mine is at the start of this article.
Obviously, this is something I did in History lessons but it shows how long we have had the opportunity to capture the written word. This was pre-alphabetic script but now I shall concentrate on what might have been my first ever piece of writing.
Tiny Steps
My mum taught me to read before I went to school, and that also included learning to write. I have a vague recollection of shaping letters and then making words from them. I think I first learned to write my name and then kicked on from them.
So going off what the prompt asks, my first piece of writing was probably my name. Writing was a new form of communication for me. Up to then, communication had been talking and seeing pictures and television programs. If I go back a bit further, at some point I gained knowledge that the sounds that my parents were making were actual representations of items that they were sharing with me.
Once I could talk and listen I was then grounded to learn reading and writing, I am sure I wrote a piece that referenced how I learned to read, but I can't track that down. Reading showed me what words, sentences, and paragraphs were, and with help from my mum, I penned those first words.
Since then I hope I have developed a little, learning to write stories at school, which sometimes became essays. In some ways, while it gave me more experience, school made me see writing as a chore, especially in a lot of my secondary school lessons.
In Primary school, I remember enjoying writing fiction (well stories) but cannot remember feeling like that after that. I hadn't enjoyed creating fiction until I actually became comfortable with sharing my work on Vocal. That was also a learning curve, even though I had been writing my blog for nearly twenty years.
So from the first attempts to write my name, I am now confident in writing about anything and putting it out in public. I feel that all that I put out is worth someone's time.
This reminds me of a funny story about a quote from my eldest daughter Juliet when she published her first web page:
"Daaad, what if someone sees it?"
I found that very amusing but she has gone on to have a great IT job, and I made sure she and Kirsty could read and write by the time they started Primary school (much to the chagrin of some annoying teachers).
Conclusion
So this is how I progressed from writing my name to being a successful creator on Vocal. It may be not exactly what was expected, but as usual I have taken a slightly skewed pathway on this.
The music is "Hanging Garden" by The Cure which is a reference to the Babylonians who superceded the Sumerians who gave us Cuneiform Script.
Reader insights
Outstanding
Excellent work. Looking forward to reading more!
Add your insights