Worst Exotic Car Crashes in History
Curious what expensive cars have caused millions of dollars in damages? Check out the worst exotic car crashes you've ever seen.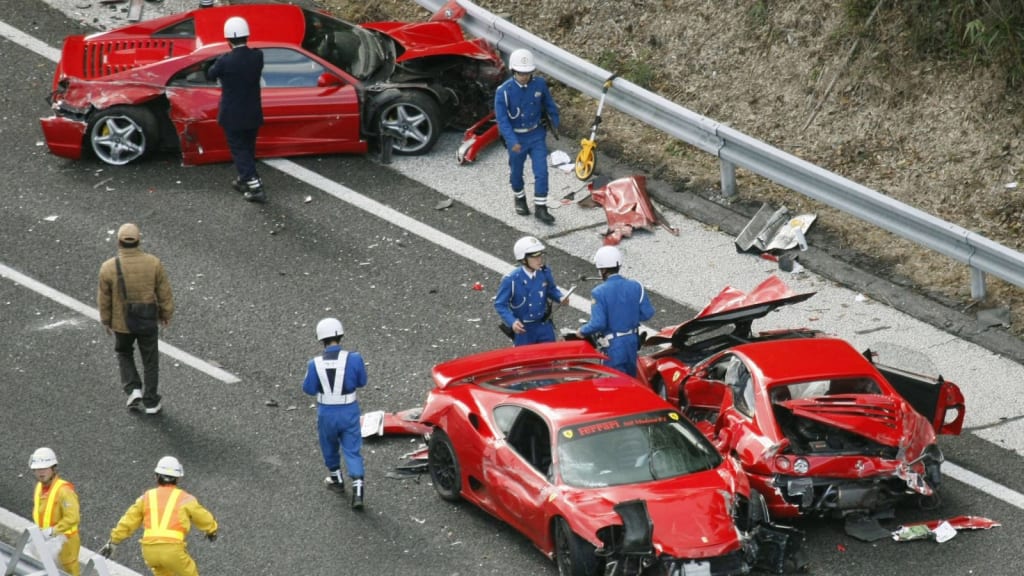 We all know how beautiful foreign and exotic cars are, but the prices are what really frightens us. As much as we adore these cars through the internet and dream of getting our hands on one... we'd have to sell a organ for one. And if we happen to buy an exotic car, we basically give it more love and treat it better than a child. There are people out there who do own our dream car and do treat it as how we personally would. But then there are exotic car owners who somehow get into accidents.
If any of our everyday cars got into an accident, the damages would cost a few hundred to possibly a thousand dollars. There are lots of ways to handle a car accident. Unlike our simple cars, the damages on foreign cars caused by accidents can actually cost thousands... even millions! That's one of the cons of owning an expensive car, the damage costs can drain your bank account. As terrifying as that sounds, check out the worst exotic car crashes ever. You'll cringe just by looking at the damage prices.
Bentley Azure: $1–$1.5 Million
Bentleys are among the stunning and most luxurious cars on earth and we can't help but admire when one drives right past us. And the Bentley Azure is certainly a beauty under the name. However, a driver behind the Bentley Azure didn't seem to notice a Ferrari F430 coming her way, and ended up ramming right into it. Yikes.
That isn't the worst part. Once the Bentley crashed into the Ferrari, more cars piled right into the original crash—and they were not ordinary cars, either. An Aston Martin Rapide, Porsche 911 Turbo, and a Mercedes S Class all became part of the crash the Bentley Azure started.
Eight Ferraris: $1–$2 Million
Someplace in western Japan, a really... really bad crash occurred. Among the worst exotic car crashes, eight Ferraris all in different models, three Mercedes Benz models, one Lamborghini, and even a Nissan and a Toyota were all involved in one crash. This insane accident resulted to $1 to $2 million in total damages.
This accident also lead to a dozen of people to the hospital from injuries. Whether or not they were driving around with their fellow Ferrari friends, safety is still important. Especially when you're driving an extremely fast car.
Ferraris and Lamborghinis: $1–$4 Million
In China, there was an accident that was marked as one of the worst exotic car crashes in history. From 12 to 14 Ferraris and Lamborghinis, along with other exotic cars that weren't specifically mentioned, were all part of just one giant car crash. One Ferrari lost control and caused a chain reaction of a ton of cars colliding.
So... 12 to 14 Ferraris and Lamborghinis and possibly other exotic vehicles? That can easily result to $1 to $4 million in damages. Seems like a gentle price considering the amount of expensive cars that were involved.
Mercedes-Benz SL 300 Gullwing: $1–$4.8 Million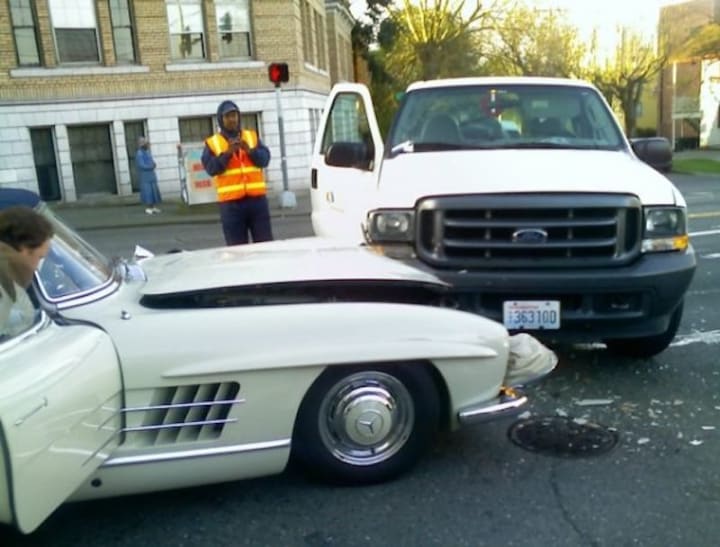 There are so many of us who can appreciate just the sight of the Mercedes-Benz SL 300 Gullwing. The classic look, the daring engine, it's the pure definition of a dream car. But looking at it when it's completely destroyed truly crushes even our hearts. I can't even dare to look at the photo any longer.
The iconic Gullwing somehow managed to destroy the front of it by crashing into a Ford Super Duty. Yup, nearly $4.8 million in damages. The owner of the stunning car actually destroyed our dreams, as well.
Bugatti Veyron: $1.6–$2.2 Million
Ah, the Bugatti Veyron. One of the hottest and all-time amazing foreign cars ever. I hate saying how stunning a car is before getting into how it was completely destroyed from a car crash. But, yes, the legendary Veyron somehow drove right into a saltwater marsh...
Just the price of the car itself is about $1.7 million. So imagine driving one into a large body of water, literally drowning the precious car, and spending more than what the car originally costs. This is undoubtably one of the worst exotic car crashes ever.
McLaren F1: $2–$2.8 Million
Know comedian and actor Rowan Atkinson, mainly known as Mr. Bean? He was actually a proud owner of the stunning McLaren F1, until he absolutely destroyed the back of it. This car was actually seen as one of the most incredible cars of its time, and seeing it damaged beyond repair has us shaking our heads in disappointment.
Don't look down upon him. Atkinson truly adored his McLaren F1 and viewed it as a child of his. But $2 to $2.8 million in car damage is something that frightens all of us, and this makes it among the worst exotic car crashes in history.
1959 Ferrari 250 GT: $2–$3 Million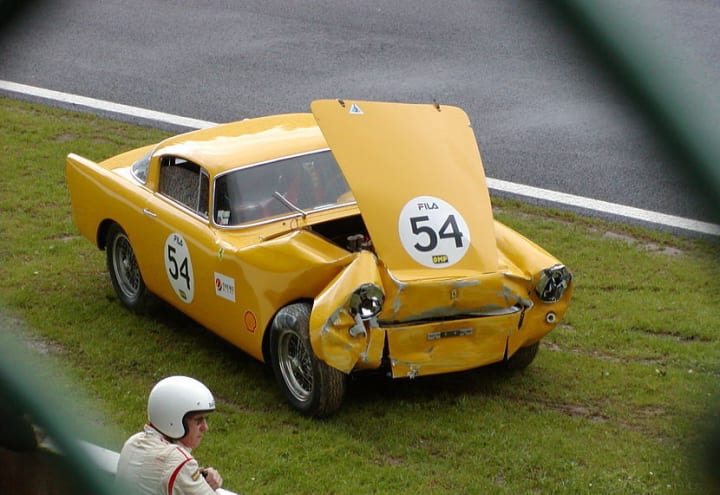 Among the best classic cars ever, the 1959 Ferrari 250 GT is loved by many Ferrari fans. Unfortunately, this legendary car ended up getting its frontend completely smashed in this in this incident. The crash made the car look the complete opposite of an iconic car, and rather a busted car.
During a race in 2003, the driver accidentally wrecked the front of his insanely expensive car. And the price of the damages are probably just as pricy or a bit more than how much the car originally costed. Either way, that man had to pay about $2 to $3 million from just damages.
Pagani Zonda: $2.6–$3.2 Million
For a car that you can't legally drive in the US, there are only about 24 of the Pagani Zonda on Earth. However, after a horrific accident... there's only 23 in existence. How can anyone drive so carelessly when you have one of the most expensive cars in the world?
Well, the owner of this car happened to completely destroy his, resulting in about $2.6 to $3.2 million in just damages. The Pagani Zonda is known to cost about $1.4 million. The damage prices are no surprise, since the car was basically unrecognizable, and making this one of the worst exotic car crashes.
Ferrari 250 GT Spyder: $10.6–$12.2 Million
Wouldn't it be nice to take your super expensive car to the beach? I mean, literally on the beach. Well, the owner of this Ferrari 250 GT Spyder dreamt of doing so and he managed to get his Ferrari on the beach!
But what he didn't expect was a hurricane wrecking the life out of it. Just one mere car cost about $12 million from a hurricane accident! This goes to show that you should never bring your car to the beach... I mean on the beach itself.
Ferrari 250 GTO: $30–$35 Million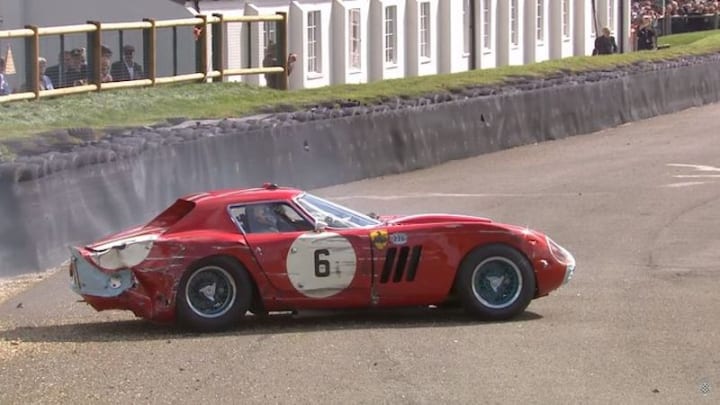 Known as one of the most expensive vintage cars ever, the amazing Ferrari 250 GTO was involved in one of the worst exotic car crashes in history. Perhaps the worst one yet. The best part is that the actual damage on the car is the least worst looking compared to every other car on this list... believe it or not.
While the owner of this car was driving in a historic race, he somehow drove off the raceway and only crushed the front of his car. But since it was a very expensive, old school Ferrari, you bet the damages were around $30 to $35 million to fix up that legendary fossil.
fact or fiction
Enjoys lounging in NYC bars, loves traveling to foreign countries, and volunteers at the homeless shelter twice a month.