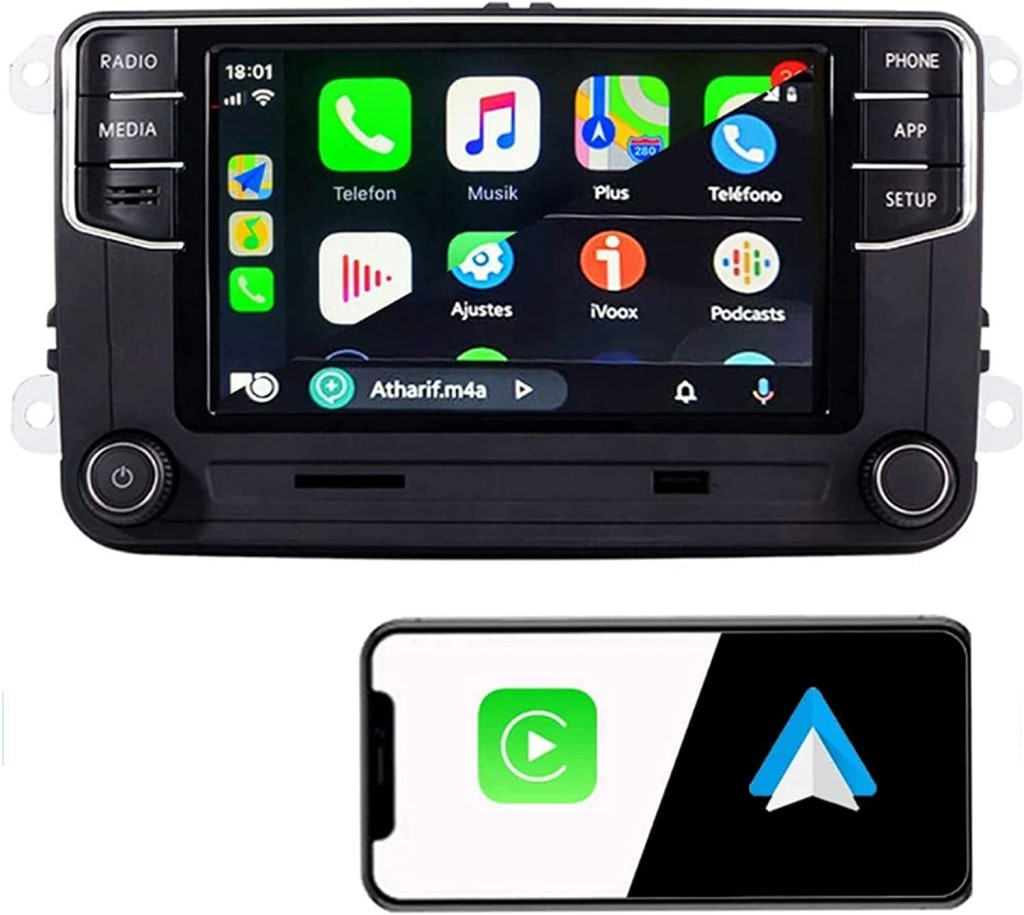 car stereo
Once upon a time, in the realm of car enthusiasts, there was a legendary device known as the SCUMAXCON RCD360 PRO. Its reputation preceded it as a state-of-the-art car stereo that transcended language barriers and revolutionized the driving experience. Equipped with an array of innovative features, this remarkable device was about to transform mundane car journeys into exhilarating adventures.
Picture this: You enter your vehicle, ready to embark on a road trip of a lifetime. As you settle into the driver's seat, the SCUMAXCON RCD360 PRO beckons, inviting you into a world of possibilities. Supporting multiple languages, including English, German, Spanish, and Russian, this remarkable stereo ensures that language is never a barrier to enjoying your favorite tunes or navigating with ease.
But that's not all. The SCUMAXCON RCD360 PRO boasts seamless integration with your smartphone, offering the convenience of wired Carplay and Android Auto. Now, you can harness the power of your favorite mobile applications directly from your car's dashboard display. Imagine effortlessly accessing your music library, messaging apps, navigation tools, and more, all while keeping your eyes safely on the road. With dual control of cell phone applications, you'll experience a level of connectivity that sets new standards for modern driving.
Before taking the plunge, it's crucial to pay attention to the stereo's dimensions. Measuring at 8.46in x 7.08in x 5.11in, the SCUMAXCON RCD360 PRO ensures a perfect fit for your vehicle. Take a moment to carefully review the product description to guarantee that the stereo's size aligns with your specific needs. A little diligence in this regard will ensure a seamless and satisfying installation experience.
Now, let's talk about sound quality. The SCUMAXCON RCD360 PRO is designed to elevate your auditory senses, supporting Dynaudio and Fender sound systems. However, to unlock these advanced audio features, a simple step is required: disconnecting and reconnecting the battery after the radio installation. This ensures optimal integration with your car's audio system, delivering an immersive soundscape that will leave you in awe.
But what about older vehicles? Fear not, for the SCUMAXCON RCD360 PRO has solutions for those too. If your car was manufactured before 2010, you may need an adapter cable or a gateway upgrade to address potential battery leakage issues. Similarly, if your vehicle predates 2009 and features 8 steering wheel buttons, a plug purchase is recommended to resolve any leakage or protocol problems that may arise after installing the radio. Rest assured, there's always a solution to ensure compatibility and seamless performance.
Safety takes precedence in every driving scenario. That's why the SCUMAXCON RCD360 PRO is tailor-made for vehicles equipped with a backup camera. With the reversing camera function activated, you can navigate with confidence, effortlessly maneuvering in tight spaces. Please note that the radio supports AV format cameras and that using parking sensors simultaneously with the reverse camera is not possible. For an alternative solution, explore the options provided by ASIN:B09YM52THS. For optimal performance, consider purchasing the recommended brand's camera (ASIN:B0BS12DGM6, B0BMTV43GH) or the RCD360 PROII if your car already has an original camera.
As you venture further into the world of SCUMAXCON RCD360 PRO, you'll discover three different power interfaces: PQ quadlock, ISO plug, and MQB quadlock. Fear not, for
the PQ quadlock adapter A is included in the package, catering to a wide range of vehicles. Should your car require an ISO plug, fear not, as adapter B (ASIN:B0BZJ7LRH1) is readily available. However, if your car falls under the MQB Quadlock category (excluding POLO 6C models), the radio may not be compatible. In such cases, consider exploring the RCD360 PROII (ASIN:B08JCGKVMV, Backup Camera Activated) or ASIN:B09YM52THS (Backup Camera Deactivated). But if your car happens to be a POLO 6C with MQB Quadlock, rejoice, for the perfect radio solution awaits you (ASIN:B09ZPHW89Y).
In the realm of car stereo upgrades, the SCUMAXCON RCD360 PRO reigns supreme. Embrace the future of multilingual connectivity, wireless control, and superior sound quality. Buckle up, hit the road, and let the SCUMAXCON RCD360 PRO be your ultimate driving companion. Your journey awaits, and the soundtrack to your adventures begins now.
Link:- https://amzn.to/3oQNtnY
About the Creator
Looking for honest and informative car accessory reviews? Look no further! I love writing about car accessories and sharing my insights with fellow car enthusiasts. Read my reviews and find the perfect accessory for your ride.
Reader insights
Be the first to share your insights about this piece.
Add your insights