10 Best Headrest Mounts for Your iPad or Tablet for Your Backseat Buddies
Summer is the time for road trips and vacations. Be sure to grab one of the best headrest mounts for your iPad to keep your friends or children content and entertained during any long ride.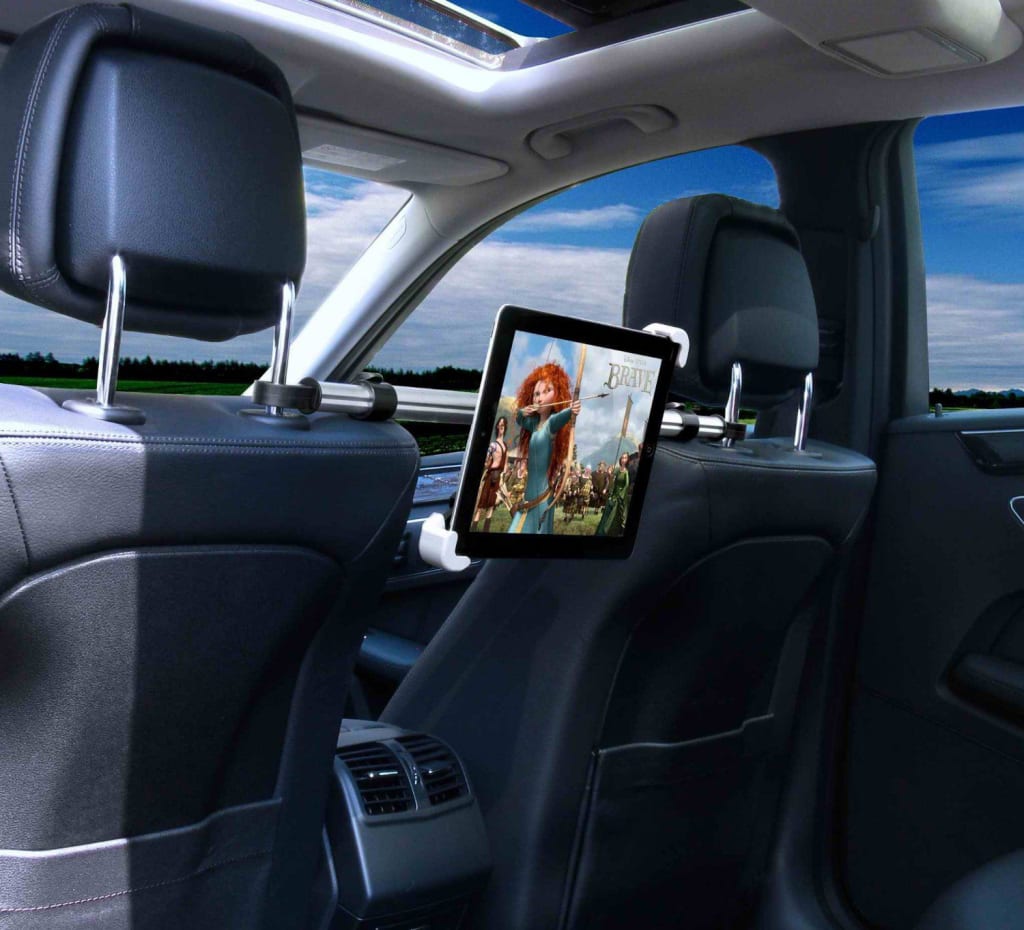 With the summer officially arriving, it's time to prepare for fun road trips with friends and exotic vacations with your family. My family always takes trips during this time of the year but we rarely fly anywhere. Our journeys always begin on the open road, no matter how far the destination is. We, luckily for us, have a DVD player built into out travel van and are able to watch whatever we wanted.
Most cars are not so fortunate. Many don't have the space or the ability to support an external DVD player but there are alternative methods. Whether you're taking the family to the most extreme places to camp in America or planned one of the best west coast vacations, it's imperative that you keep everyone entertained on the way. In order to ensure a stress-free drive, check out some of the best headrest mounts for your iPad, they will keep everyone distracted for as long as you need.
The car headrest from Ohlpro has universal in its description, and it's not just for show. It is compatible with the Apple iPad Mini, iPad Air, iPad Air 2, iPad 2, iPad 3, and iPad 4, just to name a few. If you have an iPad, you can rest assured that this mount can hold it.
The adjustable 360-degree rotation of this model makes sure that everyone in the back can have the ideal angle to watch TV shows, movies, or even play games. Now all that's left to do is renew all of your online subscriptions, you don't want to miss any of the must-see movies on Netflix after all.
We have come to the first seat headrest that is officially recognized as an Amazon Choice. Since there are so many products on Amazon, the shipping giant needed a way to distinguish which ones consumers could trust. Anything that is identified as an Amazon Choice is well-priced, has received great reviews, and is easy to ship, putting them firmly into the realm of trustworthy.
It makes sense why this model from TFY is considered one of the best headrest mounts for your iPad when you look at the three aspects I just mentioned. If you need any more convincing, it folds into compact spaces making it perfect for traveling, it has adjustable straps for an easy mount to your headrest, and it can even be fitted to a tray table on an airplane for quality seat entertainment if you prefer flying.
How can you not trust this mount when it comes from The Joy Factory? In addition to sounding like an attraction at Disney World, The Joy Factory can make a pretty solid iPad car mount. This holder is built with carbon fiber, making it sturdier and more damage-proof than almost all of the other options you'll see.
The C-Clamp base adjusts and can lock onto a variety of different surfaces, regardless of shape. If you have younger kids, I would recommend this model. It's tough and can handle a few drops, which will be inevitable with your little ones constantly fiddling with it on your seat headrest.
Another of the best headrest mounts for your iPad finds itself as a highly regarded Amazon Choice. Considering it only weighs 12.8 ounces, you can be sure this unit is perfect for any future road trips. What I like most about this iPad car mount is the adjustable, rigid extension arm that can position the tablet in between the two front seats. This provides a fair viewing angle if you are riding with multiple passengers in the back. It's as close to a built-in DVD player as you can get and its dimensions (8 x 1.2 x 20 inches) allow you to easily store it in your car.
If you thought the previous models were portable, think again. This iPad car mount weighs a mere five ounces and its dimensions (7.1 x 4 x 3.1 inches) make it perfect for storage in your center console or glove box. It is designed with rubber coated and spring-loaded arms, ensuring it has above average grip capabilities. Capable of working with all versions of Apple iPads up to 11 inches, if you're worried about potential slips or dislodges, and have a suitably-sized tablet, this would be the one for you.
TFY is back with one of the best headrest mounts for your iPad, but this time they've identified a new target audience. Designed specifically for kids, this case can handle falls, scratches, dust, fingerprint marks, and every other dangerous scenario that children are prone to.
The adjustable strap makes it compatible with nearly every headrest. The case that it comes with is engineered to be shockproof and anti-slip, just to further assure you that your child would really want to break the iPad for it to be damaged in any way with this case/mount combo.
One of the cheaper options available, Nacycase offers a top of the line mount for considerably less money than some of the others you've seen. Make no mistake though, it still has all the bells and whistles as every other model. It has 360-degree rotation, foam pad grips to prevent any damage to your iPad, is easy to attach, and is extremely portable (4.8 ounces). If you're looking to save some coin while giving your driving entourage high-quality backseat entertainment, this is your best bet.
This is one of the top headrest mounts for your iPad and I'm not just saying that because I'm super patriotic. USA Gear's universal headrest mount can offer your favorite TV shows, movies, and games in either landscape or portrait mode with its 90-degree rotating head. The main draw for this specific unit is the vibration stabilizer it is built with.
Ideal for rougher terrains and rocky travel, the stabilizer provides a steady and firm viewing angle for anyone enjoying their iPad in the backseats. The no-slip rubberized grips aid the stabilizer in this respect. I believe this is the best option for any avid campers or anyone who prefers to take their trips off-road every now and again.
The adjustable arms on this mount by Macally can fit a wide range of car seats. So whatever car you drive, this can make it work. Setting it up requires zero tools, which is great for those who aren't the most comfortable using them. It shares the same rotating head feature that USA Gear's mount had, providing a top-tier angle for any sort of entertainment you've brought on your trip.
The last of the best headrest mounts for your iPad also happens to be an Amazon Choice. It's easy to see why; it won't break the bank, can be shipped quickly if you have a Prime account, and 84 percent of Amazon reviewers have given this model either four or five stars.
Most reviewers cite its perfect fit and easy to install nature that give it the leg up. Considering it takes only a few seconds to set up or take down, I cannot argue with their assessment. On top of all that, LilGagdets even offers a one-year warranty if anything malfunctions. So, why wouldn't you give this one a try?
product review
About the author
Huge sports fan, primarily hockey and football. Also a big TV and movie fan. Recent Marist graduate writing about whatever interests me!
Reader insights
Be the first to share your insights about this piece.
Add your insights