Most Extreme Places to Camp in America
From sea to shining sea, there are some seriously extreme places to camp in the land of the free.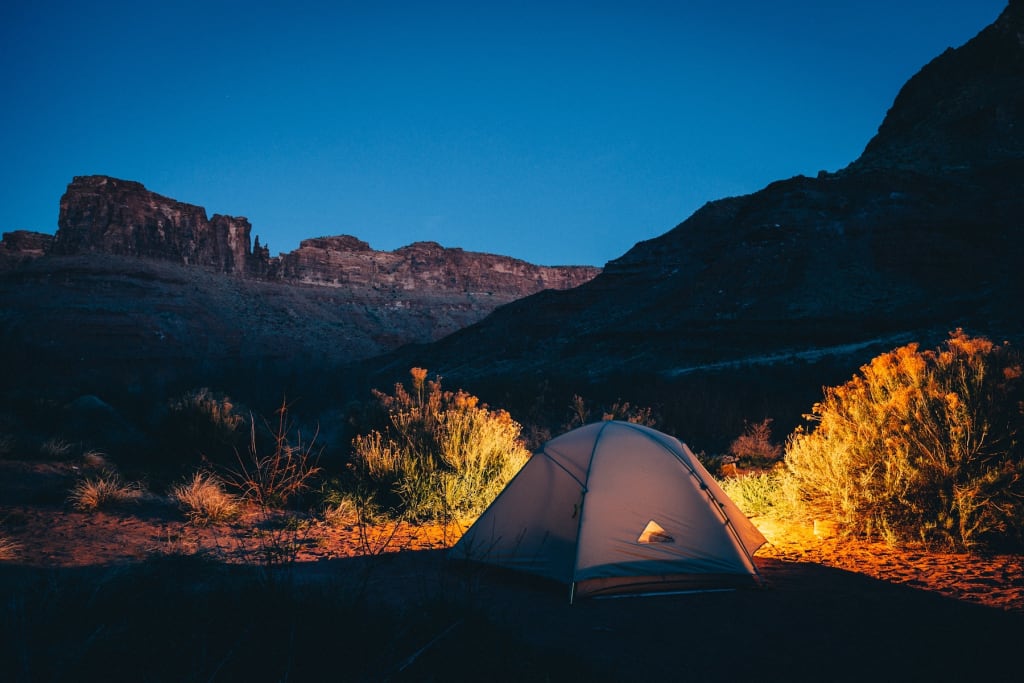 Camping is one of those activities that basically requires you to be somewhat rugged. A person who isn't willing to deal with a bug bite or a little mud will not fare well in a campground setting—even if the weather is great.
That being said, there's a small portion of campers who really, truly love showing off how tough they really are by enjoying camping in extreme conditions. For people in this select camper category, the pastoral settings of Shenandoah or commonly-camped grounds of National Parks will not do.
People who want an extreme take on camping tend to want a little risk involved, or at the very least, a very extreme story. The following extreme places to camp aren't always legal and are rarely ever safe. However, they definitely will show people how tough your survival skills can be and how lucky you are to survive.
The Pine Barrens—Multiple Cities, NJ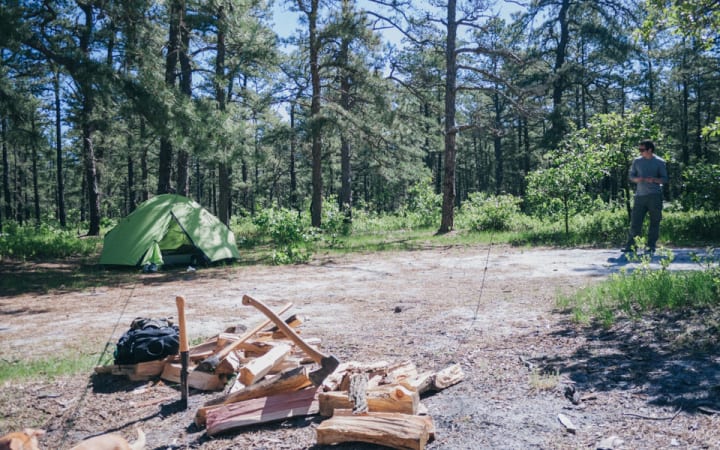 New Jersey is famous for a number of things, including great pizza, the Jersey Shore, and of course, the Pine Barrens. The Pine Barrens are one of the more extreme places to camp on the East Coast for a number of reasons.
First off, the area is filled with sand and wildlife, but doesn't really have official camping spots where you can pitch a tent without rangers coming by. Second, the locals are known for being very unfriendly (read: potentially violent) to people who trespass on their property.
Third, the Pine Barrens are also allegedly home to the Jersey Devil and Ong's Hat, site of the world's first internet hoax story. Cryptozoologists who want a serious fright might want to check it out. We hear it's a devilishly scary region!
Centralia—Centralia, PA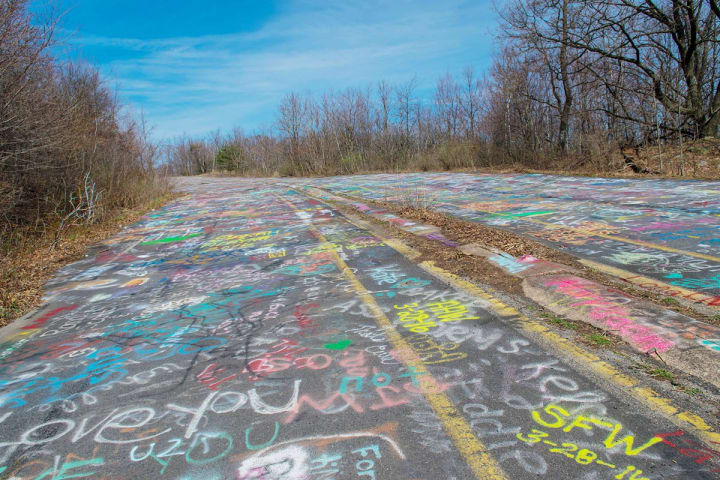 Looking for a potentially lethal trip that will make most people wonder if you're crazy? Look no further than the ruins of the city of Centralia. This remains one of the most extreme places to camp for a number of reasons, including the fact that it's literally illegal to go here.
Centralia was a mining city that suffered from an underground coal fire. Despite the best efforts of professionals, the fire couldn't be put out. It burned for 50 years and quickly began to eat away at the Earth's crust in town. Holes started to open up in the Earth around the town, often causing locals to worry about falling in.
These days, Centralia is abandoned. It's been the inspiration for Silent Hill and has become a major urbex tourist point. That being said, you could get swallowed up by a coal fire spot if you're unlucky.
This place could prove to be lethal. Proceed with caution if you absolutely insist on going here.
Waverly Hills Sanatorium—Louisville, KY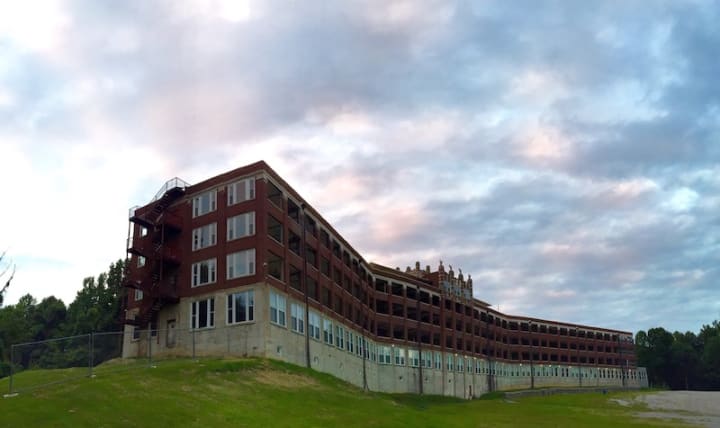 Kentucky has a lot of extreme places to camp, if you're looking around for national parks, Appalachian trails, or traditional campgrounds. However, that's not all it has. This simple Southern state is also known for being home to some of the most haunted places in America.
Among the nice wooden trails and peaceful parks lies an abandoned mental hospital that's allegedly one of the most haunted hospitals in the world. That hospital is known as Waverly Hills Sanatorium, and it's one of the only places where you can pitch a tent legally while you look for tortured souls who have long since died.
This is one of the few haunted locations that allow campers to spend the night. Though many attempt to stay the full night, quite a few end up choosing to leave early out of the sheer fright they experience in the area once the sun sets.
Yosemite National Park—Yosemite, CA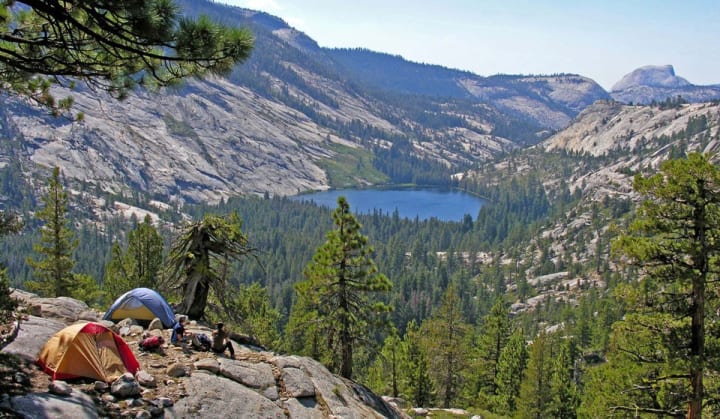 Yosemite National Park is one of the most popular parks on the West Coast, with thousands (if not millions) visiting every year, and everyone knows some of the best places to camp are in Yosemite. So, you're probably wondering what makes this family-friendly location one of the most extreme places to camp, right?
Worry not—we'll tell you. Along with being a hotspot for mysterious disappearances in national parks, Yosemite also allows visitors to pitch tents on a cliff. When we say that, we don't mean that it's just on top of a cliff, either.
Experienced climbers are actually given the green light to snooze on the side of the cliff in specialized bivouac tents. Between that terrifyingly steep sleeping place and the mysterious goings-on, it's easy to see why Yosemite is one of the most dangerous national parks in America.
Black Rock City—Black Rock City, NV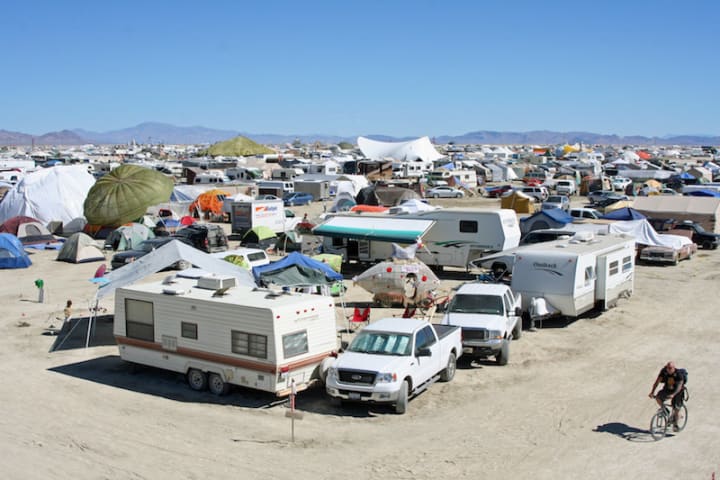 Most of the year, Black Rock City doesn't look like much. Rather, it looks like a decrepit pile of garbage in the middle of the Nevada desert. However, once a year, it turns into one of the most extreme places to camp in America because it's the setting of one of the top music festivals on the West Coast, and one of the most extreme music festivals in America: Burning Man!
Ample amounts of drugs, crazy electronica music, and insanely powerful dust storms make Black Rock City an extreme setting no matter how much of a veteran you are to the music scene. That being said, the art installations are glorious and need to be seen at least once in your life.
Death Valley National Park—Death Valley, CA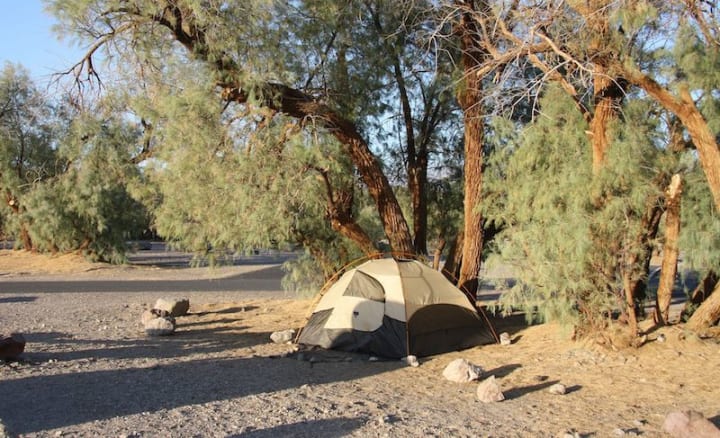 With a name like Death Valley, you know it's going to end up being one of the most extreme places to camp in America. This spot needs no introduction, but we're going to give one anyway because we're cool like that.
Death Valley is the lowest (literally) and hottest (also literally) national park in the United States. With temperatures that have risen past 130 degrees Fahrenheit and an average altitude that is below sea level, going here is extreme simply because of its brutal conditions.
Thankfully, Death Valley isn't really humid so you don't have to worry about clothing sticking to you. If you can avoid dying of a heat stroke or dehydration, you'll love the beautiful sandstone surroundings and the gorgeous desert scenery.
Organ Pipe Cactus National Monument—Ajo, AZ

Most of the places on this list are considered to be seriously extreme places to camp because of their conditions. Some have unusual opportunities for sleeping vertically, others will boil you alive, and some might have crazy hippies that won't stop pestering you. Organ Pipe has none of those issues.
What makes Organ Pipe Cactus National Monument one of the most extreme camping areas in America is its wildlife. This national park has plenty of hiking trails and similar goodies—but it also has the only native jaguar population in the United States.
Mountain lions are already scary, but not scary enough to make extreme campers shake in their boots. Jaguars have more powerful jaws and far more muscular bodies. If you go here, you might come face to face with a bigger, deadlier version of a mountain lion here.
That being said, that's not the only reason this place has some risk associated with it. Due to drug cartel activity nearby, this area has a very high crime rate. Camp if you dare.
Times Beach—Times Beach, MO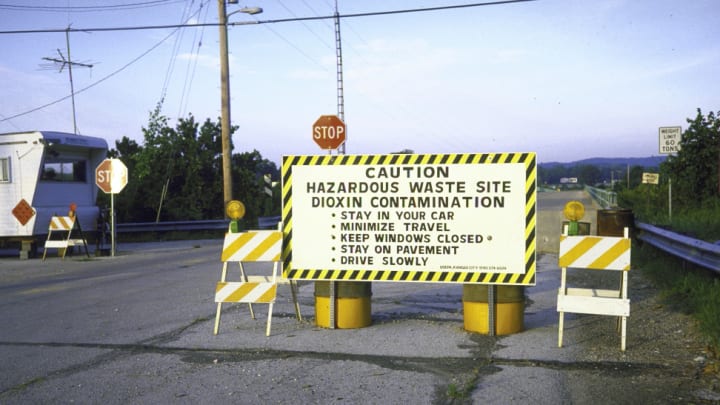 Perhaps the deadliest of all places to camp are the ones that have become deadly as a result of human activity. Such is the case with Times Beach, one of the most toxic regions in all of North America. At one point, Times Beach was a major tourist attraction for people throughout the Midwest thanks to its close proximity to a lake.
However, a dioxin spill ended up killing that reputation. After a businessman coated the roads with some of the deadliest toxic waste known to man, the entire city had to be evacuated and shut down. By 1985, the town was no longer even on the maps.
Not much is left of Times Beach as it once stood, but the dioxin remains. If you don't mind potentially dying of cancer after exposure and aren't concerned about being arrested for trespassing, you can possibly camp here. In terms of toxicity, this is one of the most extreme places to camp in North America—let alone the USA.
The Wave—Vermilion Cliffs National Monument, AZ
If you're looking for something less deadly than Times Beach, less noisy than Black Rock City, and just as trippy, you might like Vermillion Cliffs National Monument. This is home to one of the most extreme places to camp (or photograph) in the United States: the Wave.
The Wave is a massive wave-like sandstone formation that remains famous for its streaky, stripey, and surreal appearance. This unique formation is one of the most remote places you can visit in Vermillion Cliffs, and only 20 people per day are allowed here. You can only get entry by a lottery and will also need to reserve your day.
Not much help is offered to people who want to see this place. Maps are offered, but guides are out of the question. Like Death Valley, temperatures here often exceed 100 degrees. Needless to say, its extreme nature makes it exceptionally risky for novice campers.
Gannett Peak—Fremont County, WY
Last on our list of the most extreme places to camp in America is Gannett Peak, which is currently both the most remote and the tallest mountain top in the low 48. To get to this peak, you will need to walk 20 miles of trail without getting lost and scale from Dinwoody Pass all the way up to Gooseneck Glacier.
Temperatures easily reach sub-zero in the winter, but the views are spectacular. If you're brave enough to handle it, then Gannet Peak will definitely be a once-in-a-lifetime experience.
america
Ossiana Tepfenhart is a writer based out of New Jersey. This is her work account. She loves gifts and tips, so if you like something, tip her!