Your Pathway to Paradise!
What lies ahead for you in the dense Costa Rican jungles?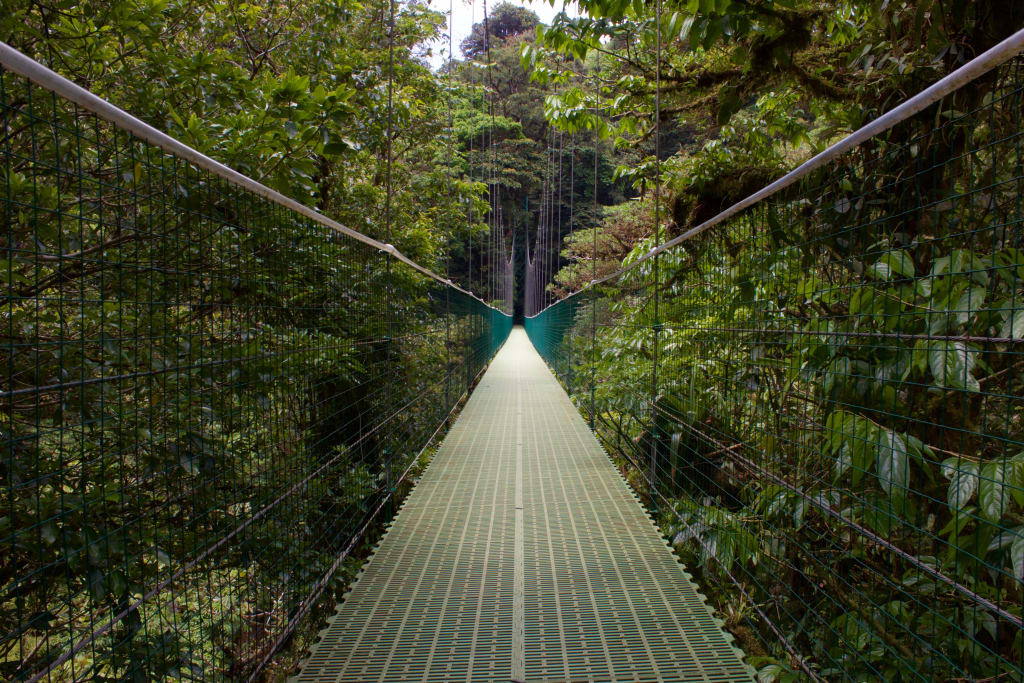 Sloths, pumas & birds, oh my!
That first hike into the jungle. It's not for the faint of heart. . you're going to be surrounded by things that can hurt you. Over 20,000 species of spiders. . YES, 20,000! At last count, 137 species of snakes. . 8 known species of poison dart frogs. . 6 different kinds of wild cats. . pumas, jaguars. . Sharp teeth. . fangs. . deadly toxins. . beware!
Want to hear the good news? As long as I can remember, the jungles here have not been known as "killing fields". As a matter of fact, tens of thousands of tourists and locals alike have enjoyed the thousands of miles of trails and pathways through more than 30 national parks here in Costa Rica. . all without incident. If you're aware of your surroundings. . if you come prepared. . if you do your research before entering, I would venture to say that you're going to be ok. In fact, you'll have dozens of amazing photos of flora and fauna that you can show your friends and family when you return home.
The rainforests of Costa Rica are home to over 100 species of trees. Gigantic types of orchids as well as those lazy, slow-moving sloths, 4 types of monkeys and so many colorful, tropical birds. They all can be found while venturing into the Costa Rica rainforests. Whether your fascination with nature stems from a love of quetzals, coatis or sloths, the rainforests of Costa Rica are tempting areas for exploration. . for the biologist, the adventurer, the tourist from Topeka or Columbus and, of course, the weekend warrior.
The rainforests are among the most productive ecosystems in the world. Biologists know of at least 13 different types of rainforests worldwide. Each has a unique habitat, with creatures and microclimates all their own. Costa Rica is, as you know by now, one of the most biodiverse countries on the planet and is home to over 500,000 species of animals.
Costa Rica occupies a unique location, where the Southern and Northern American continents come together. Because of this, animal species from both continents merge in a way seen nowhere else. Costa Rica has the highest density of biodiversity of any country. . over 5% of the world's species can be found here and hundreds of those species are only found in Costa Rica. It is truly a magical place!
Having more than 25% of Costa Rica's total land area comprised of national parks, biological reserves and wildlife refuges, this country's greatest national treasure is its amazing synergy with nature. Home to some of the most colorful and exotic flora and fauna on earth, and one of the most biodiverse regions in the world, this tiny Central American country is habitat to over 10,000 species of plants and trees!
There are six different kinds of forests in Costa Rica. Most of Costa Rica's forestation can be classified into three groups. . rainforests, cloud forests and topical dry forests.
And while rainforests are the most common habitat, the cloud forests of Costa Rica are simply incredible. Rainforests can be found mostly in the southwest of the country as well as in the Atlantic lowlands. The Monteverde Cloud Forest in in the northern part of Costa Rica. Be sure to do some research and plan a trip there. You'll be so glad you did!
For a different experience here, be sure to explore the North Pacific coastal areas. You'll find many tropical dry forests. While not as diverse as the dense rainforests, the tropical dry forests receive quite a bit less rain. With that said, the dry forest still offers to us an incredible ecosystem that creates a stunning display of flowers, plants and trees. And the wildlife here, though different from its Southern neighbors, are still worth a week or two of your time!
Every tropical rainforest can be divided into four separate layers. . the forest floor, the understory (about 5 feet up / eye height), the canopy and the emergent layer, which is everything that grows and lives above the canopy. Each layer is inhabited by different species of flora and fauna, quite specific to that area. One could spend days studying each layer and never see the same type of plant or animal. Incredible nature. .
The largest tropical rainforest in the world is the Amazon, which scans 9 South American countries. Just as amazing, over 50% of the land mass of Costa Rica is made up of primary rain forest, which is the most carbon-dense and bio-diverse in existence. When you decide to visit Costa Rica, you will indeed have to be ready to traverse your pathway to paradise.
You're invited to visit our websites at: www.costaricagoodnewsreport.com & www.costaricaimmigrationandmovingexperts.com
Also, please enjoy our over 2,000 episodes of our "Costa Rica Pura Vida Lifestyle Podcast Series". We are found on all major podcast venues, including iHeartRADIO, Spotify, Apple Podcasts, Google Podcasts, Radio FM, Anchor & many more. Here's our link: www.anchor.fm/costa-rica-pura-vida
central america
About the author
Costa Rica is a magical place. Since November, 2002, when I first visited this country, I have been in love with the people, the culture, its biodiversity, the food. . everything about it makes me happy! Now I share my excitement with you!
Reader insights
Be the first to share your insights about this piece.
Add your insights