The Baird's Tapir of Costa Rica
Rare, Endangered & Unique. .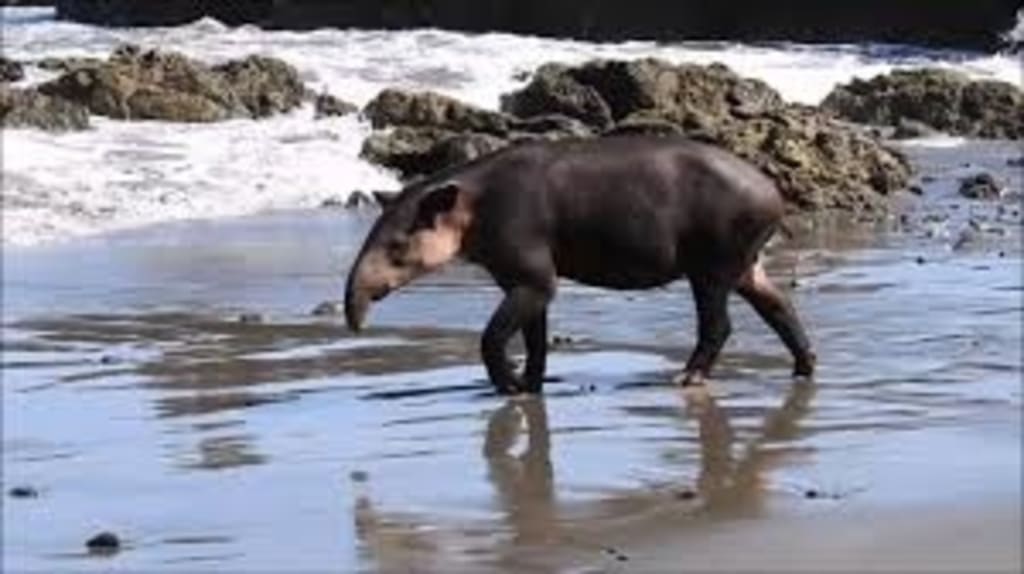 Over six feet long and up to 800 pounds, the Baird's Tapir is a sight to see. .
At times weighing over 800 pounds, the tapir is a very elusive animal here in Costa Rica. It is mostly nocturnal. But, sometimes you may be lucky enough to see them in the jungle or even strolling on the beaches.
Costa Rica is a very popular tourist destination for ecotourists hoping to see both the lush greenery of our tropical rainforests and the rich and diverse group of animals that inhabit them. Thanks to the Costa Rican government's considerable conservation and protection laws that have classified over 25% of the country as "protected national parks", Costa Rica has become host to several rare and beautiful animals that can scarcely be seen anywhere else on earth. The tapir falls into this category.
Baird's tapirs are large, herbivorous mammals whose prehensile snout and pointed ears lead them to resemble a unique mix between a pig, a small elephant and a mule. Despite this appearance, the tapirs are more closely related to horses and rhinos. While separate species of tapir can be found in parts of South America and Southeast Asia, the Baird's tapir is localized largely within Costa Rican borders. They are found in many of the national parks in all areas of the country.
Commonly referred to as "danta" by the locals, they are a unique and beautiful animal that can be recognized by the distinctive off-white markings on its face, interrupted by dark spots on the creature's cheeks and around its eyes. At roughly 6 1/2 feet in length and 500-900 pounds, the Baird's tapir is easily the largest of the species' breeds found within Central America, not to mention the largest wild land mammal in the region.
We call them "gentle". However, their behavior can be unpredictable and they have been known to attack without warning. Tapir attacks can result in serious wounds, so stay your distance.
But even in this pristine wilderness, tapirs are under threat. Cutting through this wilderness is a landmark of human engineering. . the Pan-American Highway. This single feat of construction has, in and of itself, limited the population of this incredible animal. Machines that were invented just over a century ago are colliding with a mammal that evolved over millions of years. As tapirs cross this stretch of asphalt that runs from Alaska to Panama, they are in danger of collisions with the vehicles that speed along it. All too regularly, park rangers come across the broken bodies of tapirs who failed to safely reach the other side of their mountain home across this road.
As the global population of Baird's tapir dips below 5,000 individuals, each animal counts. As such, the group, "Nai Conservation" is doing everything it can to combat the threat facing tapirs in the "Coordillera de Talamanca". Beginning in 2015, the group initiated a project to understand the population of tapirs in the region in order to find solutions to the issue of vehicle collisions. In 2016, Nai Conservation began deploying remote cameras in the region of forest surrounding the highway. Their aim was to understand what drives which parts of the forest that tapirs are more likely to occupy and as such, where they are more vulnerable to collisions with vehicles.
There are so many opportunities here in Costa Rica to hike, climb, camp, explore and search out. With over 30 national parks, there's thousands of species to discover on your own. My suggestion would be to become familiar with many of the animals that can be found here in Costa Rica. Whether it may be tropical birds such as the resplendent quetzal, the toucan, the lapas, or scarlet macaw. . the coati, the blue monarch butterfly. the howler monkey, the poison dart frog or the Baird's tapir, learn about their habitat, what parts of the country they frequent and then visit these areas. You have such a variety of microclimates here. . there's beaches, high mountain jungles, low wetlands, mangroves and volcanoes. The opportunity to become one with nature is in front of you. Take advantage of everything that Costa Rica has to offer. .
You're invited to visit our websites at: www.costaricagoodnewsreport.com & www.costaricaimmigrationandmovingexperts.com
Also, please enjoy our over 2,000 episodes of our "Costa Rica Pura Vida Lifestyle Podcast Series". We are found on all major podcast venues, including iHeartRADIO, Spotify, Apple Podcasts, Google Podcasts, Radio FM, Anchor & many more. Here's our link: www.anchor.fm/costa-rica-pura-vida
south america
About the author
Costa Rica is a magical place. Since November, 2002, when I first visited this country, I have been in love with the people, the culture, its biodiversity, the food. . everything about it makes me happy! Now I share my excitement with you!
Reader insights
Be the first to share your insights about this piece.
Add your insights