Welcome to Richmond - a finalization
Here lays a collective of media presenting my outward view of the city that I call home, Richmond Virginia.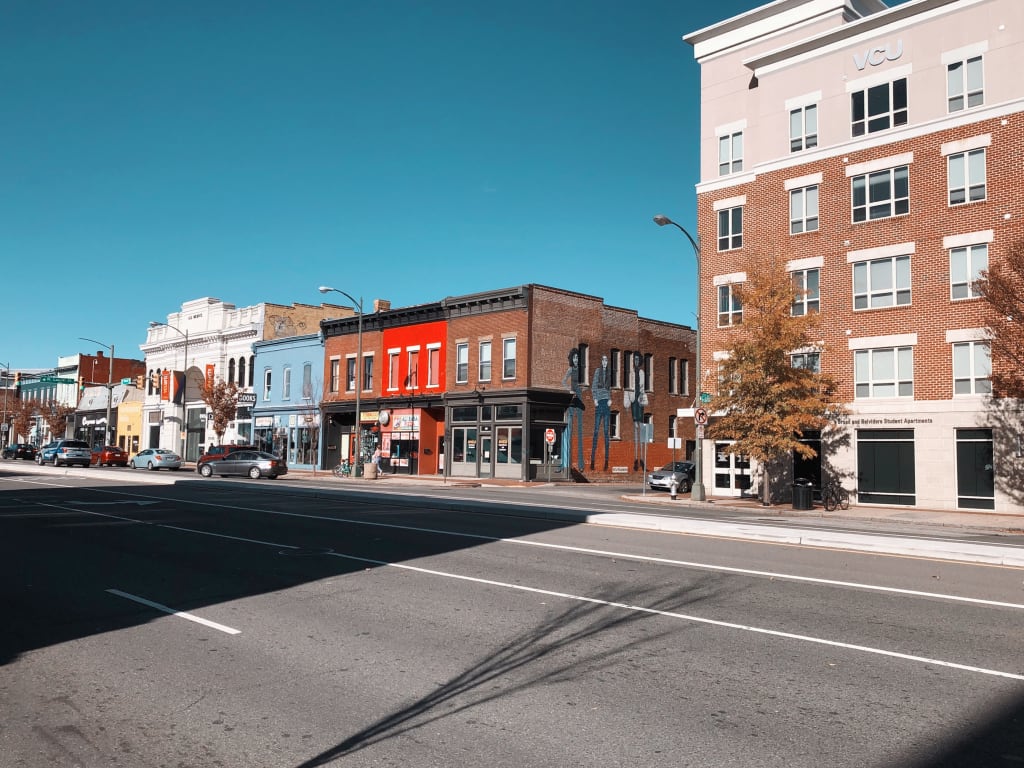 West broad street
Today you're getting a compilation of media by me and kind of crumpled together. A little bit of blog posts, parts from my journals, photos, videos, and songs that expose you to my point of view of this beautiful city of Richmond that I am living in currently. Someplace that I call my home.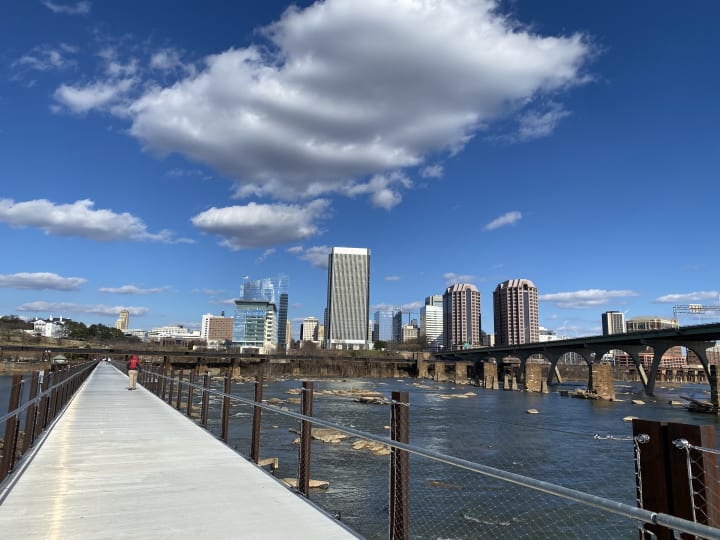 Side by side, they're sitting across across the room with paint brushes in their hands and going back and forth about who's painting is better but I'm just noticing the whole moment. I took out my paints and my brushes and started an idea and became distracted by the thought of how far I had come in such a little time. How these girls have impacted my life, and this small little city.
fast forward a little over a month and we are sitting outside with a group of our friends, surrounded by music and everyone's got a cigarette lit up. There were 3 or 4 conversations going on at a time and there wasn't silence for the whole time we were perched upon those stairs. I looked into the richmond sky and looked back at my group of misfits and felt a fullness in my chest that was something so rare to me it's almost as if I could have been the first time.
as a young woman I've gone through so many phases and my lifestyle has gone through the washer and dryer many times before this for my life to end up the shape and size that it is but the last year and a half in Richmond has been a breaking point for the internal combination that was my old self and a brand new beginning for anything else to be created from what was left over from before.
I think the biggest difference that we can see here is the ability for me to create art without lines or judgement. I've begun learning to love everything that is produced from my mind and that's been able to give me the limitless space that I needed to grow in this area and it's very fun to watch live.
there's many other things I could ramble on about but then you'd get everything in one sitting and I just don't think that that's how we're going to play out this one. There's too much weighing on the getting the idea that I have down, there's pressure in being able to document what I am truly thinking about and trying to express here and I think it's possible it could take me a few tries to get there so just bare with me.
love you all
Abby
Coming up.... a video that includes all 3 parts of my welcome to richmond series, the story of my life from behind my lens. First is a little description regarding each part and following is the link to the video, I put so much time and love into this piece and it reflects this city to the best of my ability.
Part one
Imagine living in the same home for 21 years and moving to a new city, living all alone, and literally fearing nothing. The start of my journey in Richmond was nothing easy, this time last year I was severely depressed and going through more changes than I ever have in my life. The transformation of my experience here from then till now is something I just recently have began to be able to appreciate. This song means a lot to me and this video just gives a small taste of my every day here in Richmond. This is the beginning of a short series of videos that are particularly richmond inspired ✨ Hope y'all enjoy 😊
Part two
Part two of my mini series,
Welcome to Richmond
Ep: Behind the camera
Aug 2019 - Nov 2020
🌃 featuring:
Abby Wright
Norah Yusuf
Trinity
Morgan
Jacob Medley
Chris Hopkins
Mary Pugsley
Geoff White
Katelyn Dempsey
George
Jade
Part 3
Welcome to Richmond
Story of my life part 3 the last and final part. This is my last week in Richmond and looking over my time here I am so thankful. I love everyone I have met here and become close with. I love the moments I've experienced and the change I have been through. I will miss you all. But I will be with you.
Nov 2020 - Jan 2021
Thank you to our sponsors @shan_mcgrath
Thank you to Vans 406
Thank you to Norah and Abby and Ana
Thank you Cornish brewery's :)
Drumroll please!!!!!
Here we go, WELCOME TO RICHMOND FRIENDS!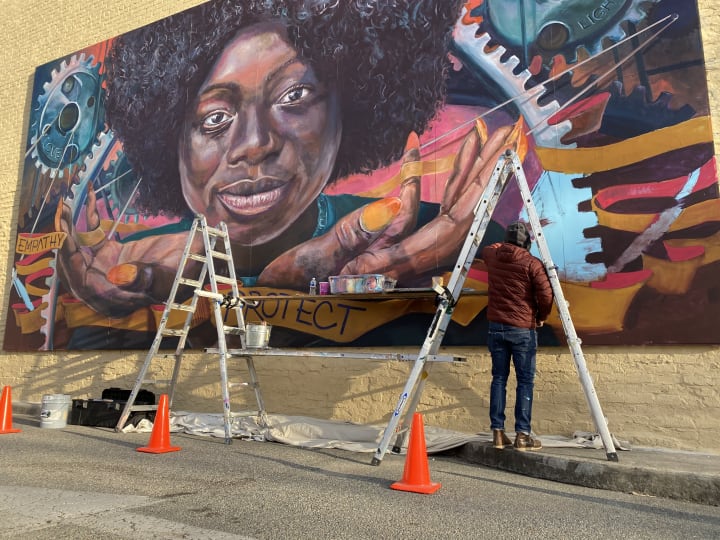 The other day while working on my video project, I was walking in to the local rite aid right off broad street where I live and noticed a mural on the building next to it. I notice a lot of murals in the city but recently the ones that move me the most center around BLM and the events that have happened in the city. Well enough this rite aid actually was set on fire and blown up during the protests back in the summer and I remember how the concept of that was so raw to me. As I was inside waiting for my medicine I saw a man painting the mural right then and there. Taking so much care to paint the orange in the woman's nails, I was amazed at not only his art but the vision. I was so regretful that I didn't have my camera on me because I knew that the second I left the rite aid I was going to want to go talk to him, which I did. His name is Ed, he paints murals here downtown, he's actually got two on the building right next to that rite aid we were just talking about. He is just about the most friendly guy you could meet and made me feel like not a total creep for running up and asking to take his picture. I had told him I'm from DC and just moved here a couple years ago. He told me he actually lived in DC for 3 years and decided to come back to Richmond because he loves the city. He'd been working on this particular piece for 3 or 4 weeks but I can't even begin to imagine the countless hours he's spent bringing his life to art on the streets of Richmond. Below I have some pictures of the mural he was working on as well as the other on the side of the building and a little video of a few seconds of our chat. I hope to see him again soon before I move to be able to add a little bit more information to this blog but also get some much more quality photos of some one of a kind art.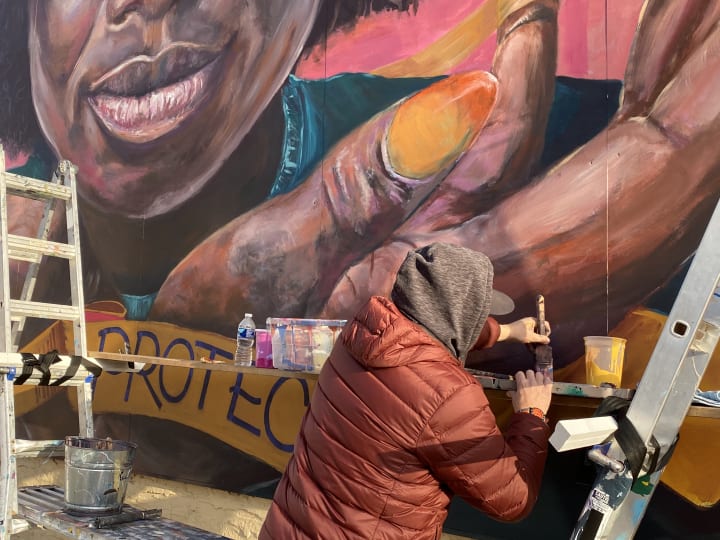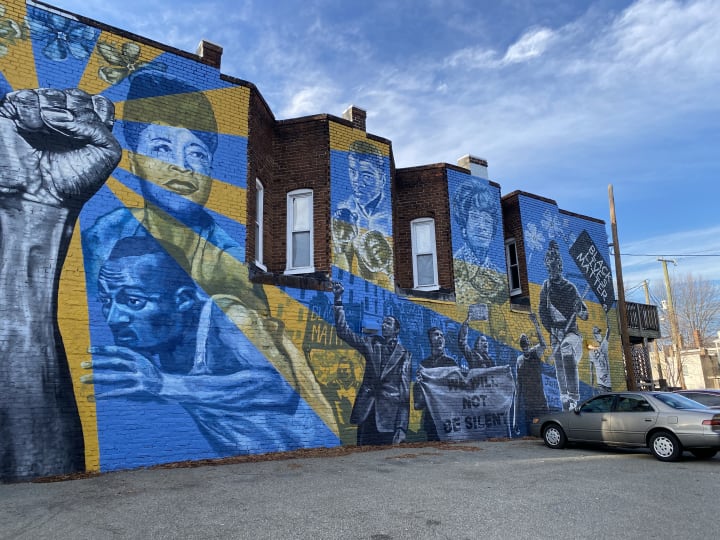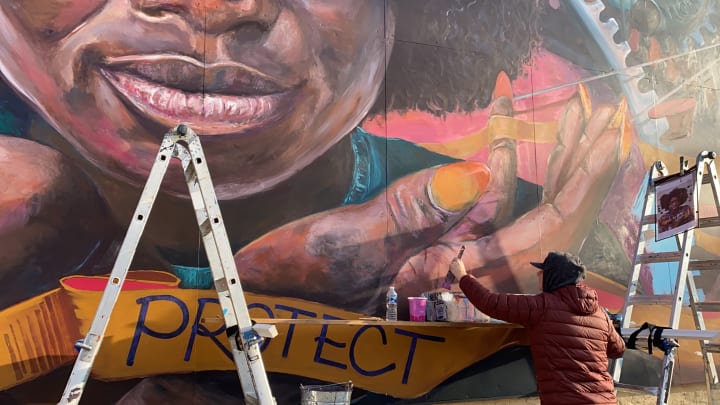 One of my favorite things about Richmond is the beauty you can find literally just walking down the street every day, the artists here have such large visions that they bring to life that its inspiring. Murals take such dedication and the people who do them are really one of a kind I aspire to one day be able to create my own.
@edtrask
FROM THE ARCHIVE:
Here's a little photo dump of some things that didn't make the cut but also yet barely did because here they are... if you know any of these places you are part of the elite elite and if you don't you should go to these places absolutely immediately!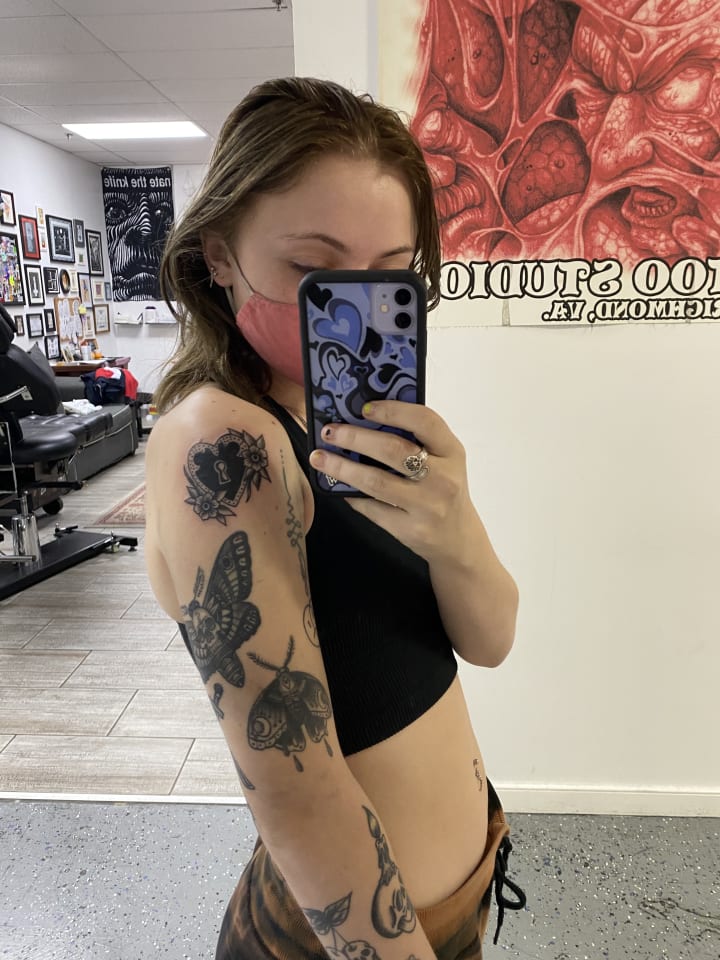 If you go to lucky 13 to get a tattoo ask for Dan! This past month or two I've gotten 4 pieces from him that I absolutely love. And honestly before this I would have never walked into this shop for a tattoo. So many people I know went there and no one I know had any problems but the reviews weren't super good so I convinced myself to go other places and I did love them but once I found Dan I was pretty set on sticking here. He does great traditional and is fun to work with too.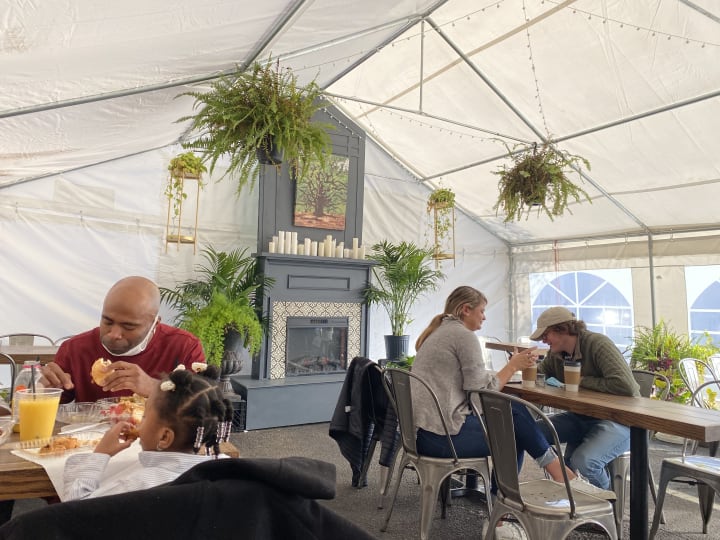 Order a chai latte and get a lemon bar if you go to shyndigz, if you go to fancy biscuit the big Apple is literally so delicious but also can't go wrong with your classic biscuits and gravy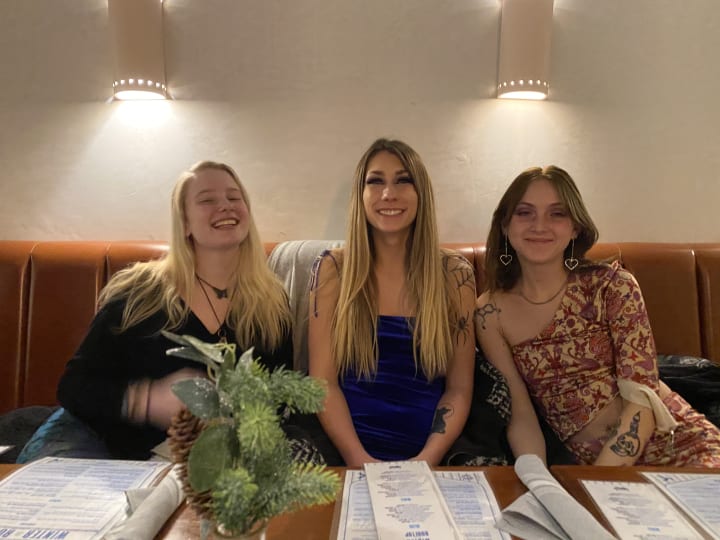 Amazing views of the city, friendly staff, good food and nice times. Only went here once but I will have to say I thoroughly enjoyed myself.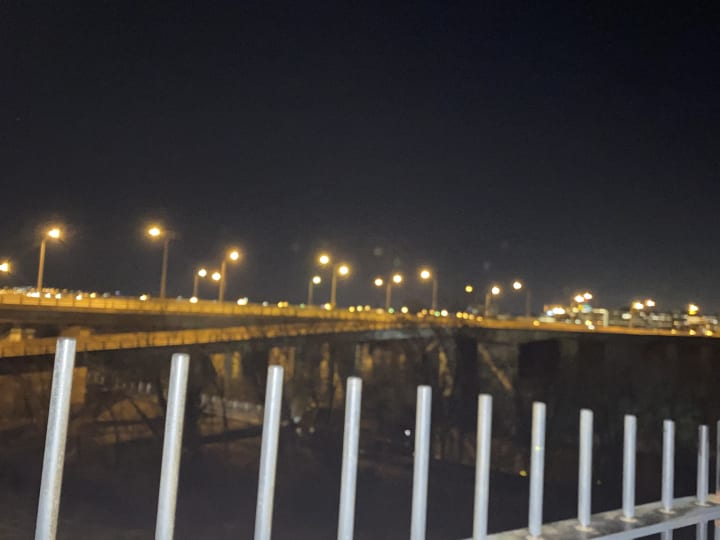 Great place to come in the middle of the night with your best friend. You can bike or drive here depending on how athletic you are or how far you live away but it is on top of a hill. If you sit on the edge here you get great views of the city and the water and some train noises in the background as a soundtrack.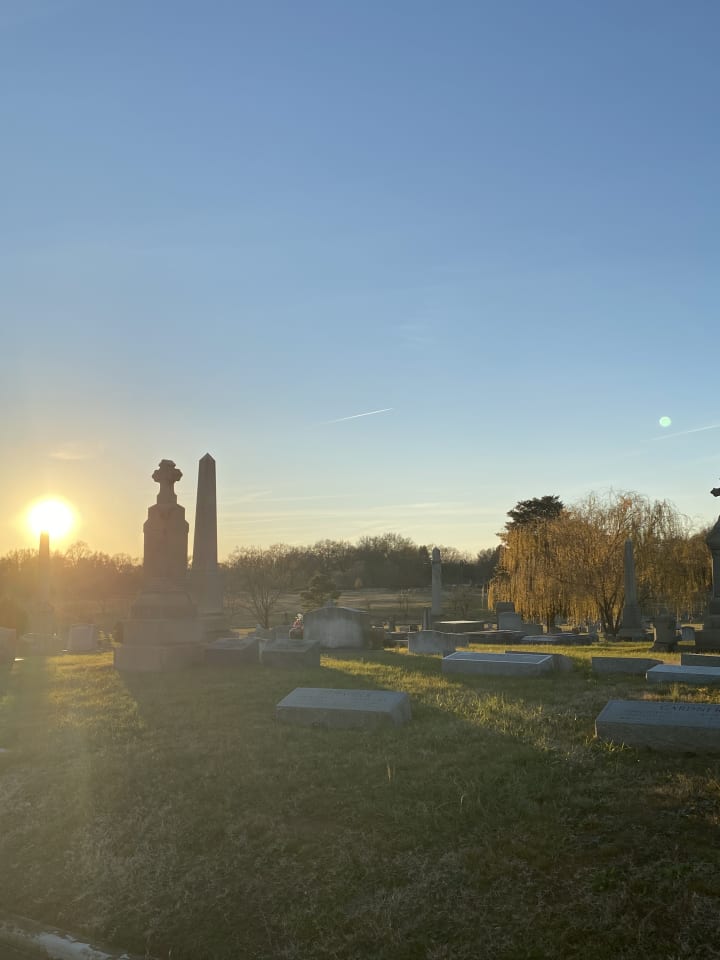 A good place to bike, good in the day or at night to see views of the city and to hear the river.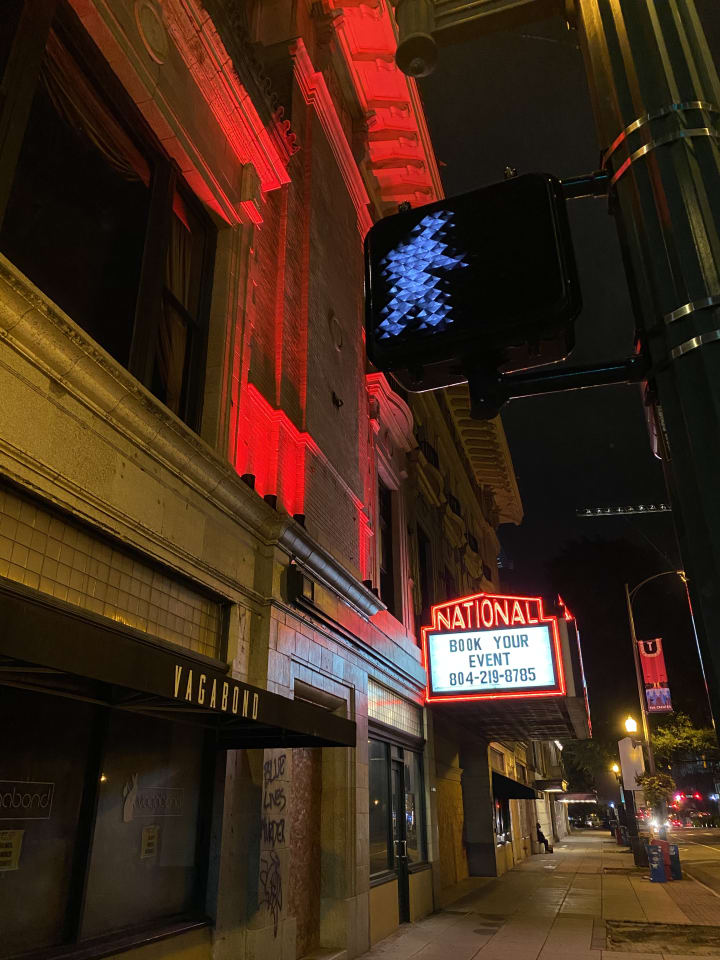 Unfortunately the National has been shut down since covid but before was a place I went to to find peace and music in the city and I truly love everything about this venue.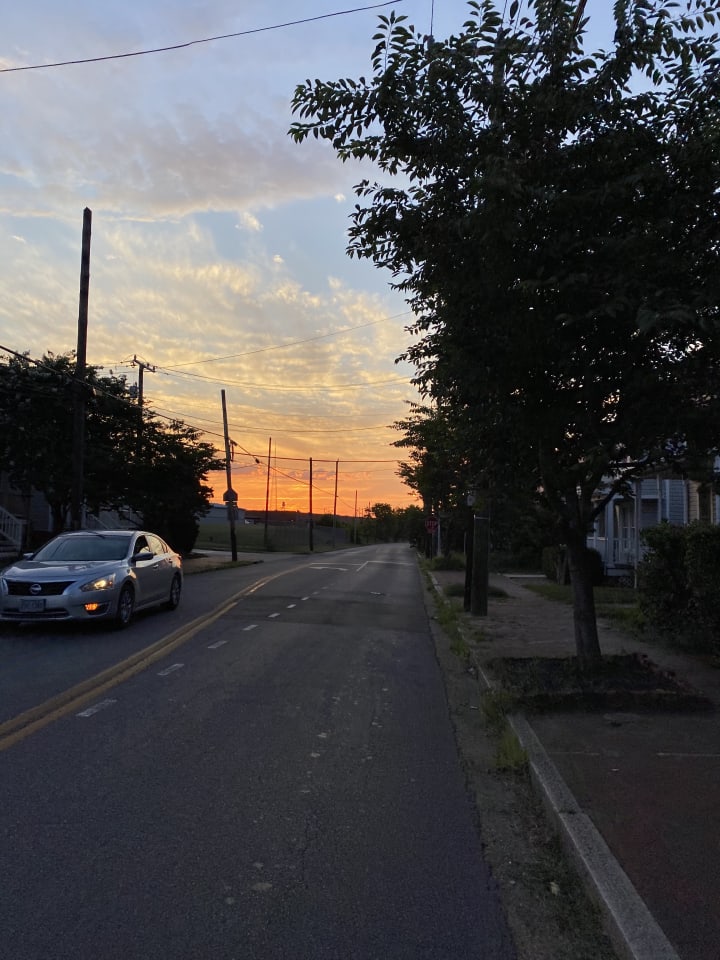 This street connects the highway, movie land, boulevard, and carver and into the beer district. Not just your favorite road to bike but also to look at the sunset.

Abby Hood
oh hey there! It's me Abby, the 22 year old skateboarding artist singer designer vans employee that is from NOVA, moved to Richmond, and is now on my way to San Diego. Hope to see ya here again soon! Welcome to my page.
See all posts by Abby Hood →