Vivid Sydney Festival - A Flashback to 2022
Wondering how Vivid Sydney 2023 will be? Let's take a trip back to 2022 to understand what kind of dazzling events you can expect…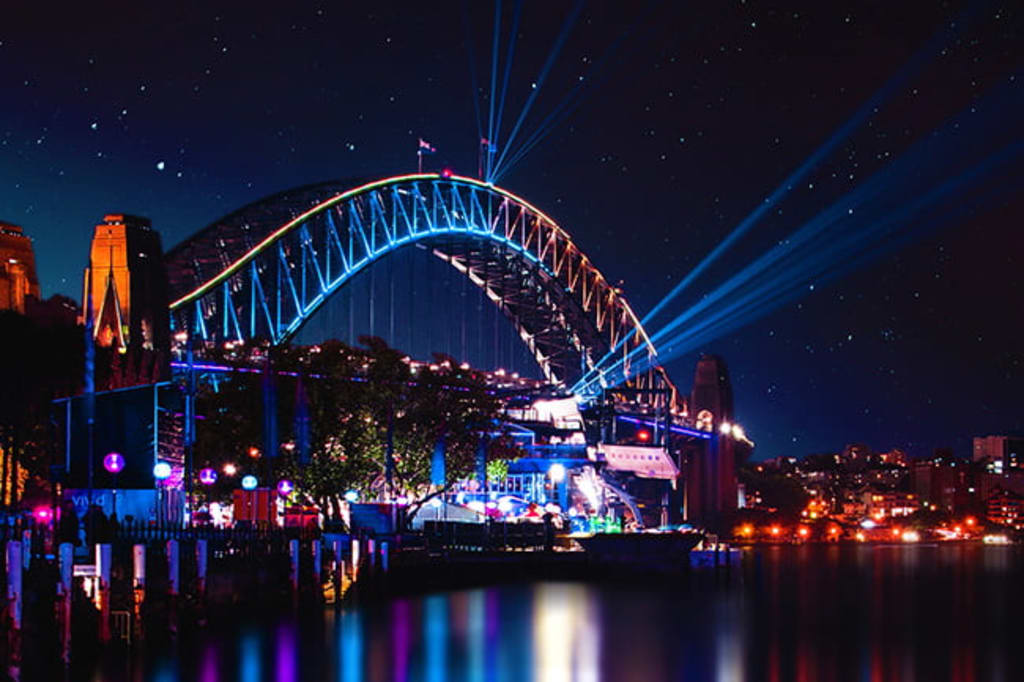 Vivid Sydney Festival – when Emerald City is filled with lights, music and ideas. Sydneysiders and tourists look forward to witnessing this awesome spectacle with baited breath. No doubt, it's the perfect event to have a swell time with your family and favorites. When it comes to children, it's a good source of inspiration, to learn about new ideas, people and the place. Here, I take you back in time to the Vivid Sydney Festival highlights in 2022.
Vivid Sydney Cruises at Sydney Harbour
The Vivid Lights cruises on Sydney Harbour prove to be the best vantage point to witness all the dazzling action of Vivid Sydney Festival. You can enjoy panoramic views of the light displays, harbour attractions and the city skyline at night. Treat your eyes to the glowing light art and vibrant 3D projections on the Opera House and the Harbour Bridge. Relish a deluxe dinner with upgradeable beverage packages. You can book ahead to experience a spectacular waterfront dining ambience.
Sydney Infinity at Darling Harbour
For an awe-inspiring virtual wonder, the city geared up for the first ever largest "liquid and light show" in Australian history, exclusively designed for Vivid. An array of 48 compressed-air water cannons delivered a powerful crescendo of visual wonder and sonic blast waves that was simply breathtaking. The floating installation consisted of over 250 meters of robotic fountains that could shoot nine tonnes of water in the air in a single second! It was simultaneously lit by thousands of powerful LEDs, with a sudden dance of liquid and light. Two choreographed shows Pop Sydney and Classic Sydney on loop from 6pm-11pm every night was the perfect family event. These shows discovered different sides of Sydney, synced to soundtracks created by Sydney's own Peewee Ferris and others. The liquid and light spectacle of this superscale, 360-degree experience was completely awe-inspiring.
Vivid Reflections at Central Station
The interactive projection experience featured motion capture technology to turn your movements into animated action, which then beams them onto the landmark clock tower like a walk across Bondi Beach and so on. It was a visual celebration of the spirit of Sydney. The relationship with the city was elevated with these large-scale representations. The Central Station's unique architecture transformed into a beautiful extension of the places highlighted. That too, in sync with driving music tracks and evocative sound effects.
The Light Walk from Central Station
In 2022, Sydney witnessed the longest walk that ran 8km from Central Station through the city and around Circular Quay to the iconic Sydney Opera House. Every step of the way, there was an amazing sight of grand projections, interactive installations and dazzling lasers.
Wild Lights at Taronga Zoo
Creatures from land, sky and sea emerged in a visual spectacle through the magic of light here. Taronga last year, was bathed in a rainbow of color with innovative, inclusive installations and breathtaking projections. It was an experience of three never-seen-before, purpose-built installations that featured a personal story of inclusion by the artist. It was a journey of discovery through Wild Lights.
Ephemeral Oceanic at Walsh Bay
Experience the Walsh Bay transform into a giant bubble bath with the floating boardwalk that weaved between 150 larger than life illuminated spheres. Lit from within, the dazzling orbs changed color throughout the night. It was choreographed to a unique soundscape where the surface of water was illuminated creating an unmissable dance of light. The spectacle continued during the day as well. Each bubble reacted to the changing light of the sun as it moved across the sky, causing a rainbow of reflection on the water.
2022 had such fascinating experiences and activities at the Vivid Sydney Festival. So, it's a guarantee that you can expect something much better and beyond in 2023. Stay tuned to be dazzled!
Reader insights
Be the first to share your insights about this piece.
Add your insights