Top 5 Beaches You Have to Experience While in Oahu
Let's enjoy the sun at these wonderful beaches.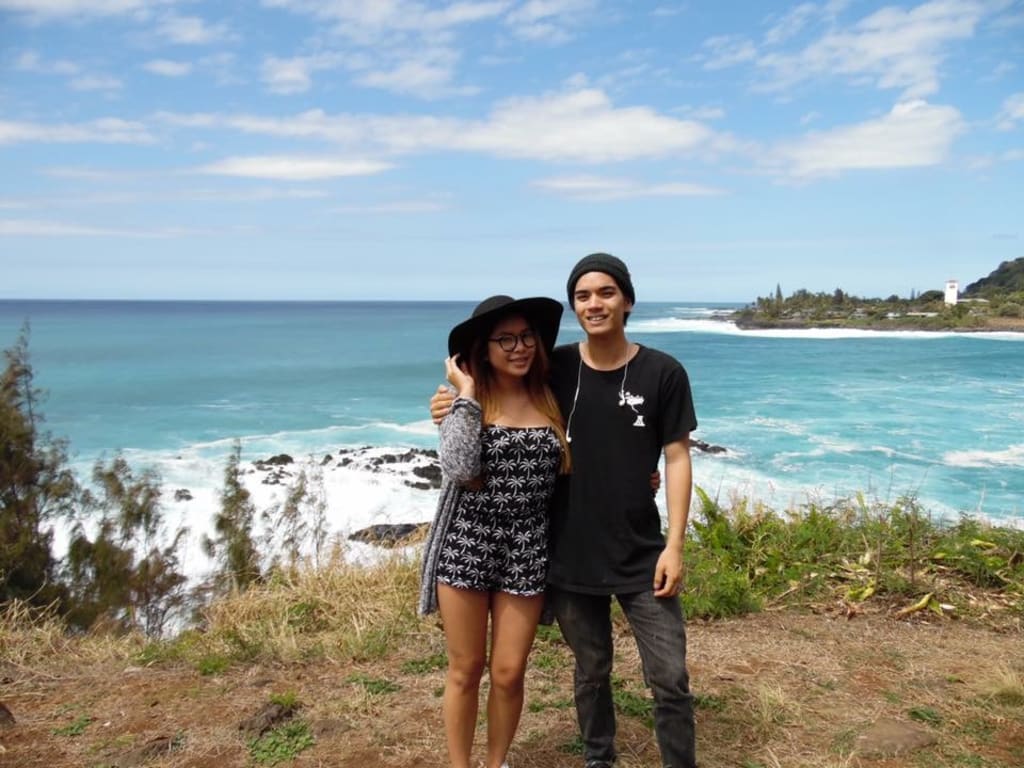 My Husband and I Playing Tourist by Waimea Beach Park
Oahu is known for a variety of things such as its food, culture, and most importantly the beaches. Especially being born and raised in Oahu, going to the beach was absolutely one of the best and fun things to do! Having a birthday party? Let's do it at the beach! Graduation party? At the beach! Just want to have a party just because? Go to the beach! You can do almost absolutely anything at the beach and have a good time. Now go and grab your poke bowl, Maui onion chips, and Arizona ice tea drink and let's hele (let's go) out the door.
Just note that these are not in order from my favorite to least places! I absolutely love all of the beaches that are in Oahu. These are just my recommended places for tourists who are new to the island.
1. Waikiki Beach
Waikiki beach is one of the most popular places to be at in Oahu. You can catch its beautiful sunset, and you can catch the firework show that they do every Friday night at the Hilton Hawaiian Village. If you aren't into that, then Waikiki also has a bunch of food places that you can try and a whole lot of stores to do your shopping at.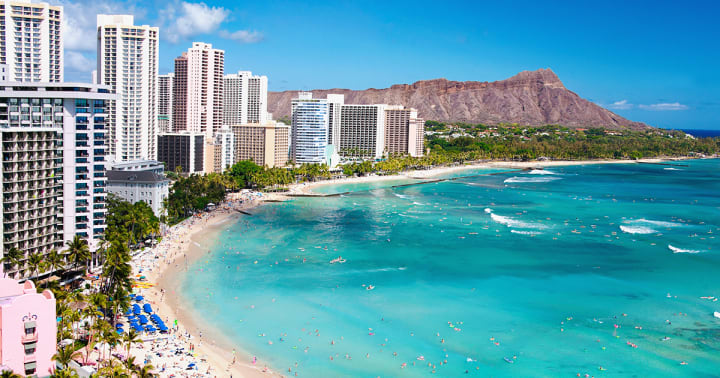 2. Ala Moana Beach Park (Magic Island)
Ala Moana beach park, or also best known as Magic Island, is another popular beach park to be at! It's one of the best beaches to have a little get together or even a beach party with your family and friends. If you don't want to go and dip in the ocean, there's a little "gym" area where you can get your workout on. After your little workout or fun in the sun, there's a little food stand where you can go and buy food from L&L Hawaiian Food. It's also such a refreshing place to eat at! Or if you aren't just hungry yet, across the street is Oahu's biggest mall, Ala Moana Shopping Center. You can shop 'til you drop and grab a bite there at the food court, Shirokiya, or even try one of the restaurants that are on the third floor of the mall!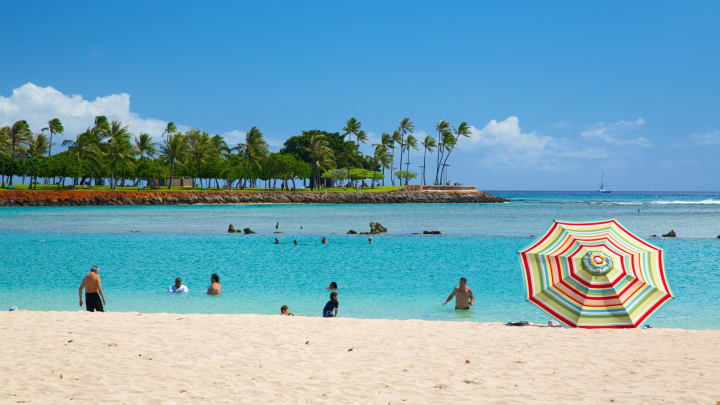 3. Hanauma Bay State Park
Hanauma Bay was created by a volcano ten of thousands year ago and is now a protected reef. It is a home to a big variety of fish that aren't afraid of people and seem to be friendly. It's a good snorkeling spot to get up close and personal with the fishes. The only downside of this beach is that everyone has to pay $7.50 to get in unless you are an active Oahu military or a local resident with the proper ID there. Kids 12 and under are free. They also have lockers that are available on the beach level to secure your items. $8.00 for the small size lockers, and $10 for the large size lockers. But do not let these prices stop you from going! You will have the time of your life there.

4. North Shore Waimea Bay
Waimea Bay is known for big waves during the winter swells and hosts the Eddie Aiku surf competitions. They also have a large rock to jump off of. It's not suitable for inexperienced swimmers, though. But during the summer there are no waves so that is when it is suitable for inexperienced swimmers to go. While you are going to North Shore, don't forget to stop by Giovanni's Shrimp Truck!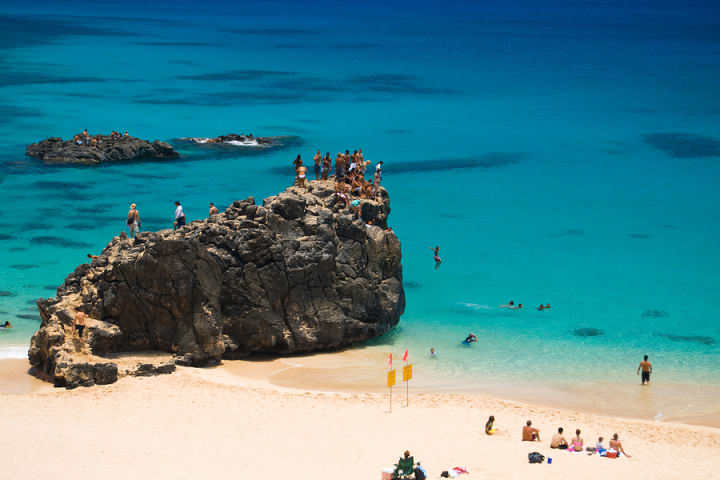 5. Lanikai Beach
Lanikai beach is located in Kailua and it is known for its soft sand there. At Lanikai beach, you can catch its beautiful sunrise since it is located on the east side of the island. If you wanted to do something before heading out to Lanikai Beach, you can go hiking at the Pillbox and head to Lanikai Beach to swim off all the sweat you have from hiking!
I hope you guys check out these beaches and have an awesome experience! Mahalo Nui Loa. (Thanks a lot.)