Top 10 Wonders in Sri Lanka
Ancient wonders in Sri Lanka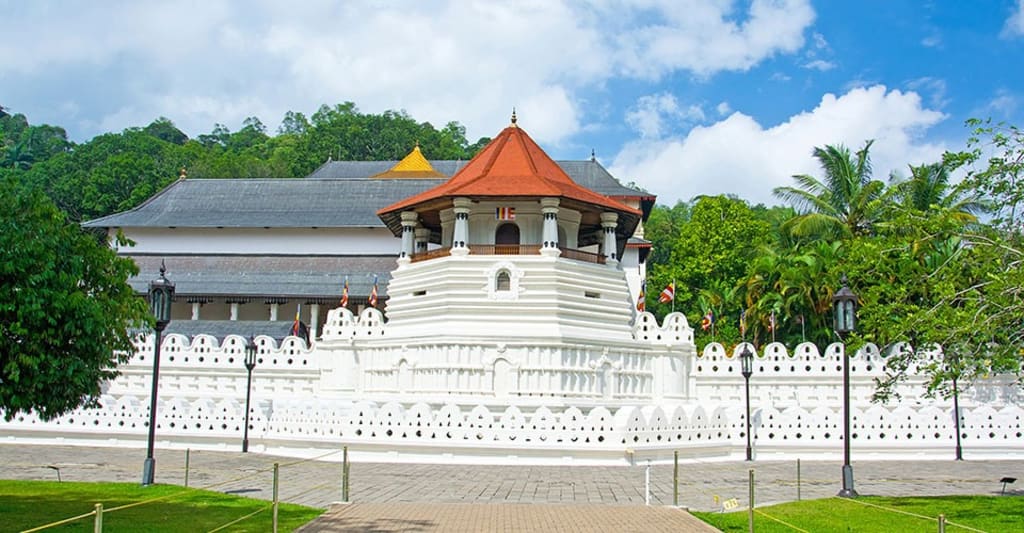 Sacred City of Kandy & Temple of the Tooth
Sri Lanka is the most beautiful and ancient country in South Asia. It is an attractive island located in the Indian ocean. Sri Lanka offers a staggering number of UNESCO World Heritage Sites and natural beauties.
Whether you are interested in animals or history, Sri Lanka will provide you with an unforgettable experience. Allow yourself to be taken back in time and prepare to observe nature in a new light. You probably won't be able to visit everything Sri Lanka has to offer during your vacation, but you should try to see at least a few.
1. Ancient City of Polonnaruwa
After the destruction of the Anuradhapura Kingdom in 993, Polonnaruwa Kingdom or the Ancient City of Polonnaruwa served as the second capital of Sri Lanka for three centuries, from the 11th to the 13th centuries. It is found in Sri Lanka's north central province. UNESCO designated Polonnaruwa as a World Heritage Site in 1982 under the name Historic City of Polonnaruwa due to its archeological importance and ancient technological supremacy.
King Vijayabahu declared Polonnaruwa the first capital city after defeating Chola invaders in 1070. Large irrigation networks and reservoirs were constructed during the reign of King Parakramabahu, who ruled from 1153 to 1186. Sri Lanka became known as the "granary of the Orient." Polonnaruwa is home to the ruins of Parakramabahu's glorious kingdom. It is still possible to see the opulence and wealth of this kingdom.
2. Sigiriya Rock
Sigiriya is an old rock castle and palace that stands magnificently 660 feet straight up, erected by King Kashyapa between 473 and 495. It's in Sri Lanka's central province, near the town of Dambulla, in the northern Matale district. The name Sigiriya or Sinhagiri refers to the Lion's Rock, which requires a 1200-step climb to reach the Lion Rock Fortress on top of Sigiriya. There are various platforms that break up the steps and provide a rest stop if needed. Today, the Sigiriya Rock Fortress is a well-known Archeological Treasure, and UNESCO designated it as an eighth wonder of the World Heritage Site in 1982 under the name "Ancient City of Sigiriya Sri Lanka."
3. Ruins of Anuradhapura
Anuradhapura is Sri Lanka's ancient capital and a UNESCO World Heritage Site. In Sri Lanka and around the world, devout Buddhists continue to visit Anuradhapura's ruins, which are believed to be the site where Buddha attained enlightenment on a Bodhi tree branch.
For more than a thousand years, Anuradhapura was Sri Lanka's first capital city. After an invasion, the city was abandoned, and the capital was moved to Polonnaruwa. Monasteries, temples, and palaces can be explored in a single day at Anuradhapura. Anuradhapura is a day trip destination from Dambulla or Sigiriya, though some people choose to stay overnight. Anuradhapura's ruins are worth a visit.
4. Old Town of Galle
Dutch Fort, also known as Galle Fort, was built by the Portuguese on Sri Lanka's south-west coast. Construction of the first fortifications began in the late 16th century. Although it was heavily modified in 17th-century Holland, it remains one of Southeast Asia's most significant archeological, architectural, and historical monuments. UNESCO announced that the site was designated a World Heritage Site for its unique exposition of an urban ensemble that illustrates the interaction of European architecture and South Asian traditions from the 16th to the 19th centuries, criterion number four for such recognition.
5. Sacred City of Kandy & Temple of the Tooth
World-famous Temple of the Sacred Tooth Relic, where Gautama Buddha's left canine tooth is enshrined. A world heritage site, the temple is visited daily by thousands of local and foreign devotees and tourists. Besides being highly revered by Buddhists around the world, the temple has immense cultural value. "Dalada Mandira" shrines that housed the Sacred Tooth Relic were built in the same style as the temples in Kandy.
The Sacred Tooth Relic Temple is located in Kandy, Sri Lanka, near the ancient Royal Palace to the north and the forest reserve called "Udawaththa Kelaya" to the east of the temple. "Kiri Muhuda" in the south, and "Natha and Paththini Devala" in western Sri Lanka are other names for the famous Kandy Lake. Decorative carvings made of gold, silver, bronze, and ivory adorn the temple.
6. Dambulla Temple
The Rock Temple of Dambulla, also known as Jumbukola Vihara (Dambulla Cave Temple) in the Mahavamsa, the principal Pali Chronicle of Sri Lanka, is located approximately 47 miles northwest of Kandy, the last capital of the Sinhalese kings, on the main road to Anuradhapura.
As the shortest route from Colombo to Dambulla, it passes through Kurunegala, one of the ancient Sinhalese kings' capitals. Aluvihare, the other rock temple of equal fame, is located about 26 miles south of Kandy Dambulla on the Kandy Dambulla Road. A distance of about twelve miles to the north-east of Dambulla is the famous fortress of Sigiriya, which is adorned with beautiful frescoes. Dambulla is a scent of unique interest. Its rock temples are the most extensive in the Island, and one of the most ancient, and in the highest state of preservation and order. Dambulla's dambulu-gala (the rock) is almost completely enclosed and vast in size. Approximately 600 feet separate it from the plain on a perpendicular basis. A very small percentage of its surface is made up of wood, and the rest is bare and dark in coloration.
7. Nine Arch Bridge
Located at 3100m above sea level, Nine Arches is a railway viaduct that connects the Demodara and Ella railway stations. The bridge, which was built in 1921, is made entirely of brick, rock, and cement, and contains no steel. Locals are said to have built the bridge using these materials before World War I caused a shortage of steel. There is also lore surrounding the construction of the bridge.
A man named P. K. Appuhami lived in the Kappatipola area of Melimada, and his story is perhaps the most well-known. Appuhami, who was born in 1870, was a well-known traditional drummer and devil dancer (a ritual dance form). Appuhami was once stopped by a British official as he was returning home after losing a competition. In the beginning, the man was frightened by Appuhami's devilish appearance, but soon warmed up to him. Appuhami, upon learning that the strange foreigner was in his area to build a railroad, offered to help by providing him with local laborers.
8. Sinharaja Forest Reserve
A UNESCO World Heritage Site, Sinharaja Rain Forest is Sri Lanka's last remaining tropical lowland rainforest, covering 18900 acres in Sabaragamuwa and Southern provinces in the south-west lowland wet zone. It is bounded on three sides by rivers. Sinharaja is bordered to the north by the Napola Dola and the Koskulana Ganga, respectively. There are two major rivers in the south and south-west, Maha Dola and Gin Ganga, respectively. Kalukandawa Ela and Kudawa Ganga are located on the west. The Denuwa Kanda and Beverley Tea Estate are located to the east of Sinharaja on an ancient footpath. Through Ratnapura, Kiriella, Kalawana, and Weddala, you can reach Sinharaja Forest Reserve from the north or west. Deniya is the southern entrance to Sinharaja Rain Forest. Sinharaja is accessible from Hambantota and Udawalawe via Rakwana.
Value to the environment It is the last primary lowland tropical rain forest in Sri Lanka, and it is the largest in Sri Lanka. A large number of plants and animals are endemic to the area, along with a variety of plants known to be beneficial for humans. Sinharaja Forest Reserve is Sri Lanka's last remaining tropical lowland rain forest. Over 60 percent of the trees are endemic, and many of them are rare (IUCN Technical Evaluation).
9. Yala National Park
As well as being known as Ruhuna National Park, Yala National Park is located in the south-east region of Sri Lanka and spans two provinces, Hambantota and Monaragala in Uva provinces. Palatupana, 12km from Kirinda, is the park's entrance. The distance between Colombo and Palatupana is 305 kilometers.
Tissamaharama is the park's entrance. Visitors can reach Palatupana by driving 20 km via Kirinda. An attractive visitor center at Palatupana gives tourists information and assigns a tracking device to all incoming vehicles. The Park has jeeps with soft-tops, which allow visitors to see wildlife up close. Best times for Yala Safari tours are at dawn and dusk in the Yala National Park. Being located in an arid region of Sri Lanka, Ruhuna National Park experiences hot, dry weather. Temperatures can reach as high as 37 degrees Fahrenheit during the dry season.
There are rocky outcrops scattered throughout the park that provide vantage points for viewing the low scrub and wooded areas of Sri Lanka's dry zone. Yala National Park's unique charm is further enhanced by the park's southern border, which is the south-eastern coast, which has brackish lagoons and dunes.
10. Adam's Peak
As well as being known by the name Adam's Peak, Sri Pada is an ancient pilgrimage site that has long attracted thousands of people of all faiths and backgrounds. In English, Adam's Peak is commonly referred to as Sri Pada. 7360-foot-tall conical mountain soars above the surrounding mountain ranges, dominating the landscape. One foot was on Sumana-kuta (Adam's Peak) fifteen yojanas, or about 100 miles, away when Buddha visited Sri Lanka. According to Siam's legend, the Buddha left his left footprint on Adam's Peak, then strode across to Siam (now Thailand) and left his right footprint. It's called Phra Sat, and it's supposed to resemble Adam's Peak's footprint in shape and size. This rock formation is surrounded by a wall, and a tower-like structure is built on top of it. A five-foot-seven-inch portion of the Buddha's foot imprint is delineated, and it is two feet seven inches wide.
According to legend, a five-foot-long, two-foot-wide crater in Thailand's rock bears the imprint of Buddha's right foot. According to Buddhist belief, the Buddha was approximately 35 feet tall. Hindus believe the footprint on Adam's Peak is that of Siva, who is believed to have left his mark in jewels beneath the visible rock. The Tamil name for the rock (Civan-oli-pata) means "the mountain path of Siva's light". Muslims believe the footprint is that of Adam (hence the name Adam's Peak), while Christians believe it is that of St. Thomas, Jesus' disciple, and disciple-turned-minister. In front of the rock is a shrine that contains images of the god Saman, one of which is made of silver. A Brahmin priest performs the rites at the shrine. Before the shrine, pilgrims place camphor and lit candles on a small table.
Reader insights
Be the first to share your insights about this piece.
Add your insights