The Ultimate Summer Activity: The How-To Guide to Hiking
Spring is in full swing and looks to be giving way to warmer and more eventful summer weather.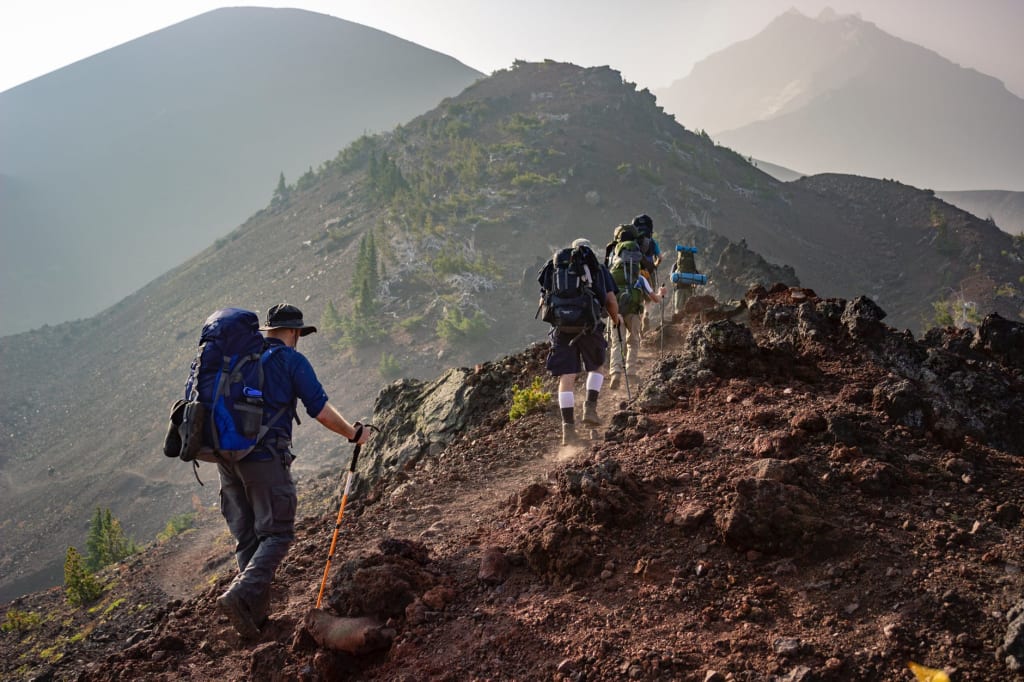 With summer on its way, it is time to get out, enjoy the natural beauty of your surroundings, soak up some sun, and breathe in the fresh air—and there is no better way to accomplish these "tasks" than a good old-fashioned hike. Whether you are strolling through the forest, walking along the ocean waves, or ascending a mountain, no other activity beats getting out and being immersed in nature quite like hiking.
Hiking is a perfect activity to enjoy this summer, whether you feel like a summer weekend getaway with your friends or a simple day trip by yourself. It plunges you within the natural landscape and helps you forget your worries; you can get away from the stresses of studying, your job, your family, or any other problems, and simply walk among nature to be left to your thoughts. However, while it seems like a relatively easy activity (put one foot in front of the other), there's some planning required to have a great hike.
First off, choose the area you would like to go hiking. Most places have trails that people can hike within provincial, regional, or municipal parks, but if you don't have any clue where to go for a great hike, just try "Googling" it. You can find forest trails, mountains hikes, and beach walks all online that give a map of the route and difficulty of terrain, along with lots of other great information.
The next thing you should decide is how long you want your hike to be. Most people are keen on the simple day trips: You get your gear, hike in, enjoy nature, and hike out. But when planning your day trips, you also have to consider the total distance of the hike (there and back), and the type of terrain that you will cover. For myself, the most enjoyable hikes are the ones that take approximately one to two hours to hike to a nice destination (a lake, the ocean, or the top of a mountain), and the same amount of time to hike out—so approximately four hours total. This way, you are enjoying every aspect of your journey without getting annoyed at the weight in your pack, your company, or how much farther you have to travel.
The next aspect you have to consider is the number of people on the hiking trip. Will this be a solitary trip, a few close friends, or an all-out Facebook event-worthy extravaganza? The number of people can determine the amount of fun you have on your trip.
Solitary hikes can be very enjoyable, as they allow you to soak up nature, go at your own pace, and simply enjoy your own company; however, sometimes they can be a little lonely. The huge "Facebook-event" hikes have the potential to be fun, but usually it's a pain to organize, and can be very annoying when on the trails because, with so many people, there is a large number of conflicting opinions and a varying number of people's aches and pains to deal with.
Usually, the best hikes seem to be made up of a few close friends (three to five people). This way, you can all go at somewhat of the same pace, there isn't a huge group of people blocking the trail for other hikers, and you can all converse without yelling to one another.
So what about equipment? Well, for a typical day trip there are a few essential items that you are going to NEED to take:
Backpack: A sturdy comfortable backpack that is suitable for the hike. Usually, a small- or medium-sized backpack will work fine for the day trip hikes. Even a camelback with some sort of added pouch usually works as well.
Water: You will be sweating, working hard, and drinking more water than you think you will need. The typical advice is that you will drink about 500ml of water every hour, so organize your water rations around the length of your trip.
Snacks: You will definitely get the need for some munchies on your hike. You will be burning calories. And over a two- to four-hour long trip, you will need to restore those calories and give your body some energy. Great snack ideas are trail mix, granola/power bars, fruit, and sandwiches.
Shoes: A good pair of running or hiking shoes are a must; believe me, you cannot hike for two to four hours in a pair of Converse All-Stars.
Whistle: Everyone thinks that they won't be the ones to get separated from their group and get lost, but if that happens, this is a critical piece of equipment that can save your life. If you are lost and yelling for help at the top of your lungs, you will lose your voice and may not be able to call for help when you really need to. A whistle is louder and lasts longer than your voice.
Cellphone: Mostly everyone will be carrying this with them anyways, but this is a crucial piece of equipment in case something goes wrong and you need to call for help.
First-Aid Kit: For a day trip, the first-aid can simply be a few Band-Aids (ranging in size), mole or second skin (for blisters), tape, and scissors. Blisters are the most common injury when hiking, and it can be an absolute pain if you don't have the equipment to take care of them.
So these are a few of the crucial equipment needs when going for a hike, but before you head out, one of the last crucial pieces of equipment you will need to consider is your clothing. Dress for the weather: Make sure you check the forecast before you set off and dress accordingly. Most times you will start off a little cold, but as you work and sweat you will heat up, before cooling down again when you stop to rest and recover. So make sure you remember: Layering is key.
The last thing you must do before you depart is leave an outline of your hike with a family member or friend. This outline will give a list of where you are going, for approximately how long, and who you are going with. Even if you are hiking for one hour, 20 minutes away from your house, let people know where you are; by following this step, you can avoid any 127 Hours incidents.
Different hiking situations call for different equipment needs, however, whether you are a hiking pro or just a beginner, the key to a perfect hike is planning.
Author Bio
Ronnie Deboer is an Android developer. He graduated from the University of Arizona. He works at an app reviews for Android service as a freelance writer, and at IT company as Android developer. He's keen on technology.