The Many Facets Of Ireland
The Emerald Isle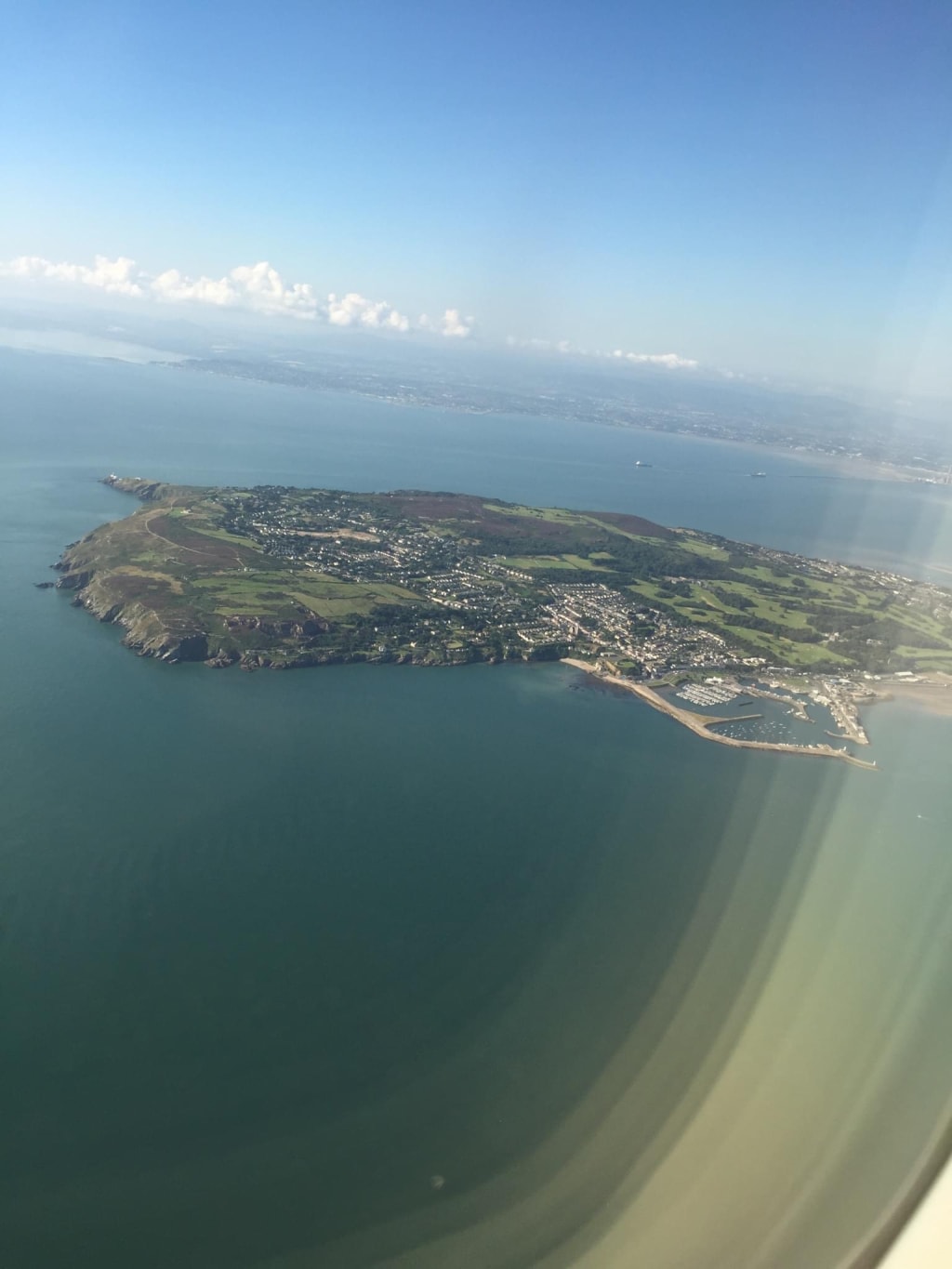 A view of Ireland from the air.
One of my fondest traveling memories was my visit to Ireland. We spent ten days traveling throughout the Emerald Isle visiting as many counties and attractions as we could. We started off and ended our trip in Dublin. Dublin is a city like no other I have ever visited. The flavor of a bustling metropolis coupled with Irish brogues and friendliness beyond the realms of a city I am used to living in. The residents were always helpful and guided you through the days which were sometimes confusing when trying to find a place, driving on the other side of the road, and trying to understand how much money you were spending. After landing we spent our first day wandering the main strip and checking out some fun pubs. This is where I started collecting beer coasters of beers made in different parts of Ireland. My favorite by far was The Galway Hooker. On the first day we also decided to tour the Jameson Factory, which was very informative and where I left with my new favorite drink, Jamie and Ginger. Basically, it is Jameson, ginger ale and lime juice. I love the way they give you the tiny bottle of ginger ale on the side. I actually took a few home for a souvenir.
Also in Dublin we ate at the Brazen Head, Ireland's oldest pub. Friends had recommended the burgers there and my husband and I still say it is the best burger we ever had. The restaurant has two floors. Downstairs, where we ate, is a perfect example of an old Irish pub. Upstairs you can visit what was the place where Irish writers went to write in solitude and have a bite. One famous author whose picture was displayed there, along with his books, was James Joyce. The Brazen Head felt like being in Ireland and was definitely one of the best dinners we had in Dublin after our visit to the Jameson Factory. On this trip we did not have the opportunity to visit the Guiness Factory but overall we prefer whiskey.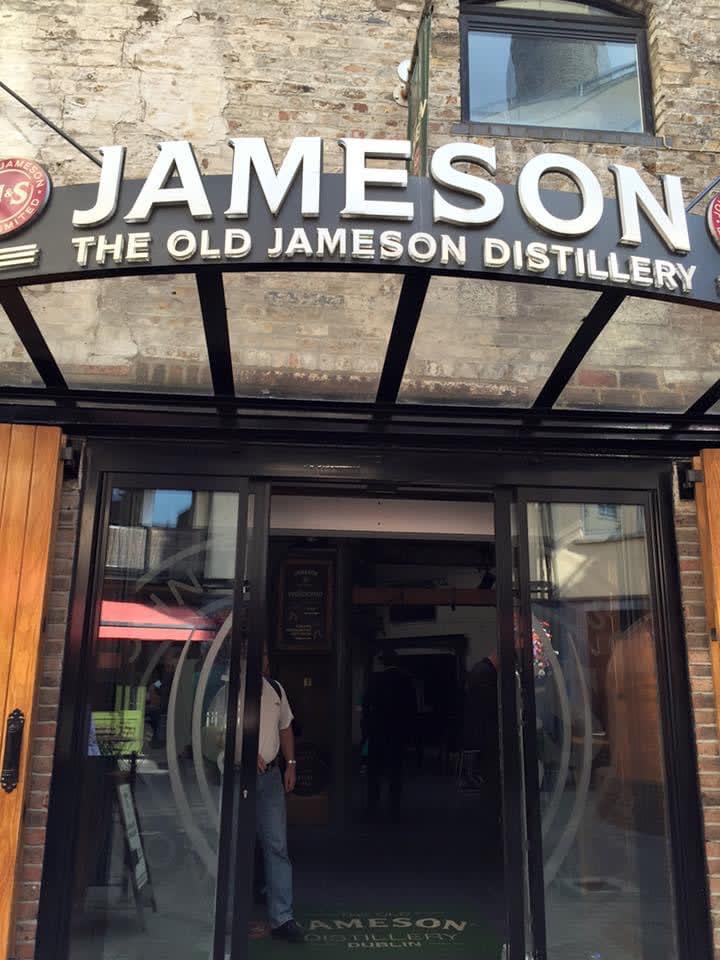 From Dublin, we began our travels around this magnificent country. We visited counties Clair, Cork, Galway and made our way across back to Dublin. While on our journey we visited the Cliffs of Moher, which is a definite tourist attraction, but a place like no other. We went on a cloudy, misty day which was the weather for eight out of ten days we were there. That's Ireland. No need to bring a straightener because the curly hair never stops in Ireland. At the Cliffs of Moher, we were ready for the weather with our umbrellas and ponchos as we climbed high up to see this spectacular view and famous landmark. It takes your breath away.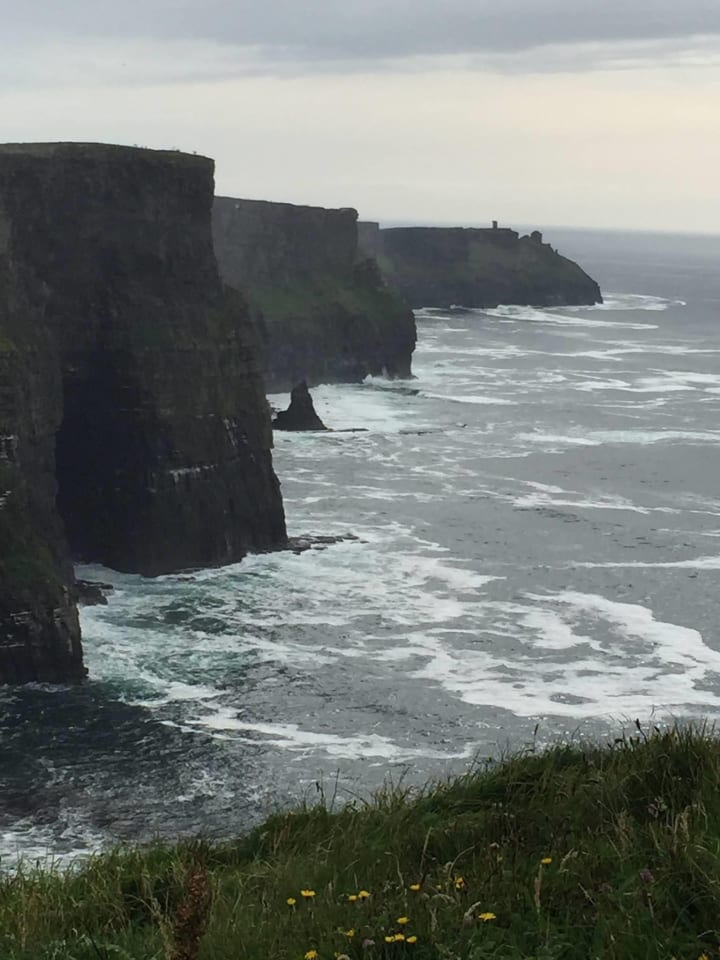 On the way we saw miles and miles of sheep, cows and green land everywhere. Most of the roads were tricky to travel. They were often narrow and did not seem fit for two cars to pass by each other. I was happy to not be driving as I often prayed no one would hit us as we drove. While visiting the Cliffs we were able to see many castles in the distance. Ireland is a country of castles. We visited many of them including the Blarney Castle.
In our travels we visited Waterford (the Waterford factory), Kilkenny, Fermoy and many small towns between Galway and Dublin. Each town had its own aura yet all of them were welcoming and homey. We wanted to experience the culture and the people of Ireland, and they are very willing to share their love of their country and town with you.
Ireland is known for its castles and churches, but as you travel this magnificent island you can see the differences in the city life and very rural communities. When in places like Galway, we went shopping on busy streets and saw musicians performing, artists making sculptors out of sand, and you just felt the culture through your body. The only way to visit a place and really experience it, is to see the culture and the people and the general feeling you get walking around amongst it.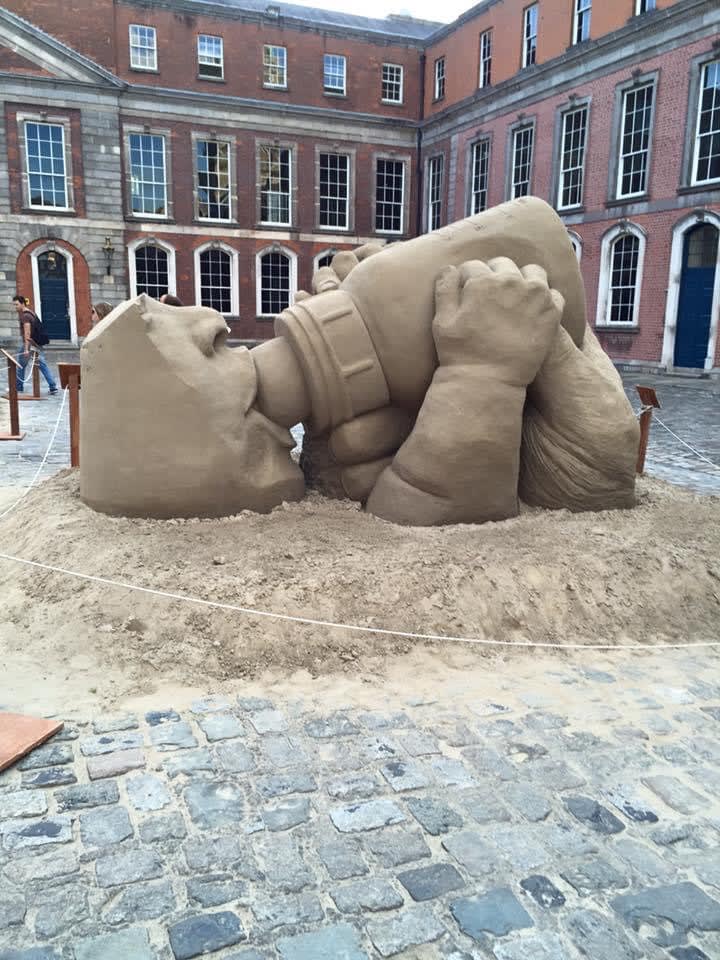 One of my favorite coastal towns was Kinsale. We drove through windy, hilly roads to get there. Right on the water, Kinsale is a quaint town with shops and restaurants and lots of fun nooks and crannies to explore. One of my favorite experiences in Kinsale was eating at Fishy Fishy and watching the man run around outside trying to put our credit card through to pay the bill. Internet was sparse in this hilly, shore community. I also enjoyed some quaint book shops where you can trade in your books, read a book off the shelf while sipping tea, or buy a book by a famous Irish writer.
Galway was another waterfront community with lots of shops, pubs and Irish culture to explore. I found the people in Galway to be more refined than in Dublin and in some of the surrounding communities. We visited a museum there which was guided by knowledgeable docents who knew the history of Galway and other parts of Ireland. I also remember that I had the best Irish coffee there in an old pub. I asked about the secret ingredient and they told me to put brown sugar in the cup before adding the whiskey or hot coffee. Now that is how I make it at home.
We ended our trip with two nights at a castle in Dublin. Since we had experienced most of the pub culture in Dublin, we were looking for a new experience before we returned home. The hotel recommended a small town called Howth which because my favorite place in all of Ireland. We drove about 15 miles outside of Dublin along the waters edge. The drive was scintillating and so memorable. When we arrived in this quaint village, I fell in love with the people, the shops, the parks and the beauty of Howth. We ate ice cream outside a little sweet shop and talked with the owner for hours. The town dog, an old golden retriever, did not leave our side. The owner told us where to eat that night in the heart of Howth and to eat Dublin Prawns before we return to America. The meal was fabulous and the prawns were exactly how he described, large shrimp that taste exactly like lobster. We visited Howth twice during our last two days and I know if I ever return to Ireland it is the first place I want to visit. Just a magnificent piece of the world that is peaceful and breathtaking.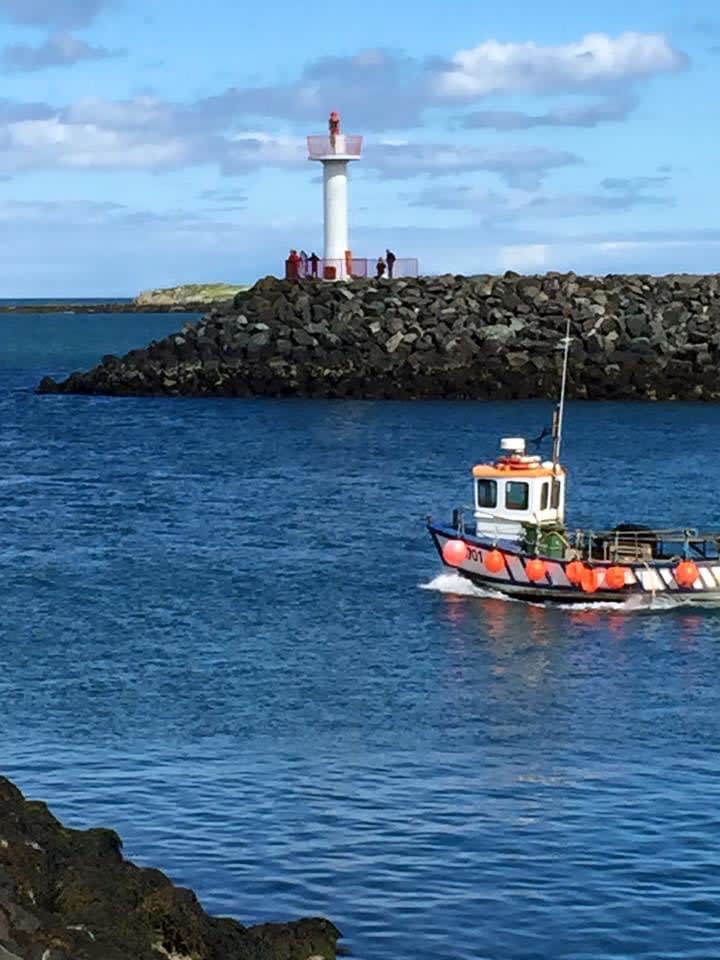 europe
About the author
I am an elementary educator and freelance writer. I enjoy writing about education, health and fitness and every day life issues. You can find my writing at egallagher.contently.com and my blog, Just Me, https://egallagher713.wordpress.com
Reader insights
Be the first to share your insights about this piece.
Add your insights