The Little Black Book
by Charlene Flick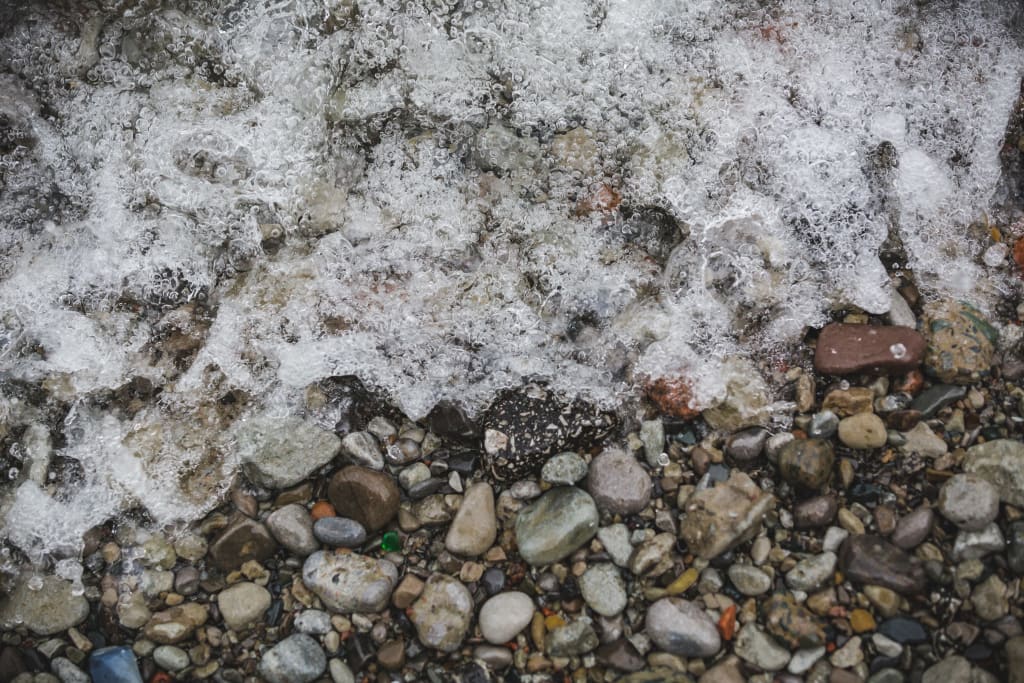 The smooth, round stones sunk slightly as the water washed over the shore. Anna watched mesmerized as the waves plucked pebbles from the embankment and set them upon their unwilling journey. Would they find themselves upon the shores of a distant land or would they be destined to toss endlessly in the turbulent ocean without ever reaching a destination? Anna stood up, waited patiently for the next tide to swallow her calves, and then gently placed the airtight box of photographs along with the Little Black Book into the waiting arms of the Mediterranean. She secretly hoped that the ocean would carry her painful memories far, far away --- and the sea obliged.
"Sophie," a woman called from the hillside. Anna turned towards the shore and spotted a heavyset woman in a sleeveless caftan calling to a young child who was running towards the sea. "Sophie, viens ici maintenant!" The child in the distance, with flame-red hair that fell in ringlets framing her face, turned to her mother reluctantly and started to giggle. Anna tucked her own cascading ringlets behind her ear and glanced one last time at the horizon. The box with the photographs and the Little Black Book had disappeared. She was ready to head back at last.
Anna took a deep breath and then headed in the direction of young Sophie, who was still giggling but now cooperating with her mother as the pair unpacked a large beach blanket and struggled to unfold it against the brisk sea breeze. "Bonjour," she mumbled as she passed the duo. But Anna dreaded any interaction at this moment, as it was a very somber moment and she had almost had the entire beach to herself on this unusually windy day.
"Bonjour," replied the mother enthusiastically. "Are you not the American artist who lives at the Villa des Roses just beyond the town center? It is hard to remain unknown in our small village, I am afraid." Sophie's mother paused awkwardly, the warm smile disappearing from her face, and then said, "I am very sorry for your loss."
******************************************************************
She had always dreamed of retiring to a spot overlooking the sea. But on a teacher's pension, June was thrilled to be visiting the French Riviera for a holiday. It's not the trip she had planned; she had planned to go to France for the very first time with Harry last year. Had it been a year? It seemed like a lifetime ago and yet just yesterday that Harry passed, and she could almost hear him chuckling beside her as she attempted a broken french phrase or two while enjoying a cafe creme on a sun-dappled terrace. She missed him terribly but Harry was not a young man and although she knew his time had come at the end of a very rich life, she wished they could have taken just one more trip together. It took her a year before she rebooked; she knew her husband of 45 years would have wanted her to see Paris and the Riviera. So here she was.
"Madame! Madame! Stay with us s'il vous plait!" the tour guide implored, but it was too late. June was swept-up in the elegant window displays of sea glass and enticed by the tangled fisherman's nets and buoys framing the doorway of the village antique shop.
"Madame, we are departing. We are off to Monaco next," the docent called to June as she chatted with the store's proprietor just outside the establishment. "There will be much shopping there, Madame!"
The wooden floors creaked as June continued onward and the tour guide's voice became fainter as June let ambassadors from the past wash over her. She had never been known to resist an antique store back in New England, but those antiques were practically new compared to those of France!
"Allo, Madame. May I assist?" the proprietor asked in English, recognizing the gawking tourist as that of the American Variety. "Your guide asked me to tell you to meet the group back at the hotel tonight so that you may stay and shop a while."
"Merci," June replied, happy to have sacrificed Monaco for a step back in time. "I'd like to see that black box in the corner, please. It's so simple but the leather looks exquisite. How old is it and has it been restored? It's the sort of thing I might be able to take back home with me, if it has a good story behind it, that is."
"You have excellent taste, Madame. That is a letter box that a fisherman caught in his net some time ago. The box is unique in that the exterior suffered quite a bit but the interior was air-tight so the contents were preserved. We repaired the leather. Please do open it."
June lifted the leather hinged top of the box to reveal old yellowed photographs capturing another time but not necessarily another place. There was a young beautiful woman graced with ringlets of curls and her handsome beau, and they were on the pebbled beaches of what looked like Nice. There were photographs of the couple in a vintage automobile and intertwined at cafes, laughing and playing, eyes sparkling despite the faded black and white snapshots.
"We think it is from the early 1920s and is clearly local, but we do not know anything more about its provenance. Charming, non?" asked the shopkeeper.
"Yes.....oui.. Tres charmant," June replied with her high school french. Images from lives long past, frozen in time, sealed within a black box floating in the sea, tangled in a fate that was a fisherman's net. She had to have it.
"How much," June held her breath.
"Twenty-five Euro, Madame. It will add character to your home in America, non? And so easy to transport!"
"I'll take it," June proclaimed. Then she paid the woman, tucked the box under her arm, and stepped into the blinding light of the Mediterranean sunshine in the direction of her hotel.
**********************************************************************
"Anna Swanson!" Antoine exclaimed. "Zay are photos of Mademoiselle Anna. She is legend around here! She lived many years just down the road at the Villa des Roses, but it is now in terrible disrepair."
Antoine, a Belgian, owned and operated Hotel Petit Oiseau where June was staying and was an expert on All-Things-Riviera. He was a young man with a deep interest in the history of the region and a flare for storytelling as well as hospitality.
"Ahhhh, look at deez! Dis must be Monsieur Gregoire, her lover. Look how in love! He was a photographer but never as well-known as Anna. She was an artist and her work hangs in the Louvre still and all over the South of France. But she stopped painting when Monsieur passed in a tragic boating accident." Antoine sighed. "Tres tragique."
By now, the rest of the tour group had returned from their excursion and were heading towards the dining room. "Monsieur, shall we dine now," one of the women inquired.
Antoine turned to his famished guests. "Of course, Madame. Right this way." He carefully closed the black box and handed it back to June, but June was enjoying a cocktail and distracted. The box fell to the floor and the bottom detached from the frame. "Ooooooooof!" Antoine exclaimed. "Madame, I am so sorry! Let me......."
"That's alright. It's alright," June replied unconvincingly. She bent down to pick up the pieces of her treasured find, only to discover the broken bottom sitting atop a small black book peeking-out from a black silk scarf. By this point, Antoine had slipped away to serve the other hotel guests. June had thought the silk lined the bottom of the interior, but apparently she had not dug deep enough, assuming the only contents to be the photographs. June's eyes widened with curiosity, she looked around the room, and found a red leather wingback chair in the corner by the fireplace. Collecting her broken treasure and the small black notebook, she settled-in by the fire and gingerly cracked-open the spine of the book. A handwritten note was tucked-away in the front pocket:
"Should you find my happier days upon your shore
You will know my pain and what my life was before
For my loss was too great to keep his memory near
So I sent it adrift to set free my despair."
It was signed "Anna Swanson, 1931." June thought of Harry and how she could have never parted with the photographs of him, much less cast them out to sea! June had always kept a photo of Harry in her wallet so that he could be with her always.
But if the letter offered a bleak introduction, the notebook brimmed with hope, art, light and color! Each page was filled with vibrant sketches that captured life in the french village with an appreciation for its inherent zest. There was even a drawing of the artist's home, Villa Des Roses, that spoke to June.
"Madame, have you eaten?" Antoine had returned after serving the other guests in the dining room. June had missed dinner but hardly noticed.
"Come see what I have here, Antoine," June beckoned.
"Oh, the box! Madame, I am so sorry! It can be fixed....."
"No, Antoine. This Little Black Book that was at the bottom! Regardez! "
Antoine sat beside June and began perusing the pages of the notebook, now and then looking up at her with dropped-jaw.
"Madame, do you know what zis is? Deez are studies of her oil paintings, some very famous works! What a collector wouldn't give for deeeez!!!! "
June shifted in her chair and looked earnestly at her newfound confidant. "Well, Antoine, if you know of such collectors who could rescue these beautiful sketches from collecting dust in my bookshelf in Connecticut, you must approach them on my behalf. Would you be so kind?"
"I would be honored," Antoine replied.
********************************************************************
"I want it restored exactly as it was!" June directed the architects, barely able to contain her excitement. Then she reached into her purse and retrieved the vintage silver frame she had found in a village shop earlier that day. That would be Harry's frame. She slipped an 8x10 photo of her late husband into the top of the frame and then proudly positioned him on the marble mantle. "Welcome home, Darling!" she said under her breath; nobody seemed to hear. Or, maybe, nobody save Harry.
Antoine had fulfilled his promise of finding a buyer for the Little Black Book at the price of 20,000 dollars -- enough for June to place a downpayment on a timeworn but salvageable Villa Des Roses. June made the decision to sell her Connecticut home in favor of a new chapter -- one that fate bestowed upon her through Anna and her story. She knew when the opportunity presented itself that Anna and she would share the same home. Forever.
"Madame, we shall return tomorrow as the ceiling is not yet dry," the contractor explained.
"Of course," June replied and escorted the workers through the archway and out to the garden. "I very much look forward to tomorrow. Merci and good night."
Alone at last, June scanned the room for the leather box that she had had repaired in town. Carefully, she fished-out the photos of Anna and Gregoire and slipped them into adjoining art nouveau silver frames, placing them aside Harry's photo. "Welcome home to you, too, Anna and Gregoire. And thank you."
June sighed at the sight of her family of photos on the mantle and then proceeded to take her afternoon tea by the window overlooking the ocean. She was grateful for what the sea had brought her and she vowed never to take her eyes off the horizon. As she sipped her Earl Gray, she lost herself in the rhythm of the waves and wondered what other secrets the tide would wash ashore.