The Holiday Inn, Maidenhead, England
Several stays and sadly, several niggles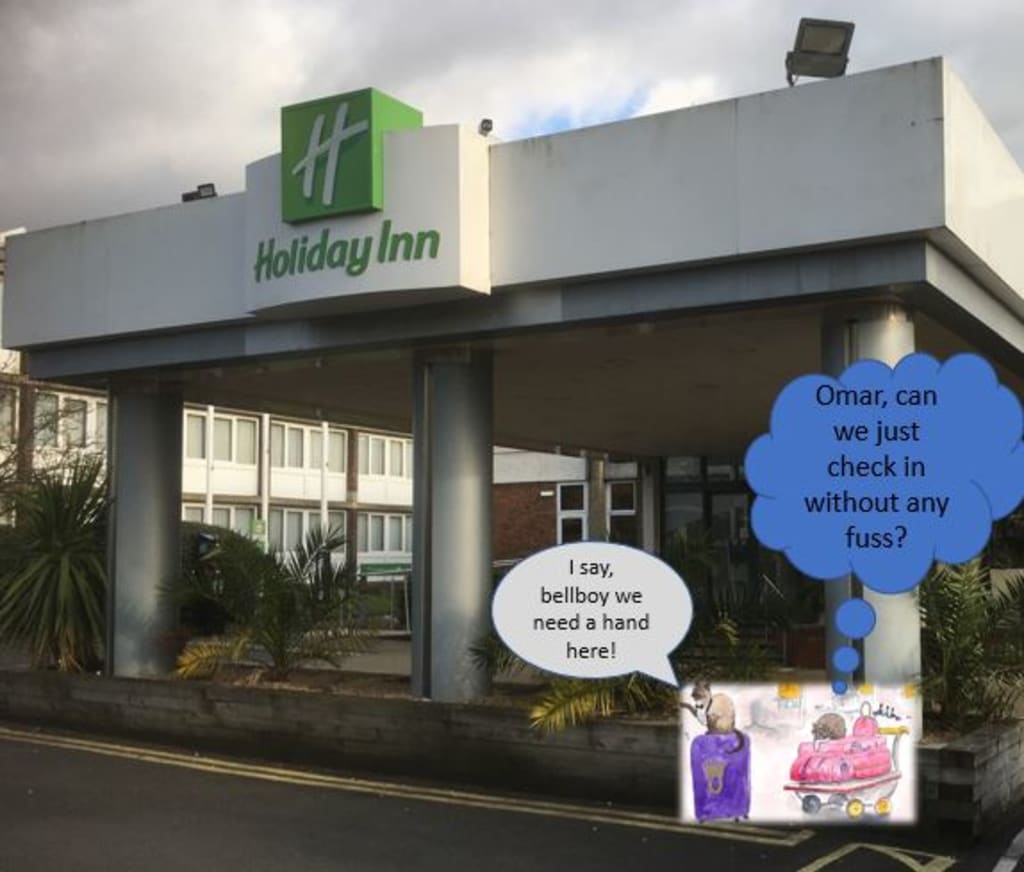 Waiting for a bell boy to help with our luggage - they never came
Due to various restrictions here in the UK because of COVID 19, "hoomins" as my great artistic friend Pegs calls members of the servant species, are unable to travel as freely as they used to. So, it has befallen to Mitzi and I to visit various hotels and prepare reviews of our visits for when you hoomins or, "servants" as I refer to you can resume regular travel.
During most of April and early May 21 we frequented the Holiday Inn Hotel in Maidenhead, Berkshire England.
Oh, my days! What an experience!
This hotel was built in the 1970's and was most probably very chic and cutting edge when it was first opened. Fifty years later it is beginning to show signs of its age. Stained concrete exterior and rooms in need of some refurbishment. However, it is conveniently located for easy access to Heathrow Airport for international travelers and the commerce and information technology-based economy in the immediate surroundings rather than trade.
We stayed five times and during every visit we encountered niggling issues.
Simple things that indicated a lack of attention to detail.
On our first stay the television not working and the hot water in the bathroom not available in the sink. We mentioned this and were immediately allocated to another room. We should have graciously accepted this initial experience as a portent.
Fridges are standard equipment in each room or, should be. After checking in and settling in for our second visit we saw that there was no fridge in our room. Now, I don't know about you, but I do like my vermouth chilled. Not with ice which dilutes it but, chilled. Mitzi is the same with her very dry sherry. It must be chilled. We mentioned this lack of fridge to the desk and one was brought almost immediately. This was quite a big detail as the space where the fridge should have been was big enough to accommodate Mitzi's litter tray should we have brought it.
We had chilled vermouth and dry sherry that night.
When I arrive at a new location and have settled in I do like to go for a short walk around the immediate territory. Just to stretch my legs, get some fresh air and allow Mitzi some private time to get ready for bed. Please understand that when I am on these walks I am not marking territory in any way. That would be extremely rude.
What I did notice on every walk around the grounds of the Holiday Inn Hotel was uncared for hedgerows and shrubs. A pond covered in dust and its surrounds of trees and bushes entangled with litter. Not Mitzi litter but hoomin litter. Away from the pond the paths were strewn with empty drinks cans, food containers, plastic bags and the hoomin litter scourge of 2020 and 2021, face masks.
So sad and an obvious sign of neglect.
During another stay we were woken most abruptly by loud banging on a door on the floor above us. That stopped and we were able to return to sleep as it was three thirty in the morning. Just as we were going off to sleep we were disturbed again by drilling and hammering. We found out the next morning that the noise was caused by a film crew making the set for a remake of the 1960'sclassic starring Michael Caine. I don't know why they are bothering with a remake nearly sixty years later. The original was fabulous and I am sure no feline hotel guests were disturbed in the making of it.
Oh, room service. Again, there were just small details that were missed. One night our evening meal was delivered to our room. Plates, cutlery, serviettes and sauces but no salt and pepper. This one evening we were very tired and just couldn't be bothered to ring room service. Then the next morning we had a room service breakfast. Coffee, croissant and toast with all the trimmings. But guess what? Hidden under one of the serviettes was some salt and pepper. Must have been left over from last night.
The niggles were a random constant during our stays but what was a constant niggle was the heating. April and May this year have been exceptionally cold but the heating system in the hotel did not know this. No matter how high I set the thermostat the warm air unit failed to live up to its description and only blew cool air. The hotel did provide oil filled radiators but despite setting them to maximum the heat they were generating wasn't even enough to burn my paw. I think the heating, like at my old school, was always switched off on 31st March regardless of the weather.
That is a rather lot of niggles and snags which if one encountered them on a one off stay would be almost forgiven but to have them recurring during subsequent stays leaves a very bad impression.
However, it wasn't all bad.
Both Mitzi and I do not indulge in coffee but there is a marvellous machine in the reception area serving seven different types of coffee. This is something that Man Servant could fully enjoy providing his blood pressure improves.
The other saving grace this hotel has is its servants. They were always friendly and responded quickly to any problems we raised. We enjoyed our interactions with them as they always made us feel very welcome like we were coming home. Yet how unlike Omar Towers is to the Holiday Inn. It has heating that works when we want it to, cruet sets, a fridge freezer in the right place for my vermouth and absolutely no litter in the grounds.

Alan Russell
I am a very lucky person. I live in a beautiful area,the New Forest,have a happy home that I share with my wife and two felines. More,much more than this I travel many highways,to interesting places and meeting interesting people.Carp diem.
See all posts by Alan Russell →