The Countdown Is On: Celebrate New Year's Eve in Style Down Under!
Here is a quick lowdown on how you can celebrate New Year's Eve 2023 in Australia.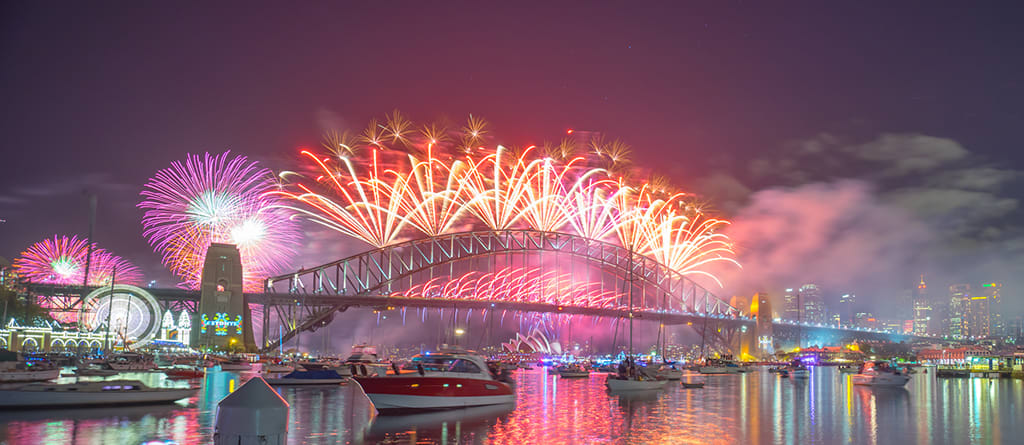 new years eve cruises
New Year's Eve is a chance to look back on the year that's passed and look forward to the year ahead with anticipation and excitement. But it's also a chance to let loose and have some fun with family and friends.
As the year draws to a close, it's time to start planning how to celebrate the biggest night of the year: New Year's Eve! People around the world celebrate this special night in different ways, and The Land Down Under is no exception. From extravagant fireworks displays to family-friendly events, and night-long parties, there's something for everyone on New Year's Eve in Australia.
Popular New Year's Eve Celebrations in Australia
New Year's Eve celebrations in Australia can vary from city to city, but there are some popular events that are held in almost all major cities. The most iconic celebration is the Sydney Harbour fireworks display. Every year, the harbour is lit up with a spectacular display of fireworks, music and light shows. The event is broadcast live on TV throughout the country and is watched by millions of people around the world. New Year's Eve cruises offer the best view of the fireworks show from the waters!
If you're looking for the best places to celebrate New Year's Eve in Australia, you're in luck. There are plenty of great locations around the country to ring in the new year.
The iconic Sydney Harbour fireworks display is the obvious choice. It's one of the most spectacular displays in the world, and it's a great way to kick off the new year in style. If you're looking for something a little different, there are plenty of unique activities to get involved in. Head to a rooftop bar for a night of great views and drinks, or take a New Years cruise on Sydney Harbour for a memorable evening. You could even take part in a pub crawl or a bar hop to sample some of the city's best nightlife.
Hobart's Taste of Tasmania is an annual food and wine festival that takes place over the New Year's period. With over 100 stalls featuring local and regional produce, live music, and fireworks, the event is a celebration of the best that Tasmania has to offer. Held on Hobart's waterfront, the Taste of Tasmania is a family-friendly event that provides a relaxed and festive atmosphere.
If you're in Melbourne, head down to Federation Square for the Melbourne NYE Live event. Here you'll find live music, entertainment, and of course, the traditional countdown to midnight.
For those who want to welcome the new year with live music and a festive vibe, the Falls Festival is the perfect choice. Held in multiple locations across the country, including Byron Bay, Marion Bay, and Lorne, the festival features a diverse lineup of international and local musicians. With camping options available, the Falls Festival is a great way to spend a few days leading up to New Year's Eve.
These are just some of the best places to celebrate New Year's Eve in Australia. No matter which city you're in, you're sure to find an exciting and memorable way to ring in the new year.
Tips for Celebrating New Year's Eve in Australia
The most important thing is to plan ahead. Many of the popular events and activities require tickets or reservations, so make sure you book ahead of time to avoid last-minute disappointment.
Bonus tip: Make sure you have a designated driver if you're going out for drinks, and always keep an eye on your belongings.
Finally, don't forget to have fun! New Year's Eve is a time for celebration, so make sure to make the most of it.
Reader insights
Be the first to share your insights about this piece.
Add your insights