Tales from a Place Where You Can Feel Other People Crawling On Your Skin...
One of the most torturous mental institutions in the world now lies vacant, haunted, in Maryland.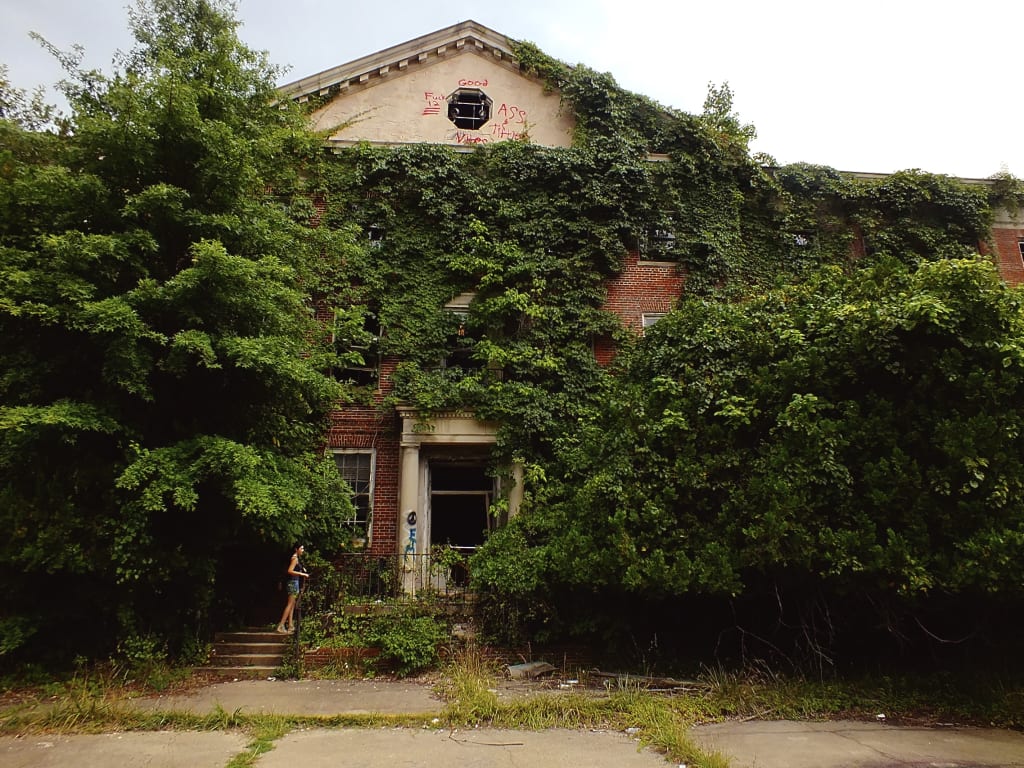 Ivy and Spirits
The Forest Haven Asylum in Laurel, Maryland was opened in 1925 as a home, school, and social ground for both children and adults with intellectual disabilities.
Tales from a Place Where You Aren't Supposed to be, and Maybe Neither Were They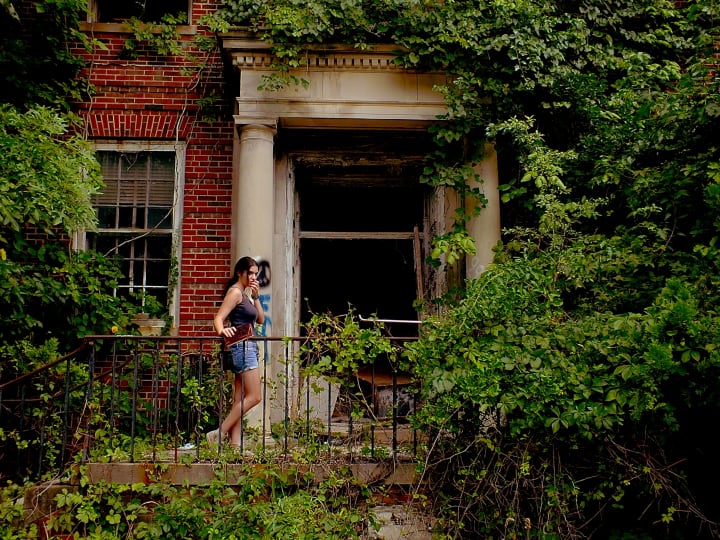 A noble quest, the practice was flawed. 1925 was an era that devalued anyone different, not to mention one that was far behind in medical understanding. Epileptic patients were admitted as intellectually disabled. It is rumored that homosexuals were admitted on the same grounds.
Tales from a History Haunted by Grief and Catastrophe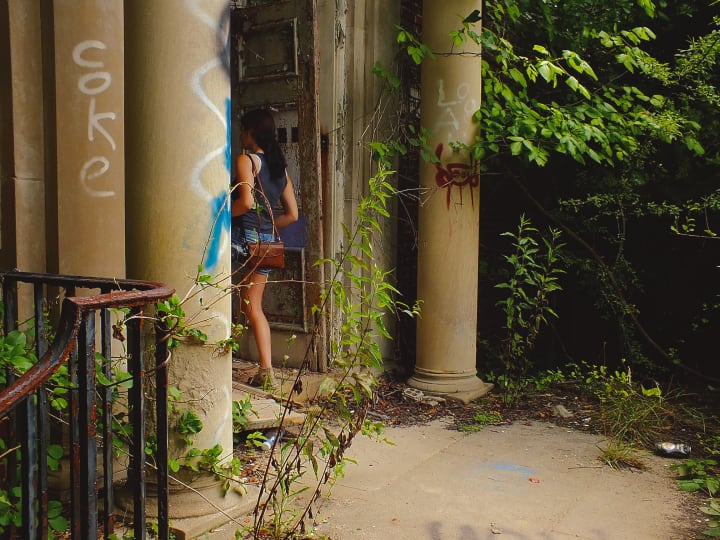 In the 1960s, things only got worse. Funding was cut—and so were recreational and educational programs. Staff was reduced and replaced with unqualified employees that physically, sexually, and mentally abused their patients. Children and adults began dying of neglect, of improper care, even from illegal medical experiments. Covering their tracks, the basement morgue wrote "Heart Failure" as the cause of death too many times to count. Technically, it was not a lie; the patient's heart did, in fact, fail to beat. These vague attributions leave us asking, why did their heart fail?
Tales from a Place to Pay Respect To
Deceased patients were shuffled quietly through the morgue and buried in an unmarked field nearby. All supposedly "honored" by one headstone. Anonymous bodies decay under your feet as you move through the spaces of neglect and fear and hope that the afflicted did not suffer more than you are able to imagine.
Tales from a Place So Many Tried to Make Home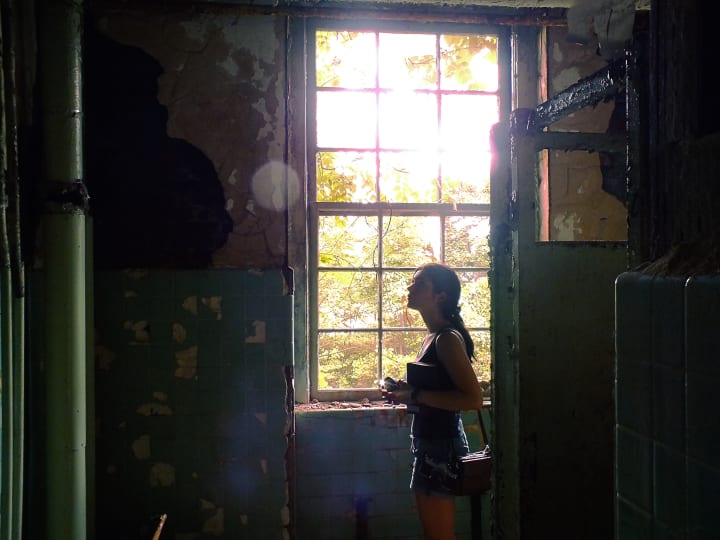 Tatiana Martino and I come to what used to be the dormitory with respect—and a whole lot of lucky charms. The front doors are decaying, and the entrance is littered with broken bookshelves and pieces of the ceiling. The bathroom remains fully equipped with cracked porcelain toilets. The uneasiness I feel taking photographs where so many people suffered is calmed by my need to share this story. Here, Tatiana stands almost as faceless as the patients who were tortured here not too long ago.
Tales from a Place Where There Are Whispers in Our Heads, Telling Us That We Don't Belong, That We Will Never Escape, That They Are Coming for Us, That We Are Broken and Alone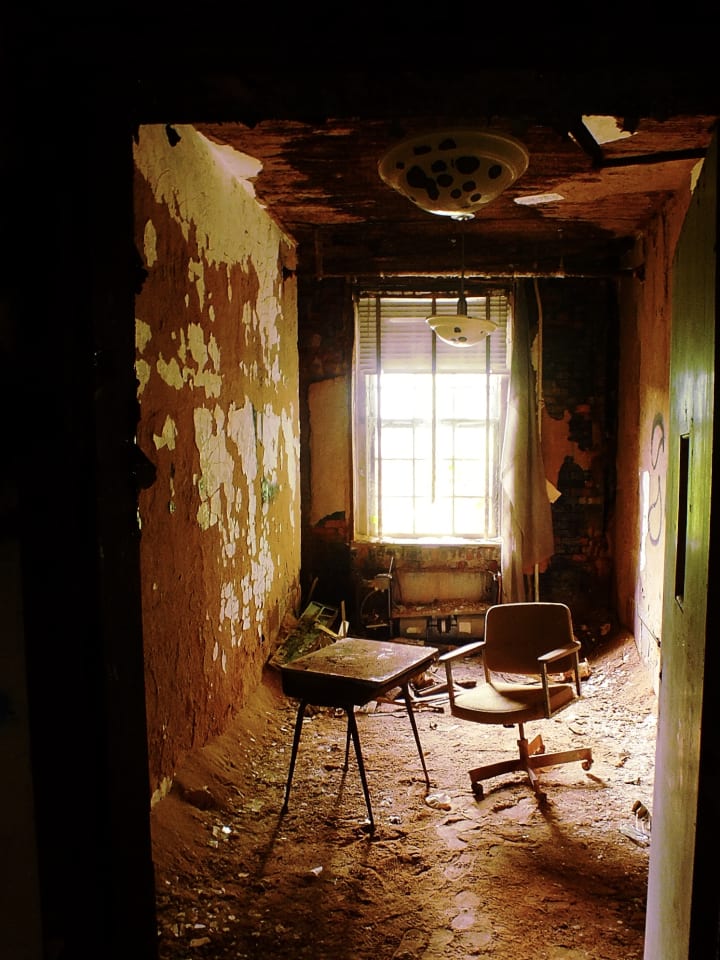 Walking past old classrooms taken over by dust and footprints, I am reminded that the Forest Haven Asylum was initially progressive, hopeful. That children and adults were taught, not harmed. I am reminded of the horror that seems so unimaginable, fictitious almost.
Tales from a Place Where You Can't See Faces, but You Can Read Energy
As Tatiana and I descend floors, the skies outside us open up. Rain splatters through the broken windows to cool our summer skin. The chill in the air ices, the energy thickens. We are moving through history; we are moving through a history of forceful agony.
Tales from a Place That You Can Leave When It Gets Too Dark; They Couldn't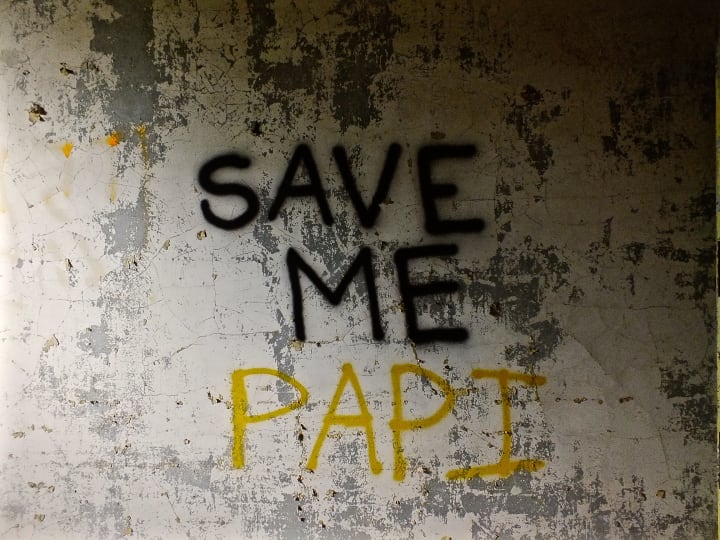 We pass words on the wall written by teenagers with no fear of disrespect, no honor for this aching building. Nevertheless, we see how scrawls of "SAVE ME" must ring true to this home's inhabitants. We are grateful for the fact that the only thing keeping us inside is the rain, that we can get wet in the forest as we trek away from this place. These are things they could never do.
Tales from a Place Tainted by the Ignorant, the Shallow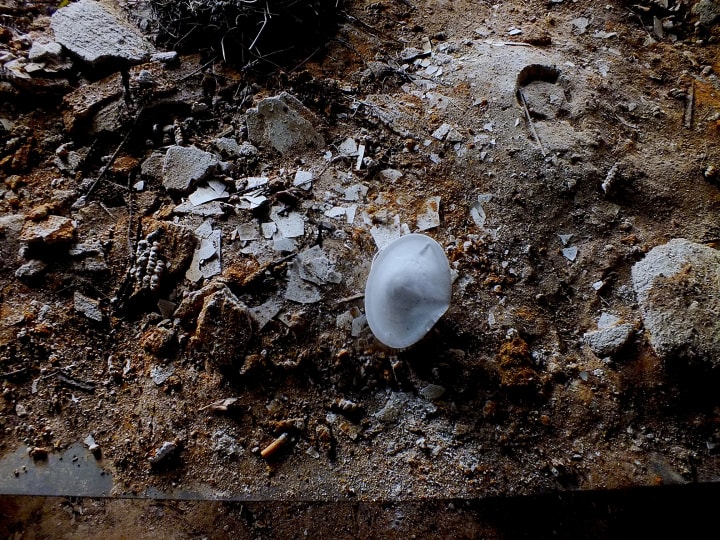 We pass piles of broken glass, of cigarettes half burnt out and discarded like this place is a waste bin. A dormitory that housed people nobody else wanted to deal with. A bedroom for each person that the institution failed. One bedroom for hundreds throughout the history of Forest Haven. A place to discard, to shuffle away the mistake of the disabled. 1960s policymakers instigated this viewpoint; 2016s teenagers perpetuate it.
Tales from a Place to Hold Close to Your Chest and Rock Back and Forth, to Pray for and Honor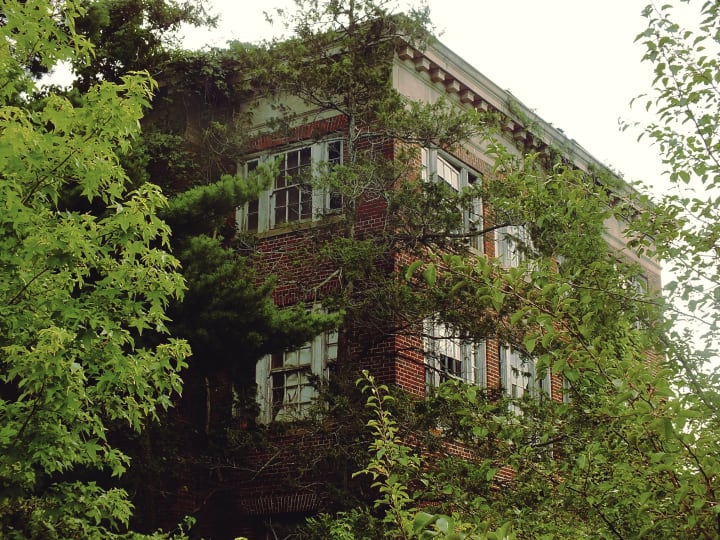 The asylum has been abandoned since being shut down in 1991, allowing the forest to swallow what was once one of the cruelest mental institutions in the United States. Walls and pillars—or what's left of them—are colored in graffiti. Brick and mortar—or what's left of it—turns green with leaves.
Tales from a Place Cultivated by Harm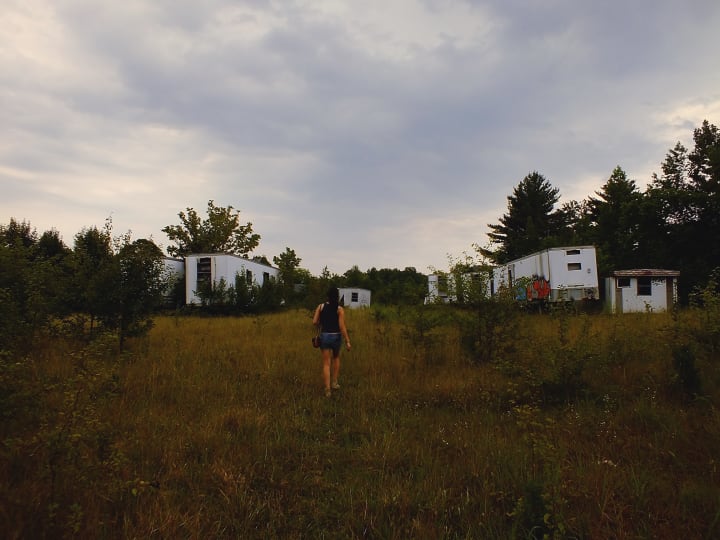 In the field behind dormitory A, there are trailers. From then or now, I don't know. I hope to never find out what's inside. I wonder how many bodies I am standing on. I wonder if anyone was ever told their story, if they ever received redemption in this one small way. I doubt it.
Tales from a Place Where We Really Don't Belong, Where We May Never Escape, Where They Are Coming for Us Really, Where We May Be Broken and Alone, Even Surrounded by Shattered Spirits, and Perhaps We Will Be Forever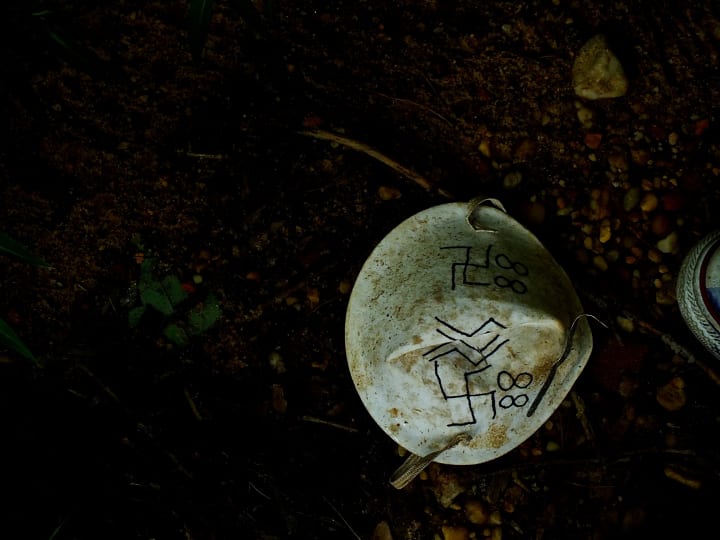 As we leave, a medical mask lines the path through the trees, illustrated in a quite gruesome way. One last reminder of the horror of the Forest Haven Asylum: this place is no haven.
america
Amelia is a recent graduate from Emerson College majoring in Communications Studies. She finds passion in language, photography, and learning, and hopes to pursue a life full of all three.
Receive stories by Amelia Clare Wright in

your feed