Splash Lagoon Indoor Water Park (Erie, Pennsylvania) Review
A Condensed but Fun Water Park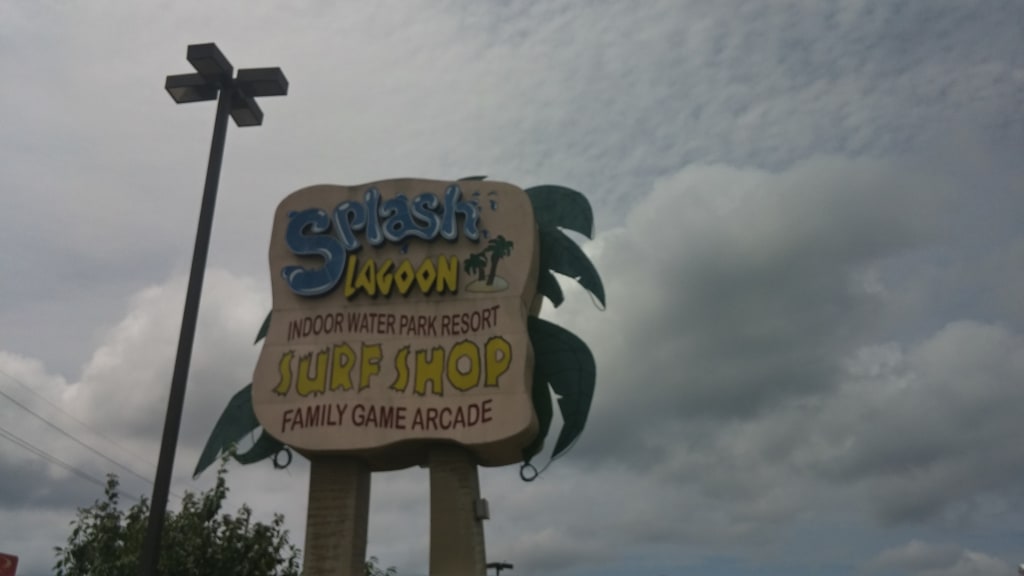 The sign indicating you have reached your destination
A condensed but fun water park.
Friendliness\Helpfulness of Staff
The staff overall was friendly and would answer questions when needed but considering this is an indoor water park they were focused on maintaining safety. While staffing the rides they would not look at you directly when answering questions. Lifeguards would do the same thing but this is expected. When not maintaining the rides they were far friendlier and would do their best to be helpful in pointing you in the right direction. Another thing to note here is the inconsistency the ones manning the rides had in enforcing particular policies whether or not they are actually written down. Most ride staff didn't seem to mind if you wore a shirt when you went down some of the water slides, but others would not allow you to ride. This could lead to an inconsistent experience. Another small note is that I called the night before to find out pricing. The person who I spoke with did not seem to be aware of their after 4 PM pricing.
Stars:★★★☆☆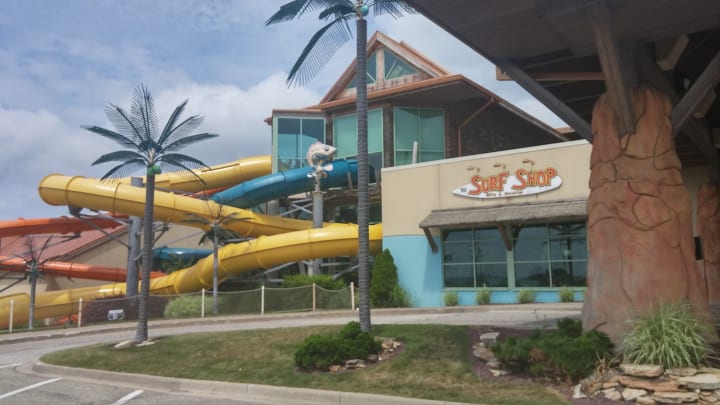 Size\Attractions
This water park is fairly large roughly 80,000 square feet. The usage of that area is fairly efficient. There are very few blank areas where you are walking with nothing to do in sight. The park has about seven water slides, two hot tubs, a lazy river and a fairly sizable wave pool. The lazy river was a little small to my experience with them but was wide enough that there were very few points where you had to deal with a coagulation of people. The flow was fairly weak though and I found myself needing to propel myself forward fairly often. The waves in the wave pool were also fairly small. The lines on the slides moved fairly quick. They had a healthy mix of slides that required tubes and body slides. I'd have a hard time coming up with a floor plan that used the space better.
Stars:★★★★☆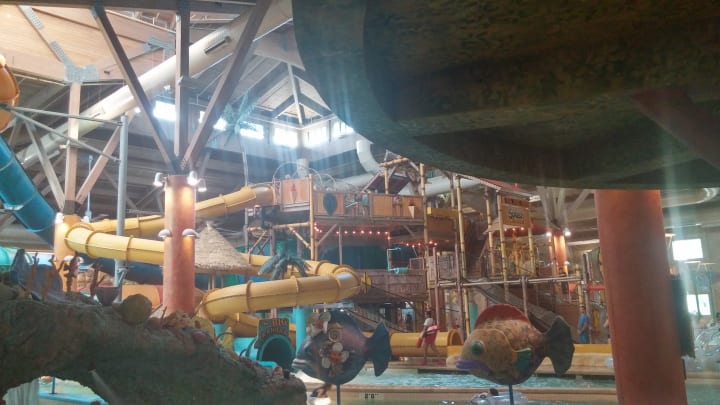 Family Friendliness
This park is definitely structured in a manner that is good for families with children. Many of the rides have a height limit but the limit is around 36 inches. The waves in the wave pool are fairly low power, keeping children in mind. There is only one ride in the park that being a strong swimmer is required as it exited into fairly deep water. There are a few areas meant to be safe spaces that are adults only, in particular, the hot tubs but that seemed more to be because the hot water would be dangerous for children. I found the park had good appeal for both children and adults.
Stars:★★★★☆
Pricing
The prices for an indoor water park were fair but I would not say they were very versatile. For an adult\over 42 inches all day pass it cost $39.95 and under 42 inches cost $29.95. All day spectator passes for those who can not par take in rides cost $14.95. After 4 PM the pricing adjusts to be a little cheaper. $30 for an over 42 inches pass, $21.95 for an under 42 inches pass, and $12.95 for a spectator pass. This equates to a roughly 25% discount after 4 PM. The rental fee for lockers was $10 for a large and $7 for a small plus a $10 deposit that is returned. The food on the interior was semi pricey but not unusually so for theme park food. Souvenir towels cost around $20. I find these prices a little high and I couldn't find any coupons.
Stars:★★★☆☆
Final Thoughts
As far as indoor water parks go, this was one of the better ones I have traveled to. The size was good. The attractions were fun. It had changing rooms and showers for rinsing off the chlorine after you were finished. The park itself was very humid and warm but this is to be expected for an indoor water park. The lockers were very spaced out and difficult to find but once located I had no trouble finding my way back to them. The worst part about this was the pricing. I could think of theme parks and other means of entertainment that would be a bit more bang for your buck but alternatively, I could think of other ones that cost the same and don't provide nearly as much fun. Four to five hours is more than enough time to do everything in excess. I recommend the after 4 PM pricing.
Quick Points
Address: 8091 Peach St, Erie, PA 16509
Hours: 9 AM – 9 PM
phone number: (814) 217-1111
Stars:★★★★☆