Spectacular Ocean Kayaking Eco-Adventures in Hawaii
The Best Way to Explore the Hawaiian Islands by Water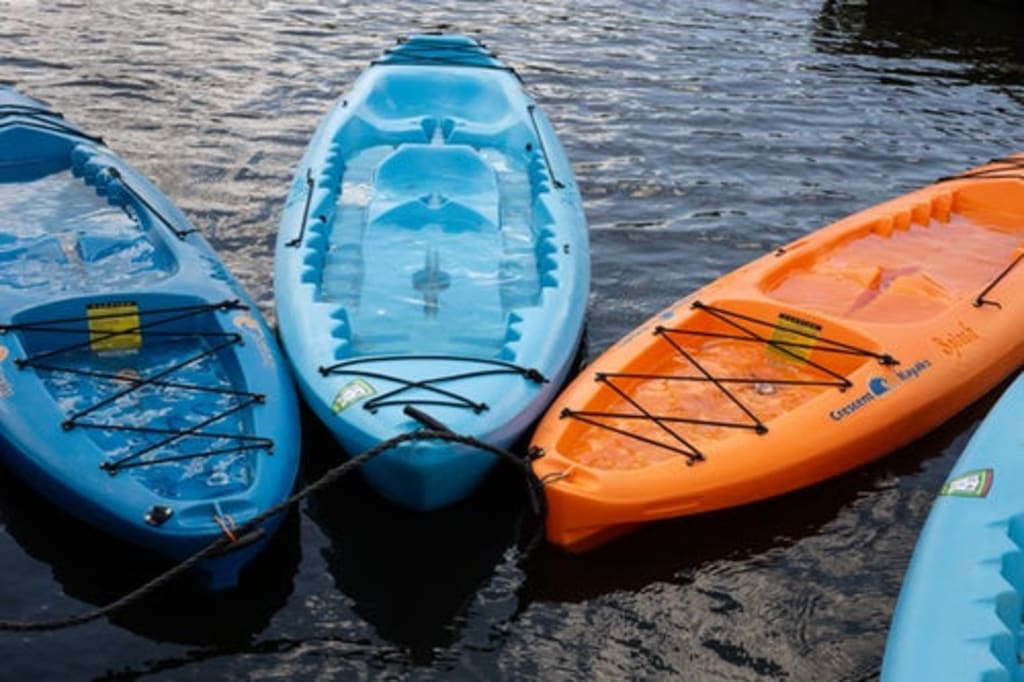 Omar Roque 
Eco-adventuring at its finest, kayaking is one of the most versatile outdoor recreational activities in the Hawaiian Islands. Kayakers can paddle wild and challenging ocean waters, explore tranquil backwater bays or navigate scenic fresh river waterways. A good many of the best snorkeling spots in the Hawaiian Islands are only accessible by ocean kayak.
Experts advise, "Ride alone, with a partner, or with a seasoned Hawaiian waterman, kayaking is the very best way to explore the warm, clear waters of the tropical paradise in an up-close and personal manner." Today, modern ocean kayaks, including tandems, are exceptionally stable, thus all but eliminating the possibility of capsizing. Turning is as simple as depressing a foot pedal.
It is not necessary for you to be a first-class athlete to enjoy open water kayaking. If you know how to swim, are comfortable in an aggressive ocean environment, have upper body strength in your shoulders and arms, and can tolerate sitting for an extended period, you are "good to go" and ready for an enjoyable and memorable Hawaiian adventure.
If you desire to experience ocean kayaking on your own, it is crucial to be familiar with current weather updates, small craft warnings, local tides, and ghost currents. A guide is strongly recommended unless you are an experienced ocean kayaker familiar with the ever-changing challenges of the unforgiving sea.
Kauai
The majestic Na Pali Coast on the north shore of Kauai is famous for stellar ocean kayaking and exciting explorations of some of the Garden Isle's finest remote snorkeling destinations. These trips are best scheduled during the summer months when northern giant ocean swells and surf have subsided. Discover hidden coves and secret waterfalls as you delight in spectacular cliff faces only visible and accessible from the sea or explore the rural countryside on a river kayak voyage. Kauai is the only island in the Hawaiian chain with navigable inland waterways.
Maui
If you are unfamiliar with the waters off Maui, book a guided kayak trip to immerse yourself in the delights of Maui's Olowalu turtle garden, Makena turtle town on the south side of the island, the lush and verdant Honolua Marine Preserve, and the ancient mysteries of Molokini Crater. Kayaking is an excellent way to see the island from an ocean perspective. View Maui's most secluded snorkeling destinations with a certified marine naturalist kayak guide from Maui kayak adventures, who will snorkel with you, pointing out interesting marine life, ocean hazards, and green sea turtles.
Oahu
Paddling to the twin islands of Lanikai is the best way to explore the offshore islets of Oahu including the pyramid-shaped islets of Mokulua just off Lanikai Beach. The remote islets are considered by many as one of the most beautiful places in all of Hawaii. The tiny twin islets feature a hidden white sand beach on the leeward shore of the largest islet and a serene pebble beach on the smaller islet. Be on the lookout for migrating whales, sea turtles, monk seals, dolphins, and manta rays.
Big Island Whale Watching
Have you ever listened to a humpback whale song or watched a mother humpback interact with her calf? Humpback whales frequent the islands waters, especially off the Kona coast. Kayaks, allowing paddlers to observe them, but at a safe distance, do not intimidate whales. Humpback whales weigh up to 50 tons, are up to 50-feet long and yet manage to leap and frolic like a ballerina. Listening to a whale breathe is a memory that will last a lifetime.
Plan a kayak tour of the intriguing arches and blowholes of Kuamoo Bay where visitors see ocean turtles, dolphins, and manta rays, and if the humpbacks are visiting from December through March, you'll have a viewing experience of a lifetime. Hawaii is home to the largest migratory population of whales in the world.
At Keauhou Bay snorkel and explore underwater lava tubes and magnificent sea cliffs, sea caves, and pristine coral reefs resplendent with colorful tropical fish. Visit giant tidal pools filled with a diverse array of sea life including starfish, eels, and sea turtles.
Navigating Kona's pristine, clear blue water since 1994, Ocean Safari's Kayak Adventures have introduced countless Kamaina (residents) and visitors to the adventurous eco-sport of kayaking. The company, located in Kona, Hawaii, on Keauhou Bay next door to the Keauhou Canoe Club, makes ocean safety its top priority and each trip is individually designed to accommodate the skills of the kayaker, the weather, surf conditions, and marine migration patterns. A guided ocean kayak trip may include whale watching, dolphin encounters, snorkeling, sea cave exploration, or cliff jumping.
Find the top 10 best places to snorkel at teptenzilla.
If you enjoyed my story, please share and perhaps consider leaving a tip to help fund my next adventure.