Some notable London tube stations
Some have achieved fame, others notoriety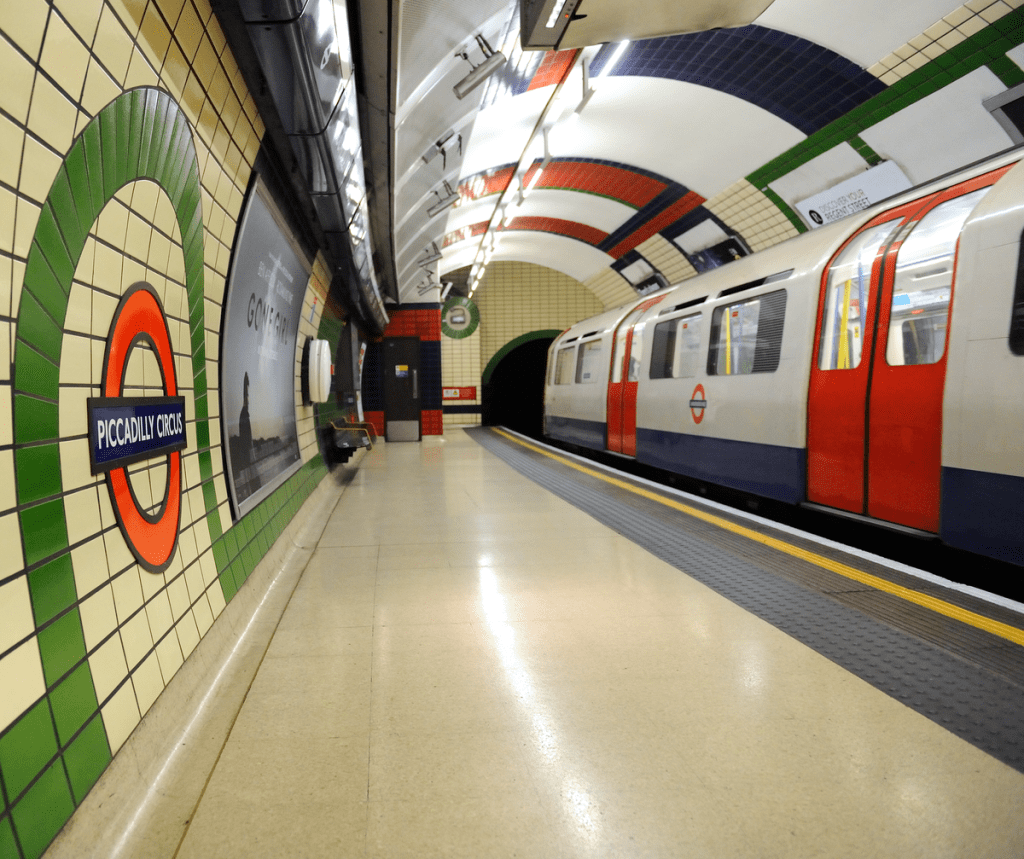 To be strictly accurate, the word "tube" should only apply to those lines that run through bored tunnels, as opposed to lines that run closer to the surface and were originally built by the "cut and cover" method. However, the term "The Tube" is now used generally to cover all of the London Underground system.
London's tube stations do not have the grandeur of those of some other major cities. Tourists do not stand around amazed at their architecture, as they do in Moscow, or even Paris. The glazed tile exteriors of many of the stations make them easily mistakable for public conveniences!
Unfortunately, some of the stations have achieved "fame" for the wrong reasons. One of these is Bethnal Green, on the Central Line between Liverpool Street and Mile End, in the East End of London. During the London Blitz in World War II, many tube stations were used as air-raid shelters, with people spending the night on the platforms and in the passageways. Bethnal Green station was one of the deepest in the area, and thus a popular shelter, being equipped with 5,000 bunk beds and room for 7,000 people in total.
Although the Blitz proper had ended two years previously, the sirens sounded on 3rd March 1943, as they sometimes did. Indeed, many people expected a raid in retaliation for a British raid on Berlin two nights before. However, this night was different, because a new anti-aircraft battery had been established nearby, and, when it roared into action, panic set in. As they poured down the steps, somebody fell, and hundreds of people fell on top of them and were unable to get up. In all, 173 men, women and children were crushed to death, but, so as not to damage public morale, the event was hushed up and few people from outside the immediate area got to know about it until after the war. As it happened, there were no deaths from bombing that night.
Another East End tube station was the scene of tragedy more than 30 years later, namely Moorgate, which is on the City branch of the Northern Line as well the Metropolitan/Circle Line. There was also a short branch line which ran northwards to Drayton Park, and ended in a solid wall beyond the platforms at Moorgate. On 28th February 1975 a packed rush-hour train failed to stop at the platform and ploughed into the wall. 43 people died, and it took six days to remove all the bodies, as the wreckage completely filled the narrow tunnel. I used to use this service, but had a day off on that day.
King's Cross underground station is one of the busiest on the network, serving two mainline terminuses above ground (King's Cross and St Pancras) and five lines underground (Northern, Victoria, Piccadilly, Metropolitan and Circle). On 18th November 1987 a fire, probably caused by a dropped cigarette, started underneath one of the wooden escalators leading down to the Piccadilly Line platforms. It had probably been smouldering for some time before it burst into flame, trapping many passengers below ground. 31 people died, including a vagrant who was not identified until 2004. Smoking had been banned on trains since 1984, but people often threw cigarettes away as they made their way to the trains. A total smoking ban at stations was enforced after the disaster, and wooden escalators were also phased out over the following years.
The latest station to achieve notoriety is Stockwell, on the South London portion of the Northern Line (there are also Victoria Line platforms here). On 21st July 2005 there had been a failed attempt to detonate home-made explosives on the Underground system (this was two weeks after 52 people had died in four explosions on underground trains and a bus). One of the suspects had been tracked down to a block of flats at Tulse Hill, which was under police surveillance the following morning when a young Brazilian electrician, Jean Charles de Menezes, left for work. Due to various breakdowns in communication, Jean Charles was mistakenly identified as the bomber, followed by plain-clothes armed police officers as he made his way to Stockwell station, and shot dead as he sat on a train. The inquest into his death returned an open verdict, with the probability that the jury would have declared "unlawful killing" had they been allowed to do so. There is still a shrine to the memory of Jean Charles outside the station entrance.
As mentioned above, the London Underground had been attacked on 7th July 2005, and there are memorial plaques at King's Cross, Edgware Road and Aldgate stations.
Apart from morbid fascination with those named above, there are other reasons why some of London's tube stations are worth a second look. As examples of industrial architecture, the work of two architects in particular is of interest.
Leslie Green designed stations on several lines, notably the Northern, Piccadilly and Bakerloo, during the first decade of the 20th century. His ticket halls were designed with a two-storey steel frame to leave room for lift (elevator) shafts and office space. The Arts and Crafts movement had a huge influence on Green's designs, and features include decorative tiling that also depicts the station's name. A number of Leslie Green stations can still be seen in central London, including Oxford Circus, Leicester Square and Camden Town.
Charles Holden produced some important work for the tube system, both above and below ground, in the 1920s, 30s and 40s. St James's Park is worth a visit, although it is the building on top of the station that is of interest, this being Holden's design for the London Underground headquarters, incorporating sculptures by Henry Moore and Jacob Epstein.
Holden also designed stations for the Piccadilly Line as it was extended north of the city centre. He produced light, airy ticket halls such as the cylindrical building at Arnos Grove. His later work on the Central Line was influenced by his experience of visiting the Moscow Metro, and the concourse at Gants Hill on the Hainault loop is an example of this.
Architecture apart, there are a number of tube stations that have features of interest. For example, Piccadilly Circus has no buildings at all above ground, but has entrances from every corner of the Circus and can therefore be used as a pedestrian subway. A recently added feature is a world clock in the ticket hall, with a marker moving across a map of the world at the same pace as the Sun.
Baker Street has more platforms than any other station, with a total of ten serving the Metropolitan, Circle, Jubilee and Bakerloo lines. There are also reminders of Baker Street's most famous fictional resident, namely Sherlock Holmes.
Hampstead is the deepest station, at 192 feet below ground level. This may surprise some visitors to London, because the general pattern is for the lines to sink deep below ground in central London and rise to the surface in the outskirts, and Hampstead is certainly well outside the central zone. However, it is the height of the land, rather than the depth of the tunnel, that causes this anomaly. Two other notable features are that Hampstead has, not surprisingly, the deepest lift shafts on the network (at 181 feet), and the name "Heath Street" that adorns the platforms, marked out in tiles. This latter is the original name of the station, although the name "Hampstead" is also clearly in evidence.
Many of London's tube stations have particular features of interest, for one reason or another. Whether or not these features are enough to render them "famous" is doubtless a matter of opinion!

John Welford
I am a retired librarian, having spent most of my career in academic and industrial libraries.
I write on a number of subjects and also write stories as a member of the "Hinckley Scribblers".
See all posts by John Welford →