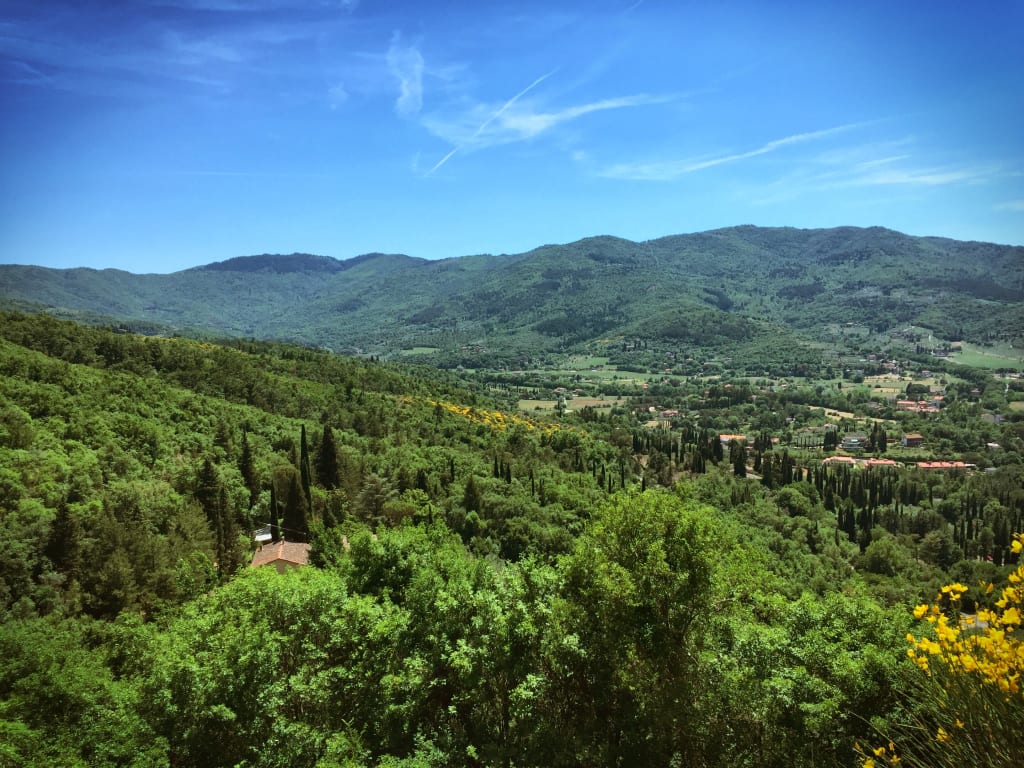 Arezzo, Italy
I wake up to the sound of Italians speaking at an unnecessary decibel, in my humble opinion. The chill in the air causes me to stay in bed longer and clutch my owl (gufo) blanket around my face. My blinds block out all outside light and I slide on my slippers to avoid the shock of my feet hitting the coldness of the floor as I clamber around for the window. Mentally, I start to prepare for the day's adventure of searching for Christmas gifts at the open-air market in Piazza San Jacopo.
Christmastime in Arezzo, Italy is magical. A quaint town on the eastern part of Tuscany, where Sting's wife likes to shop at the monthly antique fair, Arezzo is full of life. Lights in the shape of sleighs and shooting stars decorate the alleyways and a giant, ornate Christmas Tree takes center stage in the main piazza, Piazza Grande (also home to the annual joust).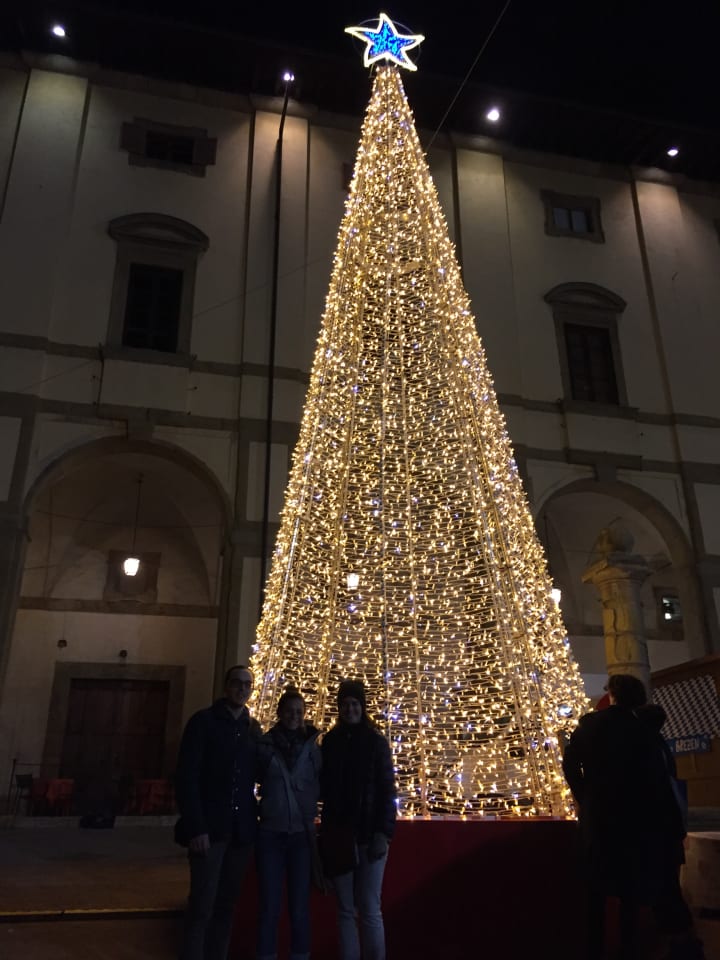 Not always cold enough to snow, but cold enough for this Arizona-born-and-raised girl to shiver and complain, I stare in disbelief at the Italians eating gelato. Apparently, any time is a good time for ice cream.
Shrouded in several layers of warmth I waddle my way to the market, meeting up with my friends who I wait for at the bottom of Corso Italia (the main road downtown). Stereotypically, they are later than the agreed upon time.
When they finally arrive, we greet each other with the standard salutation of cheek kisses and I smile with warmth, despite the cold. As we start walking towards the market I manage an Italian swear word to show my displeasure of the nip in the air. We speak in a mix of English and Italian—both broken—making each other laugh as we tease each other about what happened last night in the piazza.
Looking through the booths, I tell my friends, "Sto cercando per una sciarpa." (I am looking for a scarf.) To which they immediately take me to the stand of beautiful and decorative scarves, passing by colorful booths filled with multi-colored lollipops and gummy candies. The salesperson tries to speak to me with such force and velocity that I struggle to understand and my eyes plead towards my friends to help me with the language barrier. Explaining what I'm looking for to the booth owner, I eventually find the perfect scarf for my best friend back home. We look around some more, no one else buying anything.
In the two years I've lived here I've learned quite a lot. Such as the economy in Italy is not booming like one might imagine; the job market is tough and if you're trying to make it in a big city, it's often a feeling of surviving rather than thriving. While this is not dissimilar from forging out in New York or Hollywood, most Italians accept what they have and don't dream as big as Americans. Maybe it's a lack of hope or maybe it's a peaceful contentment, I think it differs with each person. But I know that despite the fact that it's cold outside and my friends aren't looking to buy anything at the market, they are just happy to be around people and spending time with friends, which is central to the Italian culture.
Deciding that the cold is too much, we step into Coffee O'Clock, the local coffee shop that is home to many foreigners and Italians alike. A familiar spot that I often meet with language-exchange partners. It's a common place to meet or fuel up, with a menu offering different types of coffee, tea, and food, and lots of dairy-free milk options. Coffee O'Clock is a well-known hub, found in the middle of downtown and a perfect stop-off before meeting up with friends, or for us and other shoppers, a nice break from the cold.
I'm not much of a coffee drinker (to which I receive great flak from the Italians) so I decide on an herbal tea, Mirtillo-Ciliegia #9, as my friends each choose an espresso. This place is very foreigner-friendly, they have a menu with English translations and are used to frequent tourists, but also populated by locals. As we warm up with each other's company and the heat of the building, we talk about future plans and relax into the moment. After I've finished my tea, we're ready to go and I layer up again to brave the winter chill.
Absentmindedly, we walk through the alleyways and wander down to one of the local theaters: Teatro Virginian, which is owned by our friends, to see if anything is happening inside. They're preparing for a show and so people are bustling around as they set up for the run. Peeking our heads through the lobby doors we spy on the happenings and wave at the owners. They stop and give the compulsory Italian kisses and debrief us on what exciting new thing is coming to the theater. Not only do they produce shows themselves, they act as a roadhouse for shows coming in, and they also host events such as birthday parties and fashion shows, as well as teach acting classes. There's often something to see going on there and a great way to spend an evening.
Upon leaving, we acknowledge that it's "that time." Time for all of us to go home and rest before embarking on our night out. Italians (and Latins, in general) are famous for that long period of time in the middle of the day when they stop everything and go home. Either to eat, nap, or make love, there is a perceived scarcity around town during this time. Initially something I found annoying, I have come to adore and love this idiosyncrasy. So we depart each other with the knowledge of seeing each other for dinner.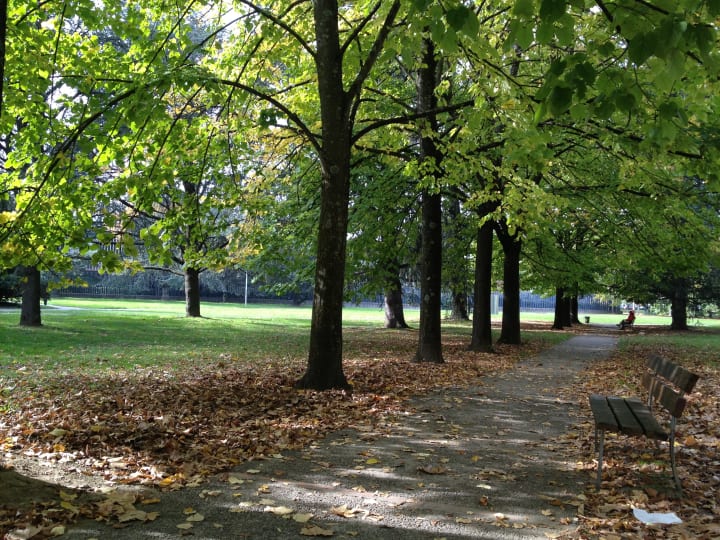 After a nice nap and a change of wardrobe, I am ready to go. However, I've learned that when we're supposed to meet at 7pm, that really means 730pm or later, so I busy myself with a book. When 745pm rolls around, my friends are outside my door and I'm amply hungry. Wanting something inexpensive to eat, but undoubtedly still delicious, we decide to go to Panini & Co., a local spot that allows you to pick a predesigned panino or make your own. Their windows are decorated for the season and I squeal with excitement at how much prettier it looks. We order our food and I get another stamp on my card, eight more before I've filled up my card and can get a free panino. Finding a spot outside next to the heat lamps, we cozy up on the comfortable chairs and they bring out our food on wooden slabs, a creative way to add style as well as good for the environment.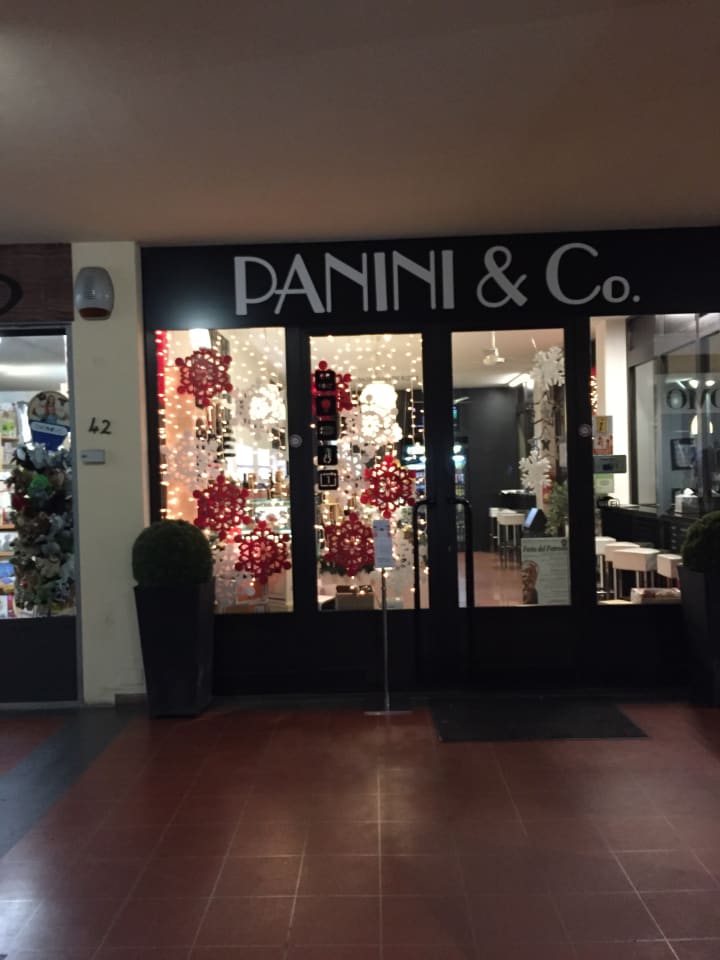 After we're done eating our panini and my friends finish a bottle of wine, we decide to go see what's happening at all the main downtown night hangouts. Since it's a small town, it's easy to walk down the sidewalks that sometime double as streets and find different friends along the way. Each piazza has a main "type" of person that is resident there at night, from the younger, more rambunctious crowd with cheaper drinks to the higher end, and generally calmer group, with more expensive beverages, you know what to expect depending on where you are. Piazza Sant'Agostino being the former description, and my preference. However, everyone in Arezzo grew up together and knows each other, so my friends want to walk around the town to interact with everyone, passing through Piazza San Francesco (the latter description) on our circuit. We also make our way through Piazza Grande to look around at all the Christmas booths. I also steer them in the direction of my favorite Christmas lights located across from the downtown post office.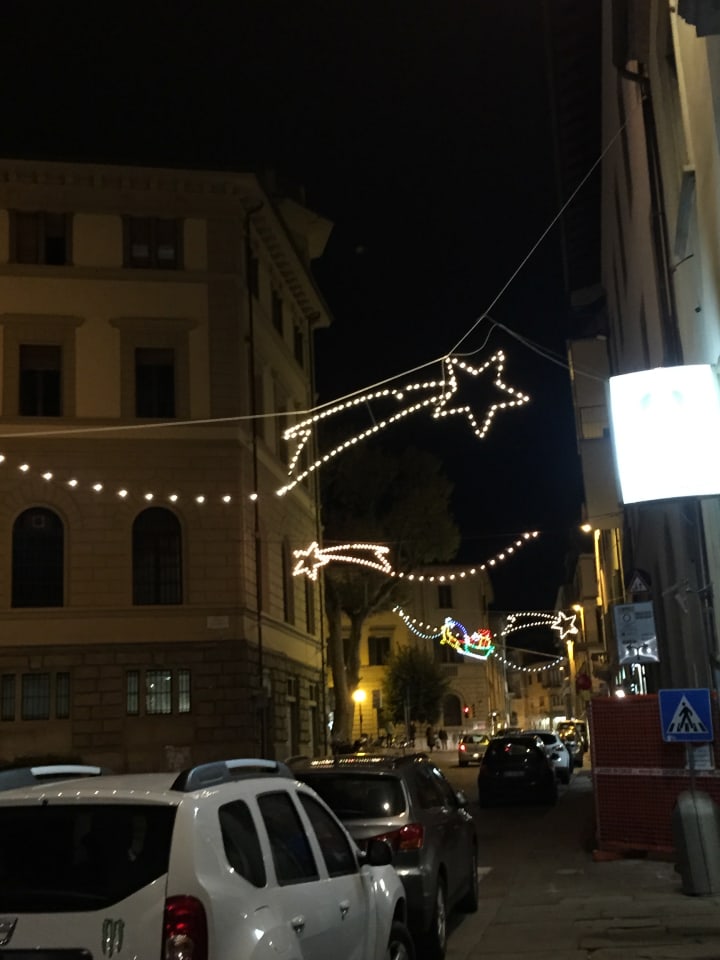 Nighttime in Arezzo is where most people come out to play on the weekends. People drive in to spend the time downtown at one of the piazzas, passing time with friends drinking a spritz, or flaunting their newest outfit up and down the Corso Italia. Loud partying can be heard well into the night, mostly from younger crowds, while their parents enjoy themselves (also not so quietly) at one of the many local restaurants drinking wine.
As the night wears down and we feel the fatigue in our eyes, we decide to call it quits. Kisses on each cheek, we say goodnight and I walk home feeling the winter chill on my face. I recount the day that I spent amongst friends, speaking Italian and joking. A day that I wish I could remember forever, I take a mental snapshot of my favorite moments. As I finally get home and climb into bed, I smile to myself as I drift off to sleep, knowing that tomorrow I get to wake up and walk the streets of the beautiful Arezzo again.