Singing in the Dark
An Unlit Walk Through London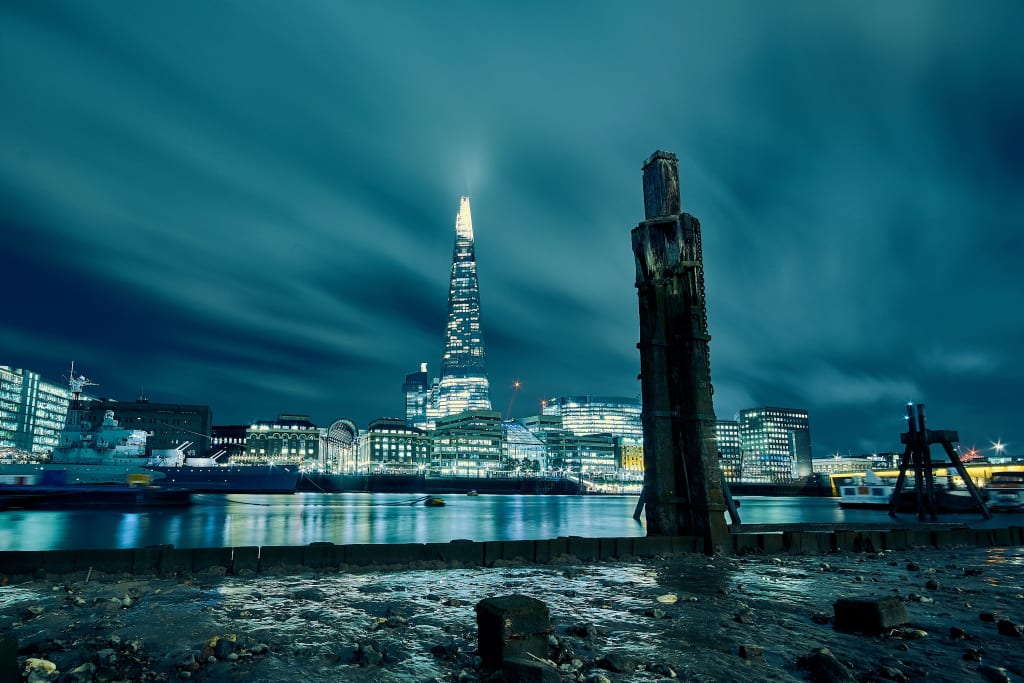 Photo by JJ Jordan on Unsplash.
Stopping for groceries on the way home from work. What could be more picayune than this act of a tired commuter? Londoners from Ontario, Ohio, and the multicultural capital city of the UK all share this prosaic duty. None of us can escape this ritual of mundanity; this epitome of adulting. This, along with doing my laundry and the seemingly endless parade of dishes that need washing up, is one of those things that make me wonder why I put up with the expense and pressures of living in a global cultural powerhouse. Why bother, when instead of hobnobbing with the intellectual crowd at an unconference or consuming the city's artistic treasures or enjoying the hedonistic offerings available, my life mainly consists of a routine that I could do in any London, rather than this specific London. How strange to think that this place I moved across an ocean to experience, that drew me in with its wonders and surprises and the staggering weight of its histories, could fade into a background canvas for a rote existence of going through the motions. It is amazing that this city could cease to astound through the relentless ebb and flow of the everyday.
One night my routine is disrupted. My path home from the grocery store takes me along a canal pathway, through a small patch of trees ambitiously named Wapping Woods, and through repurposed industrial docks which thrust up unexpected hulking walls and bridges everywhere. One crisp autumn evening the lights along my footpath fail, leaving me to walk home in the uncertain darkness of distant streetlights.
This redeveloped part of town with its tidy housing developments from the 1980s and recent additions of showy glass-and-steel apartment blocks all jumbled in with Georgian-era shipping technology has always seemed like a collision of worlds. Now, in the darkness along the canal, I smell the chestnut trees as they loom beside me in the darkness. Behind a brick wall is a crater where the News International print works used to be, destroyed earlier this year for yet more upmarket housing. On the winding pathway under the trees with my basket full of victuals, I feel in the midst of a fairy tale come to life. I'm not on the way to my grandmother's house but my eyes dart from shadow to shadow looking for the big bad wolf.
The Victorian bridge over the canal becomes sinister as I consider what kinds of trolls might live beneath it. As I draw nearer and nearer to the dark underside of the bridge, I get uneasy. Probably it would be wiser to go back, get on the safely lighted path and take a prosaic detour, but the unexpected magic of the evening has drawn me in. I'm going forward no matter what stumbles out of the darkness. But my fear hasn't abandoned me, so I begin to sing.
The simple repeating verses of "Down in the River to Pray" help modulate my breath, ragged with trepidation, as I pass through the darkest parts of my path. The sinister bridge recedes behind me as the path broadens out beside entrapped tall ships, relics of the dock this place was once. They too are out of their element.
Pools of light spill down from modern constructions: a block of flats, a parking garage, a convention center that was once a shopping mall. But these are just holes punched in the enveloping darkness. I keep thinking the lamps will flicker back on, that I'll pass the one magic lamppost which marks the pathway back into the everyday world, but the obscurity dogs me all the way home. And suddenly London is a strange new world again, a place where anything could step out of the shadows. A place where I sing in the darkness.
europe
About the author
Award-winning scholar & writer on digital communities, data science, and dance. Tweets @cmcd_phd. Holds PhD in suitably unexpected & obscure subject. Very tall. Frequently a bit silly.
Reader insights
Be the first to share your insights about this piece.
Add your insights