Sapporo Snow Festival
2020
The amazing country of Japan offers many different festivals throughout the year. The Sapporo Snow Festival is one. Looking up the festival online, we read many great things. However, we weren't exactly sure what we were getting ourselves into. We knew there were snow and ice sculptures, but that about all that we knew about. We had no idea what kind of treat we were in for.
We've been in Japan for a few months now, living in Yokosuka. Yokosuka is just south of Tokyo. Sapporo is the most northern part of Japan. So, for this trip, we decided to book a flight. The security procedures for domestic travel is very different than in the U.S. It is much easier, and much faster.
Where to Stay?
After a short hour and a half flight, we landed at Chitose Airport. One of the great things about Japan is that all of the airports and train stations are connected. So, we were able to hop off of our flight and hop onto a train towards our hotel. Once we got to our stop, we found that our hotel was just a few steps away from the train station. Hotel Lifort Sapporo was more beautiful than we expected.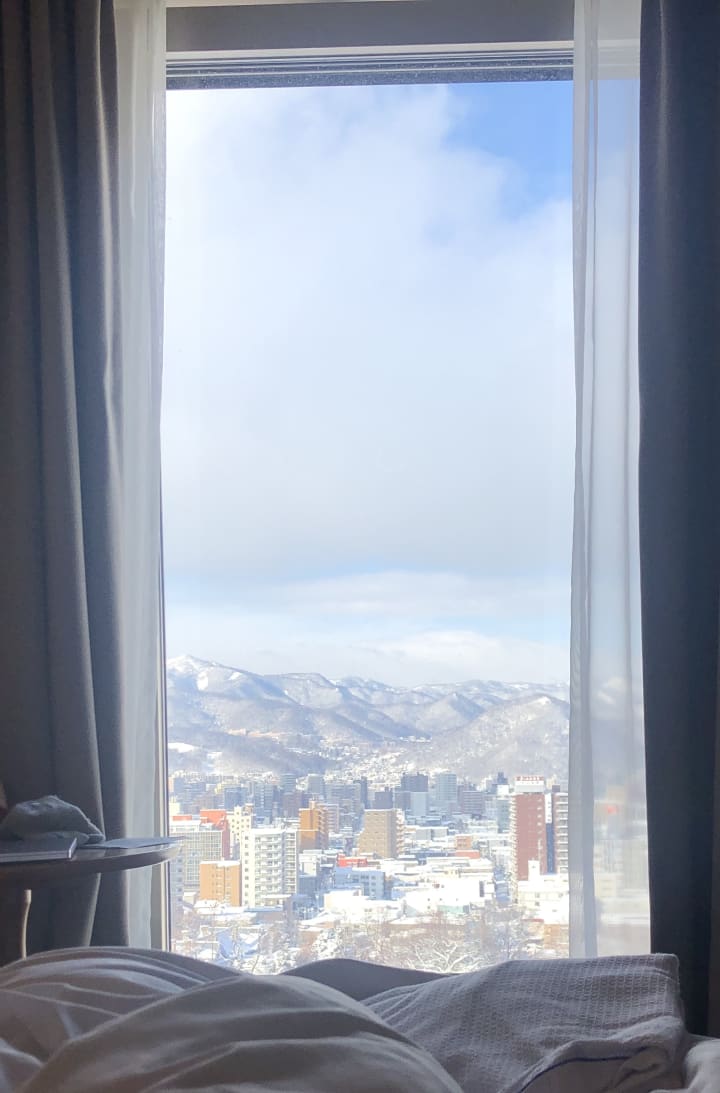 The lobby was absolutely stunning. It had an extremely high ceiling with a beautiful staircase. To the left was a high-end restaurant attached to the hotel. We headed up to our room on the 16th floor. Like almost every hotel in Japan, it was quite small. Although it was small, it was comfy and cozy. And the view was gorgeous. We couldn't believe how cheap we were able to book the hotel. Especially since the snow festival was just a short walk away from it. If you ever get the chance to make it to the Sapporo Snow Festival, I highly recommend this place. Click here to book if you ever get the chance to come out here: https://www.booking.com/hotel/jp/hoteruraihuotozha-huang.en.html?aid=2009998&no_rooms=1&group_adults=2
The Snow Festival
We had no idea what to expect for the Snow Festival. We were pleasantly surprised, however. Walking toward the main section of the festival we passed by smaller ice sculptures and decorations. The small ones were gorgeous I couldn't wait to see what was to come. It was even better than we expected.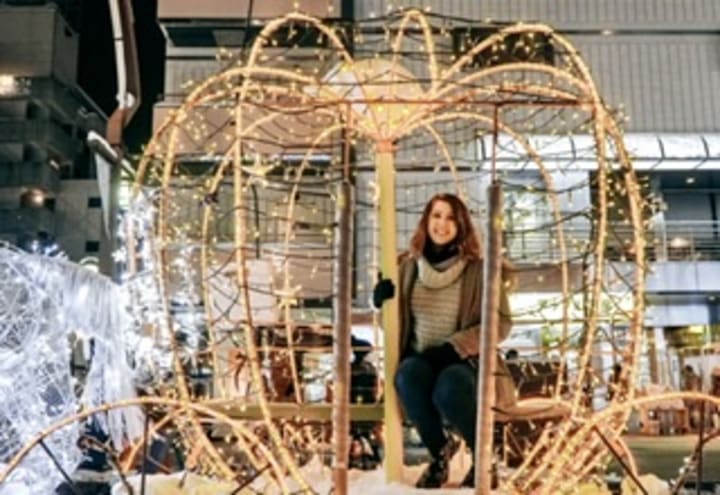 The first thing we see when we get to the main section was a snowboarding slope. It looked like a bunch of professional snowboarders showing off their skills. It could have been a competition, but because of the language barrier we weren't too sure. Either way, it was very exciting to watch them show off.
As we continued we noticed a lot of food stands. It very well could have been called a food festival. Of course we always get excited about food. Especially in Japan; we have yet to find anything we didn't like. So, we had to try as much as we could. This included: wagu, crab soup, snow crab, crab cheese stick, crab on a stick, hot chocolate, peach wine, and candied strawberries. If you couldn't tell, we really love crab.
The crab on a stick was by far the best food item we had the whole time. I'd say the crab cheese stick was a close second. Favorite drink of the night was the hot chocolate. However, multiple stands sold hot chocolate and they were not all the same. We tried a couple and there was only one stand that really stood out. Unfortunately, if you were to ever go yourself you'll have to use the trial and error method, as these stands don't have names I can give you.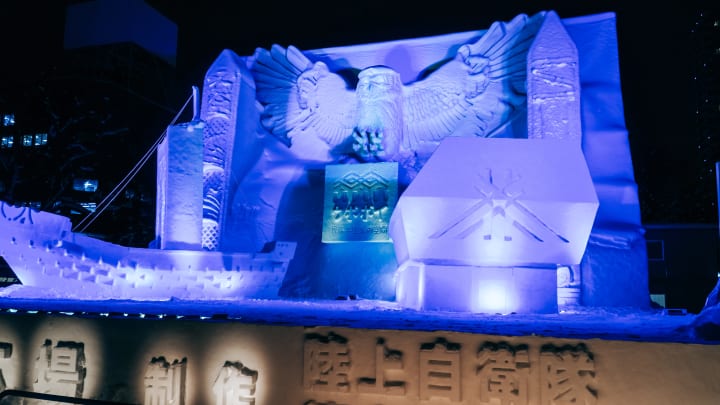 Of course, the food wasn't the reason we were there. We walked around amazed at the detail that went in to these snow sculptures. So many were these huge pieces that I couldn't believe someone actually made. I'm no artist, so when I see someone do something as amazing and detailed as these pieces, it truly blows my mind. Check out our Instagram for more pictures! www.instagram.com/HNadventures_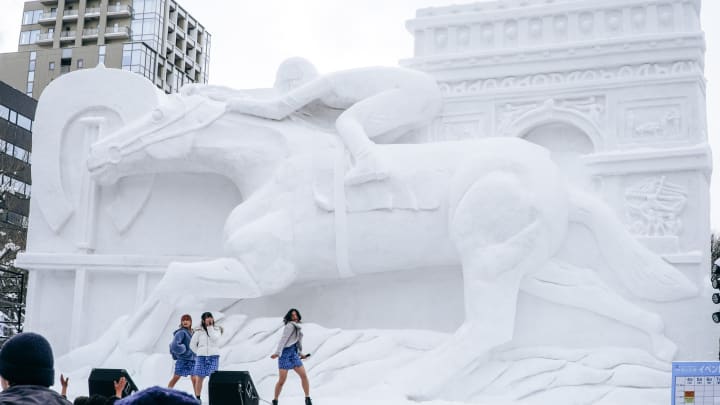 This was definitely an experience to remember forever. Whether it's the delicious crab or the beautiful sculptures, this trip will forever be in my mind. The snow festival usually runs for a few days at the beginning of February, so if you ever find yourself in Japan during this time I highly recommend you check it out. The best part about it is if you don't plan on eating, the Festival itself is free!