The Maxell Aqua Park Experience
Is it worth the money?
The Experience
The Maxell Aqua Park was high on the list of places we wanted to visit in Tokyo. We walked through the streets of Shinagawa and up a large hill to find the entrance. Like many places in Japan, we didn't have to go to anyone to get our tickets. To get tickets you have to go to a machine, kind of like a vending machine, pick how many people and insert your money. Honestly, it was a bit pricy for what it was, but still an overall good experience.
The first thing we noticed when we walked in was a giant pirate ship. It took us a second to realize it was actually a ride! It was one of those pirate ship rides you see at all the amusement parks that swing back and forth. We also passed a cute carousel. I would have loved to take a ride on both. However, we realized we had to pay extra for the rides and like I said, it was already a little pricy to get in, to begin with.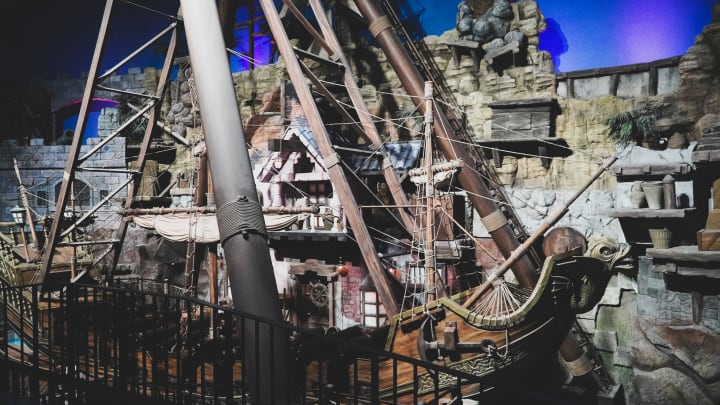 We continued on with our journey. We walked into a beautifully lit room. There were projectors all throughout lighting up the walls and floors with what I believe was stars and moons. It also could have been bubbles, but I'm honestly not too sure. Either way, I loved how it looks among all the tanks of fish. This room had lots of small tanks full of cute tiny fish. I'm will be honest with you though, I found looking at the projecting pictures on the walls to be more interesting than looking at the fish.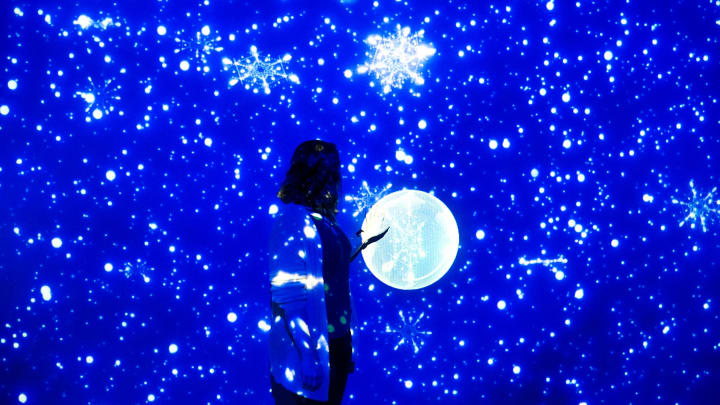 The next room we walked into was actually a bar. So, of course, we had to go see what was on the menu. They did have a special drink for winter so we decided to get one. It was delicious. Going on about our journey we found ourselves in a room of jellyfish. There were lots of jellyfish in small cylinder tanks throughout the room. While it was pretty cool to look at the jellyfish in the glowing room, it still wasn't that much to look at.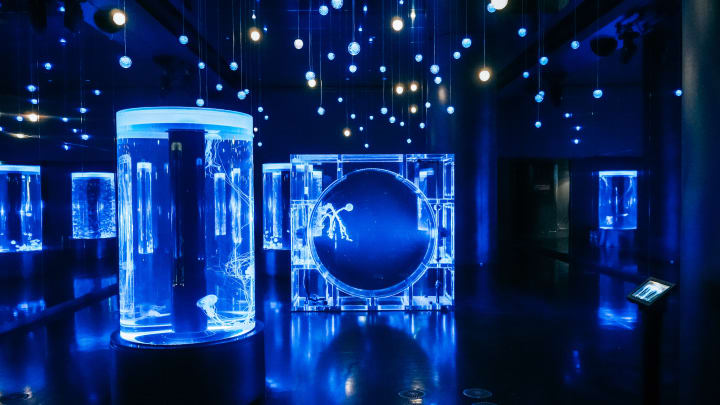 After looking at some jellyfish, we made our way up a really long escalator. At the top, there was a large pool surrounded by lots of seats. Earlier in the night, I remembered reading a sign that said something about a show at 7:00 PM. Lo and behold it was exactly 7:00 PM when we got up there. Water was falling down from the ceiling and beautiful music was playing. We could only assume that this was the show that the sign was talking about.
We stood at the top for a short while to see what it was all about. Soon dolphins shot out of the water. Such beautiful creatures. This was actually my first time seeing dolphins in person, so I was in awe of these majestic creatures. We watched them at the foot of their trainers. Giving the dolphins their commands and they listened perfectly. It was incredible. At one point a couple of the trainers jumped in the pool to ride on the dolphins as part of the show. It was actually pretty amazing seeing them jump out of the water with a person on them.
The show lasted only about 15 minutes. A wonderful 15 minutes I must add, though. We made our way through the rest of the aqua park. Again seeing a lot of smaller tanks with fish, snakes, snails, and frogs. We only saw one large tank that had a bunch of stingrays and eels. The dolphins were definitely the best part of the experience.
Is it worth the money?
The dolphins were definitely a great addition to the aqua park experience. But honestly, it was really the only part that was great about it. Everything else about the aquarium was just okay. It was definitely fun and I certainly don't regret going. However, there are so many other aquariums in Japan that I know are bigger and better (which we plan on going to eventually). I would have to say that if it was cheaper it'd be worth it just to check it out and have something fun to do. It is, however, a bit expensive for what it is and I know there are so many other places that are bigger at the same price.
If you're in the area and you know you can't make it to the other aquariums, then I say go for it. It wasn't a waste of money by any means. It was a fun and cool experience, especially seeing the dolphins. But, if you have the chance to make it out to other aquariums, I'd say save your money for the other ones.