Road Trip Through North America
California Dreaming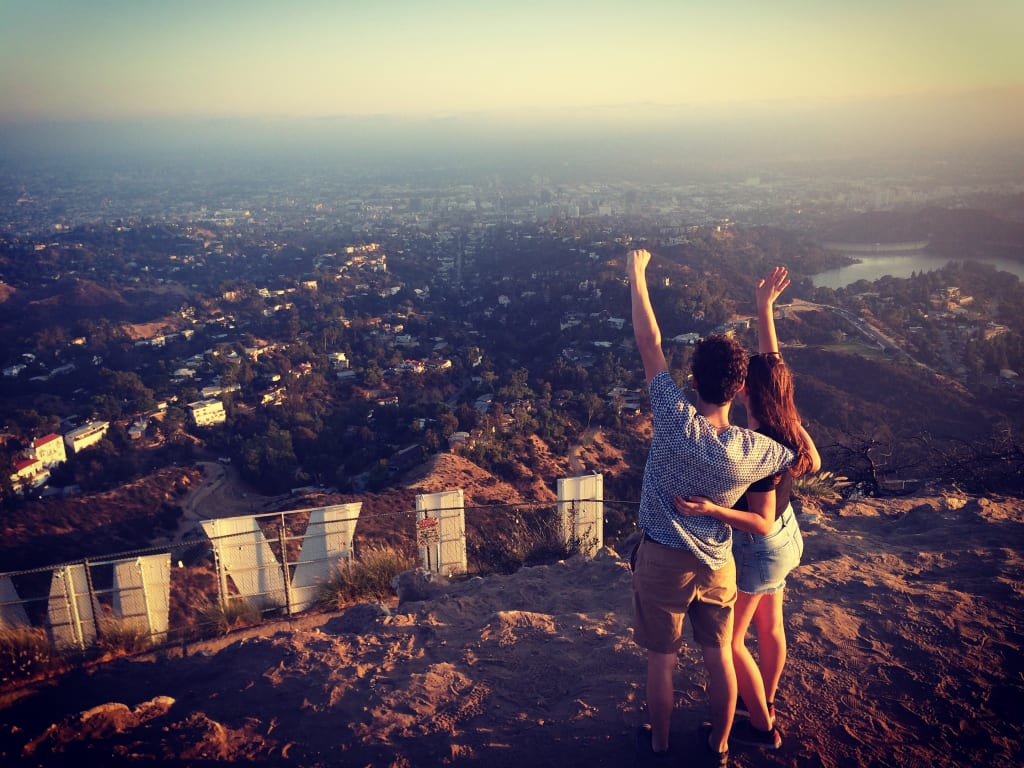 Paul and me at the Hollywood sign
You always wanted to travel through the United States and explore America?
My best friend Paul and I both come from Austria and we are traveling through California right now. Three months ago we came to LA to live our dream. If that is your dream I can give a lot of tips and tell about my experiences.
1. Check the visa requirements.
First of all. you have check the visa requirements from your country. The best way to do this is online. If you only want to stay for three months you can apply for an ESTA-visa. It costs $14 and it is easy to fill out online on American government website. If you want to stay longer then three months in America then you have to apply for another visa like a tourist visa. This is the visa I have. It costs you $144 and you can stay for six months, but this is only a traveling visa and not a work visa. Moreover, you have to visit the American consulate in your country. I would suggest to check the visa requirements three months before your trip begins.
2. Health Insurance
Before you come to America it is necessary to get your own health insurance, in case something happens or you get ill so that you are safe. Unfortunately, visiting a doctor in America is very expensive. There are a lot of different ways to get your health insurance. A lot of credit cards offer their own health insurance; I have one through my credit card. The best way to find out is to talk to an insurance consultant.
3. Save enough money.
Living in California is incredibly expensive. The food and living is a lot of money you have to spend per month. Please make sure that you have saved enough money before you go on trip. If you haven't saved enough money there are a few ways to earn a little bit of extra money on your trip. You can look for an online job. There are so many ways to earn a little bit of extra money. There are a lot of jobs like content writers, social media jobs, or answer surveys. For example, my best friend is working for an Austrian company on his computer. He is a software installer and the good thing is he can be everywhere and work. If you have saved enough money, I would say you have to have about $4000 for a few months.
4. Going Alone or with a Friend
In this part, the opinions of people are shared. There are a lot of people who prefer traveling alone, because they can decide on their own where they want to go or what they want to do. Moreover, you always speak English when you traveling alone, and you are more likely to talk to more people and make friends from America. There is no doubt that traveling alone is a bad decision, but there are also a lot of people who are afraid of traveling alone, especially if you haven't traveled alone before. If you want to go to Los Angeles and you are a girl, I would suggest to travel with another person because it could be dangerous sometimes if you walk alone through a street; you never know what could happen. Moreover, a lot of people are afraid of flying the first time alone for such a long time. If you ask me, I would definitely suggest going with a friend or a few people on a road trip. It is more fun, it is more safe, and you can share prices. I also made the decision to go together on a trip and I haven't regret it.
5. Where to Stay
On this topic, the opinions of people are also shared. There are lot of places where you can stay on a trip. If you have enough money and you are able to spend it then you can always book hostels, Airbnb, or hotels in America. But you have to be careful; a lot of hotels require that you are 21. The best way to find out is on their websites, or you can call them.
If you want to save money, which I am doing too, then I would suggest to register on sites like Couchsurfing or Workaway. Couchsurfing is a free website and the only thing you have to do is to edit a profile. At Couchsurfing, there are people registered who provide a free place to stay at their home and they expect the same of you when they come to your country; then they can also have a free stay at your place. I used Couchsurfing a lot and made a lot of positive experiences. I made a lot of friends and had a lot of fun. Workaway is a website where people provide their homes in return for your help, maybe in their household, projects, or garden. You have to pay for a one-time to register, about $30, but I think it is really worth it. Living is really expensive there and these two options are really good opportunities to save money, make friends and, have a lot of fun and a great time.
6. Transportation
If you are in America and you don't have a car then it would be very difficult to get around. There are a lot of ways to get around with public transportations like buses and trains, but only if you want to get around in the city. When you want to go on a road trip, there are two transportation opportunities. First you can rent a car, but that is really very expensive. I mean, you have a car in perfect condition, but you really have to pay a lot of money. When you rent a car, I would suggest to go with more people on a road trip. Or, you can do it like us; buy an old car and do a check, and go on a road trip. We saved a lot of money and haven't had problems until now. Of course, it is clear we don't have the best car, but we check everything regularly.
So, there are lot of things to check before you go on a trip and when you are on a road trip. Please think about carefully and make good decisions. I hope I could help you a little bit, and wish you a lot of fun and a great time in America!