Guides
Red Rock Canyon
Las Vegas, NV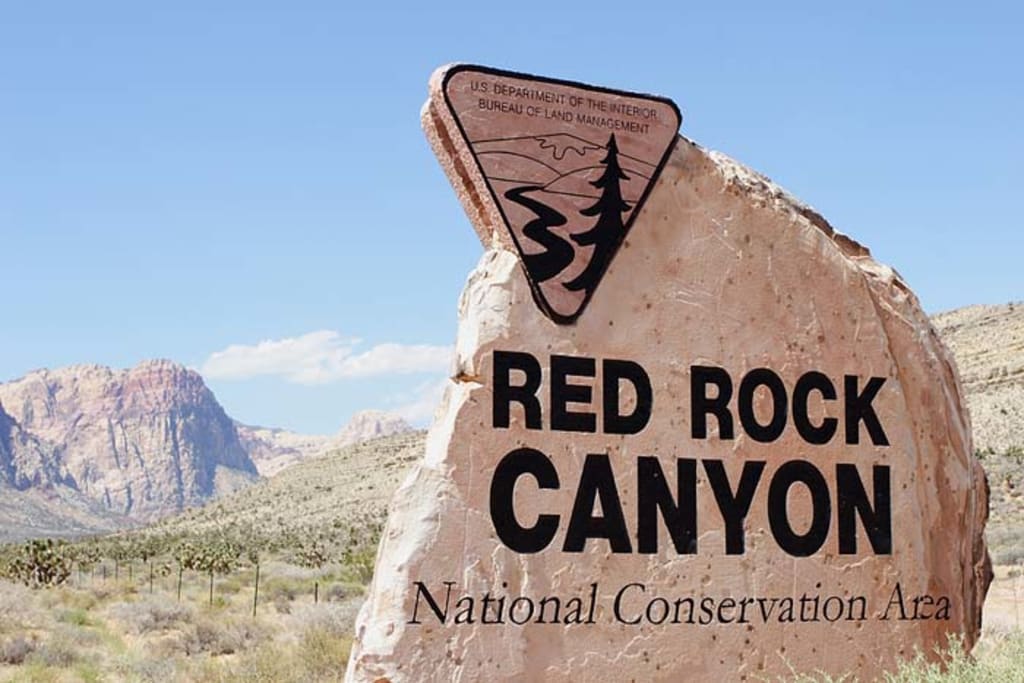 Red Rock Canyon National Conservation Area. Las Vegas, Nevada.
Today is national outdoors day, my little family and I decided to take a short trip to Red Rock Canyon, Las Vegas, NV.
It feels absolutely wonderful to get away from the city and be in nature. All in honesty, living in a BIG city is totally not for me.
I love the smell of fresh air, I love being able to see the entire sky, and enjoy what God created.
Red Rock Canyon is beautiful, from the beginning to the end. I'm definitely grateful for nature and this exact moment.
Although we weren't fully prepared to go hiking, we did stop at some of the scenic views that they had along the scenic loop.
Our next trip here we will be more prepared to wander off and go hiking.
About Red Rock Canyon
Whether you're in Vegas to celebrate, vaca, or to simply chill, Red Rock Canyon is a destination you may want to consider visiting.
If you do plan on taking a day-trip out here, it's only about 25 - 30 minutes away from the Las Vegas Strip. Also, please be aware and make a mental note that there is limited cell phone service out here, especially if you are planning ti use a ride-sharing service, such as Lyft.
Hours of Operation
~ Visitor Center: 8 a.m. to 4:30 p.m.
~ 13-Mile Scenic Drive, Red Rock Overlook, & Red Spring:
~ November - February: 6 a.m. to 5 p.m.
~ March: 6 a.m. to 7 p.m.
~ April - September: 6 a.m. to 8 p.m.
~October: 6 a.m. to 7 p.m.
Fees
** Note: fees are subjected to change. For current fee pricing, visit Red Rock Canyon's site.**
As of June 2020 fees are as followed:
~ Car/Truck: $15 per vehicle
~ Motorcycle: $10 per vehicle
~ Bicycle/Pedestrian: $5 per person
~ Commercial Tour (ex. bus, limo, taxi, ride-share, etc.): $15 per vehicle + $5 per person
They also offer yearly passes that are available for you to purchase.
A portion of the proceeds helps fund the visitor center and its public programs.
There are a variety of activities you can do at Red Rock. You could spend your entire day here if you wanted to. Some activities include... (but not limited to...)
1) Visitor Center
Unfortunately, the visitor center was closed during our visit due to COVID-19. The center is an informational hub for you and other visitors filled with plant specimens, a tortoise habitat, and indoor and outdoor exhibits.
2) Camping
Red Rock Canyon National Conservation Area developed a campground that opened in 1998 to replace the Old Oak Creek Campground. It is located 2 miles east of the visitor center on W. Charleston Blvd. (a.k.a. State Route 159)
The campground is closed every year during the summer.
3) Scenic Drive
The scenic drive is a 13-mile drive through Red Rock Canyon. It allows you to explore the lows and highs of the canyon from your bicycle or vehicle.
4) Climbing
Red Rock Canyon National Conservation Area is known as one of the finest rock climbing areas around the world. If you have never climbed or are unfamiliar with Red Rock, Hakuna Matata - have no worries!
A climbing guide is available with photos, directions, and other route descriptions.
5) Hikes & Trails
Oh! This place is filled with so many canyons and peaks you'll be surprised on what you might find or see when you go hiking or follow one of the trails. There are 26 different hikes and trails that take you from the deep canyons to the highest points of the canyons. Check out hikes and trails they have on their site.
Be Prepared!
Before you go out to explore Red Rock Canyon s whether it's by vehicle, bicycle, or foot make sure that you are fully equipped.
Here are some safety tips advised by Red Rock Canyon:
- Bring sufficient water
There are no refill water stations on hiking trails
~ Do not rely on cell phone service
There is little to no cell service available
~ Wear appropriate protective gear
Wear a hat, dress in layers, and make sure to apply sunscreen. Wear
shoes that are comfortable, support your ankle, and that can protect
you from cactus spines.
~ Prepare for extreme heat
During the summer temperatures in Nevada can average more than
100F (35C). It is very recommended to come early during the summer months.
Personally for me, being at Red Rock reminded me of being back at home... Surrounded by nature. It's something I am truly grateful for. I felt at peace, refreshed, and rejuvenated.
If you ever visit Nevada, I hope that you can take some time out of your trip to experience and enjoy Red Rock.
And when you do, share your experience with all of us.
We'd love to hear about it!
Much love & Safe exploring