Pura Vida Means Good News for All Who Care to Listen!
We make the choice of being positive or negative. In Costa Rica, good news conquers all. .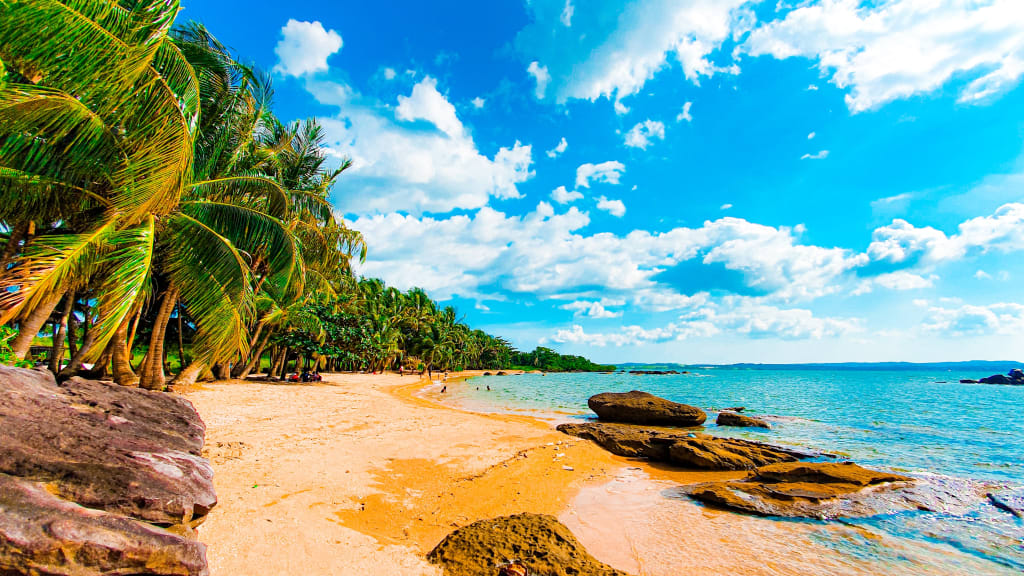 How many times have you NOT HAD a wonderful day at the beach?
We love to share stories about the GOOD NEWS that happens here in Costa Rica. And the great thing about it is that these stories NEVER RUN OUT. . they NEVER STOP! Everyday, more stories are shared with us and the excitement grows about one of the happiest countries on the planet! We pass these stories on to you and then we're all in a good mood!
Donna and David. . both kind souls who found their little slice of paradise 4 years ago. They knew each other as kids and they always felt that they would spend the rest of their lives together. And so they are here. . together. . forever. Hard working. . full of dreams and plans. They NEVER gave up, even when their lives turned for the worst. Donna got some very bad news about her health about 7 years ago. And they both spent the next year learning more and more about how to fight it. What they found was that the solution, in their case, was all about the foods that they ate. She spent the next two years eating so many fruits and veggies. . she ate so many blueberries that she thought she was going to start turning purple. She ate so many carrots that she hallucinated and saw her hands turn orange. But, whatever the case, it worked. . and now, they are both living a wonderful life in Costa Rica. . disease free!
They both continue to eat healthy. They limit their red meat. . they eat a lot of fish. . and they load up on all of the fruits that they cannot pronounce. . and there are a lot of those here in Costa Rica. They exchanged their somewhat-unhealthy lifestyle in Pennsylvania for a complete change in direction. Even though they are both in their mid-60's, Donna and Dave feel like they are half their age. And they are the exact same weight that they were when they attended their high school prom! Now, how many of us can boast that fact?
What a great story with a happy ending!
There's another couple. . Jerry and Julie! They have been here for only 12 months. As you know, many people have totally changed their lives. The COVID problem was the catalyst. There was a reason that people finally made the effort to move here. Sometimes in life, it takes a push to finally start a new life. My theory is that when all this happened, people felt that life was indeed sacred. We found out that people saw so many lose their lives. Jerry and Julie told us that they lost a business and a few friends to COVID. They're still young. . in their 40's. . and they knew that it was time to change their direction. . they have so much energy and now they need to reboot, recharge and REINVENT themselves. They had been visiting Costa Rica for 10 years or so and they knew that the PURA VIDA lifestyle was indeed calling them. Now, they live in a small town just outside of Heredia. Their Spanish is getting good and they have downsized, cleaned out the junk and have streamlined their daily routine to the point where NOW, Mother Nature is in charge. . eating healthy, taking hikes in the jungle and in the mountains. . learning about the wildlife here. . a cleansing of their souls have allowed THEIR BEST to come forward.
Many of my friends and acquaintances have moved here. . so many lives have been changed. Most have lost so much weight and have become so very healthy. It's all in what you eat. In paradise, one tends to eat healthier and we all hopefully will enjoy a longer life. Can't pronounce the names of the fruits here, but we still eat 'em! Pura Vida!
You're invited to visit our websites at: www.costaricagoodnewsreport.com & www.costaricaimmigrationandmovingexperts.com
Also, please enjoy our over 1,950 episodes of our "Costa Rica Pura Vida Lifestyle Podcast Series". We are found on all major podcast venues, including iHeartRADIO, Spotify, Apple Podcasts, Google Podcasts, Radio FM, Anchor & many more. Here's our link: www.anchor.fm/costa-rica-pura-vida
central america
About the author
Costa Rica is a magical place. Since November, 2002, when I first visited this country, I have been in love with the people, the culture, its biodiversity, the food. . everything about it makes me happy! Now I share my excitement with you!
Reader insights
Be the first to share your insights about this piece.
Add your insights